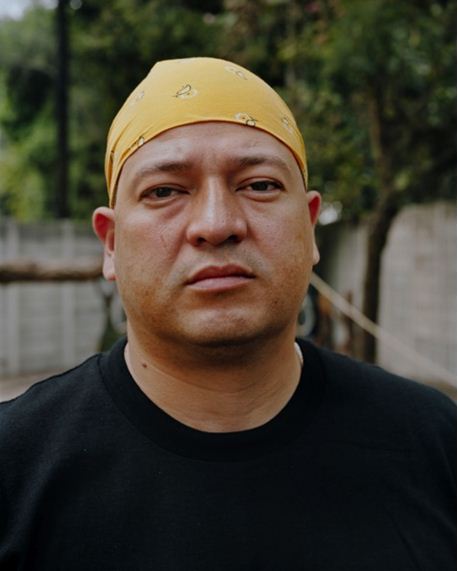 Fredy Peccerelli, real life CSI. Photo by Dana Lixenberg, from the film, Granito: How to Nail a Dictator.
There is a battle going on in Guatemala, a battle between covering up a violent past in which hundreds of thousands were killed and a redeemed future, predicated on a quest for justice. This battle plays out in the Sundance documentary thriller, Granito: How to Nail a Dictator, which opens at the IFC in New York on September 14th with a national rollout to follow. The film features a range of protagonists working together to achieve retribution for a conflict that left 200,000 people dead. Guatemalan forensic anthropologist, Fredy Peccerelli, is at the heart of this fight. In Granito, we see Fredy collaborating with investigators, lawyers, Maya leaders and victims as they attempt to tip the balance in favor of justice and bring about much needed change. But now, Fredy's contribution to this struggle is becoming a threat to his life.
"We have you all under surveillance. Your kids, your cars, your houses [...] When you least expect it, you will die."
From a death threat sent to Fredy in Guatemala on August 8th.
This latest death threat came as a result of a landmark conviction in the case of the Dos Erres Massacre of 1982, in which four men were sentenced to a total of 6,066 years. Just days later, while driving in traffic, Fredy's car was attacked. Fredy is working to uncover and identify over 40,000 bodies in unmarked graves across Guatemala, victims disappeared during the tide of U.S.-backed military dictatorships there in the 1980s. Whoever is behind this attack is attempting to scare Fredy away from his work. As head of the Guatemalan Forensic Anthropology Team (FAFG) Fredy is a real life CSI whose work also involves testifying as an expert witness in the trials of those accused of ordering and carrying out the massacres. This work puts Fredy and his team under constant threat from those implicated in the crimes, for which there has been a carte blanche in Guatemala for close on three decades; even as of 2009 there was a 99.75 percent impunity rate for all violent crimes committed in Guatemala.
Fredy is gentle, but built like a major league catcher, he is also an indomitable man. Speaking to Fredy, he sounds like a New Yorker, and, in fact, he is. In Granito he talks about growing up in the Bronx after he and his family were forced into exile in 1980, when his father, too, began receiving death threats. Fredy describes his uprooting to New York as "awful and lonely." In these years, his comfort was baseball. "The Yankees saved my life," he says, and still follows every game. He went on to study at Brooklyn College, but always felt a need to return to Guatemala and seek justice for the crimes that occurred during his childhood. Back home, he rose through the ranks of forensic criminal investigation to become one of the leading experts in his field, and worked on exhumations around the world, including in the former Yugoslavia. In a quiet scene of reflection from Granito, when asked if the death threats would cause him to flee Guatemala again, Fredy says, "I'm not leaving. If I ever leave it will be because I want to leave, not because I have to."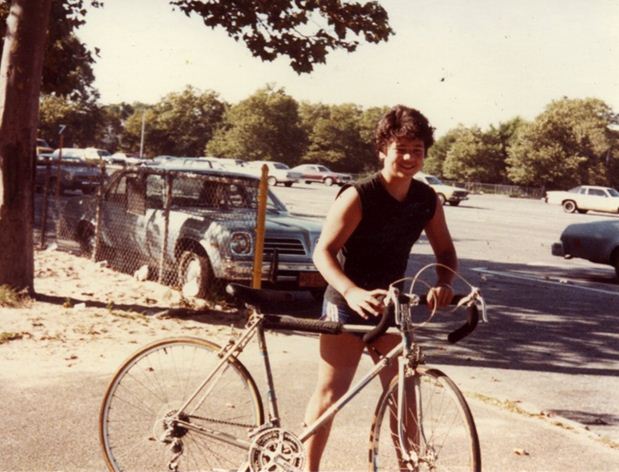 Fredy as a kid in the Bronx, from the film, Granito: How to Nail a Dictator.
It is clear this is not just a job for Fredy; it is a deeply personal quest. And in spite of the threats to his and his team's safety, he continues undeterred. "We've requested extra security from the government, but so far nothing has happened," he tells me. It is election season in Guatemala, which means heightened activity from the nation's violent underbelly. 36 political murders have been reported this year already. Fredy's response has been to go public, and his persistence has lead the Inter-American Court of Human Rights to investigate the death threats, and Amnesty International to put out an alert. "Our eyes are wide open," says Fredy, "we're waiting to see what will happen after the election."
The frontrunner in that election is former military general Otto Perez Molina, the right wing candidate who is linked to the years of the violence. Needless to say, Fredy is not hopeful that his situation will improve any time soon. In fact, he is in the process of setting up a U.S. branch of his organization, called Friends of FAFG, where he hopes to be able to send his staff when they are in danger in Guatemala, so that they can continue to work remotely. "We decided to open a U.S. office for a few reasons," says Fredy. "There is a large Guatemalan diaspora in the U.S., and we need to reach out to those communities in order to make successful DNA matches with the bodies. The other reason for setting up in the U.S. is funding." FAFG already receives funds from the U.S. State Department, but without registered nonprofit status in America, the organization is losing a significant percentage of those funds through third parties who transfer the money. "As the number of skeletons goes up, so do the chances of making positive IDs and returning bodies to families," Fredy explains, "but it all depends on funding." The Guatemalan government will not fund the work.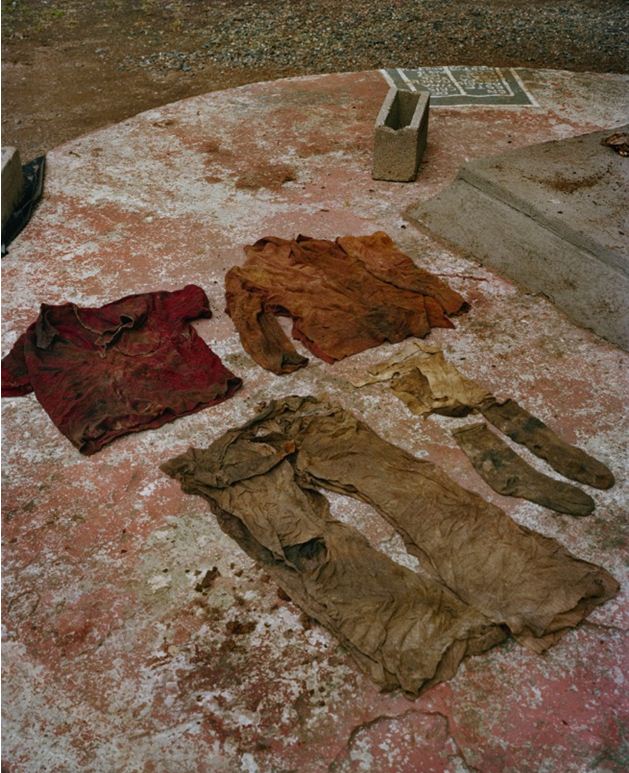 Clothes discovered in the exhumation of a mass grave in La Verbena cemetery, Guatemala City,
Photo by Dana Lixenberg, from Granito: How to Nail a Dictator.
FAFG has so far exhumed only a fraction of the 40 to 45 thousand disappeared. "It's clear that we're not going to be able to do 100 percent of the work," Fredy says. "It's more than a lifetime's worth." In fact, the effort to affect change in Guatemala and to bring the perpetrators of its violent past to justice has to be a collaborative effort, both in Guatemala and here in the U.S. That is the message delivered by Fredy, and the other protagonists in Granito. The film documents a quarter-century investigation into the genocide in Guatemala. Its title refers to a Maya philosophy meaning little grain of sand. It's about the power of collective change. Fredy's story is just one of those grains.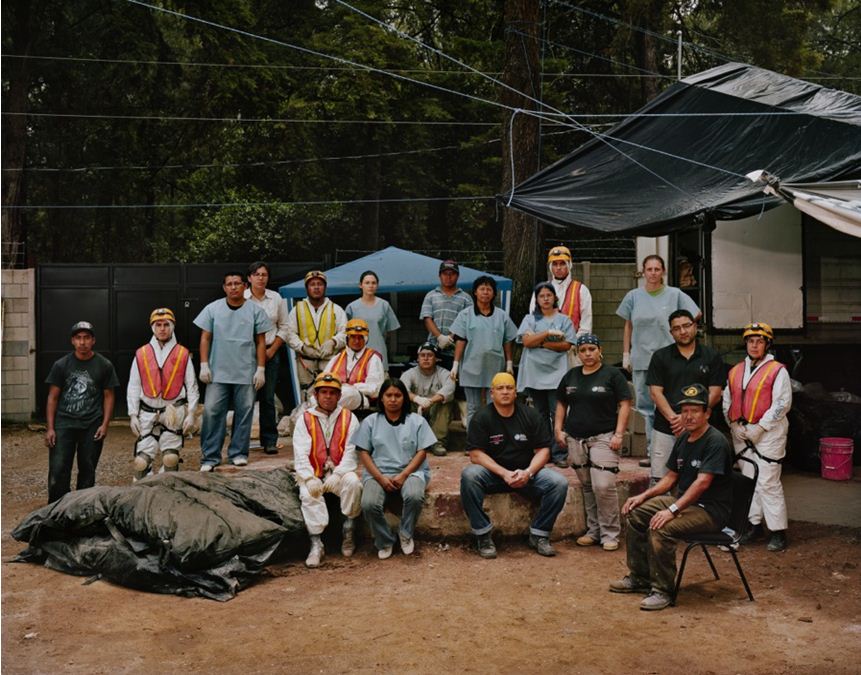 Fredy and his team at La Verbena cemetery. Photo by Dana Lixenberg, from Granito: How to Nail a Dictator.