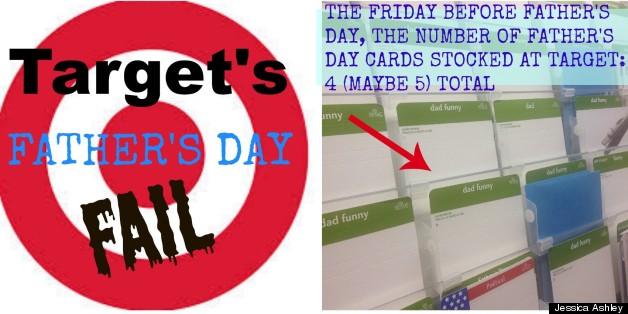 The Friday before Father's Day SHOULD BE a proactive time to shop for Father's Day cards. Or, at least, it should be plenty of time for a busy working mother to settle on a $7 card with some sort of dancing monkey or gas-passing reference that will make all small boys, their fathers, grandfathers, pops, papas, pawpaws and papis laugh heartily before digging into a giant gifted vat of honey-roasted peanuts and crossword puzzle books.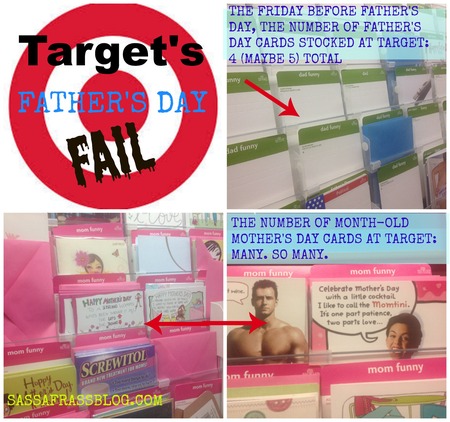 But when I arrived at Target on the Friday before Father's Day, rushing in with my shopping basket and tick-tock-tick-tock mentality a mother always has in the early minutes of an hour-long, $200 trip to the store, I realized I was neither proactive nor in plenty of time for card-buying.
The prominent display of Father's Day cards was almost empty. Almost. There were four, maybe, five cards left. TOTAL. Not four, maybe five, sentiments. Not four, maybe five, varieties. Not four, maybe five, flavors. Four, maybe five, cards. TOTAL.
The cards were the boring kind with too much reading for the men in my family, and more importantly, zero dancing monkeys. There was not a dancing animal of any kind. Not even one that plays an obnoxious song obnoxiously loudly and goes on for an obnoxiously long period of time after the loved father has not-read any words inside the obnoxious card. There were only sailboats-without-a-sailor cards and oversized dark brown cards with giant, gold, cursivey fonts going on and on about life lessons and whatnot, and nothing to do with body fluids or hogging the remote.
I stood, perplexed, in front of these four, maybe five, cards, wondering if I could possibly make any of these horrible cards work for my father, or hell, my son's father. I slowly shuffled down the display, hoping to scrounge up a card someone hid or even one missing a properly-sized envelope.
And then I noticed something strange.
Curiously, just feet from the Father's Day wasteland was a prosperous, populated community of cards -- for Mother's Day. A month ago. MOTHER'S DAY.
There were plenty of cards and lots of variety -- from the sappy and over-texted to boozy and oversexted. There were loads of hilariiii plays on the ways mamas survive those crazy kids and pretty pictures of little girls on swings and mod color-blocked cards for the design-y, styley, less emotional maternal situations. Oh, and a few half-naked men. There were lots of options for moms of all kinds to celebrate Mother's Day five weeks ago.
I was boggled, yes, and I was also empty-handed. I turned to the lost-looking lady next me.
"I'm not afraid to duke it out for the last of these bad Father's Day cards," I told her, smiling to let her in on the ridiculousness of it all (and also disarm her from my brute seriousness).
Her eyes widened, her eyebrows arched over her big glasses.
"WHEW!" she let out. "This is CRAZY. I was going to get a special card for my son who just had his first baby. But... oh, well. Maybe next year."
To that lady, I'd say: Rather than abandoning the overpriced written sentiment, you could have chosen the half-naked guy Mother's Day card for her new-father son (not judging, just saying).
Or perhaps you could have done what I did and haul my sort-of-proactive ass down to the grocery store a few blocks away, where the display was picked over but there were still a few dancing animals in the aisle.
To Target, you were nowhere near the mark on this one. I was so out of sorts by the complete lack of stock a few days out that I didn't even have time to whine about why there need to be far more stepdad/mom's boyfriend/father-like figure cards on the shelves (and that indicates things are pretty dire, friends).
I love it that you had a plethora of Mother's Day cards still in your inventory. And certainly, there are some mamas who pull double duty and deserve to be lauded on Father's Day, too. But maybe focus more on stocking and restocking cards for the actual holiday we're celebrating this month, rather than last May or eleven months from now.
And lastly, Target, I found 14 things I didn't realize I needed on that trip that was supposed to focus solely on Father's Day card purchases. But other than that $78 I spent, I am really glad I didn't hand 21 extra bucks over for cards you didn't have.
Oh, and know that I did find a perfect sing-y card. With underpants on it. Singing, dancing underpants. With googly eyes. On that very same day, just two days away from Father's Day. So, it wasn't me and my harried schedule and last-ish-minute purchases. It was you. You and your mommy card real estate overflow and Father's Day tumbleweeds.
Did you find dancing monkeys for the dad in your life? Or did you end up with one of the crap, cursive-y cards?
Jessica Ashley is currently stocked with next year's Flag Day, Thanksgiving and Sweetest Day dancing underpants cards, no thanks to her favorite superstore. She is also author of the single-mom-in-the-city blog, Sassafrass.