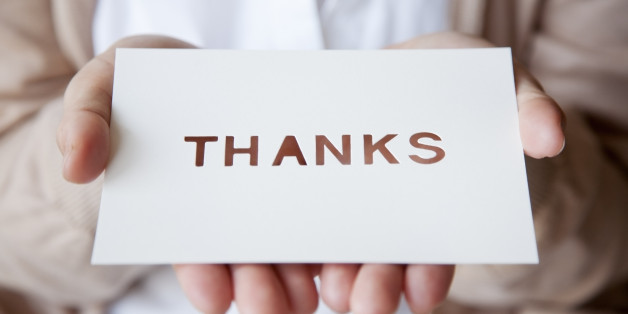 "Feeling gratitude and not expressing it is like wrapping a present and not giving it." -- William Arthur Ward
Unplug, shut down, get together with friends and family face to face, and be thankful for this crazy life. That's what the holidays are about -- celebrating life and those close to us who put the color in it. I recently heard someone say they like to hang out with people who make them forget to look at their phone. We are busier than ever, and those rare friends who help you slow down and actually experience life are worth celebrating. So here are our top five ways to live thankfully this November.
Host a "Gratitude Dinner": I love this trend. With so many friends traveling into town to see family during the holidays, throwing a potluck-style dinner party is a great way to celebrate with them before everyone goes their separate ways. What's better, having everyone bring their favorite dish to share takes the stress out of hosting. You can also make our DIY grateful cards and envelopes to share with your friends, letting them know why they are special to you and what you are most thankful for.
Host Friendsgiving: Just because you can't make it back home to see your family doesn't mean you can't celebrate this season. You don't need a giant turkey (or even a turkey at all!) -- just invite the other holiday orphans you know and make some memories. It can be fun to bring a little bit of everyone's home under one roof by having each guest bring a traditional dish from their own family history.
Give Back: Do something for others this fall and give back to your community. Try volunteering at a soup kitchen or invite someone from the military to join you and your family for Thanksgiving dinner. You can sponsor a Thanksgiving meal for a family in need or donate canned goods to your local food pantry. Giving to others is a great way to be reminded of all we have to be thankful for this season.
Take a Hike: Get outside. Breathe in the fresh air. Take a few moments to let go of any holiday stress and count your blessings. Getting away from your everyday routine is good for you and taking some time away from staring at a computer screen will help refresh you for when your break comes to an end. So take a hike. Seriously. Do something good for yourself. Drink more water. Breathe. And get outside!
Do Something Daring: You don't have to wrestle alligators or get a tattoo, but we all have that something on our list that we haven't done because it scares us a little. So go do it! Be daring! There are few greater highs than finally doing that thing, whatever it may be. And it's a great way to remind yourself to be thankful, as you feel your heart beat a little faster, knowing you've done something you thought you never would!