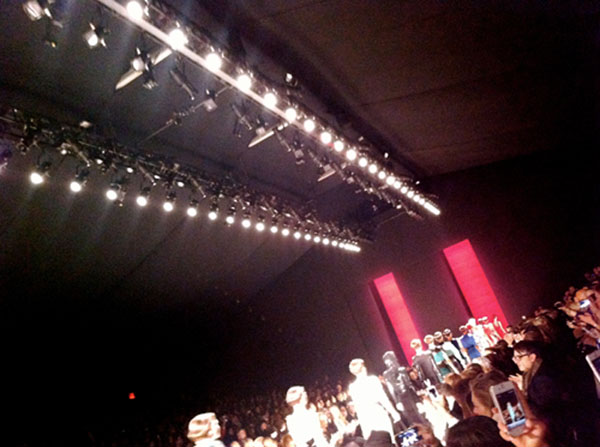 The stage was set for high drama at Carolina Herrera with classical music softly filling the grand tent of Lincoln Center and bright red backdrops drawing your eye to the runway entrance.
It was clear Herrera took as much time composing the collection as she spent conducting the orchestra of styles that sashayed down the runway to the tune of her very own score. Through a collaboration with composer Tom Hodge and producer Javier Peral the show's soundtrack, "Capriccio for Carolina," was recorded with the London Contemporary Orchestra to set the tone for the collection: modern romanticism.
Both song and style embodied a Forties heroine clad in precise silhouettes, from gasp-worthy gowns in sapphire velvet and dahlia prints to men's wear-inspired suits in wool and houndstooth. Tiny waists were cinched by corset leather belts further accentuating the feminine fluidity of the skirts with fox fur peppered throughout -- a collection of clothing designed by and made for "Una Gran Mujer."
To download the music, please visit www.carolinaherrera.com/newyork