The royal wedding anniversary makes its very fancy arrival on Sunday, and we got to thinking: where were we a year ago when Will and Kate celebrated their epic nuptials?
It turns out, some of us were hunched over laptops, some of us were eating gold-frosted Krispy Kreme donuts, and some of us were... drunk.
We dredged up our best royal wedding memories to share with you. Read on to see what some members of our team were doing on April 29, 2011!
Ellie Krupnick, Huffington Post Associate Style Editor:
In one of the most fitting coincidences ever, my first day at HuffPost Style was the eve of the Royal Wedding. I was barely aware it was happening -- Kate Middleton did not register on my celebrity
radar back then and I wasn't even planning on watching the big TV event.

On April 28, at the end of my first day as a HuffPost Style intern, I asked my editor what time to arrive the next morning. "Don't bother coming in," I was told. "We're going to be here starting at 4am for the Royal Wedding and working straight through the next day. It'll be crazy -- don't worry about it."

I laughed that night to my friends: can you believe they're working that intensely for this royal wedding? I thought the hubbub around the royal nuptials was absurdly hilarious.

Now, after 12 months and countless hours tracking William's hairline, Pippa's boyfriends, Harry's international escapades, Camilla's beauty treatments, the Queen's hats and every single waking
moment in the life of Kate Middleton... it's clear who had the last laugh.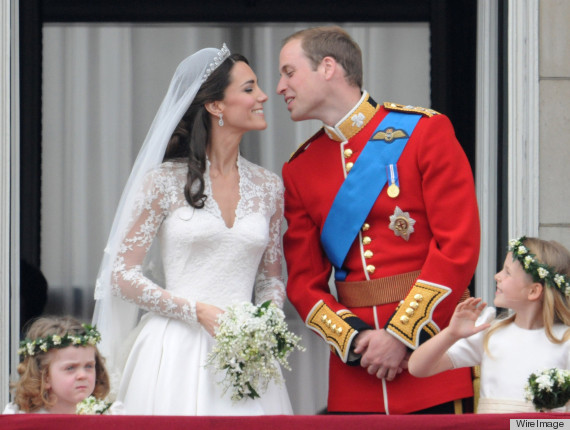 Emma Mustich, Huffington Post Associate Parents Editor:
As an American living in London, I was unabashedly excited about the Royal Wedding (to the bemusement of my friends and colleagues). Despite my enthusiasm, I didn't actually get to experience the event in person; I moved back to New York less than a week (!) before the big day. And though I narrowly missed the headliner, the anticipation was, in a way, more exciting to me than the wedding itself. I loved the kitsch products that crowded store shelves months before the first spring flowers bloomed. I inhaled puff pieces in the papers about Kate's last shopping trips as a single woman. I marveled at the spectacle of giant Union Jacks hanging from the buildings in London's central shopping district.

I was moving back to the States to start a new job; my first day at work was the day of the wedding itself. I woke up early to watch a couple of hours before I got to the office -- and friends from London who had joined the throngs outdoors did their best to keep me updated. I still have the Wedding-themed mug, key chain and tote bag my London colleagues gave me as parting gifts -- and fond memories of eating gold-frosted Krispy Kreme donuts (modelled after wedding rings) with a friend in the airport on my way back Stateside.
Jessica Misener, Huffington Post Style Editor:
Like any good style blogger, I woke up at a painful hour to cover the royal wedding last year. At the time, I was running a smaller site, and I delegated two of my interns to wake up at 4 to start coverage, but I hadn't yet decided when I went to bed if I was going to get up myself and watch the whole spectacle. I ended up not being able to sleep, so at 3 I got out of bed, opened my laptop and started watching the wedding. The next 7 or 8 hours were kind of a blur (I wrote 18 posts that day!), but the energy of it all was so intoxicating. I remember watching Kate step out of the car in her McQueen dress and feeling soaked up by that feeling that the whole world was watching this along with me.

My crash came, though, around 4 pm, when I literally fell asleep at my desk at work. I guess even the excitement of slideshowing fascinators can't make you superhuman.
Rebecca Adams, Stylelist Intern:
I watched BBC all day leading up to the royal wedding until I had to leave for a Black Lips concert. After a great show, I decided to skip the after-party and rush to my (incidentally British) friend's house where we ate crumpets and deviled eggs and drank champagne with a bunch of our other royal-wedding-obsessed friends. I stayed up the entire time and was told the next day that my last words before passing out were, "I want to be a princess."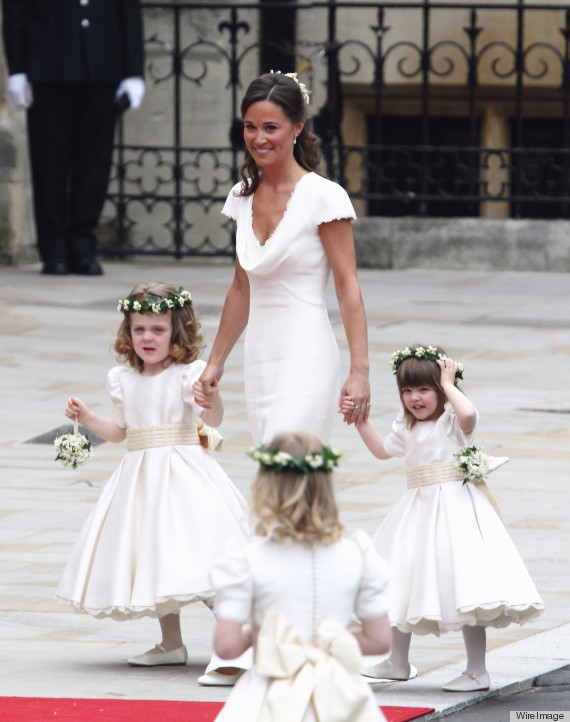 Dana Oliver, Stylelist Beauty Editor:
I was sleeping in my queen-size bed while living in Brooklyn. I had set my alarm to wake me up around the time I could expect Kate to walk down the aisle. I wanted a closer glimpse of her wedding day makeup. Well, my aunt beat my clock to it with a phone call. Luckily, I tuned in as Prince Harry was gushing over his soon-to-be sister-in-law and William stood proudly (but obviously a bit nervous). After gossiping with my family and friends about how much eyeliner Kate was wearing, I went back to bed as the rest of the world watched.
Sarah St. Lifer, Stylelist Editor:
The day of the Royal Wedding I wore my Issa dress in honor of Kate Middleton. I was at the office until 11pm, preparing for the big day, which began at about 3 am on the east coast. Rather than head home and nap for a few hours, I decided to attend my friend's birthday party on the other side of town. In between beers, I was checking my phone for Royal updates. When I read that it was practically confirmed that Sarah Burton designed the gown, I made sure everyone in the bar was aware of the news. No one seemed to care, not even the bartenders. I stumbled back to the office at 3 am to cover the actual event. There, I wrote about what each guest wore. From Victoria Beckham to the Queen, I was the style-scout for the evening. But when Kate stepped out of that car, in her Grace Kelly-inspired gown, I broke down. Like a baby, I couldn't control my tears. I'm a firm believer in never crying at work, but everyone should make an exception for the slightly drunk writer with zero hours of sleep witnessing one of the most historic dresses ever.
Anya Strzemien, HuffPost Style/Stylelist EIC: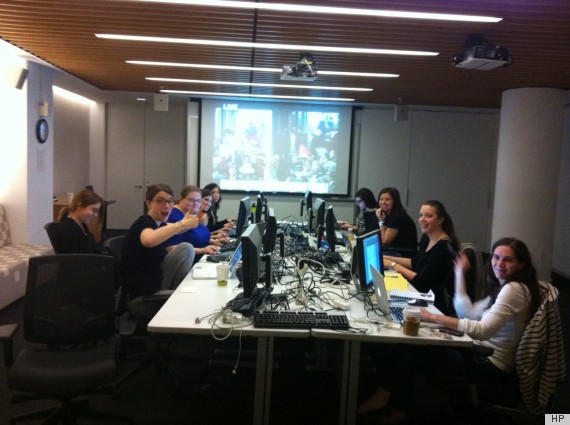 After several months of forming a strategy befitting of a military operation, I woke up around 3am on the morning of Friday April 29th to cover the event HuffPost had been granted exclusive access to (just kidding): the Royal Wedding. I met other AOL and HuffPost editors at the office, where we, first and foremost, received a breakfast delivery of greasy sausage, bacon, eggs, and, okay, fruit. Then we sat down in our appropriately titled "war room" (pictured) and proceeded to cover every twist and turn of the wedding like it was the invasion of a small country. To be honest, I don't remember much about it other than maybe shrieking when Kate appeared in her dress (which we knew by then was going to be McQueen), thinking Pippa (whose butt wasn't yet famous) and Harry were definitely going to hook up, and then thinking Kate and William's kiss was totally lame...even though it photographed nicely. My day was done by 2pm, and when I got home an 8-year-old boy living down my hall told me about how he watched a prince marry a princess at school today. Which, to me, was when I finally could appreciate the importance of the event. I went to bed around 7.
Be sure to tell us what YOU were up to last year in the comments! (Especially if you were cooler than us and you threw a big party!)
See some images from the royal wedding, then and now...