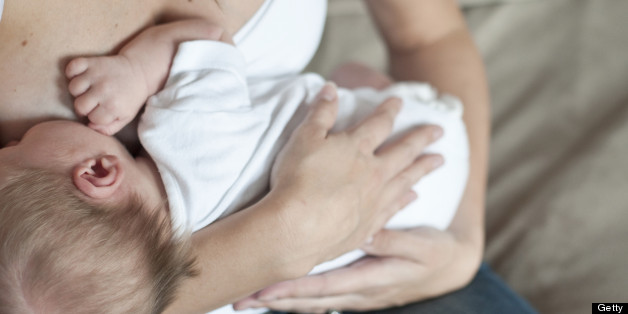 We used to do this baby-raising thing as a village, with generations of women living together, giving advice, holding hands and offering support. Today, with our hectic schedules, many of us are raising babies on our own. So, social media often becomes our global village.
On Pinterest, we spot other pregnant gals and swoon over their style. On Facebook, we update our friends and our friends' friends about our baby's progression, first on the inside, then on the outside -- all in just seconds. And on Instagram, we follow moms who inspires us from across town, across the country and across the ocean. With social media, we connect, we embrace and we gather strength to continue on. As moms. As women.
When it comes to breastfeeding, this online community can make all the difference. An image of a mama nursing on Instagram can give you the strength to get out of bed and put your own babe to your breast, no matter how tired or defeated you feel. It can embolden you to go out to brunch and nurse your baby at the table. It can help you keep breastfeeding for just one more day, one more week, one more month.
Even for those of us mamas that didn't or don't breastfeed, like me, Instagram can create kinship with other moms who use the bottle, and amazement and appreciation for the many mamas who proudly-and beautifully-advocate to normalize breastfeeding. Bravado Designs recently conducted a survey that revealed that 90% of women somewhat to strongly agree that the ability to share breastfeeding photos on Facebook contributes to their feeling supported in their breastfeeding journey.
For all of these reasons, and so many more, we at Well Rounded NY have been horrified by the censorship we've seen on Instagram over these past few weeks, resulting in more than a few of our friends losing their photo streams. In many of those cases, these Instagram-banned moms were breastfeeding. Some were showing skin, and others showing nothing at all. Someone found their images offensive, and their accounts -- not just the breastfeeding images, mind you, but every single one of their memories ever documented on Instagram -- disappeared.
We can't even begin to imagine what would provoke someone -- whether a suit in a corporate headquarters or a judge-y mom living right next door -- to deny ANY mom the right to post images of herself and her family doing things that are not only natural, but in many cases beautiful, inspiring and empowering.
And we can't imagine what would provoke someone to deny another mom out there the sense of community she finds when scrolling through Instagram on those late nights, when she has nobody to talk to but a crying baby, when she's questioning what's "normal," and when she's wondering if she's the only person in the world feeling confused, overwhelmed or scared. This was her village.
But let's not feel disheartened. Let's keep on fighting the good fight. You can visit Change.org, where photographer Ashlee Wells Jackson of the 4th Trimester Bodies Project already has more than 18,000 names for her petition to stop censoring motherhood. Or get on Instagram and repost #stopcensoringmotherhood. Of course, you can also support your Instagram-banned mama friends, and you can keep showing off your favorite photos of you feeding your little one on social media.
Whether you're on the posting or the scrolling side, hopefully you'll help to keep that great, supportive mama community alive and well on social media. Because it truly takes a village.
Correction: A previous version of this post misspelled Ashlee Wells Jackson's name.