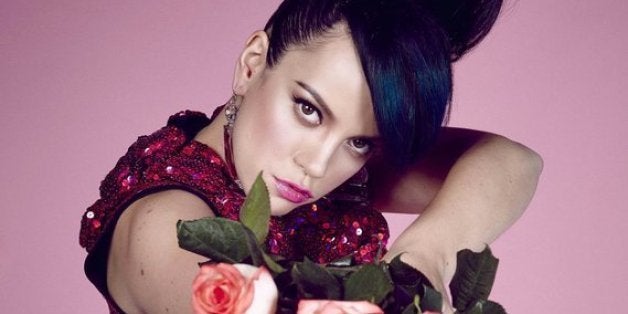 A few weeks ago, Lily Allen asked me if my book was about my vagina.
We're sitting in the tearoom at Claridge's Hotel in London. She's promoting her latest album, after a three-year hiatus from music and I'm interviewing her for a magazine cover story.
I was slightly nervous, because I had a history with Lily, even though we'd never met before.
The first time I heard Lily Allen's music was in 2007, when I was a senior at Brown. My college roommate and I were sitting in her car and we paused mid-conversation as I turned up the radio to listen to the song "Smile." I was immediately captivated by the combination of the lilting voice and the bold lyrics ("at first, when I see you cry, well it makes me smile, yeah it makes me smile"). "Who is this?" I asked my roommate. "This is so good."
A few months later, we graduated from college. I had no immediate plans, except to move to Beijing, China, where I wanted to learn Mandarin, get a journalism job and have an adventure. When I first arrived, everything seemed like chaos, including my own life plans. I didn't know Mandarin, I didn't know anyone and everything seemed overwhelmingly foreign.
But I did have a few things that connected me to home. When I'd shove myself onto the crowded subway at rush hour or wander busy streets surrounded by people speaking Mandarin, I could escape into my own world by listening to songs that reminded me of my life back home. I distinctly remember riding my bicycle home late one night through lantern-lit streets and blasting Lily's "LDN" on my headphones.
The other thing that kept me connected to home was my frequent emails to my friend Rachel, who was living in New York City. On the eve of our college graduation, we had made a pact to write completely honest, no-holds-barred emails to each other every week. After a painfully lonely or embarrassing or self-doubting or giddy night out, I'd write a cathartic email to Rachel before falling asleep. Nearly 7,000 miles away and 12 hours behind, her location meant that when I awoke the next morning, she'd have replied with her own email containing advice, comfort and tales of love and discovery in New York City.
After more than a year in Beijing, I finally felt like I had my feet on the ground and knew where I was going. I was working at an expat magazine. I could speak the basics of Mandarin. I knew which street vendors would give me food poisoning and which served the most delicious steamed buns. Things were coming together.
I met the most handsome English journalist at a Christmas party. I had a glass of sangria in my hand and reindeer ears atop my head and was in mid-conversation with my boss when I turned to see a Daniel Craig look-alike making his way towards me. As he entered the bar via a lit doorway, I was literally a deer in headlights. I didn't have a chance at resisting him. He was funny and clever and the Beijing correspondent for a national paper based in the UK. He was also 42 to my 24. What followed was a brief affair that began with a kiss that night and ended with me storming out of his apartment into the cold Beijing night a few months later, humiliated, angry and confused. And hurt. Very hurt.
That night, I came home from Ray's apartment and detailed everything that had happened and sent it to Rachel. This was a still a common occurrence  --  we'd kept this correspondence up since we graduated from Brown  --  our messages eventually spanning four countries (later, I moved to Australia and she moved to France).
That same week, an editor asked me to review Lily Allen's second album, It's Not Me, It's You. This time around, I knew who Lily was. She was an outspoken English brunette with a wild reputation, no filter when she spoke to the media and witty lyrics. I listened to the album a few times before reviewing it, and I listened to it several more times after I'd submitted the review. I loved that album, mostly because I loved Lily's voice , but also because I loved listening to her songs when I was sad, which I was, after the affair with Ray.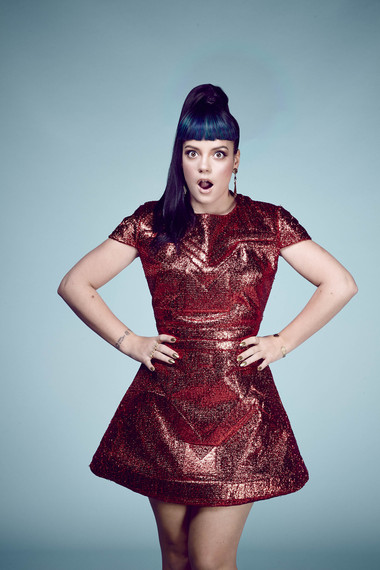 I lived in a high-rise in Beijing and I'd sit at my window, next to my desk, and look out over a huge construction site that glowed with green light during the night. I remember looking up Lily's age and being comforted that we were both 24  --  me in Beijing, and her in London. I loved her music and I related to her lyrics, especially in "I Could Say" where she sings about being young and dating an older lover. The lines, "Since you've gone, I've lost that chip on my shoulder / since you've gone, I feel like I've gotten older / Now you're gone it's as if the whole world is my stage / now you're gone it's like I've been let out of my cage," made me feel less alone.
And as I listened to her music, I thought, Never again, Ray. Never again.

Fast-forward three years. I've just moved to London after spending another year in Beijing and two in Australia. By chance, Rachel also lives in London and because of our lengthy emails, we feel like we haven't been apart for a day. One day, over coffee in Kensington Gardens, she brings up Ray.
"Oh god, I can't believe I was ever that stupid," I say, burrowing my head in my hands. Rachel knows everything about Ray -- every single embarrassing detail, every thing I loved about him, things he'd said to me, the way he kissed  --  everything.
We begin talking about how those emails crystallized so many chapters from our lives --  some messages were so raw that it was difficult to read them, others so giddy and youthful that we barely recognized ourselves in the words.
"You know, we should put our letters together," Rachel said. "It'd be a fun project for us to have forever or to show our grandkids someday." And so, in our spare time, we began collating our emails, starting from the very beginning when I had first landed in Beijing and from her move to New York City, where she worked in an art gallery and then had a surprising wake-up call that led to her living in Paris for two years. Gradually, we began to realize this might be the sort of thing other women who had found themselves searching for the right careers or the right loves or even the right countries might want to read  -- and so we decided to try to publish it.
Since we made that decision, everything moved at lightning speed. We ended up selling the manuscript six months after our very first conversation about our emails. We finished the first draft two months after that. And then, suddenly, it all slowed down. The book wasn't due to be published until 15 months after we sold it. To us, it seemed like it wouldn't be published for eternity.
However, this suited me. During the entire project, I had blocked out how I would handle having my family and friends read about my most intimate thoughts, relationships and mistakes. I made a lot of mistakes when I was in my early twenties --  we all do. But now mine were going to be completely public. I thought our stories would be relatable to other women --  we had been through lonely and self-doubting times and emerged OK --  but it took me a long time to fully understand what it would mean to have my personal life published in a book. Why the hell hadn't I realized the consequence of these actions before we pitched it to editors?
Well, at first, I was delusional. I thought we could publish under pseudonyms. But that dream ended early when we were told that was the "kiss of death," as you can't publicize your own book.
Then, I remained delusional. I thought, I have time to learn how to not care what people think. I have more than a year to come to terms with what it means to put your entire romantic life and career path and insecurities in a book that everyone you know will read. I'll be a year older and a year wiser and I will have attained a Zen-like attitude towards the entire thing. And so, I shoved it to the back of my mind and waited for myself to become enlightened. (Rachel seemed less affected by it -- after she realized she probably wasn't going to marry Prince Harry, she didn't mind strangers reading about her life.)
While this was happening, Lily Allen returned to the music scene after her three-year hiatus. Her hit song, "Hard Out Here" was described as a feminist pop anthem, and it skewered sexist musicians, called out the unrealistic expectations placed on women and owned the word "b*tch." In interviews, Lily was vulnerable and feisty at the same time. The media was not always kind to her, yet she had a personality and actually felt human, as opposed to other pop stars, who have such a shiny veneer that I cannot relate to them in the slightest. How was Lily always so outspoken, even when she was always being criticized? How was she always so forthcoming?
Other people slam Lily Allen for not being feminist enough, for messing up, for singing about her period in her latest single "Sheezus." Lily's playful and despite near constant criticism, she is always brave.
Say what you want about her, but when she returned from her hiatus, I was glad Lily was back.
Meanwhile, that enlightened state I was waiting for regarding my book's publication never arrived. Before I knew it, the publication date was looming and I was excited -- but also petrified. I wanted women to read our book for the same reasons I'd wanted to publish in the first place.In a world that can feel really adversarial at times, it felt important to show the power of female friendship  --  and to talk about the good, bad, and ugly of discovery, exploration, and growing up.
And yet I refused to tell friends the name of the book because I was afraid of changing their image of me for the worse by sharing everything --  everything  --  that had happened to me over the past five years. For the longest time, most friends in London still didn't even know I wrote a book. If they did, I'd change the subject as soon as possible. One friend, who did know, said, "You are the most reluctant writer I've ever met who is about to have a book published."
I'd lie awake at night, anxiously thinking about my 85-year-old Jewish grandfather reading about the time the condom broke when I was with a Brazilian boyfriend. I woke up in cold sweats thinking about my (other) English ex reading about what I had really thought about our sex life. I would sit on the double-decker buses in London and stare out the window while fretting about my Chinese Dad reading it or the reaction of my small, conservative hometown in Texas. How was I ever going to show my face back home again?
Then, in February, I woke up. Half asleep and bleary-eyed, I reached for my phone and opened an email from a magazine editor asking if I would be interested in interviewing Lily Allen for a profile piece. I sat up in bed and blinked a few times at the screen. Then I emailed back immediately, typing "Yes! Yes! Yes!!!" Of course I'd interview Lily Allen! I had something I really needed to ask her.
In March, I finally find myself sitting across from Lily over a cup of tea in London. It's surreal, because her face and her mannerisms feel so familiar to me that I felt like we've met before. She's pretty, with lively brown eyes and her hair swept up. She's also very friendly -- I had been wary that she might shout at me or not be nice if I inadvertently offended her, but this isn't at all the case.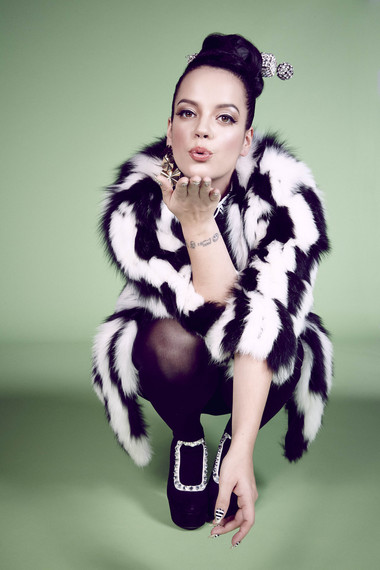 After discussing feminism, fame, her body image and her infamous music video, the interview is nearly over and I have one final question to ask her. One question that I personally need to know the answer to.
How is she so honest and brave in her song lyrics? Isn't she afraid of what people thought about her? What about if she thinks of her husband's family listening to the song where she sings about his virility (on "L8 CMMR")? How does she expose herself and write about body insecurities and feeling left out of the music world and her occasional discontent as a mother? How is she so fearless?
At first, she pauses, her long nails resting on her chin and she shrugs and smiles. I briefly explain about my book coming out and I ask her again, "How do continue to be daring and vulnerable in your music?"
What I was really asking her was, "How can I be fearless like you?"
Finally, she understands why her answer matters so much to me. She looks me in the eye.
We're all human. I feel like there are certain things that are taboo and maybe I do touch on them as subjects, but I think that at the heart of what I do is, 'Hey, this happens to all of us and we shouldn't feel like we can't talk about it or that we should feel like we're ashamed of it. If you're gay, you're gay. If you're a woman, you get periods -- it doesn't f*cking matter!' The more we talk openly about these things, then we can become more comfortable with them.
"Right," I say, nodding solemnly. Silence.
And then Lily bursts out laughing.
"What's your book about?! Your vagina?" she asks, nearly falling out of the booth as she leans over with laughter.
I think about the broken condom and the affair with the older man.
"Kind of..." I say, before explaining the book further. I explain how personal it is -- but how if I'd made it less personal or less embarrassing, well, it wouldn't be true, or a story for other women to relate to.
"Right," Lily says. "It just wouldn't work."
At that moment, a PR girl approaches our booth and just like that, my time with Lily is up.
Later that evening, listening to "Sheezus" from her new album, in which she spends five glorious lines singing about her period, I think: she's right. Talking about these shared experiences make us human -- and they unite us (not least because they are often funny). Stories only have real meaning when you're willing to put it all out there, to go places that may make me embarrassed but will make other women feel a little bit less alone.
A few weeks later, I see Lily in concert  --  her first gig in four years. When she sings "Smile," I think about the first time I heard it, as a college senior, and how long ago that was. We're both older now, and wiser, too. If she can still put everything out there, then so can I.
And so, in my book there's the story of Ray, there's the story of my mistakes, the story of my twenties. The story of losing the love of my life and how I got him back again  --  it's all in there. I'm finally ready, and just in time, too. My book is finally out this month.
Thanks for everything, Lily  --  want to read about my vagina?
The book, Graduates in Wonderland, an epistolary memoir about Jess and Rachel's postcollege years living in Beijing and Paris, is out now.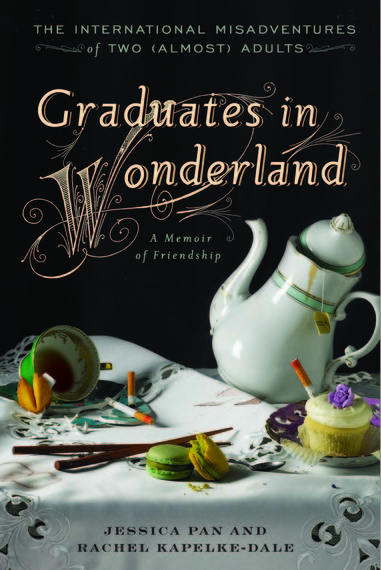 This post originally appeared on Medium.com.
All photos courtesy of NME