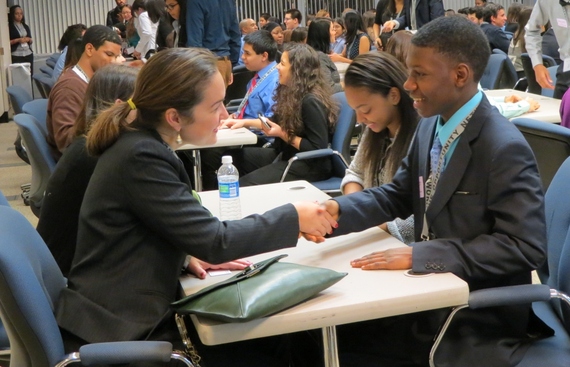 The value of college is more and more frequently linked to career outcomes for students, and that is creating shockwaves in higher education. It's hard to believe, but people are surprised by this. University presidents were rattled when President Obama announced plans to rate their institutions on factors including the annual income of graduates. The demand for career readiness among college students is exploding, and universities are playing catch-up as the finish line moves from college matriculation to graduation and now to career.
Clearly, colleges can and must do more to ensure that students are ready to conduct job searches and start careers. I'm not talking about how to write a resume or cover letter. I'm referring to how to build social capital, the network of connections, shared values and norms that are critical to professional success.
We know that 60 to 80 percent of jobs are filled through word-of-mouth--it's called the hidden job market--and to find those jobs, who you know is as important as what you know. This means that social capital is one of the most important assets that students bring to their job searches. Some students arrive on campus with plenty of social capital; they have great contacts built through family connections and childhoods spent in privileged neighborhoods. They have summers of work experience thanks to internships they got through those connections. But for others, college is their first chance to start intentionally building a professional network and mobilizing those relationships to find fulfilling jobs.
College and universities can make this much easier by adding programs that teach the skills that students need and by giving them a chance to practice using those skills.
My organization, The Opportunity Network, has developed a curriculum on "Career Fluency"--how to build work experience, master professional skills and cultivate networks to launch successful careers as college graduates. We both teach specific skills that students need to develop, like how to introduce yourself professionally or how to cultivate a relationship, as well as the emotional understanding and confidence they need to use these skills successfully. We use tools like network maps that help students identify and build on the social capital they already have. And we give them opportunities to practice through fun and fast-paced events like Speed Networking, where students meet numerous professionals and explore several career paths over the course of one evening.
The results speak for themselves--85 percent of our students hold career-track jobs or are in graduate school within six months of completing college.
There are several ways that colleges and universities can integrate career readiness into their programs. Administrators can offer workshops during freshman orientations. Faculty can teach about social capital in freshman seminars. Career planning centers can offer special programs throughout the year. Alumni relations staff can add Speed Networking to their events calendars.
It is heartening that some universities are already moving in this direction, and I hope others follow their lead. By defining career readiness as an institutional value, universities and colleges can do a great service for their students. And they may well safeguard their own relevance.