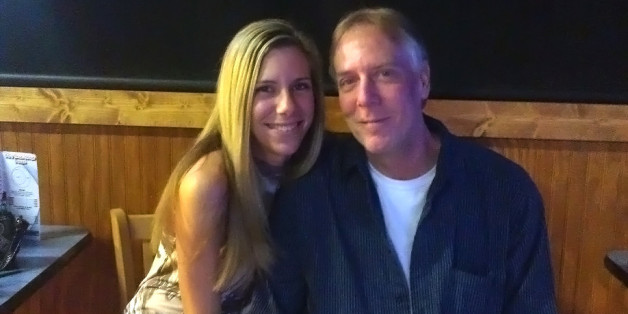 This story was produced in partnership with Facebook Stories. Submit your own Facebook story here.
---
I was raised by my grandparents, as my birth mother was a teen who was not ready to care for me. My birth mother and I had a friendly relationship growing up, but I always felt abandoned by her and I never felt she loved me or cared for me. I always called my grandma "Mom" and my grandpa "Papaw."
My grandparents took on the responsibility of a child in their early 50s and made so many sacrifices to make sure I was given a great life. But around the time I was in fifth grade, I noticed how different my life was from everyone else's. I didn't have young parents who participated in school events and field trips. That's when I approached my grandparents about my birth father. My grandma simply stated that she did not know who he was since my mother never told her. As time moved on, I realized my grandparents were the only family I needed, and the questions I had had about my dad faded away.
So I graduated from high school, went to college, and my boyfriend and I moved in together. He joined the Army and a few months later we were engaged. Life was great until my grandpa was diagnosed with Parkinson's and Alzheimer's disease. He became bed ridden and unable to eat, so I would visit morning, noon and night to do whatever needed to be done.

I found out I was pregnant in spring 2009, and it became harder for me to care for my grandpa. As my due date approached, I reached out to my birth mother for help and, to my surprise, she really stepped up. I saw a new person in her and finally felt like I had some relief.
One night, as we were sitting and talking, I made a gesture of some sort and she said, "You know, you remind me of someone. You remind me of Kevin Cosby." She continued to tell me that she wasn't sure if he was my dad and that I shouldn't reach out to him because he doesn't know that I exist.
I played it off like I was happy without knowing, but I held his name tight in my mind. That's when the adventure truly began. I asked my grandma questions about this Kevin Cosby guy and she told me that he and my mom were childhood friends. Why so many years later my birth mother would come out with this information, I will never know, but in January 2012, I decided to look for him.
When you Google a name like Kevin Cosby, it is overwhelming to see how many people have that name. I had waited my entire life to get a hint at who my dad was, and now I had a name and thousands of Kevin Cosbys to go through. Knowing it would be impossible to find him like that, I turned to Facebook. I searched the name and narrowed down the results by location. I browsed through pictures to see if I could identify any likeness. Finally, I came across a Facebook profile that seemed like it could be the right one. I figured I would go for it.
In my first message, I asked if he remembered growing up with someone named Cindy. I told him I had been trying to find someone with his name and I would really appreciate a response since I needed help with something really important to me.
After a couple of months, I finally got a response. I had never been so scared to open my message box. He said that he did know my mom years ago and that he would help me if he could. I told him my whole back story, and then I decided to just ask him if there was any possibility that he might be my dad.
I immediately followed up with, "I'm sorry. I don't even know how to ask a question like that to a stranger."
He got right back to me and told me that he and my mom were friends when they were about 13 or 14. They met up again a few years later, but after that, he never saw or heard from her. Then he said, "WOW, I am very concerned now. I am so sorry you have been through something like this." We continued to message back and forth, and it didn't take long before we wanted to meet. I couldn't believe what I was about to do.
My heart was racing waiting for him to arrive as I sat with my grandma. She was just as excited as I was. As soon as I opened the door and looked at him, I knew this was him! I immediately hugged him, and there was an instant connection. Our first meeting is really a blur because I could not come up with anything to say -- all I could do was look at him and smile!
After that initial meeting, I wanted to get a paternity test just to make sure. When the test results came in June 2012, it was important for my grandma to be a part of it. We were very best friends, so we met at her house, sat at the table and had her read the results. I will never forget that moment. She paused and said, "Well, Punkin," using my life-long nickname they always called me, "you found your dad."
Tears started flowing. It was always a dream of hers for me to know who my father was, and finally that day had come. It was one of the most amazing days of my life. My dad had no idea for the past 26 years he had a daughter walking around the same city. From then on, I was his daughter and he was my dad, and while we missed out on a lot, it didn't matter because now we had each other for the rest of our lives. I was introduced to my entire family and met my amazing brother Cody. We are all so much alike, it didn't take long for a connection.
However, my life turned upside down when my grandma was diagnosed with bladder cancer in late 2012. By January 2013, she was in the final stage of kidney failure and we all knew she didn't have long to live, so she sat down with my dad and told him, "From now on, Punkin is going to come to you for questions." He told her, "I will do my best to answer whatever it may be."
They hugged, and I could see a huge weight had been lifted off my grandma's shoulders. She did not want to leave me behind with no one. I spent the last week of her life caring for her in her home until it was time to say the final goodbye. My dad called me while I was holding her hand, and the next thing I knew, he was right beside me. He had one hand holding mine and the other rubbing Mom's head as she took her last breath. In that moment, I knew my grandma left knowing I was in the best hands.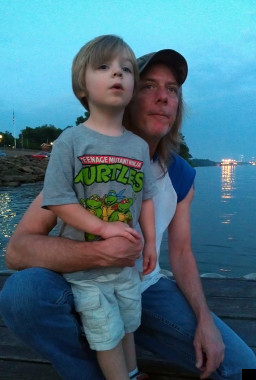 While losing the parents who raised me has weighed heavily on my heart, I am so blessed to have the love and support of my dad, my brother and his amazing family. We all live very close, and are active in each other's lives. We spend weekends and holidays together just like any family. My dad is now "Papaw" to my 4-year-old son Nolen, who is excited to go fishing with him very soon!
My whole life, this secret had been hidden from view and finally, at 26 years old, I was given one of the biggest blessings in my life: the love of my dad. Thanks to Facebook, my entire life changed with one message. I cannot believe how lucky I am to have this great guy as a dad!
Jessica Porter lives in Evansville, Indiana, with her son Nolen and fiancé Jake. She is a telephony operations specialist at WOW!