"What are we going to do today?"
I've heard that question more times than I can count. Usually from the moment the littles peer at me from freshly-peeled-opened eyes. The sun is just starting to sliver its way through the blinds and bright morning eyes stare at me. "What are we going to do today?"
"I don't know, baby." I say, squirming my way out from under the covers.
I'll say it again while glancing up from a coffee cup. Once more while I'm getting dressed. "I'll think of something," I tell them.
"But what are we going to dooooo?" They start to drag out the "o" with their shrill and whiny voices until I get an idea. Once I have a plan I can distract them from the doing for a few hours. We go to the park, or the museum, ride the train at the zoo, start and maybe finish an art project, or go to the store where I promise a cookie from the bakery. We are doing. There are actual things to be done, but the littles, they don't care about that, they want to be doing.
At dinner they start to get ahead of themselves, "what are we going to do tomorrow?" and through teeth brushing, story reading, pajama giggling, "but tomorrow... what are we going to do?"
"Babies!" I try to snap them back to reality, "it is still today, let's just focus on that!"
I love all of our doing. The planning or spur of the moment ideas that spark an adventure, however big or small it may be. But what I love just as much is the not doing, the not planning, the just being. I love every single this moment right now that we never planned on doing at all. The just existing. The living, breathing, enjoying and undoing.
This morning we started our day like every other: "Mommy! Mommy! What are we going to do?" I shake my head and a few minutes later, "Moommmy! Have you decided yet? What are we going to doooo?" But for right now, I've got nothing.
So the boys decide to fend for themselves. They take on the day. Daddy is outside mowing bristly grass, thick from summer thundershowers and the boys throw shoes on their feet and scamper down the driveway, grabbing scooters and bikes with their free hand as they blaze past without skipping a beat. Every so often, I peer out of the window and see them squatting in dirt or peddling across sidewalks, the boys and the sidewalks sopping up heat from the sun.
After a while one of them runs inside. He's breathless, juggling a cup and trying to fill it with water, but he's still getting over his excitement as he babbles to me, "We were doing races! And we did 10 of them. TEN! Can you believe that?" He takes a few sharp gasps before going on, looking me dead in the eye with huge saucer eyes, "I'm sweating. And we were racing and I hit Thomas' tire and he slid! He slid and it was like..." now he's using robust sounds and jerky movements to act out the scene to me. He guzzles from his cup, his story trails off and I hear a faint boy burp as he slams the door, galloping back outside.

They aren't doing. Never in answer to the countless "What are we going to do today?" did we decide on running outside, doing races, sweating, gulping, story telling, TEN races! But they are. They are taking this morning one moment at a time, this moment at a time, and it is perfect.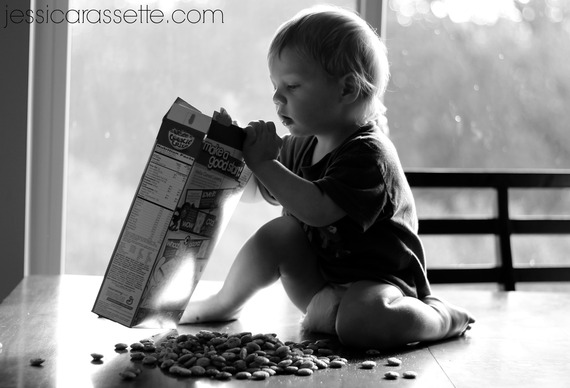 After the door slams behind him I grab another cup of coffee, scoop up the baby who has found the boys' cereal box on top of the table, sit down, and enjoy my own few moments of morning simply by not doing a thing.
Jessica is a writer and photographer. She blogs at www.jessicarassette.com