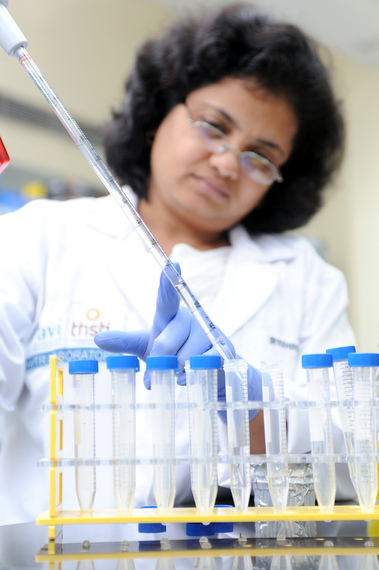 Over the last decade, the biotech industry has seen explosive growth as patients become more and more reliant on biologics, drugs that are engineered in living cells. With a new regulatory approval pathway being created for their generic-like alternatives, called biosimilars, and many biologics coming off patent in the next few years, the industry is about to undergo a big shake up. This is why many producers of biologics are fighting the threat of new competition by asking the Food and Drug Administration (FDA) to prevent biosimilars from using the same generic international nonproprietary names (INNs) as biologics.
Biologic creators have disingenuously argued that it's a matter of safety and "sound science" that biosimilars should have unique names. This couldn't be further from the truth. Having different names for these clinically similar drugs would harm patient safety by causing increased confusion among doctors and pharmacists prescribing and administering the drugs. The risk for medical error would increase as these providers would be forced to remember multiple INNs for the same drug therapy. Having the same name, however, would ensure greater patient compliance and minimize errors such as duplicate prescriptions.
For biologic creators, this really isn't a matter of safety, but an attempt to protect their market share. In Australia and Japan, different generic names for biosimilars has hampered competition. One case study looked at epoetin (used to treat patients with kidney disease) and found that in both of these countries different nonproprietary names for epoetin molecules led to lower market penetration compared to other biosimilars that were permitted to have the same INNs as their reference biologic.
In Europe on the other hand, biosimilars have been on the market since 2006 using the same INNs. They are primarily identified by their trade name and cost on average 30 percent lower than branded biologic counterparts. A recent study of the European Union's drug safety system found that using the same names for biosimilars has a successful product identification rate of over 96 percent, the same success rate as biologics.
There is no reason to think this would not hold true in the United States, especially given our more sophisticated drug tracking system that includes national drug codes (NDCs), manufacturer codes, and batch and lot numbers. NDCs are captured in the patient record at a pharmacy, and doctors administering drugs in-office keep track of drugs by code as well. Additionally, the FDA has actually permitted many existing biologics in the U.S. to share the same nonproprietary names already. This procedure has not resulted in any safety or traceability issues for patients.
Arguing that biosimilars are chemically different and therefore should have different names also calls into question whether each original biologic should have the same name since the way these drugs are manufactured leads to slight changes over time. No two batches of biologics are exactly the same.
Without the same nonproprietary names, interchangeability of cost-saving biosimilars would be questioned. Greater confusion among doctors and pharmacists could occur. And many low-income, chronically ill patients who rely on these drugs will continue to be faced with the decision of putting food on the table for their family or paying for another dose of medicine.
As the FDA considers regulations on the naming debate, they should look at the lessons learned abroad and consider the robust existing drug tracing system at home. Because if they fall for the latest scare tactics by brand-name biologics, the sickest and poorest patients will be the ones paying the price.
Jessica Stone is a former health policy analyst and senior adviser for U.S. Sen. Mary Landrieu (D-La.), the Committee for a Responsible Federal Budget, and the Small Business Majority. She is currently pursuing an MBA in Health Sector Management at Duke University's Fuqua School of Business.