This time last year, Kosovo was considered "the most volatile issue confronting NATO" as the would-be state prepared for a controversial declaration of independence.
Analysts, politicians and reporters alike warned of the potential for fresh instability and violence across the Balkans. There were fears for the safety of Kosovo's Serb minority and predictions of Serbian retaliation.
By the start of February this year, Pristina's hotels were packed full of foreign journalists trying to decipher mixed messages over when the actual declaration would come. I was trying to freelance in the divided northern city of Mitrovica, where diplomats and UN officials had warned of the potential for violent clashes over Kosovo's secession.
Split into an Albanian south and Serbian north by the Ibar river, Mitrovica had for years been seen as a symbol of lingering tensions between Kosovo's Serb and Albanian communities. The city's Serbs and Albanians were highly integrated before violence during the 1999 war prompted artificial ethnic divisions.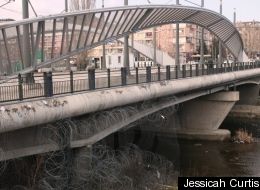 When I arrived in early February, Mitrovica's Albanians were awaiting news of their impending independence, while many Serbs were bitterly disappointed with Boris Tadic's victory against ultra-nationalist Tomislav Nikolic in Serbia's presidential race.
The vast majority of Serbs in northern Mitrovica voted for Nikolic and days after his defeat was announced pro-nationalist and Vladimir Putin posters remained plastered to the walls of Serbian-owned businesses and buildings in the north of the dusty, litter-strewn city.
"Nikolic is a strong man like Putin. He is orthodox and he would never let Kosovo go," Elek Raiko, a 43-year-old Serbian official with north Mitrovica's main electricity provider told me. "Kosovo is Serbia!" he shouted, quoting a billboard campaign launched by the Serbian government last year.
It was expressions of discontent like these that fueled fears of unrest among the international community, and with Mitrovica considered the front line of inter-ethnic tensions, many people expected the city to rocked by violent reprisals.
But for the people who lived there, Mitrovica was as much an example of change in Kosovo as it was symbolic of the region's divisions. Hundreds of Serbs and Albanians were crossing the river on a weekly basis for business. Tension between the small city's inhabitants was gradually being replaced by a sense of impatience with the instability and economic stagnation that ethnic divisions had wrought.
Mitrovica was once a prosperous town, with thousands of its inhabitants employed at the vast Trepca mining complex. But since the war, the complex had been largely idle and unemployment rates in the city had reached more than 60 percent. Mitrovica's surprisingly trendy cafes were packed with young people who couldn't find work.
I stayed with recently widowed Albanian Nehije Shatri, who told me it was time for everyone to let go of the hatred that had prevented both Serb and Albanian Kosovars from working towards the stability and security that was vital for their children's future.
"We would be happy to work with Serbs again . . . We have lots of Serb friends in the north but because of the situation we can't see them. On an individual basis, we don't have any problems with them," Nehije said.
Both Serbs and Albanians in Mitrovica, particularly those under 30, seemed tired of maintaining the levels of inter-ethnic hatred seen during the war and 24-year-old Serb laborer Darko Petrovic said that people expecting mass Serbian violence in Kosovo over independence would probably be disappointed.

"Slobodan Milosovic is dead. Things are different here now . . . I don't care about these political developments. I am interested in having a job and providing for my family. These are the main concerns now for people like me."
While some older Serbs, including Elek, responded more militantly to questions about Kosovo's independence, warning that "things could get dangerous", most people saw these as empty threats. Troops patrolling Mitrovica's north with Kosovo's NATO-led security forces, or KFOR, said they expected little more than small-scale protests and bravado from bored but well-armed individuals.
None of these sentiments made it into the international coverage of Kosovo's lead up to independence. I tried to freelance articles explaining this perspective to every newspaper I could think of. In the end, I couldn't sell a damn thing. Competition was fierce, and no one wanted an article about the potential for not much happening.
In the end, not much did happen. Several thousand Serbs marched in northern Mitrovica, a court house was occupied by protesters and one UN peacekeeper was killed when small-scale street skirmishes erupted.
The International Crisis Group's Sabine Freizer later noted, "One month after Kosovo declared independence, the sky has not fallen. As countries have one by one recognized the new state, the predictions of apocalypse have come to naught. Despite the violence in Mitrovica on March 17, massive displacement and regional instability that many said would occur simply never materialized."
It could have been a lot worse. Almost everyone I met in Mitrovica owned a gun and after hearing accounts of what happened during the war, I understood why some people were unable to let go of the fear that had played a primary role in their lives for so long.
Few media outlets bothered to explain why violence never spread over Kosovo's independence and after reporting that the stability of the entire Balkans was at stake, many reporters packed up and went home without filing anything after the declaration celebrations.
I left too, having failed to convince anyone of the need for a story about how far Kosovo had come since the war.
I regret having had to walk away. I think the situation in Kosovo and the people who live there have a lot to teach us about rebuilding after conflict and shaking off the temptation to take up the battles of past generations.
As Kosovo struggles with massive unemployment, organized crime, rampant corruption, a lack of foreign investment and lingering ethnic tensions, we should be amazed at the ability of the region's people to move forward, and the media should be explaining to us why this has been possible.
Because the mainstream media takes pride in its ability to influence the outcomes of dangerous situations. From Vietnam to the wars in former Yugoslavia, Afghanistan and Iraq, the media has indeed had an impact, and has in some ways revolutionized the global public's understanding of conflict.
Why not go a step further and try to influence people's understanding of peace, development and reconciliation? If coverage equals impact, why not let the situation in Kosovo back into the headlines and answer questions about how and why an albeit tentative peace has been possible?
As Kosovo's Serb minority prepare for their first Christmas since independence was declared and Albanians plan for Kosovo's first birthday, the mainstream media should look at the sentiments expressed by people like Nehije and Darko and ask what lessons the world could take from their experiences.
I won't be able to go back for the anniversary of independence in February but I would still be interested in an explanation of how a Kosovar Serb like Darko could say "we just want to get on with things here" with a smile on his face.