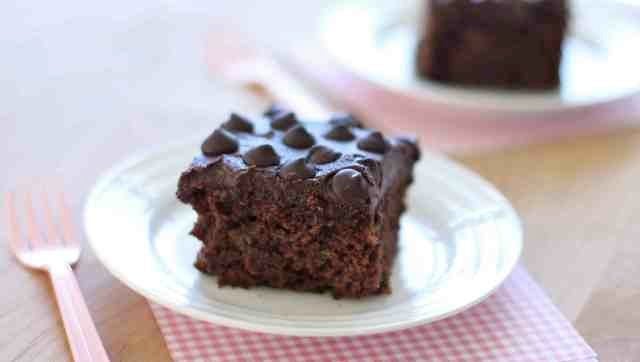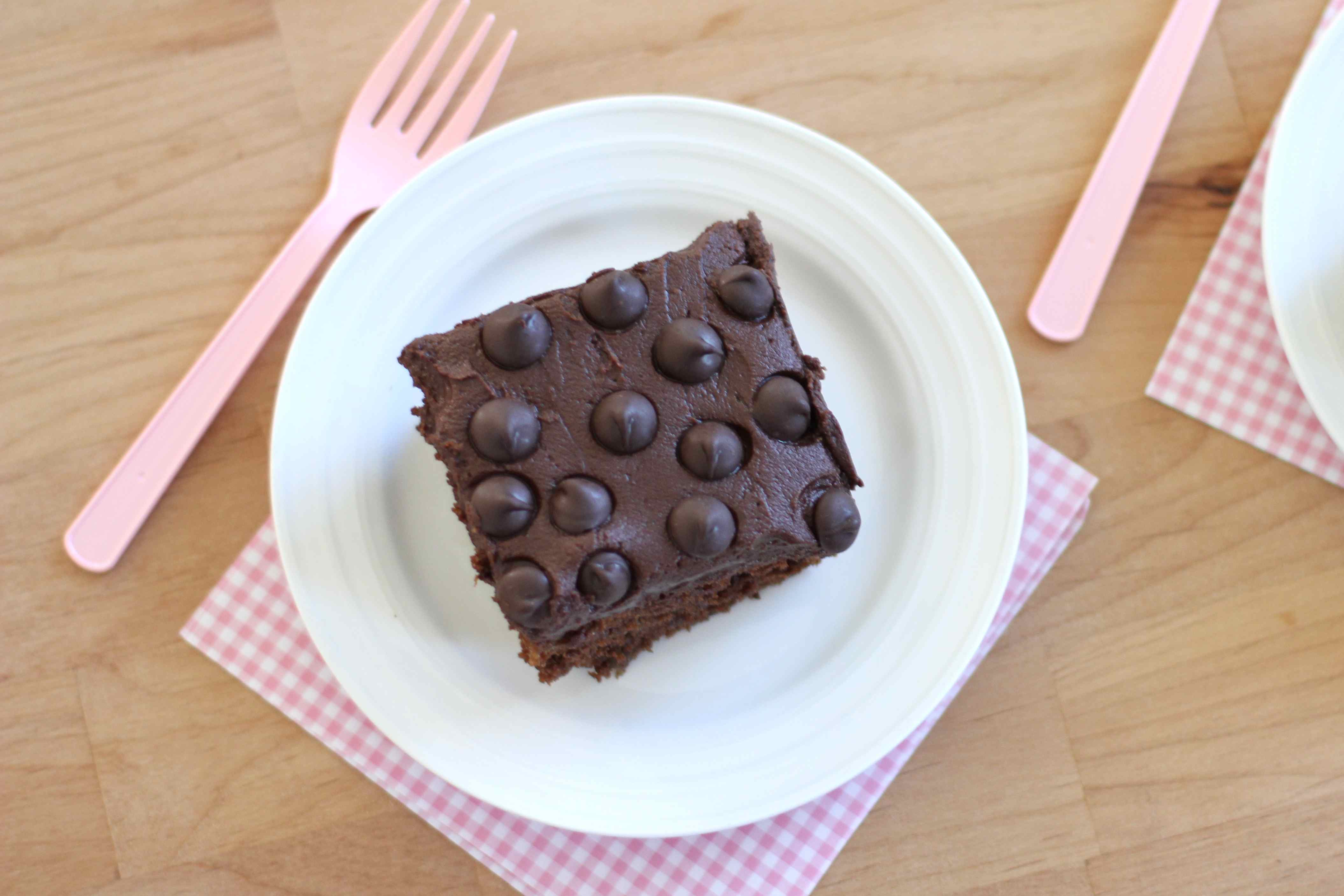 I have a confession: I don't like vegetables. As an adult, I understand their importance and the nutritional value they bring, but I just can't get over my childlike aversion to anything green and slimy. There were many times during my childhood, as I glared at a hostile pile of peas or broccoli, when I would wonder - why oh why don't vegetables taste like ice cream?? Then we'd all be happy!
These days, I have come to terms with the fact that my utopian ideal of fudgy brussel sprouts will never happen. But there is something that just might be even better: veggies inside of baked goods! I love carrot cake and zucchini bread so much, because the vegetable adds such a decadent moisture. It's the perfect combination!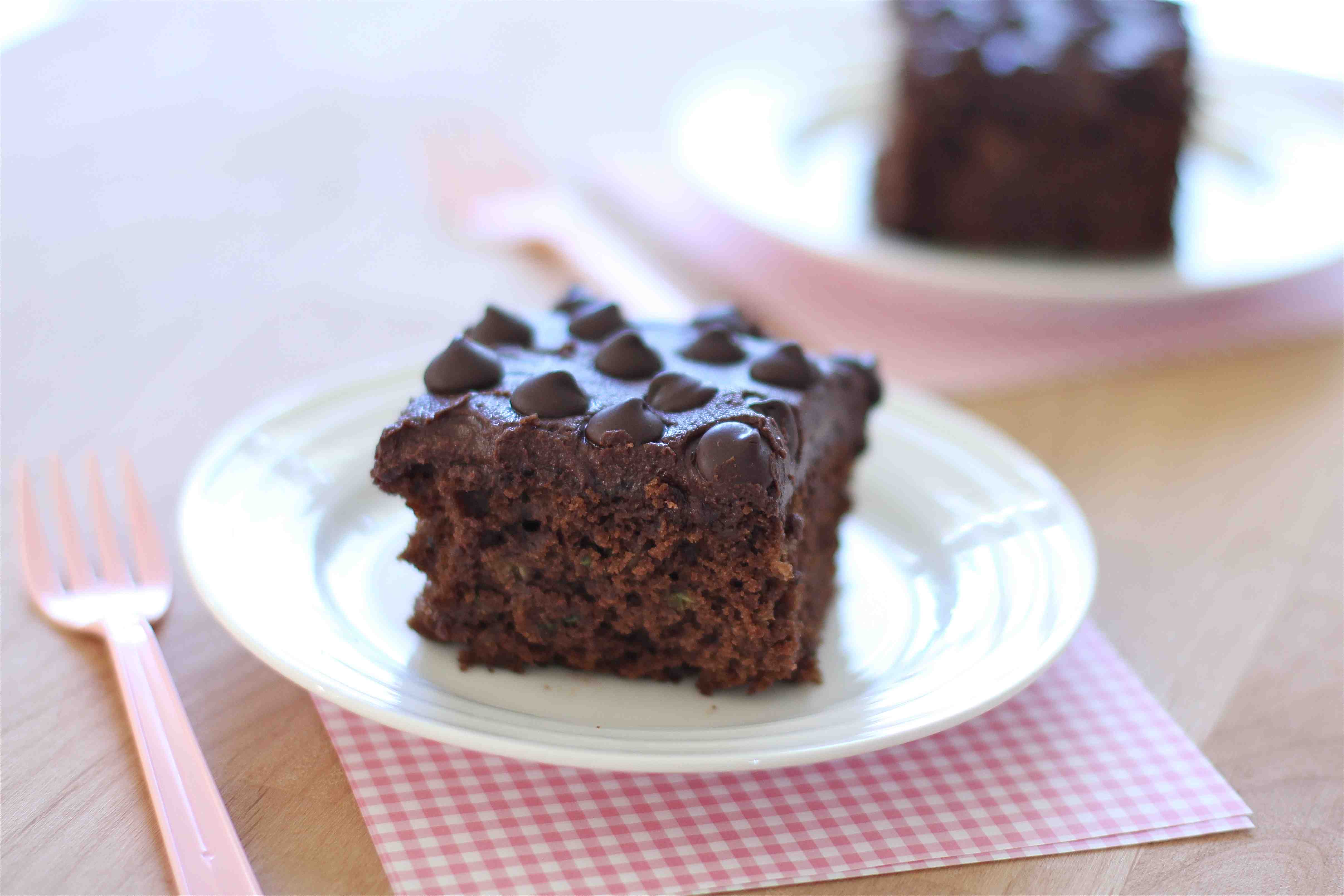 This particular recipe takes zucchini chocolate cake to a whole new level, with the addition of a fudgy dark chocolate buttercream and dark chocolate chips. The cake itself is so moist, it could be eaten on its own for breakfast. With the addition of dark chocolate, you will know you're getting your antioxidants as well as veggies for the day. That's my kind of compromise!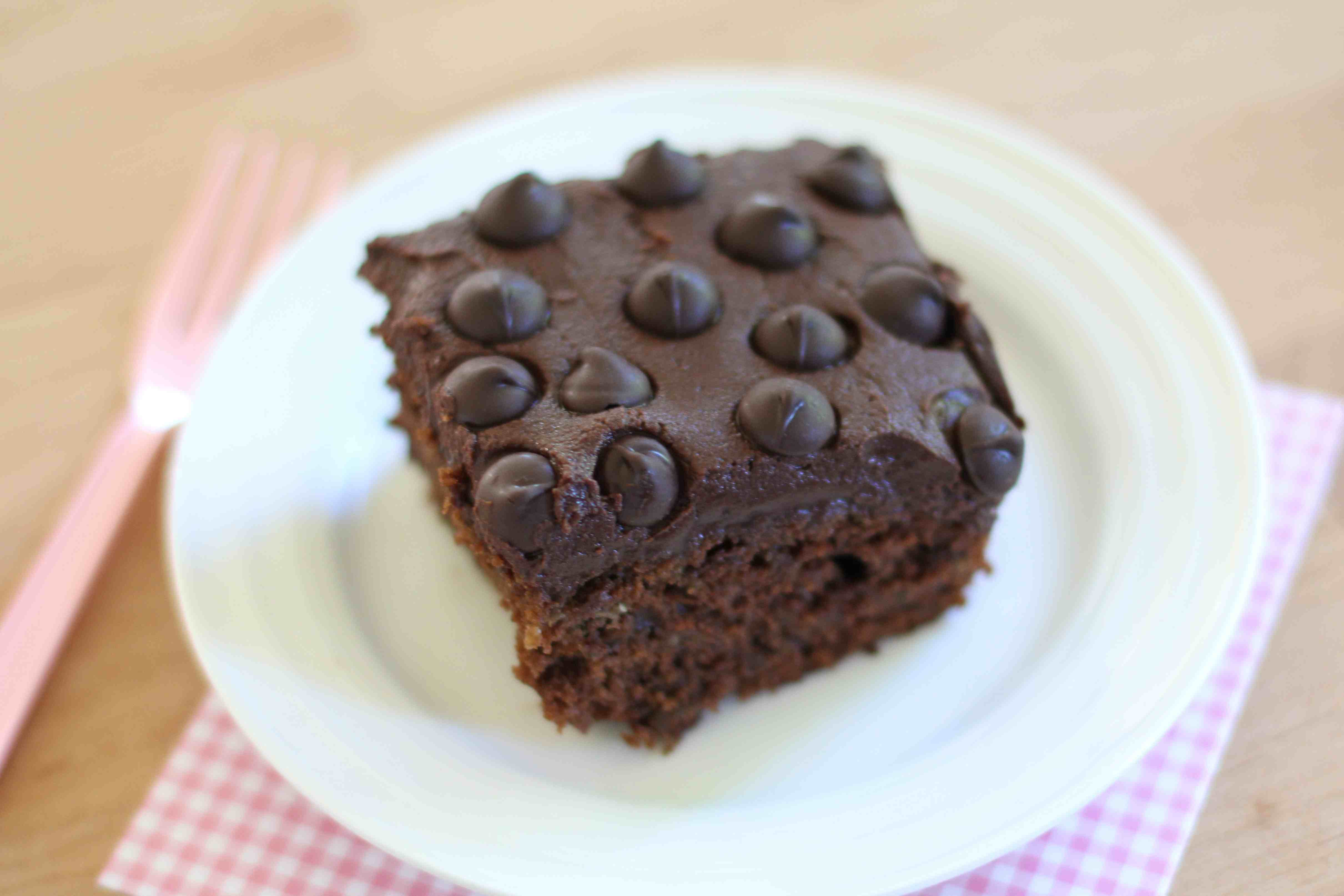 Zucchini Chocolate Cake with Dark Chocolate Frosting
1 3/4 cups sugar
1/2 cup canola oil
2 eggs, lightly beaten
2/3 cup applesauce
1 teaspoon vanilla extract
2 1/2 cups all-purpose flour
1/2 cup baking cocoa
1 teaspoon baking soda
1/2 teaspoon salt
1/2 cup buttermilk
2 cups shredded zucchini
For the frosting:
1/2 cup solid vegetable shortening
1/2 cup butter
7 (1 ounce each) unsweetened chocolate squares, melted
1 teaspoon vanilla extract
4 cups (about 1 lb) confectioners' sugar, sifted
4-5 tablespoons milk
1 cup dark chocolate chips, if desired
Directions
Preheat oven to 350 degrees F. Coat a 13 x 9-inch baking pan with cooking spray.
Beat the sugar and canola oil in the bowl of an electric mixer on medium speed for one minute. Add the eggs, applesauce and vanilla and beat for another minute.
In a separate bowl, combine the flour, cocoa, baking soda and salt. Add the dry mixture to the wet, alternating with the buttermilk, and beat just until combined. Stir in the zucchini.
Pour batter into pan, and bake for 30-35 minutes or until toothpick inserted in the center comes out clean. Cool on a wire rack.
To make the frosting, beat shortening and butter together until combined. Add in the melted chocolate and vanilla. Add sugar one cup at a time, beating well and scraping bowl often. Add in the milk and beat on medium speed until the frosting reaches a satisfactory consistency.
Spread frosting over cooled cake. Lightly press dark chocolate chips into the frosting. Enjoy!