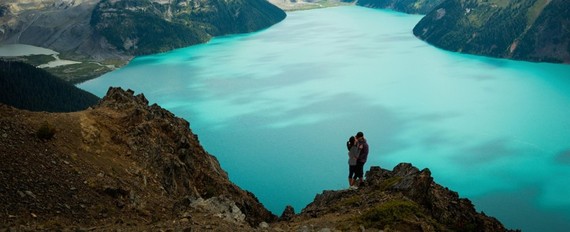 It's summer, people! The season of ice cream cones, lobster rolls, pool days. Oh, and making out. Jetsetter.com has the lowdown on where to get down, from cliffside hot springs in Cali, to drive-in movies in Texas. So go ahead and channel your inner teenager.
In a hot-spring on a cliff above the sea... at 2 a.m. Big Sur, CA
Skinny dipping is sexy. Skinny dipping in a hot spring on a cliff at 2 a.m.? Epic. Perched above the Pacific in mystical Big Sur, the Esalen Institute's hot springs have seen the likes of soul searchers from Ansel Adams to Joni Mitchell, Bob Dylan to George Harrison (and Don Draper in Mad Men's final episode). Staying at the new agey resort will cost you a pretty penny, but we'll let you in on a little secret: Esalen takes reservations for up to 20 non-guests to experience the baths for a mere $30 between 1 and 3 a.m. So slip out of your skivvies and into the steam as the full moon rises over the St. Lucia mountains.
At the drive-in: Fort Worth, TX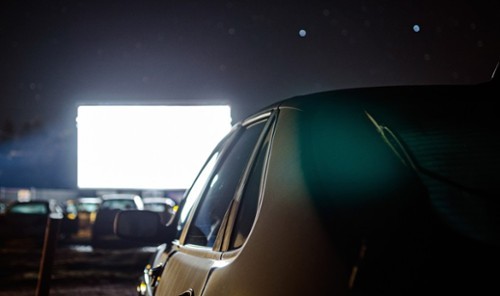 He just gave you his letterman jacket. You pull into the parking space. Your hands meet over the popcorn tub. And suddenly the windows are steamy. Maybe we've watched Grease one too many times, but there's a throwback charm to a little smooching at the cinema. Drive-ins may be more rare than a classy Kardashian these days, but thankfully there are still a few spots across the country where you can still "go parking." We dig Fort Worth's Coyote Drive-In for its microbrews and Southern eats (Frito pie, anyone?), and Colorado's Mesa Drive-In and its scenic sunsets. City slickers can pull into L.A.'s Electric Dusk Drive-In to watch the skyline flicker behind the flicks.
In a strip club (no, really): Portland, OR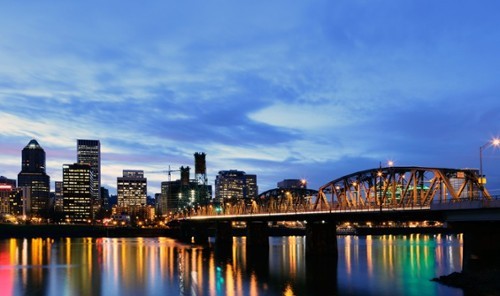 It's rumored that Portland has more strip clubs per capita than any city in the U.S.A. The more surprising fact? They're totally couples friendly. That has something to do with the Portlandia spin the city puts on its skin joints. Many of them feel more like racy dive bars than your average lap dance palace. Union Jacks serves the tatted up musician crowds. At the vegan Casa Diablo, the food menu is flesh free but the bartenders are topless. If you prefer to go meaty, Acropolis turns out one of the city's better steaks alongside microbrews and buff dancers. And Dv8 has pool tables and throwback arcade games.
On a ferris wheel...with a bartender: Las Vegas, NV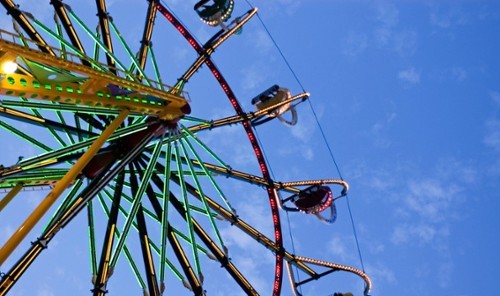 Debauched day parties, au naturel adult pools and suites with stripper poles are standard issue in Vegas. But in a city made for getting lucky, we think you can up the makeout ante. Perhaps you and your someone slip into one of the swank bathrooms at MGM Grand's CRUSH. They have mirrored ceilings. Just sayin'. Wanna take it higher? Book a private cabin with your own bar in the High Roller ferris wheel. And if you wanna take it even higher, you can strip above the Strip on a Mile High Flight. Feel free to, ahem, move about the cabin.
In a hammock by the N.Y. skyline: Governor's Island, New York
Photo by Jill Krueger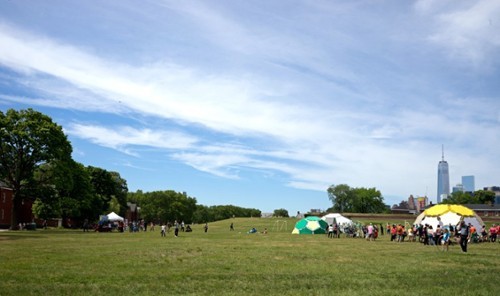 There's a cinematic grandeur to a New York makeout, whether you're at the top of the Empire State with the city at your feet or on the street, the world flowing around as time stops for your smooch. But if we had to pick the perfect place to lock lips, it would be Governors Island Governors Island, a 172-acre park between southern Manhattan and Brooklyn. Hold hands on the ferry as you check out Lady Liberty (looking good, girl). Ride a bike amid views of the skyline and Brooklyn Bridge to find the ideal picnic spot -- perhaps in an artist-designed treehouse--and then curl up in a hammock for some cuddle time. Since this island formerly housed military barracks, there are lots of secret spots to steal a kiss.
Want to Read More?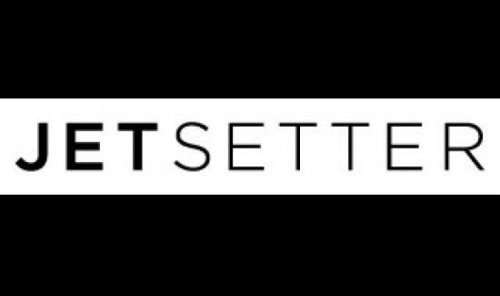 See the rest of the best makeout spots at Jetsetter.com.