The Bedford Post might just be our favorite New York inn. Yes, it's because of the clawfoot bathtubs, the yoga studio and the restaurant's delectable local, seasonal fare. But it's also because every stay comes with an outside chance of shooting the breeze with owner Richard Gere.
Jetsetter Editor in Chief Kate Maxwell tracked down the actor-turned-innkeeper and got the low-down on his favorite Bedford Post Inn bedroom, the menu must-order, and why he's been banned from yoga class.
Kate Maxwell: Why does a Golden Globe-winning movie star and human rights campaigner open an inn? Weren't you busy enough?
Richard Gere: My wife, Carey Lowell, and I have had a home in Bedford for 25 years, and we kept riding past a dilapidated building. Built in the 1760s, it was one of the oldest in the county -- and one of the few that wasn't burned down by the British. When we found it, the windows were broken and there were animals living in it. We wanted to save it, so we bought it with the intention of creating a place you could ride your horse to, have a meal and ride home. It had been a hotel in a former life, so it was natural to have bedrooms, too.
KM: You travel constantly. Did you take inspiration from any restaurants or hotels when you were designing the inn?
RG: We had two things in mind: Chez Panisse in Berkeley -- it's owned by friends of mine, and I ate dinner there every night when I was filming The Life of Bees -- and the Colombe d'Or in St-Paul de Vence, France. They serve simple, sophisticated food in a relaxed, soulful setting -- there's nothing stuffy about them. We wanted the Bedford Post to have a laid-back atmosphere with a sophisticated edge and an easy color palette.
KM: So not the Beverly Wilshire, star of Pretty Woman, then?
RG: The inn is the antithesis of that. And you know, Pretty Woman wasn't shot there. It was a set. Still, the bathroom, which of course featured prominently in the film, was really important to us. We had to have beautiful bathrooms.
KM: Which is your favorite bedroom?
RG: Each room is unique. They're not cookie-cutter at all. But Number 6 is the most unusual -- it's at the end of the hallway on the upper floor, and there are windows on two sides, and a terrace.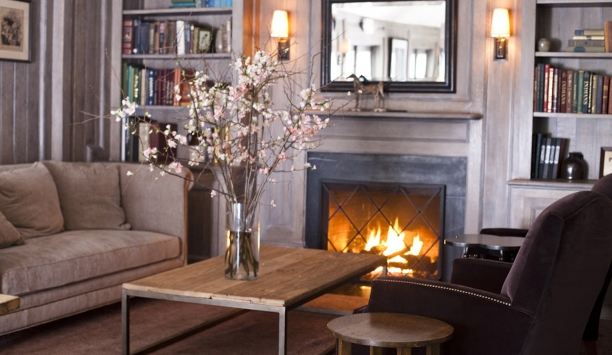 KM: We have to ask... How do you like your eggs in the morning?
RG: I order the vegetarian eggs benedict at the Barn, our casual restaurant.
KM: And what about the Farmhouse menu? Were you influenced by any favorite restaurants, and are there any dishes you'd recommend?
RG: Again, Chez Panisse. It's what we aspire to and measure ourselves by. Also, Danny Meyer's restaurants -- they're sophisticated and approachable. As far as dishes go, we always have terrific fish and pasta; our chef Jeremy McMillan came from A Voce in New York, which is renowned for its pastas. There's a creamy mozzarella and pear appetizer I'd be particularly upset if he took off the menu, and a wonderful risotto con funghi.
KM: Have you ever helped out in the kitchen?
RG: I once stirred the risotto. It was without a doubt the best risotto that's ever come out of the kitchen.
KM: The Farmhouse has an impressive wine list. Anything to do with you?
RG: My wife and I drink an enormous amount of wine; it's unthinkable to have a meal without wine. There's an Inama Soave on the menu I really like. It's straightforward and it keeps going -- there's a cleanness to it and it goes with everything.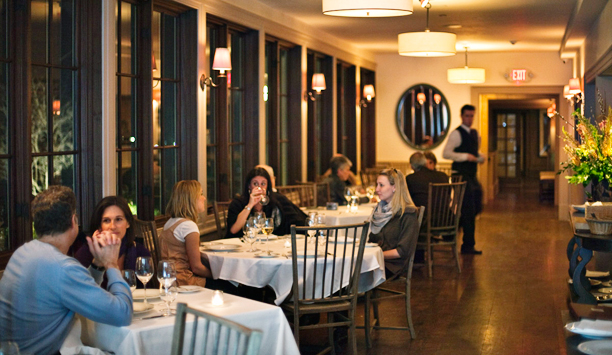 KM: So has anyone tipped up on a horse yet?
RG: We're still working out the insurance for that, but Martha Stewart comes by on her horse. She has a place down the road from the hotel.
KM: You have a yoga studio at the inn. Is that something you're into?
RG: Yoga is a major thing for us. We have classes every day, plus tai chi and meditation on Wednesday. I'm not really a yogi, though. I went to a class once, and my wife told me I wasn't allowed to come again because I ended up just looking at the girls.
KM: Apart from eating, drinking and yoga, what do you suggest our members do when they come to Bedford?
RG: Go hiking or biking in Ward Pound Ridge Reservation, a beautiful park with almost 5,000 acres and lots of bike trails. It's very close to the hotel -- grab a map from reception. New Canaan is only 15 minutes away, and it's one of the prettiest towns in the country -- you can get the train there and we'll pick you up at the station. Katonah is also beautiful. We take the kids there for Halloween, although it's not like Greenwich, Connecticut -- it's a real place with a proper Main Street and working people who have a great sense of pride in their town.
KM: Your film Arbitrage just premiered at Sundance. It was filmed on location in New York City. Where did you stay during the shoot?
RG: Yes, it's quite a good film. Nothing is shot in New York these days because it's so expensive, but Arbitrage is a very New York story, so it had to be there. There are two hotels I like in New York: the Lowell, on the Upper East Side, and the Crosby, in Soho. The Crosby is a recent find; it's a relaxed, quiet, high-quality place that's sophisticated in the simplest way.
KM: And, finally, what has been the biggest surprise about your role as innkeeper?
RG: Wherever we go in the world we meet people who have stayed or eaten at the Bedford Post. It amazes me constantly. We were walking in Patagonia recently and someone told me our hamburger was the best he'd ever eaten. I wouldn't know -- I eat veggie burgers. The inn seems to have delighted people; it makes people happy.