From a century-old Cote d'Azur icon (complete with trapeze) to a desert oasis hipster hang, pools are as much about the scene as they are about the swimming. Jetsetter.com dives into the good, the rad and the boozy.
Ace Hotel & Swim Club (Palm Springs, CA)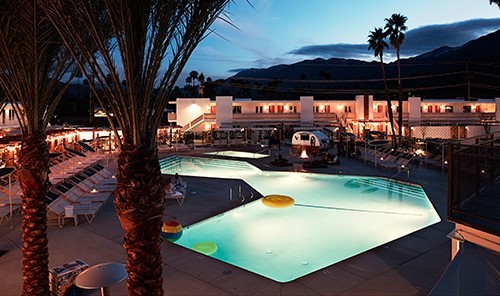 When the boho babes of LA tire of the Silverlake scene, they take their macrame bikinis and fringed caftans to this hip kid party oasis in Palm Springs. Days meander from hangover-curing yoga sessions to afternoon parties with DJs spinning old school hip hop or 90s indie rock. Bearded indie dudes ferry fish tacos and buckets of icy brews to crews of friends lazing on circular loungers and swaying hammocks as the sun hangs heavy against the San Jacinto mountains. The hotel hosts everything from throwback arts-and-crafts weekends to craft brew tastings but the scene reaches a fever pitch during Coachella, when partiers often ditch the concert for the hotel's legendary pool parties.
The Cosmopolitan of Las Vegas (Las Vegas, NV)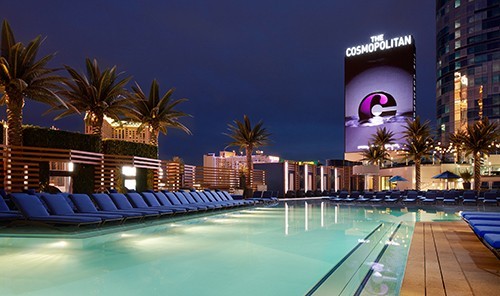 The pool party has become a Vegas institution and no one does it wilder than the The Cosmopolitan. The besotted and bikinied throng Boulevard, the hotel's sprawling rooftop pool club, for concerts by the likes of Vampire Weekend and Neon Trees. The pool also hosts weekly "Dive in Movie" nights during the summer, and there's an ice-cream bar on the south edge offering boozy popsicles, shakes and treats spiked with flavored vodkas and liqueurs. Note that the occasional pool party peccadillo may present itself--a competitive scramble for seating, fakery (as in tans, eyelashes, boobs) and paying top dollar for cocktails--but the surrounding views of the Strip more than make up for it.
Hotel du Cap-Eden-Roc (Antibes, France)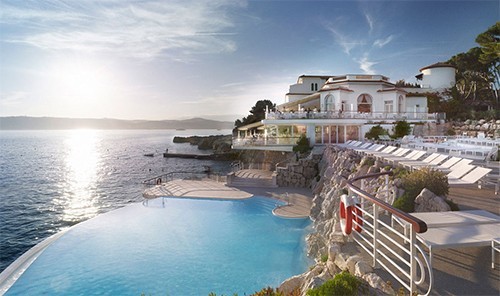 Straight out of a Slim Aarons photo (no, really), this dreamy saltwater pool carved from the basalt rock over the Mediterranean has been a Riviera icon for 100 years. We're not usually ones to name drop but, um, Pablo Picasso, Marlene Dietrich, F. Scott Fitzgerald, Johnny Depp, Mick Jagger, Clintons, Bushes, Windsors. We could go on, but instead we'll pour you a glass of Perrier-Jouët and let you gaze upon the glittering waters of the Med from Juan-les-Pins to the Estérel coastline and the Lérins Islands. Care to take a dip? Take the plunge from a trapeze that swings above the sea. Then towel off and hitch a ride aboard one the yachts tethered out front.
Hotel Fasano Rio (Rio de Janeiro, Brazil)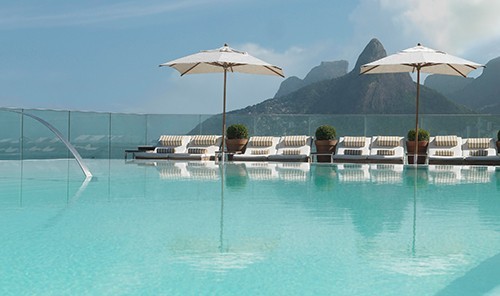 In Rio, Brazilians usher in the sunset with a round of applause. And you'll be inspired to join in if you're viewing it from the eighth floor bar of the Hotel Fasano rooftop pool above legendary Ipanema Beach. Designed by Philippe Starck, the glass walls and marbled infinity pool reflect the landscape, the emerald peaks of Tijuca Forest and Christ the Redeemer presiding in the distance. But the scenery around you is equally jaw-dropping with Brazilian models, international playboys and fashion types lolling in the shallows in oversized shades. The steamy bossa nova beats should help you play it cool while peeping Madonna and Giselle sipping caipirinhas at the teak bar.
Piscine Molitor (Paris, France)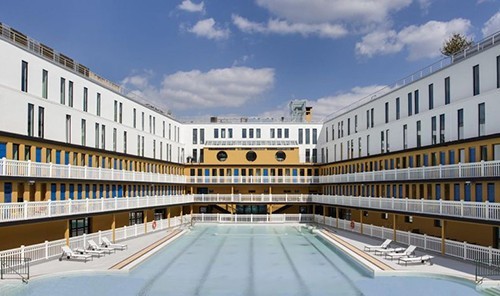 Opened in 1929, this Art Deco glamazon was the original scenester pool. The bikini was introduced here. One of its first lifeguards? A beefcake Olympic gold medalist turned Tarzan star. Its sandy deck was an oh la la urban beach for topless sunbathing. Closed in 1989 though, it fell into disrepair, later turning into an underground skate park, graffiti and rave spot. For summer 2014, architect Jean-Philippe Nuel added up the sum of those parts into a seriously sexy new 124-room hotel and pool club, restoring the ocean liner-inspired deco architecture, while preserving its spraypainted past by inviting street artists to do pieces in the new spaces. The teeny bikinis have returned with Paris A-listers happily throwing down the $245 daily fee to dive into the action.
Potato Head Beach Club (Seminyak, Bali)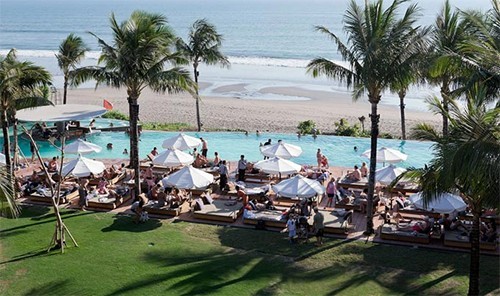 Most people think of Bali as honeymoon central, but Aussies know the truth: it's a killer place to party. And stylish Seminyak is the center of the fun. Architect Andra Matin created Potato Head Beach Club as a modern take on the Coliseum, it's circular façade composed of hundreds of mismatched 18th century teak shutters from throughout Indonesia. Inside, you'll find Aussie surfers, bronzed models and international jetset types reclining around a palm-fringed infinity pool overlooking the ocean. Swim up to the circular bar for tiki cocktails, make friends over boozy punch bowls in the midcentury bar and then lock down a prime spot to watch the sunset as international DJs spin you into the after-dark party scene.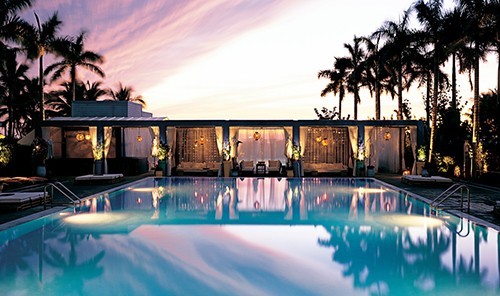 The Shore Club knows how to get things started right for its Sunday pool parties: with bottomless brunch for the ladies. They throng the poolside Terraza, eating lemon ricotta pancakes washed down with a bellini or twelve. A sought-after Miami DJ (Irie, Mateo Difontaine and Gunars to be exact) always presides over the festivities along with celebrity guests (why, yes, that is Ryan Locthe) and other eye candy (why, yes, that is a hungover bachelorette party). Other days, the two immaculate infinity pools are a great place to escape from it all--the sheer-curtained, tufted day beds will lull even the most high-strung of social butterflies into a state of languid, sun-warmed bliss. But make it a disco nap--anyone who hangs here has to really love the nightlife.
The Standard, Downtown LA (Los Angeles, CA)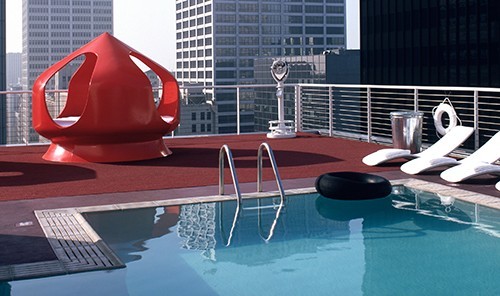 LA's celeb-studded pool scene is often the antithesis of laidback Cali culture, a tedious minefield of uptight bouncers and expense account cabanas. That's why we'll always and forever love the let-it-all-hang-out fun of The Standard Downtown. Set against a backdrop of glossy skyscrapers and lined with Astroturf, the buzzing 12th-floor pool's weekend parties mix free-flowing bloody marys, ping pong matches and hipster party photogs to a soundtrack of big name house DJs like Maya Jane Coles and Nosaj Thing. For something more low key, stop by midweek: their Biergarten is still open and you wont have to fight for one of the highly covetable cherry red lounge pods (equipped with terrycloth-lined waterbeds, of course).
The Standard Spa (Miami Beach, FL)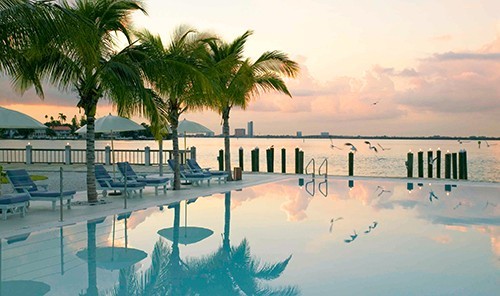 In South Beach, stilettos often outnumber flip flops poolside. Think that's summer sacrilege? Head to the Standard. Their legendary Lazy Sunday parties draw a let-it-all-hang-out crowd of yoga-toned locals and NY expats to its 24-hour infinity pool (complete with live DJs and underwater speakers), waterfall hot tub and circular sound showers. Start off in the co-ed Turkish baths smearing up with mud, scrubbing down with sea salts and plunging with your new friends into the hot and cold pools. Everyone ends up around the infinity pool noshing on margarita popsicles while the sun sets over the bay.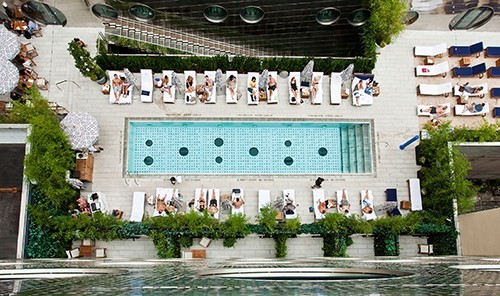 See and be seen is the name of the game at the Dream pool, where watery peep holes offer guests in the hotel lobby below glimpses of its bathing beauties. Pool parties are a novelty in NYC, but you won't find throngs of bikini-clad bachelorettes a la Vegas or South Beach. That's thanks to the bouncer and strict guest list. Instead it's a models-and-bottles scene complete with pimped out cabanas, a sandy tiki bar and suites that open onto the scene (hello, after party).