Should everything an artist makes be considered as Art? Or does it require the artist to declare it as art before it is made precious?
I am currently living aboard the sailboat Selkie as an Artist in Residence for the Clipperton Project in Scotland's Orkney Islands. While my main focus for the residency has been the Drawn at Sea drawings, my investigation into the subject of art/purpose has resulted in knotted works covering various items on the sailboat.
Using a knotting pattern common on ships I have wrapped the handrails that lead you into the cabin in a spiral hitch, crowned the end of a sea hook with a Turks Head knot and fashioned a pull cord for the cabin doors using a monkey's fist knot that has a small sea shell at its core.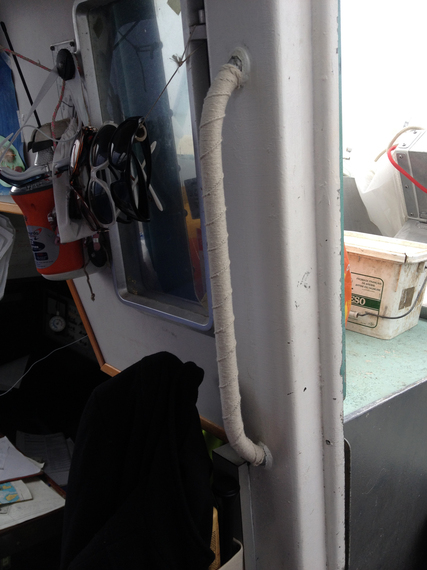 If I make no declaration as to how these works should be perceived, should they be considered art even though they will also exists with a utilitarian purpose?
A number of artists have explored the opposite of this idea. From Marcel Duchamp's "Readymades" to Tracey Emin's "My Bed" the art world is no stranger to the presentation of common objects as sculpture or installation.
Wanting an outside opinion on this matter I have posed this question to longtime New York curator, writer and art critic Bob Nickas. He has agreed to give his perspective on the idea and contribute to this post.
If something is made by an artist should it be considered a sculpture if it is used in a utilitarian way?
Everything an artist makes should not be considered Art.

If an artist makes breakfast for friends, even if he or she is a knockout cook, it's still breakfast.

If a sculptor builds a birdhouse, the birds don't know or care, as long as there's bird feed.
An artist built a rough wooden car for his son's participation in a boxcar race, which he lost, coming in next to last. It was a nicely made car, but the boy was fairly humiliated. This only made the artist an amateur in automotive design, not a bad dad.

In the '60s, the artist Joseph Beuys famously proclaimed: "Every person is an artist."

In the '80s, in an act of corrective patricide, Martin Kippenberger rejoined: "Every artist is a person."

The artist shouldn't have to declare anything, least of all that what he or she does is art. Whatever the artist does is a declaration of independence, and this includes independence from art.

Things are utilitarian if they serve a useful function.

Today art has become even more a form of currency--even if it's often rather old-hat.

There's a famous story about some friends of Carl Andre's, who had been given a wooden sculpture of his, and were shivering one winter night in their inadequately heated loft in Soho. They may have had some sort of pot-bellied stove. Andre was not yet famous, and the work was not really considered valuable. They had no way of knowing how his fortunes would turn, and this was probably not on their minds in that frigid moment. So they broke it up and put it in the fire to stay warm.

Marcel Duchamp never intended for his readymades to be sold. They were not meant to be given a greater value. He had not conceived of a shovel or a bottle rack or a bicycle wheel being transformed into a financial instrument.

In countless instances over the course of human history, people have admired an object because of how beautiful it is, how well-crafted, how ingenious, how it helps them in their everyday lives and they're glad that the invention occurred to someone. (In this respect, we acknowledge that much of art is a matter of problem solving.) And yet despite the esthetics, the craftsmanship, and the ingenuity involved, it may never occur to them to think of it as art. This does not shift the balance of the earth's rotation in any perceptible way.

The artist Ben Kinmont and his wife have a special needs child, and after a number of years being actively involved in the art scene, Kinmont stopped showing to concentrate on a business selling rare books about food and wine. (All published prior to 1840.) One of his later pieces states simply: "Sometimes a nicer sculpture is to be able to provide a living for your family."

- Bob Nickas
Also check out this interview with Bob Nickas at phaidon.com

Post Script: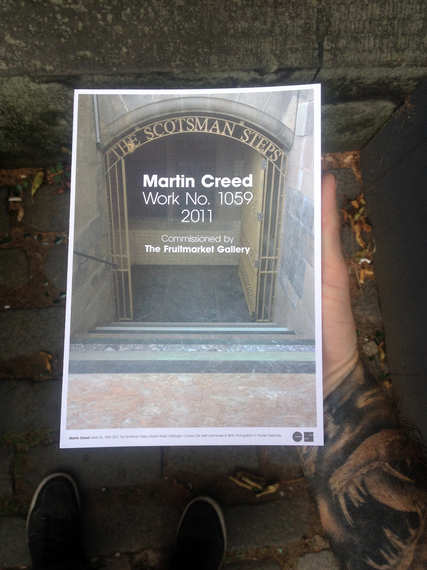 After I had disembarked from the Selkie and all the my writing were complete for this article, I had received Bob's reply and was on land exploring Edinburgh when I stumbled upon Martin Creed's work No.1059 at the Scotsman Steps. Fruitmarket Gallery commissioned the work which is located near to where the steps meet Market Street. I couldn't have found a more appropriate work of art for this subject of utility vs. sculpture.

As I approached the steps an elderly man started making his way up clearing his throat and spitting on the steps as he walked. Entering the Scotsman Steps the staircase smelled more like an alleyway in NYC than a place that held work of an internationally renowned artist. Knowing Martin Creed's Work No.503, Work No.660 and the like I can only guess he would not be disturbed by the smell and filth that is the current state of the steps. (Also for any of those tempted souls out there here's your chance to touch the artwork.)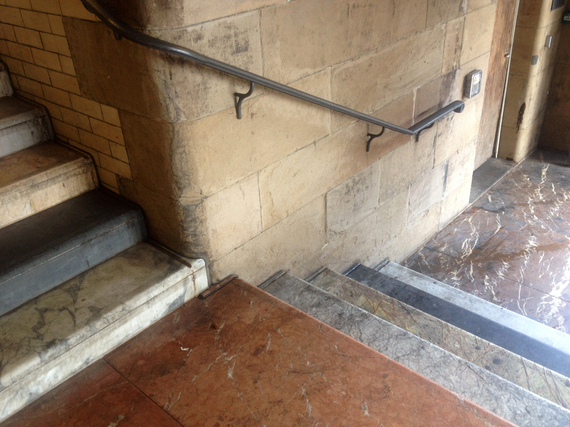 This work is the perfect example of what I had been thinking about. It was commissioned by an art institution and cost a great deal of money to complete a work that features 104 different marbles from around the world. While it is obviously different than any other set of stairs in the city due to the varying colors of marble, it was not as obvious that it was a work of art.
Serving a very real utilitarian purpose as a thoroughfare connecting the historic Royal Mile with the modern shops, train station and the aforementioned Fruitmarket Gallery. Work No.503 is more purpose than precious and its value is a matter of perspective that varies depending on your needs or your appreciation for art.
Maybe the duality of utility / art elevates such a work weather it be a grand staircase in a modern city or a knotted handrail on a sailboat in the northern isles.
Or maybe it just insures it's invisibly.