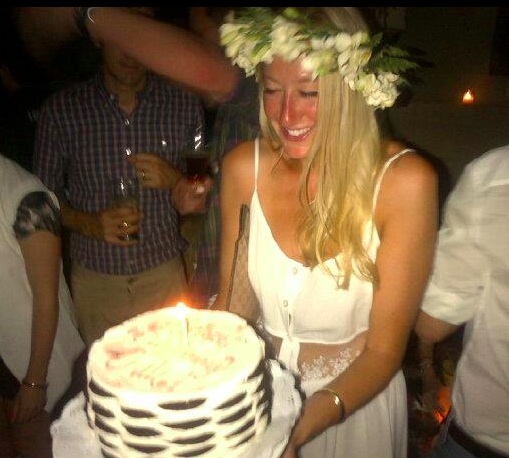 I've been pretty lucky with N.Y. moments: getting a cabbie's help to move 100 blocks, a chance meeting at a favorite restaurant leading to international travel, spotting Julianne Moore at the gym, spotting Julianne Moore at the hardware store, spotting Julianne Moore grabbing a coffee. These are the fun moments that make NYC, sometimes, The Greatest Place on Earth. And, we've all had them. My girl friend was once aided by Sarah Jessica Parker as she exited a cab in a rain storm in the middle of an apartment move during taxi turnover hour... And it was SJP who uttered, "I'm having such a N.Y. moment!" My best N.Y. moment came the last week in August this year, my birthday week.
I've been a West Village resident on and off for the last seven years and am proud slash embarrassed to say that I go to the deli a lot. When I am in the city, it's not a stretch to say that I visit my deli three-to-four times from sunrise into the wee hours, picking up various sundries needed throughout the day. In the morning I grab a kombucha and some grapes. Afternoons are re-ups on seltzer water and night-time ranges from ice cream to pineapple to eggs for the morning. My deli also has an excellent sandwich counter where my guys will scoop out any bagel, add avocado to any on-the-board selection, and generally make me anything at any hour. I also get my flowers, my paper towels, and my Advil from that same corner store. My monthly credit card statement boils down to air travel and deli expenditures.

So, the week before I turned 28 this year, I was palling around my hood doing my seltzer runs and stopping in for pineapples and treating myself to Ben and Jerry's. I had been in with a friend and spoken about the upcoming parties I was having on Friday night -- one at a hotel nearby. We discussed my dress, the start time, the guest list, the day-of preparations. I was giddy with anticipation. My friend played along -- busting me on the fact (true) that I love my birthday like no one over 5 years old should, going overboard each year -- this year culminating in two parties as well as turning a friend's clambake into an extended b-day event the following day.

We left the deli not thinking about who'd been listening. That evening I returned for Advil and some Tates and the following morning I picked up some cottage cheese. One of the guys asked if I'd be around on Friday. Of course, I said. I've never been asked a personal slash schedule question by any of the deli men but I didn't think about it. Later in the day when I went in for Gerber daisies and lilies, he asked me what time. That got my attention but I decided to play it cool. There's a dance that needs to go on between those people of the neighborhood we see everyday but whose daily rhythms are ever so different. I thought about my Friday schedule -- my birthday party day -- and told him likely around 1 p.m.

As the week went on, the deli guy checked with me two more times. I think I would have been a little weirded out but I was so fixated on the birthday that I kept forgetting to think about it.

When Friday came, I'd totally forgotten about my 1 p.m. bodega call time. I went about my day: working from Soho House, taking a meeting in Tribeca and Union Square, purchasing a '2' and an '8' candle, and emailing the hotel to be sure they had the most updated guest list. So, it was to my surprise when, at 2:30 p.m. I popped into my spot for a smoked salmon with avocado, tomato, and lettuce on toasted whole wheat, the guys greeted me at the door.

What followed was surreal. The deli guys had overheard me discussing the parties earlier in the week, and, as a birthday present, had made me a Freesia headdress to wear to my double-header soirée. Talk about being floored. The wreath was a piece of artwork. It was all white since they knew my first dress was tie-dye and the second one was a white lace slip-looking get-up. I nearly cried. I gave them all hugs and promise to take pictures.

That night I wore the crown with pride, bragging incessantly where it had come from. I could have stayed home and watched Friends re-runs and I still would have had a great birthday; the deli men made me feel like a star. Kindness always touches the heart and the kindness of New Yorkers is a treasured gem. A New York moment for the books.