Keeley, 19, and Erika, 20, were University of Oregon sophomores when they made their first batch of homemade peanut butter. As creative chefs (or, hungry college kids... you pick), the two began to add chocolate, cinnamon, coconut and other delicious ingredients to their peanut butter. They first sold at farmers markets and in small craft fairs. A year later (i.e., now), Wild Squirrel Nut Butter sells three peanut and two almond butters in roughly 50 stores in the Northwest. These hummingbirds are more like grocery store groupies -- and it's clearly paying off.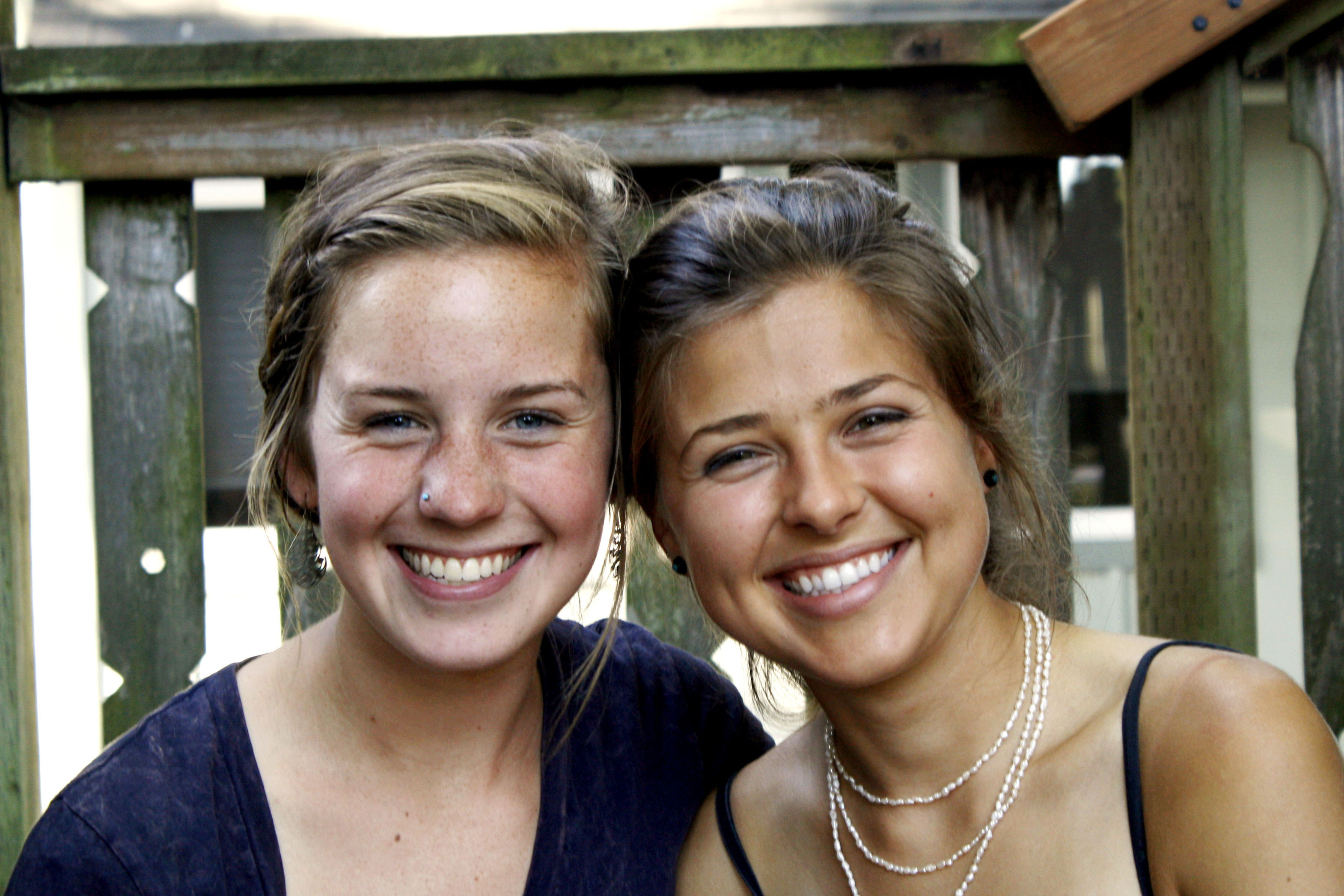 What's in your bag? When you pack for a trip, in your handbag, in the pockets of your jeans...?
Keeley: Notebook and felt-tip pen. I hate pencils, which is why I am never prepared for Scantron tests in class. I am always the one asking to borrow a No. 2 pencil. Boring stuff: Wallet, business cards, phone, chap stick. Peanut & almond butter, of course! We have just developed small "squeeze packs" for our flavors, so I can now always keep a serving or two in my purse, to hand out to curious people I meet that ask what it is that I do!
Erika: I'm constantly on the go so I have to be prepared for anything when I leave the house! This being said, my bag is quite a hodgepodge of things! The things that I carry with me to make sure I can work anywhere include: my day planner, my brown leather notebook, laptop, business cards, pens and my phone! Other then that, I'm a big tea drinker, so I always have tea bags and my travel mug!
You have 5 minutes to pack up -- for a trip of which the duration you're not sure. What do you take?
Keeley: My water bottle -- I am addicted to my CamelBak and never go anywhere without it! My running shoes and iPod. A good book, maybe two! Lots of snacks... being hungry is the worst!
Erika: Jeans, yoga pants, cardigan, scarf, running shoes, workout clothes, Bare Minerals, mascara, chap stick, laptop.
What is your most essential article of clothing?
Keeley: My L.L. Bean slippers! Nerdy, I know, but as a girl who works from home, I appreciate my creature comforts -- like warm feet!
Erika: My brown, suede winter boots! My feet are routinely cold, so these never leave my feet.
What are the top five songs you need to have access to hearing at all times?
Keeley: I am very unhip when it comes to music. My musically adept friends make me mix CDs for the car, but if I have my headphones in I am actually probably listening to a podcast. My favorites are from NPR, especially "From Scratch," where entrepreneurs from all areas of business share the stories of how they got started. It's so fascinating to me.
Erika: "Yellow" by Coldplay, "Hey Eugene" by Pink Martini, "Feel So Close" by Calvin Harris, "Free Fallin'" by Tom Petty, "Lost in the World" by Kayne West and Bon Iver.
What is your preferred hummingbird beat/cities you like to frequent?
Keeley: For New Years Eve this year my friends and I visited Vancouver, BC. I'd been there before, but for some reason this particular visit made me fall in love with the city. It's so beautiful, the people are really cool and laidback, and the public transportation was awesome! Can't wait to return.
Erika: Growing up in the suburbs, I love visiting cities! I have always enjoyed visiting Portland, as it always has a lot of cool events and restaurants to try. I recently went to Vancouver B.C. for the first time and absolutely loved it! I definitely want to go back.
What's something crazy that you did to follow your passion? Like, did you live out of your car for a month? Drive 10 hours to pick up a certain, weird material you needed?
Keeley: Erika and I have done some pretty crazy stuff for our company -- the first time we commerically produced Wild Squirrel Nut Butter we ended up driving a U-Haul with 10,000 jars of peanut butter (2,000 pounds over the legal capacity of the truck) through the pass from our production facility in Fresno, Calif., to our home in Portland, Ore. We skipped every weigh station praying we wouldn't get pulled over. Lesson learned -- hire a trucking company!
Erika: Left college at 19 to pursue the nut butter company that I started with my best friend! Hi, Keeley.
What is one tip you have for traveling -- a beauty tip, a survival tip, a culinary tip...?
Keeley: Erika and I are pros at eating on the road. Grocery stores are the cheapest (and healthiest) restaurants. Bring a can opener and a couple of condiments, buy some veggies and canned chickpeas, and you've got yourself a delicious $5 salad.
Erika: Traveling tip: Traveling always means a lot of waiting/dead time. I always have a book, magazine, my iPhone or notebook so I don't get bored.
Beauty tip: Coconut oil and brown sugar is an amazing natural facial scrub. It also tastes delicious.
Culinary tip: Adding roasted garlic to dishes is an immediate, healthy flavor enhancer!
What makes you a good house guest?
Keeley: I always make my bed and wash the dishes. My mom would be proud!
Erika: I have a lot of food intolerances, so if I am going to someone's house to eat, I always make sure to bring a dish I can eat so the host doesn't have to worry about me!
What's a recent or favorite meal you had while bouncing around the globe?
Keeley: I recently was awarded a Glamour Magazine Top Ten College Women Scholarship -- which included a trip to New York! I was most excited by the prospects of eating at fancy New York restaurants! My most memorable meal of the trip was forbidden black rice with chorizo and Cornish game hen with a delectable Brazilian sauce. I cleaned my plate!
Erika: Recently I was in the San Francisco area and I had the most amazing paella! The rice was perfectly creamy and full of delicious shrimp, scallops, sausage, green peas and a hint of white wine!
Where have you had your best night's sleep?
Keeley: Actually, last night I had an incredible night's sleep in the most improbable place -- on a friend's couch. She actually has the biggest, softest couch imaginable. It felt like sleeping on a cloud.
Erika: My bed at my parents house! It's big, comfy and full of blankets and pillows! My room is very quiet and dark, the perfect environment for a good night's rest!
Who would you like to travel with -- three people (you guys can caravan together or on separate trips)?
Keeley: My mom, my sister, and Erika -- the three women I spend the most time with! They are all easy-going and hilarious, important qualities in travel partners. They don't mind asking for directions, either, which is great because I hate it!
Erika: Keeley and my sister Andrea! I know that is only two, but the three of us have a great dynamic and we would be perfect travel partners! We all are adventurous, outgoing and are willing to go with the flow, things that are key to enjoying any trip!