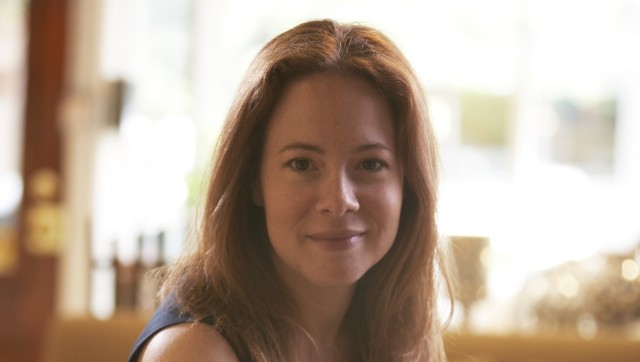 I confess -- I don't like vertical stripes. Horizontal stripes make me happy. Plaid confuses me -- but that's a different conversation for another day.
Every designer brings their subjective likes and dislikes to a project and my reputation now precedes me. I thought, how wonderful it is to have people who share my dislike of vertical stripes seek me out to be their interior designer!
But, not everyone understands the vertical stripe nausea. I discovered this the expensive way when I recently had two custom-ordered accent chairs upholstered in striped fabric. I made a mistake in assuming that my upholsterer would naturally understand my aversion to vertical stripes.
Please let me clear up any and all misconceptions regarding design mistakes and disasters. There are more than two people in a design relationship beyond just the client and designer. When working with an interior designer, you are also entering into a relationship with an upholsterer, an electrician, a manufacturer and, unfortunately, sometimes an intern who can run the show. Projects can end up becoming a game of telephone, just like the campfire game.
Sometimes the delivered message ends the same as it began, but a lot of times the message gets distorted and changed by the time it reaches the last person. This doesn't mean your designer is a dud; more than likely it's because there are so many hands on one item that a mistake could occur. And catching the error in time or correcting it becomes an entirely separate game.
Back to my mistake: My most favorite client, who has also been with me the longest, just engaged me to work on her second home. We are starting a complete gut renovation of the house any day now, but my client wants two rooms finished immediately so that her family can live in some semblance of order until the project is finished.
One of these rooms is the family room, a creamy blank canvas that we both want to enliven with some personality. We've chosen colorful drapes, bright leather club chairs and a rich, blue velvet sofa. The final elements are two striped upholstered club chairs with the chosen striped fabric, picking up the colors in the drapes.
Because this is Jill Goldberg writing and working, the stripes are to be placed on the chairs horizontally. (This might be a good time to explain that vertical stripes make me think of Greg Brady's pants, so all you psychoanalysts out there can get back to me on that.)
I placed the order for the custom club chairs with the manufacturer and waited the customary eight weeks with a few telephone exchanges in between. When the upholsterer emailed me to announce that the chairs were ready and sent an image, I froze with horror. The fabric was applied with the stripes placed vertically on the chairs: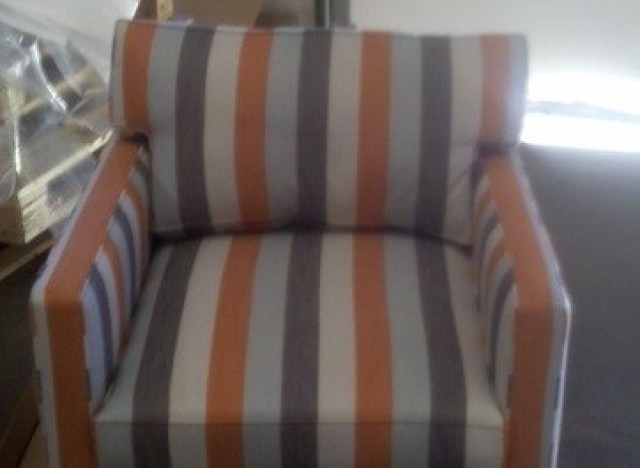 Photograph by Jill Goldberg
I am brutally honest and up front, so I immediately sent the image to my client, in case I had misunderstood. When she replied, "I thought the stripes were supposed to be horizontal?" I was justified in my continued nausea.
Now this is where the game of telephone enters into the equation. I contacted the manufacturer who couldn't find any paperwork that noted the horizontal stripes. It didn't matter at this point that I assumed anyone who knows or works with me knows that I hate lines in that direction. The only reasonable solution was to order all new fabric and absorb the cost of having the chairs reupholstered and redelivered.
The corrected chairs with horizontal stripes were delivered to the home and the client loves them. That is, of course, until I get a phone call from the client telling me that she has decided to reupholster the chairs -- in plaid.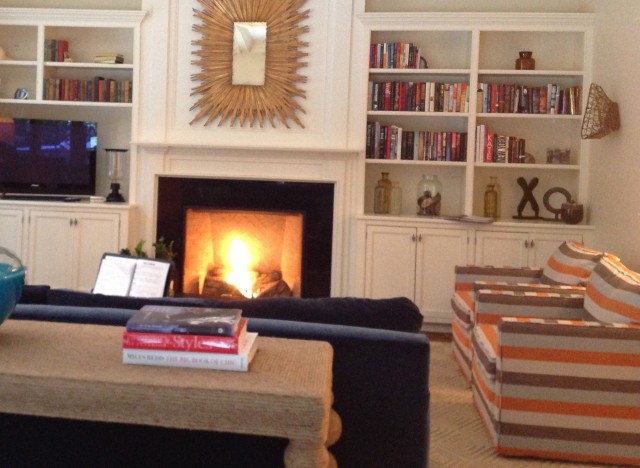 Photograph by Jill Goldberg
To see photos of Goldberg's design shop Hudson Interiors in Boston, be sure to click through our slideshow below.
PHOTO GALLERY
Jill Goldberg
Have something to say? Check out HuffPost Home on Twitter, Facebook, Pinterest, Tumblr and Instagram.
**
Do you have a home story idea or tip? Email us at homesubmissions@huffingtonpost.com. (PR pitches sent to this address will be ignored.)