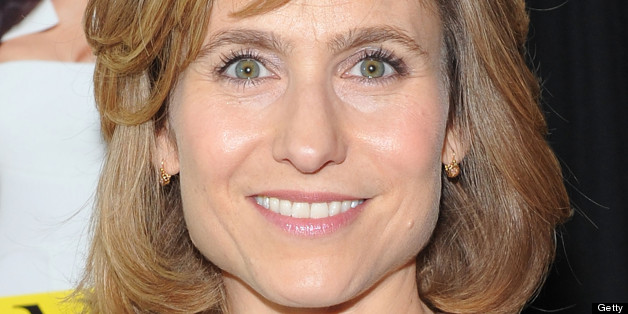 When someone invites you to her home for lovely food and good company, you should write them a thank-you note, so this is mine to Arianna Huffington for having me at her Third Metric Conference a few weeks ago. Admittedly, I was one of 340 women attending, but the event felt remarkably personal. Held at her actual home in downtown Manhattan, it featured honest, just-us-girls talk with panelists including Katie Couric, Jill Abramson, Susan Cain, Valerie Jarrett and Huffington's co-host, Mika Brzezinski. It also featured cold-pressed juices (with names like Ginger Fireball) and a cadre of massage angels from Bliss spa, dressed appropriately in white, offering shoulder rubs to all takers.
The point of the conference was to start a conversation about women's need for a less relentless, more family-tolerant work paradigm. Arianna was struck, literally, by the seriousness of this issue when she collapsed from exhaustion in 2007, sustaining a nasty gash to the head. Afterwards, she resolved to carve out more time for emotional and physical renewal, and encourage other women to do the same. (Hence, the juices, snacks and massages. All were delicious, and helped attendees relax enough to really let the Third Metric message sink in.) Huffington is clearly on to something. Hoards of women attended the conference and I saw many nodding heads around me as panelists described their own breaking points. I half-expected someone to yell out, "Sing it, sister!" revival-style. And we all appreciated the advice from Dr. Dean Ornish on "creating moments in your day when you are reflecting, creating, imagining, not doing."
The conference appeared to be a direct response to the kerfuffle Sheryl Sandberg stirred up with her treatise, Lean In. Lots of women greeted that book with a loud groan. While reviewers snarked about Sandberg's elitism, casual readers I spoke with (including many women at Redbook, where I work), just found her exhausting. They felt berated for not pushing themselves hard enough professionally, and wanted to shout back at their Kindles, "Leave me alone, Sheryl -- I'm spinning as fast as I can!" They barely registered Sandberg's larger social argument, that only by leaning in can women rise high enough to make corporate America more family-friendly.
I was impressed by both Lean In and the Third Metric Conference, though their messages seem contradictory. But I can't say that either one spoke directly to me as a mother of still-young children and a full-tilt businesswoman. A colleague who, like me, is in her mid-forties, recently commented that Lean In would only prove really useful to a reader in her 20s. "That's when you're choosing your field and the track you want to be on, and more important, the guy you're going to have children with," she said. "Those are the things that will determine if you have any chance of reaching the top. Because if you don't pick a guy who will scale back his ambitions to support yours, like Sheryl's husband does, it's all over but the shouting."
I think she's right, and that's why the book rankled so many working mothers. Lots of us have chosen our partners and our fields and can't un-choose them now in order to fulfill our leadership potential. We've made our beds and we're lying in them, painfully sleep-deprived. Huffington would tell us we must get more rest and take better care of ourselves, but a fat lot of good that does when your kid is up in the night, needing you, or the only block of time you have to tackle a work project is after 10 p.m. or before 6 a.m. Hopefully, we will find time for self-nurturing once our children are grown, as Huffington's are, or we've ascended high enough to call the shots, as she has. In the meantime, I just felt lucky to hang out for a few hours in her zen apartment, listening to smart women and admiring everyone's shoes. Then it was back to running around like a chicken with my head cut off.
As long as we're in this spasm of female advice-giving -- and that's what seems to be going on right now -- I'd like someone to address the lives of women in Redbook's demographic (mostly working moms in their 30s and 40s). We're a big, important group, after all, capable of electing presidents and raising the next generation. But we fall in a mushy middle place: Not quite driven enough to become CEOs, but too damn busy to find inner peace. We already cope with a sense of perpetual failure -- falling short at home and at work. Please don't tell us that we really should gun for a major promotion or fit in regular yoga classes. And for heavens sake, don't ask us to do both.
What exactly do we need? I'm not sure, or I'd be writing the next kerfuffle-causing advice book. In the meantime, we'll lean... on each other.
This post is part of a series produced by The Huffington Post in conjunction with our women's conference, "The Third Metric: Redefining Success Beyond Money & Power" which will take place in New York on June 6, 2013. To read all of the posts in the series and learn more about the conference, click here. Join the conversation on Twitter #ThirdMetric.