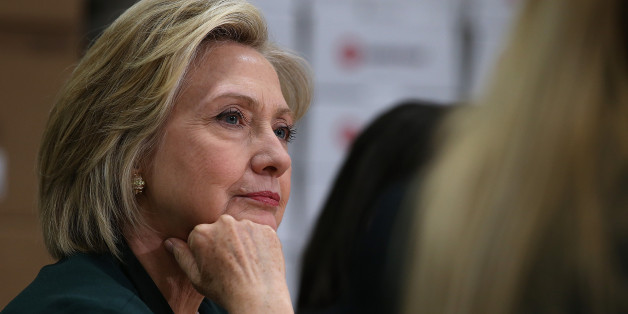 It was August 1995 and a very special day at our house. It was my son's fifteenth birthday and guess who was coming to dinner? The First Family! Our children had met through a close mutual friend and we were about to meet them for the first time.
It was an exciting day, as it would be for any American family. But, boy, was I nervous.
The Secret Service descended first, making the way safe, staking out every vantage point. As the Clintons arrived, I apologized to the First Lady, saying that I didn't know the protocol for hosting a President and his family. Hillary replied, "Thank G-d, we don't have any."
Her immediate, unrehearsed response said it all and put me at ease. They were not royalty, they were not entitled, they were there to join their daughter's friend's birthday party. It was my first insight into the real Hillary, the mom, the daughter, the wife, and, eventually, the close friend. For those who want to create an image of her that suits their agenda and not the real woman, here's what they should know.

SHE IS LOYAL.
She manages to find the time to stay connected with people she has met through every stage of her life and that's not easy with her hectic schedule. But her girlfriends from childhood are still her closest friends. She didn't forget them or replace them as she moved into higher and higher social and political circles. As the song says, she makes new friends but keeps the old.

SHE IS WELCOMING.
Her Thanksgiving table abounds each year with food she and her family cook -- and with Chelsea's friends who are far from their families. In the evening, a second wave of young people appears, ready to trade stories, talk politics and play cards late into the night. No one feels pressure to leave, not even when Hillary says goodnight. It is an annual tradition all the young people treasure.

SHE IS A CHAMPION FOR EVERY PERSON AND ALL FAMILIES.
Much has been written about her commitment to social justice and equality of opportunity, starting with her early work with Marian Wright Edelman and the Children's Defense Fund. But what you might not be aware of is that in 1999, as First Lady she initiated the first White House Conference on Philanthropy with the National Endowment for the Humanities.
I was thrilled to be an organizing team member and to hear Hillary's conviction that philanthropy was a core value of our democracy and that the tradition of giving and volunteerism had to be expanded and taught to our children and grandchildren.

A year later, in the midst of the hectic packing up and preparations to leave the White House, Hillary tapped us again for a follow-up philanthropy conference. Her goal was to encourage partnerships among business, government, private agencies and foundations that would benefit the common good. She knew there was still much work to be done and she was determined to keep the ball rolling.

SHE IS A TIRELESS ADVOCATE FOR WOMEN'S RIGHTS
And always has been. In 1995, she was ahead of the curve, instrumental in the founding of Vital Voices Global Partnership, a non-profit organization which recognizes and promotes women's roles in building stronger civil societies.
And in her travels as Secretary of State, she made it a point to visit women's groups, meeting with NGO leaders and their staffs in the field, lifting them up and validating the difficult work they were doing in the struggle for women's rights.

SHE IS AN UNPARALLELED PUBLIC SERVANT.
Her track record speaks for itself: First Lady, U.S. Senator, Secretary of State.

SHE IS AMBITIOUS...YES!
In the best definition of the word: determined, forceful, enterprising, motivated, energetic, purposeful and enthusiastic.
She knows her strengths and uses them. That's why she gets things done. And that is why she has been often praised by Republicans like South Carolina Senator Lindsey Graham who said "She is extremely well-respected throughout the world, handles herself in a very classy way, and has a work ethic second to none" and Condoleezza Rice who said "She's got the right instincts."

SHE IS PERFECT... NO!
She is a real person like you and me, who makes mistakes, has bad days, gets angry, gets cranky. She also loves her family, loves her country and loves working to making life better for all of us.
What more can we ask from a candidate who would be -- who ought to be -- President.
This post has been modified since its original publication.