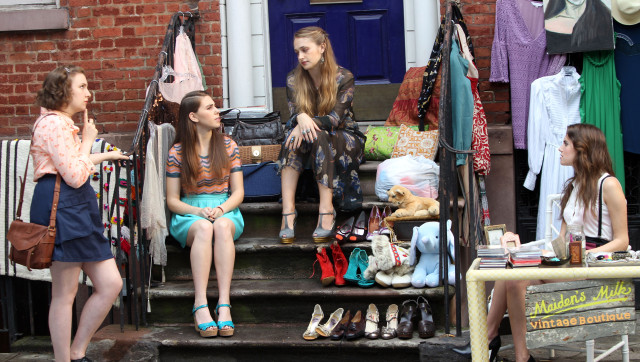 Just like most of you, I am counting down the days until the second season of Girls premieres! As a native New Yorker, and having lived in three out of the five boroughs, shows about New York City hold a very special place in my heart. From Seinfeld to Suits, from dramas to comedies, filmed on the streets or filmed on a lot, many great shows have come and gone about our beloved city.
Now that Gossip Girl has ended, it seems like the shows about New York are turning out a little more raw and less romanticized. Personally, I enjoy the story being told from both sides of the spectrum, or both sides of the bridge. Either way, if you love the city as much as I do, you're sure to get a kick out of this.
I sat down this morning, and thought of all the New York-based shows I have loved over the years and comprised them into a list. I am sure I have left some out and for that I do apologize!
Here are my top 12 shows about New York City (in no particular order)!
1. Friends: Still one of my favorites to this day. I admit to having wandered around, looking for "Central Perk" as a pre-teen -- and feeling disappointed when I learned it was merely a set! And, honestly, who didn't head straight to their stylist and demand "The Rachel"?
2. Sex and the City: What list about NYC would be complete without Carrie Bradshaw and her friends? (Charlotte York was my absolutely favorite). Making Manolos highly coveted, Bradshaw remains a style icon years after the show has ended.
3. Suits: Personally, I can't wait for this show to come back. USA's hour-long drama is about young prodigy, Mike Ross, who begins working for a high-powered Manhattan attorney named Harvey Specter. The twist? Mike hasn't attended law school and lives in fear of getting caught. Truly addictive!
4. Gossip Girl: There has never been a style icon that has inspired me quite as much as Blair Waldorf. GG was a more "wish fulfillment" version of New York City, but a great version none the less. And Michelle Trachtenberg's portrayal of Georgina Sparks still makes me quiver.
5. How I Met Your Mother: While not filmed in New York, the show still pulls off a city feel. In the episode "Subway Wars" (a personal favorite), native New Yorker Lilly tries to prove the subway is the fastest mode of transportation, while Ted argues the city bus is the best. The five friends race to a restaurant because a friend told them Woody Allen was there, but when they arrive they discover that it's actually Maury Povich. I've definitely argued the subway is the fastest in my day.
6. Smash: One word, Broadway.
7. Seinfeld: Probably the first show I ever saw about New York (hey, I was only born in the '80s). When I was a kid, everything I knew about New York I learned from Jerry Seinfeld. Well, him and Woody Allen.
8. King of Queens: Absolutely hilarious. Taking place in Queens, Kevin James and Leah Remini continue to make me laugh in re-runs.
9. Will and Grace: With hysterical plot lines and so many amazing guest appearances, this sitcom had to make the list.
10. Mad Men: Another show that revolutionized our wardrobes, Mad Men is a classic that continues to capture attention.
11. Don't Trust the B---- in Apartment 23: Three words, Van der Beek.
12. Girls: Last, but absolutely not least, is Girls. Thank you, Lena Dunham, for bringing this groundbreaking series into my life. HBO's Girls is a very realistic portrayal of what it is like to live, love and fail in New York City.
I seriously cannot get enough of this show and after Jessa's wedding in the season 1 finale, I personally am eager to see more of her and how her character develops. I'm also hoping for more Shoshanna this season! The season two premiere is Sunday at 9, so set those DVRs!