This past Christmas season I was invited to the home of dear friends M & V for their annual Holiday feast. Now this no ordinary feast, but one they labor for months to prepare. And the delectables are simply irresistible. This year featured a mouth-watering new item -- lush, Polenta Lasagna -- of which yours truly had several heapings.

In our post-event conversations they generously shared the recipe. And all this chat brought back a tale from the '60s when yours truly -- the perennial flower-child-hippie-chick- had run away to Berkeley -- ostensibly to attend the University.
I had driven to Berkeley, with my first lover (from Prince Street), following a guitar-playing beau, PG, who had introduced me to Bob Dylan the first night he played Gertie's Folk City in Greenwich Village. I'd been so impressed by his poetic ramblings in various counter-culture mags, and was shocked by how nasal his voice was.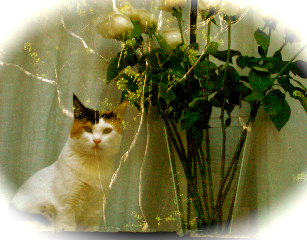 In Berkeley I wound up living with a young woman from Italy. We were on a tres tight budget. It was she who introduced Moi to Polenta -- which she served up with an abundance of garlic and butter. This became the staple for this penny-pinching student duo.
At that time I also had an adorable, fluffy, little orange kitten. This wee one also luved that polenta.
Imagine this!
There I would be, out-'n-about campus, pink-cheeked, dressed in a converted burlap sack, barefoot, with colorful fleurs in my long, golden hair, and of course, the adorable Ms. Orange Fluff riding on my shoulder.
Quite the spectacle!
Many would approach smiling, and squeal, "What an adorable pussy cat!"
My friendly pet would twinkle, purr, and then open her lovely mouth in a delighted, Cheshire-Cat grin. Suddenly the smell of strong, potent garlic breath would emerge, directly hitting the admirer full-face. In shock, they would back away, mumbling whatever excuses...
Latter on Ms. Kitty and I would just chuckle away.
Here's to Polenta!
Or whatever gets you by - during this, another economically tight time.
COPYRIGHT: JILL LYNNE 2011
Photo: Cat In Greenwich Village Window