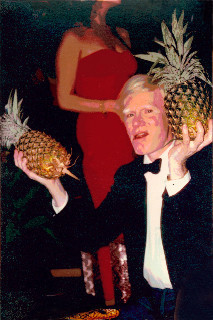 The recent record-breaking sale by Sotheby's of Andy Warhol's self-portrait "Ghosts" for $32, 562,500 prompted myself (and apparently others) to think of my own Portrait of "Andy Warhol With Pineapples". The Image was photographed in the rear VIP room of Regine's, NYC in the late 1970's. I have been reflecting on the curious back-story leading to this preserved moment in time.
During the 1970's thru the '80s, I was going out nightly, armed with my trusty Nikons, into the fabulousness of New York City's fantastic nightlife. I kind-of grew up at Studio 54, and would shuttle freely from dark downtown denizens to the uptown "glitzoramas".
One evening I found myself prowling the depths of the Electric Circus, located on the East Village's "happening" Saint Mark's Place. Blessed with an imaginative, "trippy" mind, I am truly a sober-type. However during that eve, someone offered me a puff of something magical, transforming my norm into the surreal. I wound up in some back room, lined with sofas.
Among the select few, viewing the scene from that comfy perch were the fabulous empress of fashion, Diana Vreeland with ultra-pop artist, Andy Warhol. I recall a few vague exchanges with them before I was whisked off to the infamous "Factory".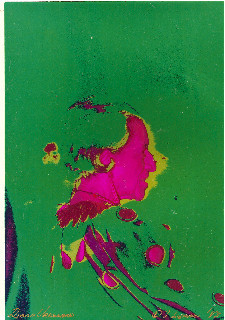 I remember a seemingly endless space sparkling all silver and metallic. Various individuals were standing about as though they were posing for something, or giggling in endless corners. I left at dawn but the details of what transpired will perhaps remain a forever-mystery.
And so it continued... I would regularly bump into Andy at art events and happenings, and occasionally be invited back to the Factory.
He always wore his studied disheveled black uniform (black tees, jacket & narrow jeans), was paler-than-pale with his platinum-punk wig. We would acknowledge each other with mumbled greetings but rarely anything more.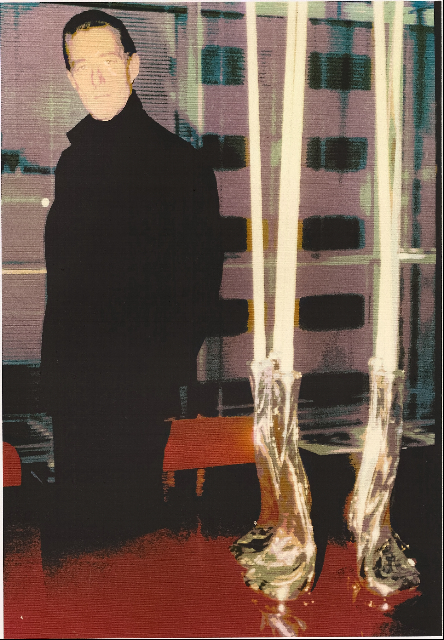 Then following one of my many solo exhibitions, the News wrote an editorial in which they labeled moi as "a female Andy Warhol"!
At the time I was dating a celebrated Club-Owner - Rudolf of Danceteria, Palladium... fame.
I awakened the day after that article, from a nightmare in which I was photographing in a club where a frightening fire broke out. When I told Rudolf, he suggested I immediately check out the fire exits. (I still follow those wise instructions wherever I go.).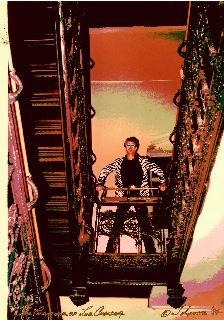 That evening I was scheduled to photograph at the ultra-chic Parisian Regine's, which had recently opened in New York City. Mid-event I meandered into the rear VIP room. Andy was dining with the controversial Lawyer, Roy Cohn. When he saw me, he teasingly referred to the News, "Now isn't that the new Andy Warhol?" while holding up two pineapples as faux boobs.
I snapped the Photograph. And as they say "The rest is her-story!!!"
A while later, after I had left the VIP room, I suddenly smelled fire. A cloud of smoke poured out of the VIP Room. I was standing next to Halston. The first words I ever spoke to him were, "I dreamt about this!"
Regine was running about, arms flapping, screeching, "Move to the front!" Glittering People decked out in fabulousness, and men handsome in white dinner Jackets and tuxes pushed to the front.
I was a bit in shock -- a somnambulist -- and one of the last to be pushed forward.
I was thrust into the arms of two editors of AfterDark magazine -- the first national gay-oriented entertainment magazines -- Jeff Cason (who later moved onto the publicity department at RCA) and the late Brant Mewborn, (also a writer for Rolling Stone) who passed away -- as all too many beloved and talented ones -- from AIDS.
They said, "We saw you photographing Blondie (Debbie Harry) at Hurrah's", and invited me to show them my photographs. Thus began my first full editorial gig, opening doors to intriguing vistas and subcultures -- writing and photographing the extraordinary scene of the '70s & '80s.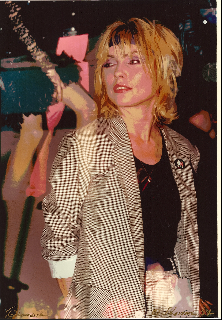 All photographs enhanced with the first computer-process for photography by Moi -- The first woman to use computers for photography.
1. Andy Warhol with Pineapples. (In the VIP Room, Regine's NYC)
2. Diana Vreeland at The Metropolitan Museum of Art
(A copy of this print hung in her office at the Met)
3. Halston in his Crystal Showroom with friend/Designer Elsa Peretti's Candlesticks (from her first Tiffany Collection)
4. Rudolf at The Chelsea Hotel
5. Debbie Harry (Classic Blondie)
For additional Information, visit us at www.JillLynne.com
Or
Email: JillLynne1@MAC.com
Text & Photographs © Jill Lynne, 1974 - April 3, 2011