CELEBRATING Life:
Cultural & Charitable Catch-Up; April 2015
Text & Photographs © Jill Lynne 2015
Arianna Huffington's THRIVE, Gretchen Rubin's "Better Than Before", Albert Maysles Documentary IRIS, The NYC Mission Society, HBO, Rosie O'Donnell, Women's Heart Health and The Red Dress Collection...
How wondrous to once again feel Nature's warmth enveloping us, to bask in the great golden sun, to rejoice in the sweet sounds of returning bird-calls, to view our world blossoming forth...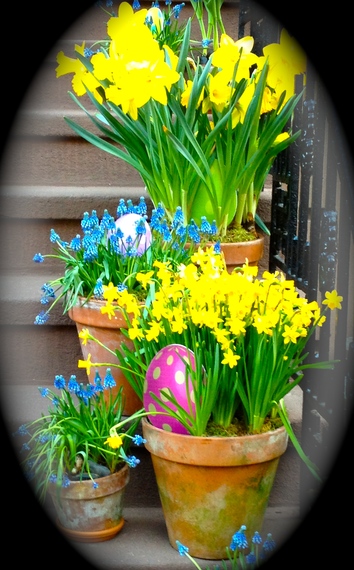 Bank Street Tulips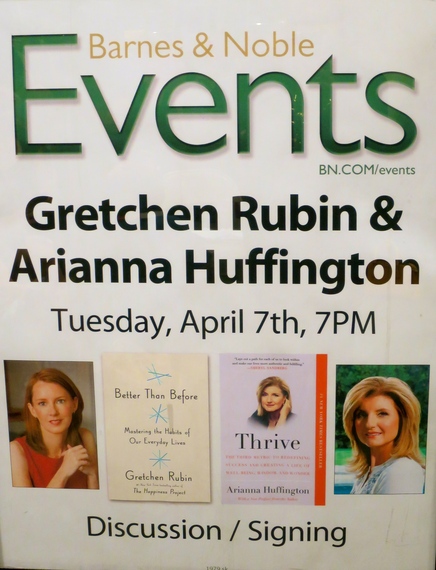 Barnes & Nobles Sign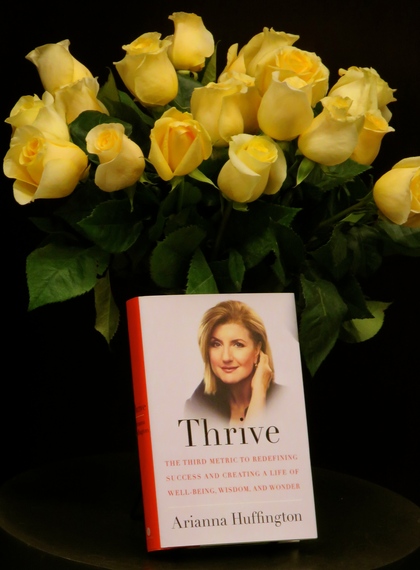 THRIVE with "Fleurs"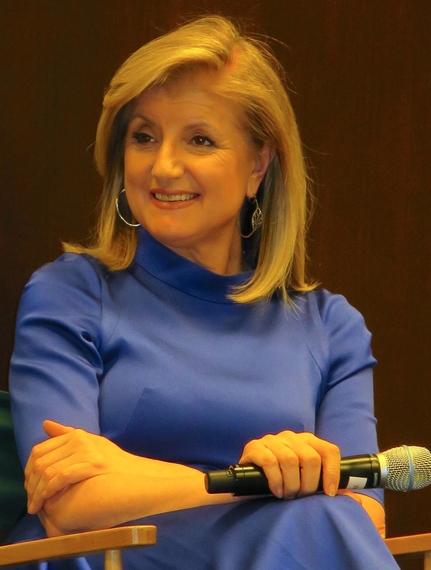 Arianna Huffington, Author of THRIVE
Recently I attended a Barnes and Noble Event featuring Authors Arianna Huffington and Gretchen Rubin in conversation. Both "New Thought Leaders" were also celebrating the publication of their latest books - "THRIVE" The Third Metric To Redefining Success and Creating A Life Of Well-Being, Wisdom and Wonder" by Arianna and "Better Than Before, Mastering the Habits of Our Everyday Lives", by Gretchen.
The enthused audience was standing-room-only!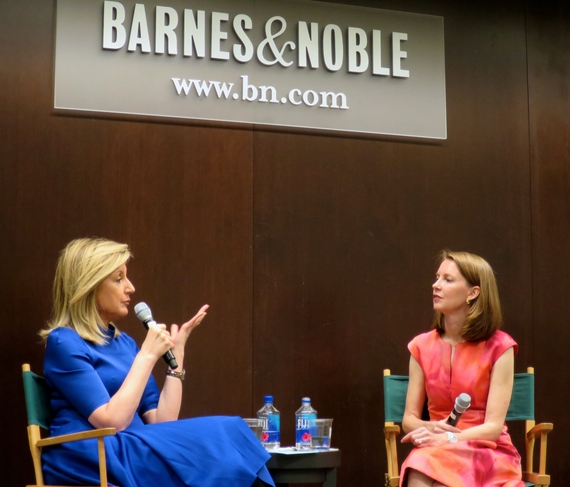 In Conversation with Arianna Huffington and Gretchen Rubin at Barnes & Noble
Arianna Huffington is best known for developing the break-thru Huffington Post Media Group - where she still serves as President and Editor-in-Chief. However after an epiphanel experience, she has also dedicated herself to becoming an ambassador for Transformative Mindfulness and a profound Redefinition of True Success.
Applicable to many, (including yours truly) I have regularly retold the story of Arianna's pivotal life-changing wake-up call ...
In 2007, sleep-deprived, exhausted and once again working 24/7, Arianna "awakened" in a pool of blood. She had collapsed from sheer burnout, injuring her eye and breaking her cheekbone.
Arianna used this experience to truly "waken" - reevaluating life choices - the two traditional "metrics" of Money and Power, and going deep to discover what is truly a successful life.
THRIVE explores these "Third Metric" discoveries, traversing through how strategic sleep is for the health of mind/body/spirit, how critical it is to unplug from our obsession with technology and social media for true rest, as well as is mono-focusing (instead of our culturally-endorsed multi-taking), with gratitude and forgiveness to reduce the deleterious effect of stress. The book provides "a new Blueprint to renovate the architecture of our lives" - gently leading us to a new way of "well-being, wisdom and wonder".
"NO is a full sentence!" Arianna declares. (With a chuckle...)
She writes of "the obnoxious roommate", that naysaying, self-critical doubter that lives in our head, and of learning to override it for "self mastery".
Despite her major professional accomplishments, Arianna Huffington is authentic, passionate, and wise, with humility and humor.
Listening to her voice feels I as though it is echoing the voice of my inner "knowing".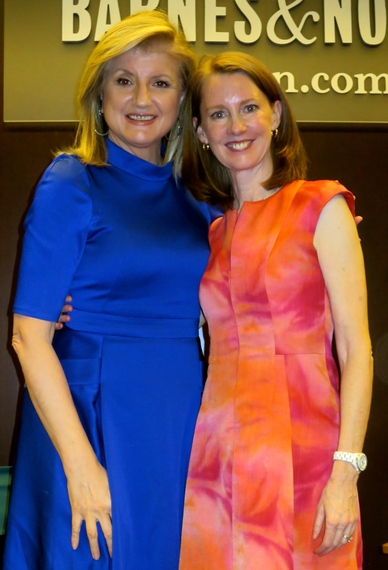 The Celebrated Authors, Arianna Huffington and Gretchen Rubin
International New York Times bestselling author Gretchen Rubin is acclaimed for "The Happiness Project", focusing on current scientific studies and lessons from popular culture on how to be happier. The book has been translated into more than thirty languages sold more than a million copies.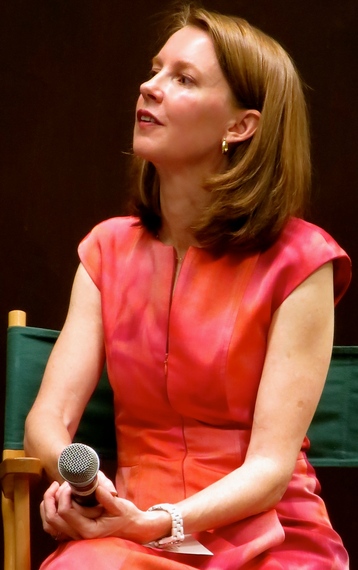 Gretchen Rubin, Author of "Better Than Before; Mastering The Habits of Our Everyday Lives"
She has also written "Forty Ways to Look at Winston Churchill", "Forty Ways to Look at JFK", and "Power Money Fame Sex: A User's Guide".
With her newest missive, "Better Than Before; Mastering The Habits of Our Everyday Lives", Gretchen explores strategic scientifically researched formulations for changing one's life.
Self Mastery, she notes, can only be achieved when one knows themself and how they operate. Only then, she explains, can one personalize their approach to banishing undesirable habits and implementing positive ones.
The book's specificity is impressive. Gretchen's detailed, structured methodology for diagnosing your personality type and consequent optimal modus operandi for changing habits, is enticing and. I myself plan to experiment...
A proponent of utilizing social media to engage her public, you may readily find her online and if you wish, subscribe to her monthly newsletter, book club, and daily mail quotations.

Movie Poster for IRIS, the new Documentary
IRIS, the new documentary by the late and great filmmaker 88 year old Albert Maysles (who passed away on March 5th) is based on the 93 year old NYC maven, fashionista, designer, collector and bonne vivant, Iris Apfel.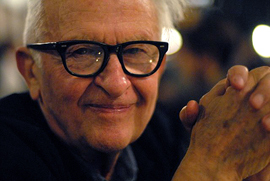 The Celebrated Late Filmmaker of IRIS, Albert Maysles (Grey Gardens...)
Easily recognizable by her signature outsize black-rimmed glasses cropped white hair and decoratively pattern-on-pattern vividly colorful attire - embellished with layers of bright statement jewelry - Iris is a long-time fixture on the global fashion scene.
A true trendsetter, Iris began as an Interior Designer traveling the world to secure unique items for her prestigious clients.
With her husband, Carl Apfel, they launched Old World Weavers, the respected textiles firm.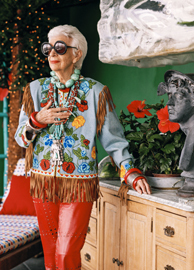 The Fashionista/Collector/Designer Maven, Iris Apfel
In 2005, The Costume Institute at The Metropolitan Museum of Art launched "Rare Avis (Rare Bird): The Irreverent Iris Apfel", an exhibition focusing on her unique style. Culled from her extraordinary collections. The fabulousness was of course, personally styled by her...
IRIS, The film takes us with her on a personal journey - voyeuristically allowing us to watch her creatively assemble her ensembles, accompany her shopping trips for discerning collecting, private moments, and the donating of many of her precious items.
IRIS - the persona and film - are a rare treat!
We are especially fond of old historical New York City charities - those do-good organizations that have survived the test of time - continuing their assistance -giving purpose while adapting to the changing years.
Such is The NYC Mission Society.
Founded in 1812 - over 200 years ago - to inspire hope for the masses of the impoverished and disadvantaged crowded into New York's immigrant laden streets.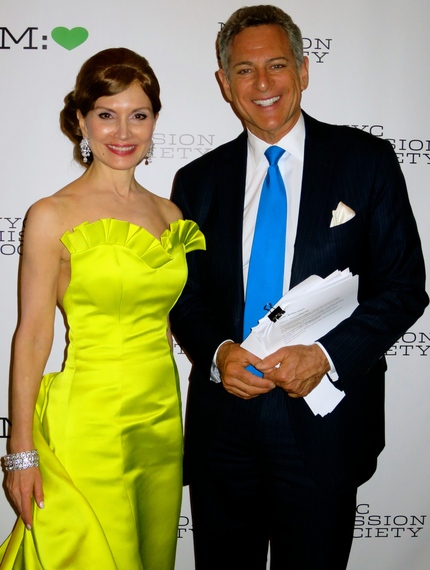 Chairwoman of The Champions for Children Benefit Gala, Benefit, the Always-Fashionable Philanthropist, Jean Shafiroff (wearing a B Michael's Gown) with Master of Ceremonies, ABC-TVs "Eyewitness News" Bill Ritter
Under its aegis the Society provided food, clothing, schooling and healthcare.
In the latter half of the 1800s New York Mission Society developed ward libraries - a forerunner to NYC's public library system (one of the other fave orgs we support...).
Mission also organized an employment service for women and children, a visiting nurse service, vocational training and a precursor to the Fresh Air Fund - providing country trips for urban youth.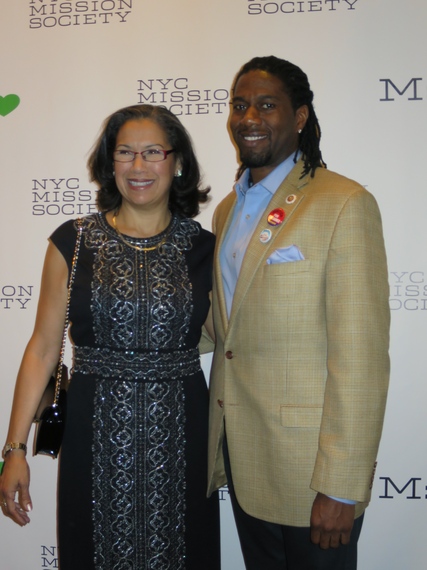 President, NYC Mission Society, Elise McCabe Thompson with Jumaane Williams
Today the Mission Society is on the frontlines of the war on poverty. Through their educational, restorative justice, cultural enrichment and workforce development programs, they offer life-changing assistance that improves the lives of underserved, at-risk communities of youth and adults- particularly in the Bronx, Brooklyn and Central Harlem.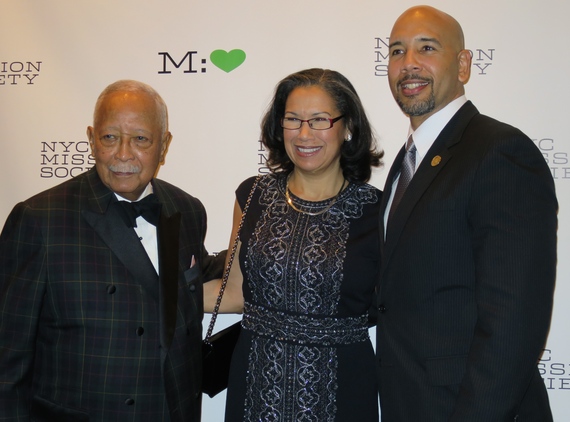 Mayor David Dinkins, with President Thompson and Bronx Borough President, Rubin Diaz Jr.
The recent 2015 "Champions for Children" Annual Benefit held at the beautiful Mandarin Oriental Hotel brought together social luminaries and supporters.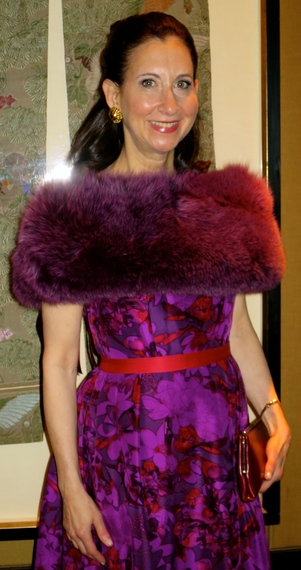 NYC Mission Society Supporter, Dr. Penny Grant
The hard-working Chair, Philanthropist Jean Shafiroff added her gracious touch, support and guest list. The Master of Ceremonies ABC's popular Newscaster Bill Ritter, kept the crowd amused with his refrain of having to leave "on time for the news!"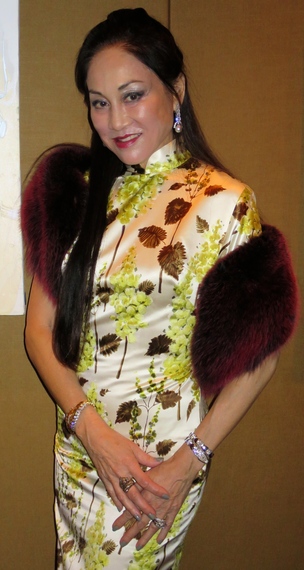 Songwriter/Performer Lucia Hwong Gordon
Honoree Hollise E. Russell, a partner at Ackerman Levine, was presented with the Dina Merrill Hartley Award for Public Service.
Honoree Colbert G. Narcisse, Managing Director and Global Head of the Alternative Investment Group at Morgan Stanley, was given the Champions for Children Award.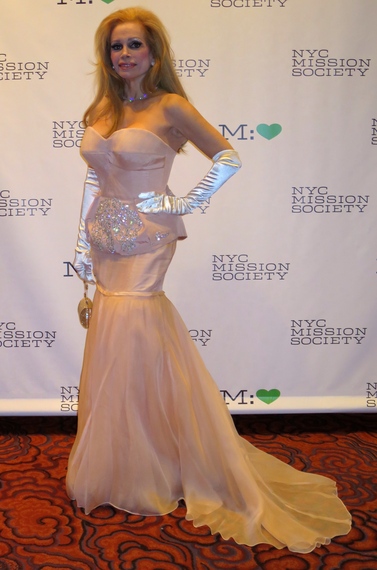 The Ever-Glamorous Joy M. Marks
The Event was headed up by NYC Mission Society's energetic President, Elsie McCabe Thompson. The Benefit raised 600K.
To learn more, visit www.nycmissionsociety.org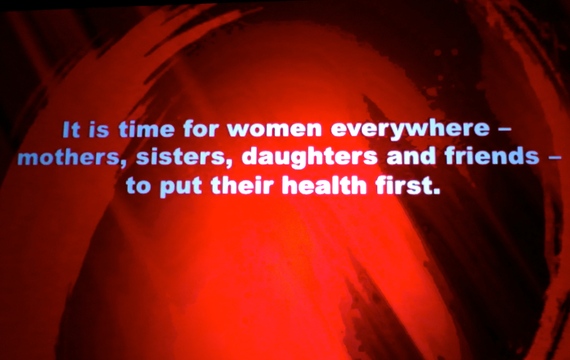 I always look forward to the annual American Heart Association's "Go Red For Women, The Red Dress Collection 2015".
The American Heart Association's Go Red For Women is a national movement aimed to raise awareness about women's No. 1 health threat - heart disease. At the Go Red For Women Red Dress Collection, more than 20 celebrities walked the runway in exclusive red dresses, designed by America's elite designers, educating women about the importance of heart health for themselves and their families. The Red Dress is the uniting symbol in the fight against heart disease in women.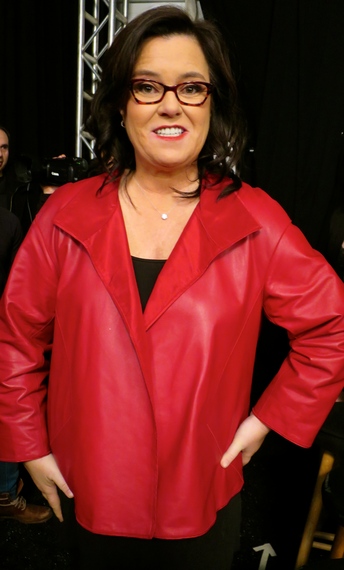 Prior to The Runway Show, Backstage with The Incomparable Comedian and Activist, Rosie O'Donnell
This season show was hosted by Entertainment/Comedian/Producer-the incomparable, Rosie O'Donnell - who had suffered a near-fatal heart attack, and recently left her position as co-host on "The View", because of the additional stress.
Rosie is featured in an HBO Documentary (which she developed with the amazing Sheila Nevins, Director of Documentaries at HBO) "Rosie O' Donnell: A Heartfelt Stand Up", detailing her experience, and offering up important warnings for women.
" HEPPP", Rosie notes, is what we must remember to save ourselves and others.
HEPPP is an easier way of recalling The Signs of A Heart Attack:
Hot, Exhausted, Pain, Pale, Puke...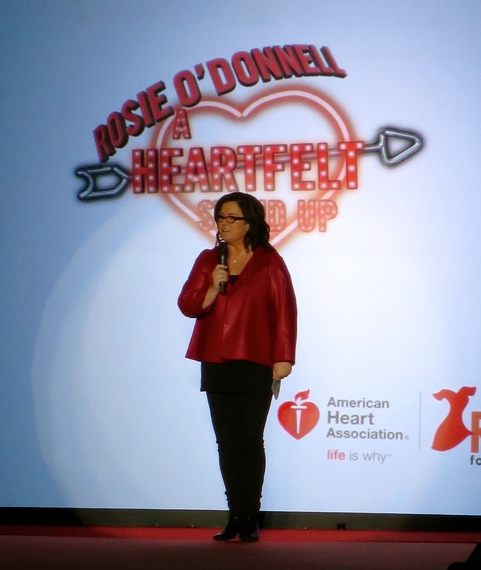 Rosie Hosts The Red Dress Collection
Since Heart Disease (attacks, strokes.) is the biggest cause of death in women - way beyond Cancer - This is critical!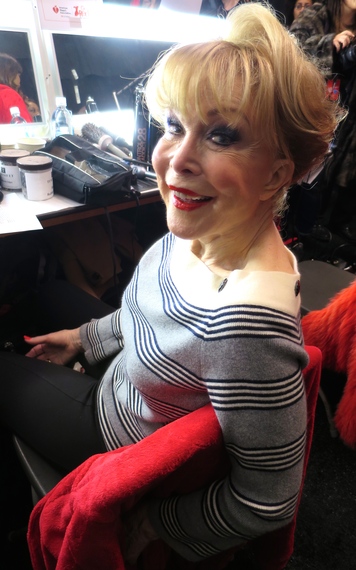 Prepping Backstage with Actress Barbara Eden (Best-known for "I Dream of Jeanie)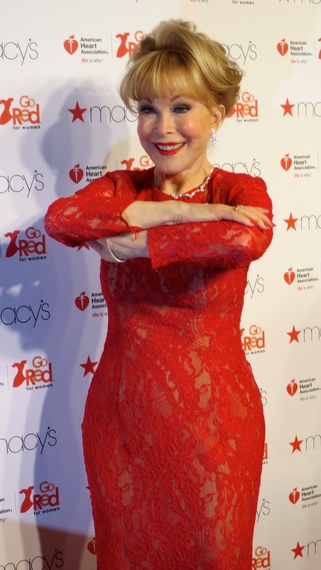 On The Red Carpet with Barbara Eden, wearing Carmen Marc Valvo
However the good news is that 80 percent of cardiac events can be prevented with education and lifestyle changes. Go Red For Women advocates for more research and swifter action for women's heart health. The American Heart Association's Go Red For Women movement is nationally sponsored by Macy's.
The Heart Truth® , founder and creator of the Red Dress Collection fashion show, is a national awareness campaign for women about heart disease sponsored by the National Heart, Lung, and Blood Institute (NHLBI), part of the National Institutes of Health, U.S. Department of Health and Human Services. The Heart Truth, Red Dress, and Red Dress Collection are marks owned by the U.S. Department of Health and Human Services. Learn more at hearttruth.gov.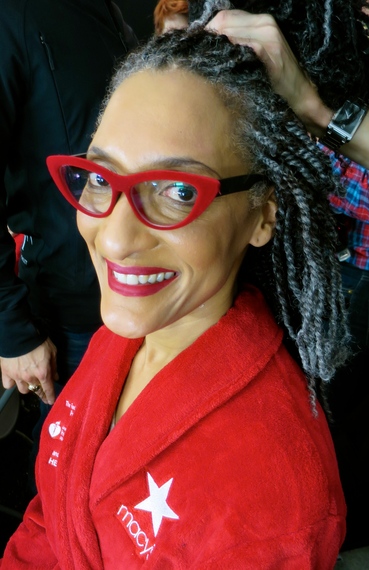 Backstage with Carla Hall, co-Host of "The Chew".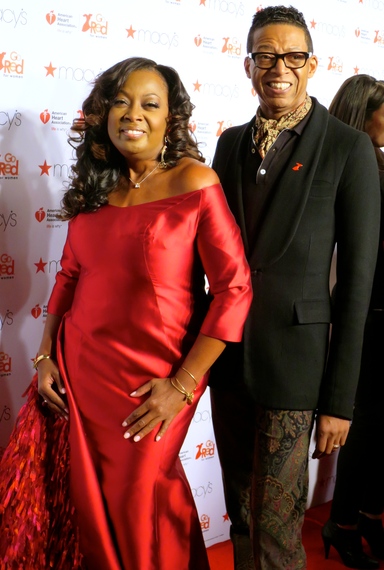 On The Red Carpet with Attorney, former Senior District Attorney for the City of New York, and TV-Host, Star Jones Wearing, and with Designer B. Michael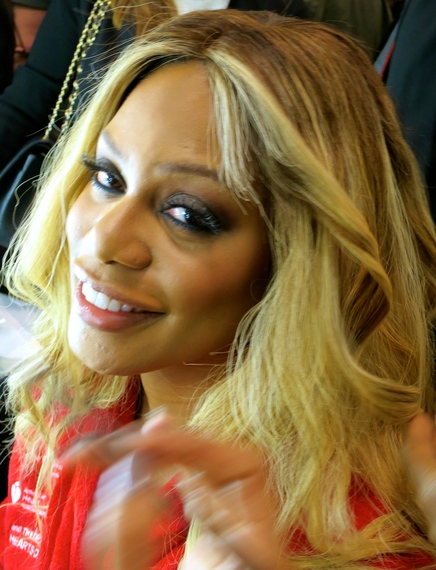 Backstage with Laverne Cox, Actress and Activist, best-known for her Break-out Role as a Transgender, Incarcerated Woman in "Orange is the New Black".
She will wear Donna Karan.
Celebrity Participants include Alexa Ray Joel in Tamara Mellon, Barbara Eden in Carmen Marc Valvo, Bethany Mota in Badgley Mischka, Carla Hall in Macy's San Francisco Incubator Designer, Stephanie Bodnar, Catt Sadler in Oscar de la Renta, Ciara in Safiyaa, Cynthia Bailey in Macy's Philadelphia Incubator Designer, Jovan O'Conner, Dascha Polanco in Michael Costello, Donna Mills in Mark Zunino, Fifth Harmony in BCB Generation, Hoda Kotb in Romona Keveza, Irina Pantaeva in Marc Bower, Jennette McCurdy in Nicole Miller, Kristin Cavallari in Monique Lhuillier, Laverne Cox in Donna Karan, Star Jones in B. Michael, Thalia in Thalia for Macy's /Shady Zeineldine, Tracy Anderson in Ina Soltani, Valerie Jean Garduno in Macy's Incubator Designer, Agnes Hemerlik and Zendaya in Rubin Singer.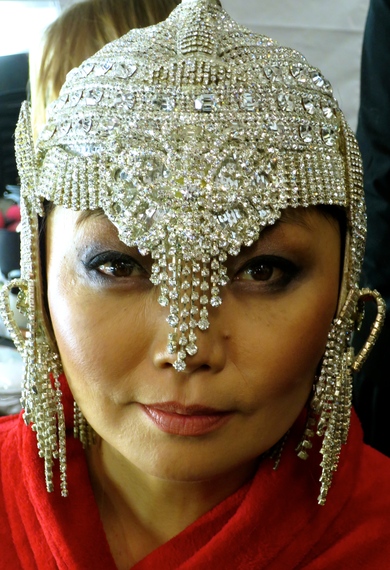 Supermodel Irina Pantaeva (The Fist Asian to become a Member of The Super Group Models) Wearing a Gorgeous Trending, Fashion Helmet by Designer Marc Bouer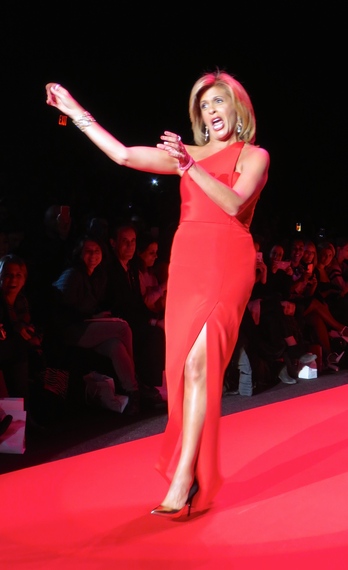 Hoda Kotb, Co-Host of "TODAY with Kathy Gifford", rocks the runway wearing Romona Keveza
Contributing Designers: include B. Michael, Ina Soltani, Macy's Chicago Incubator, Agnes Hemerlik, Macy's Philadelphia Incubator, Jovan O'Conner, Macy's San Francisco Incubator, Stephanie Bodnar, Marc Anthony, Mark Zunino, Tamara Mellon, and Rubin Singer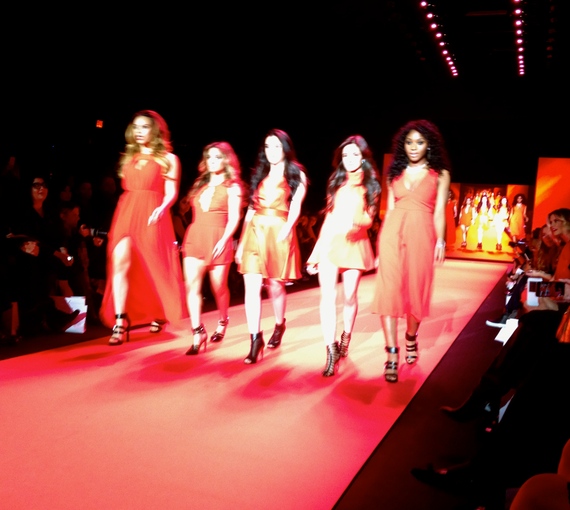 The Music Group, Fifth Harmony, Closes The Red Dress Collection.

For information on women and heart disease or please call 1-888-MY-HEART (1-888-694-3278) or visit GoRedForWomen.org
The spirit The Red Dress inspires, the enthusiasm of all - from the Supermodels through Designers along with a myriad of Volunteers, who happily give pro bono service - promoting a wonderful feeling of community.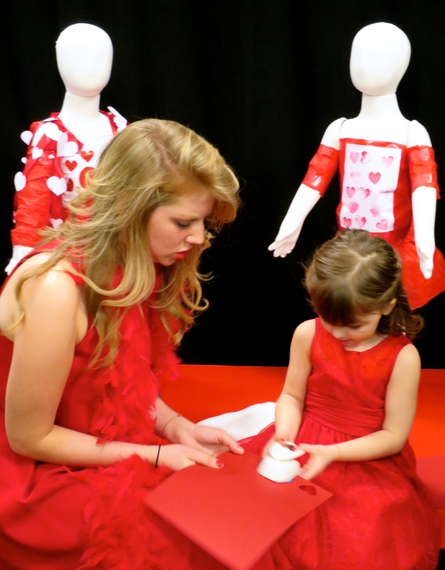 Passing On The Knowledge & Wisdom ...
All Photographs © Jill Lynne 2015
Available for Purchase from jilllynne1@mac.com
www.jilllynne.com