JOY & Meaning; The Cultural & Charitable Catch-Up
Text & Photographs © Jill Lynne May 2015
The New York Foundling & PetitePARADEs Pop-Up, Designer Victor de Souza's Hat Collection, Th Society for The Prevention of Cruelty to Children's Spring Luncheon,The NEW Whitney Museum of American Art Opens, The Marlborough Gallery Exhibits Michele Oka Doner's "Feasting on Bark", Glorious Fleurs in Pocket-Parks...
It is a marvel when there is an intersection of joy and meaning...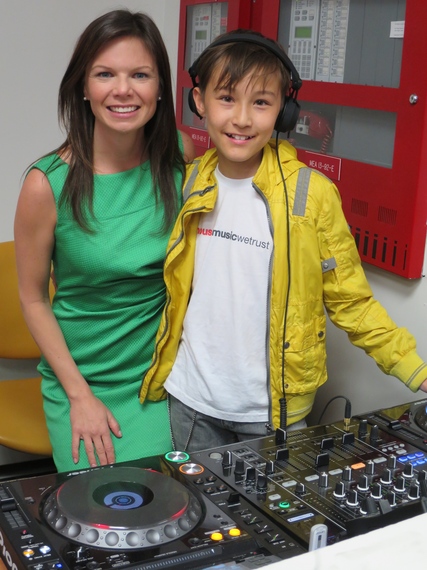 Beth Lampland, COO New York Foundling with the popular young DJ Kai
As an appreciator of those venerated old NYC charities - whose services have survived that test-of-time - it was with pleasure that I visited the Pop-Up "Shop for a Cause", the petite mart featuring Children's Apparel and Accessories, benefitting the important New York Foundling.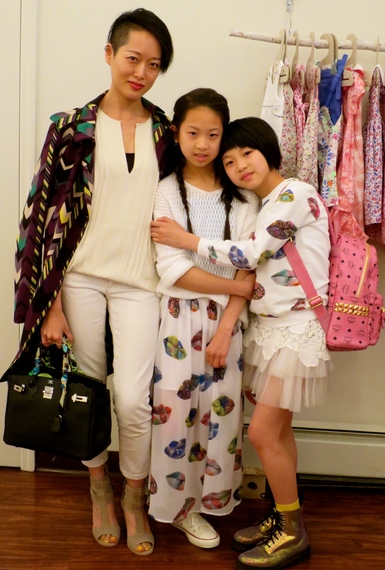 Mother Pat Ting with her "model" Daughters Valerie and Chloe Cheung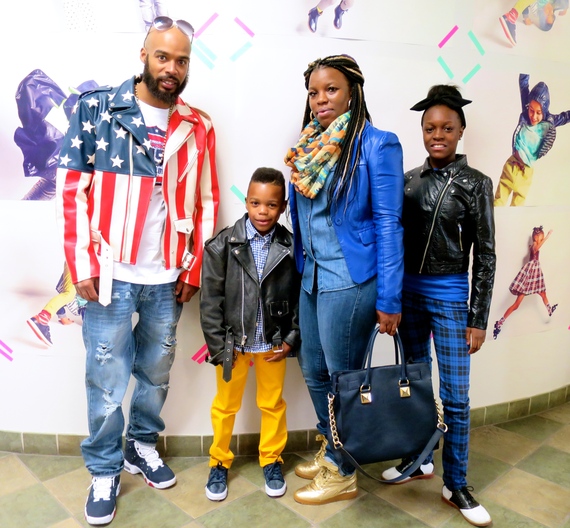 Model James Figueroa with his Family, James Figuero Senior, Mom Tanisha and Sister Shadiyah
Sponsored by petitePARADE and located in the WV (West Village) 27 Christopher Street, at Waverly, one can shop Designer Brands for wee ones Thursday - Sunday, 11-7, though May 17th, perusing, while the wee ones are entertained with a myriad of delights...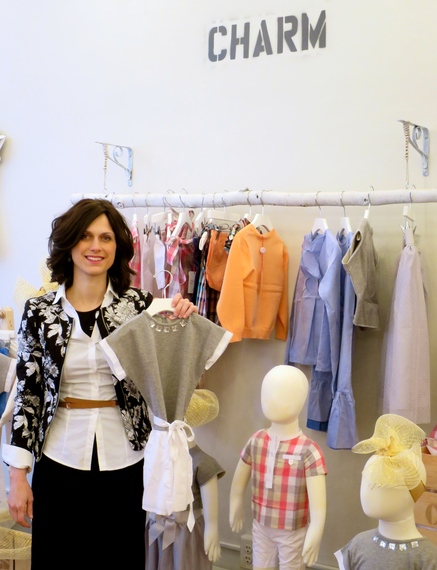 Designer Randy Mendlovic with her CHARM Collection
Founded in 1869, The Foundling is one of the largest providers of foster care, adoption services and assists with programs for child welfare, juvenile justice, education, support for single mothers, and a crisis nursery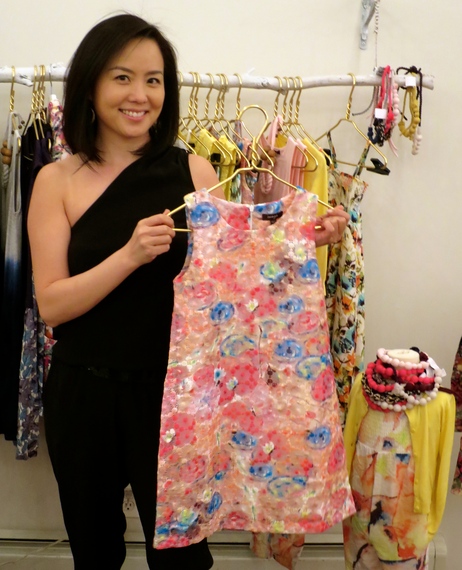 Designer HJ Chung with her IMOGA Collection
Look for the Foundling's upcoming festive Cocktail evening on May 14th in honor of Foster Care Awareness Month.
For tickets or info visit www.redgoesblue.com www.nyfoundling.org
On the day of the Kentucky Derby, Argentinian-born Designer Victor de Souza - known for his impeccable Parisian-styled tailoring - launched his new Hat Collection. In traditional couture style de Souza keeps mannequins of his favorite regulars - including Philanthropist Jean Shafiroff and the ever-glamorous Joy Marks. The Collection presents a mix of museum-quality creativity, detailing and moderne simpler fabrications.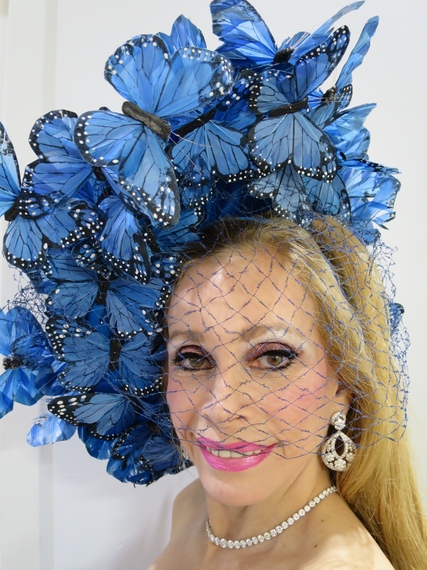 Joy Marks modeling a Butterfly Hat, so uniquely crafted that it is deserving of placement in an Art Collection.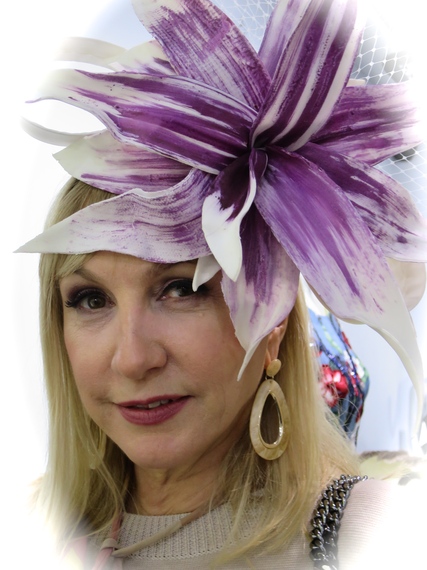 Tech expert, Katlean DeMonchy, Dons a Unique Orchid hat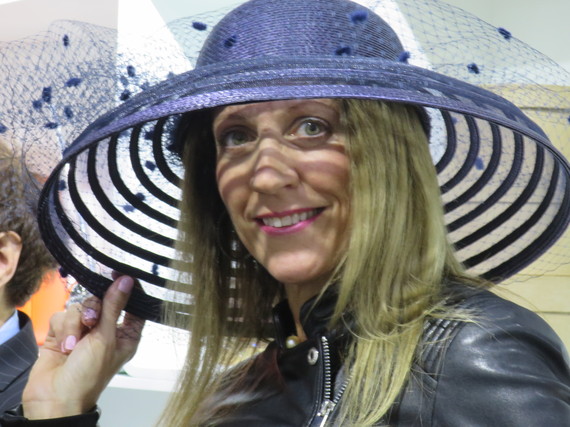 Sara Johnson Kaplan is shadowed by her modern Peek-a-boo Hat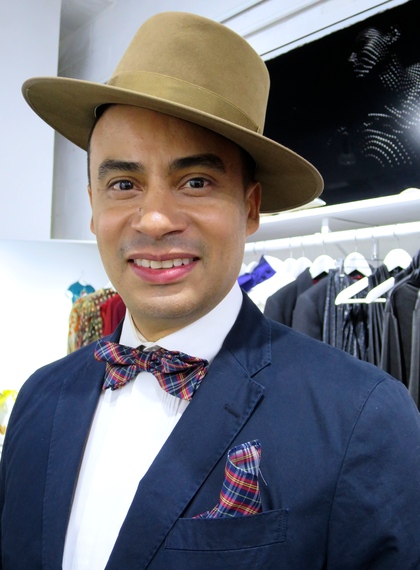 The Couture Designer Victor de Souza at his Hat Launch at trendy Soho Space Sixteen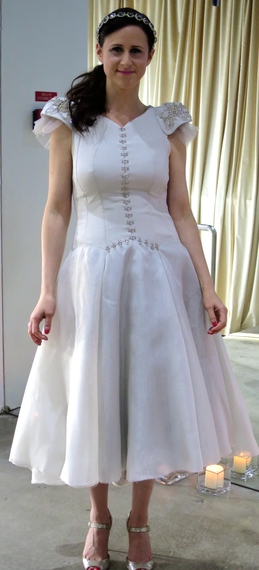 Tanja Greiding Wallace, Director of OSWALD, the Zurich/NYC based Beauty House, Wears a Total de Souza Ensemble with princess Head Band & Signature Dress Closures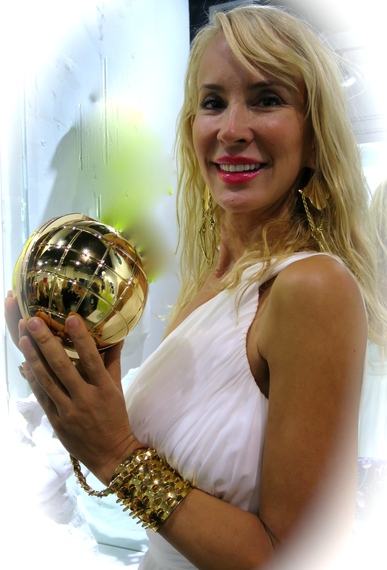 Tracy Stern Holds a Gold Orb Bag Designed by Emerging Designer Michael McElroy
Recently, The New York Society for The Prevention of Cruelty to Children held its Spring fundraising Luncheon at NYCs Pierre Hotel. The popular sold out event, attended by 200, bevies of well-attired women, raised over 275,000 for their for the agency's Trauma Recovery Program - providing specialized therapy for abused children 5 - 21.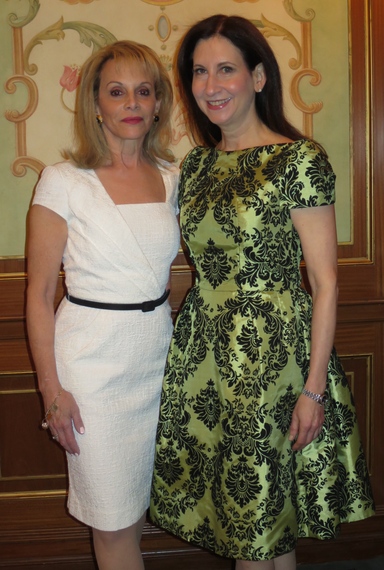 Producer Wendy Neuss with future Board Member, NYSPCC, Dr. Penny Grant
The highlight of the afternoon was the heart-wrenching presentation by keynote speaker, Regina Calcaterra, whose powerful story of abuse and survival is documented in her powerful memoir "Etched In Sand".
Not a dry eye in these empathetic attendees...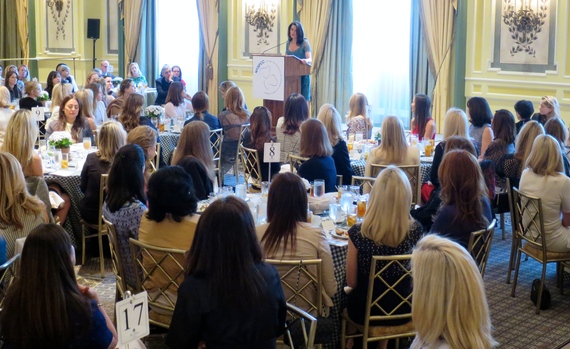 The spellbound Attendees listen to Survivor Regina Calcaterra Tale of Childhood Abuse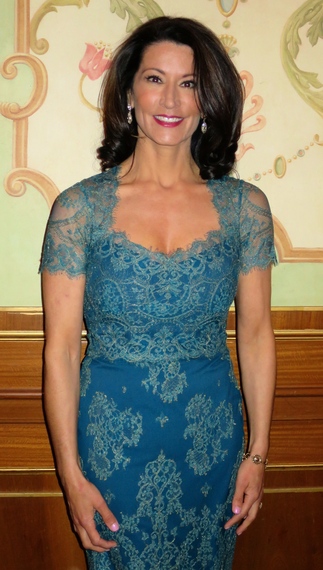 The Survivor and now, Author, Regina Calcaterra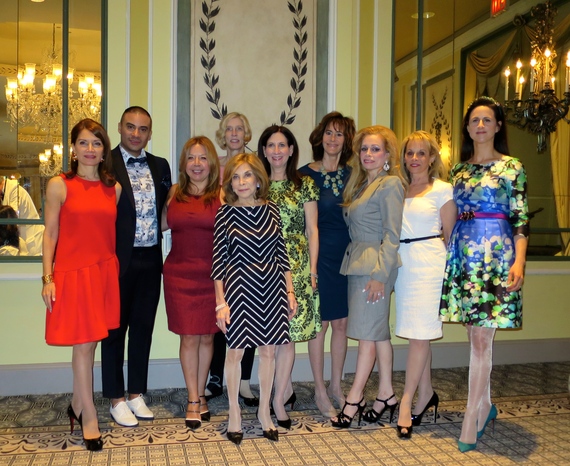 Our Table of NYSCC Supporters - The Very Fashionable, Social, and Socially-Conscious Gals:
Jean Shafiroff,Victor de Souza, Adele Nino, Elaine Kessel, Penny Grant, MD, Lee Fryd, Joy Marks, Wendy Neuss, Tanja Dreiding Wallace
In its 140th year of service, the NYSPCC is also one of those proven old NYC charities, and the world's first child protection organizations.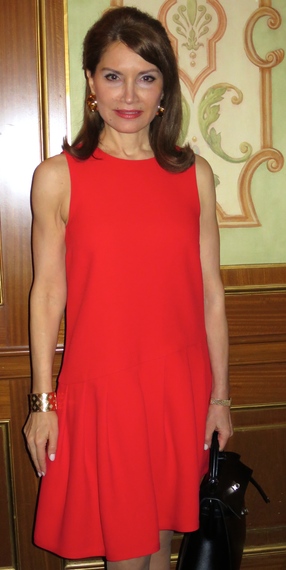 Attendee, Philanthropist Jean Shafiroff
For additional information visit www.nyspcc.org
With much deserving fanfare, the New Whitney Museum of American Art has opened in NYC's MPD (Meat Packing District) - and it is glorious!
Personally, I am delighted to now have a world-class Art Museum conveniently located in the MPD (Meat Packing District) within blocks of my West Village office.
With wonderful inside/outside space designed by the renowned Architect Renzo Piano, the inaugural exhibition "America is Hard To See", features 600 works by 400 artists from the permanent collection, exploring the themes, ideas, and visions that have inspired us over the past 150 years.
So much of this Art is emblazoned in the psyche of our minds - the iconic work of our formative years...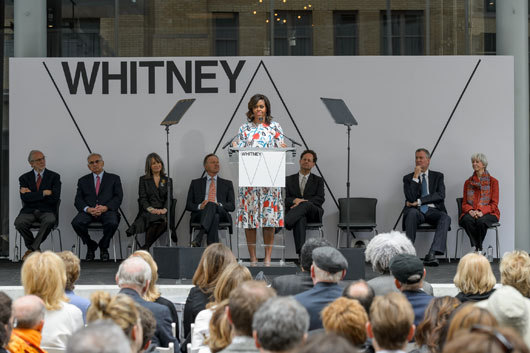 First Lady Michele Obama at The Ribbon Cutting for The New Whitney
With its exciting program of performance, music and film, this Whitney is certain to become one of NYC's most visited destinations.
Wonderful Exterior Spaces Juxtapose Sculpture with NYC Vistas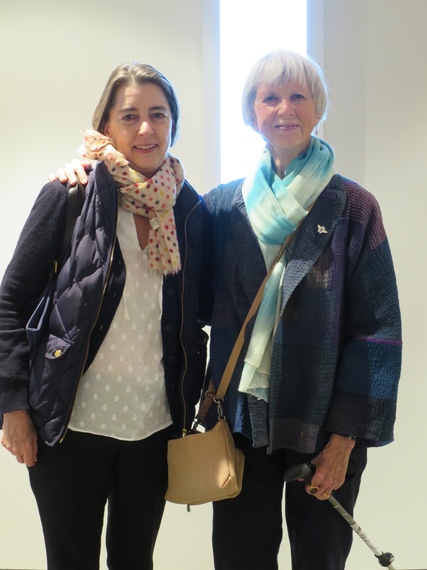 Trustee and Board member, Flora Miller Biddle and Fiona Donovan
Familiar Delightful Art Beckons Us:
Alexander Calder's Wonder-full CIRCUS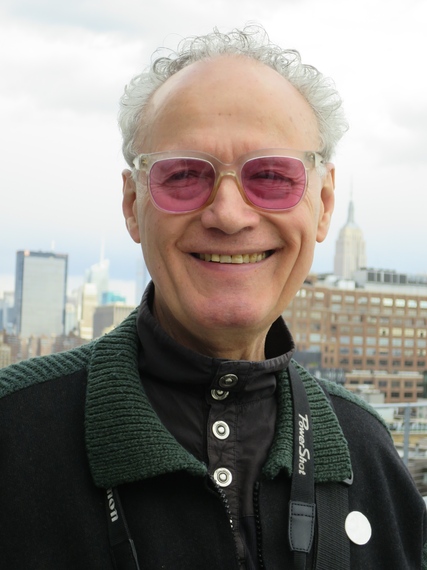 Painter Jon D'Orazio Welcomes the Whitney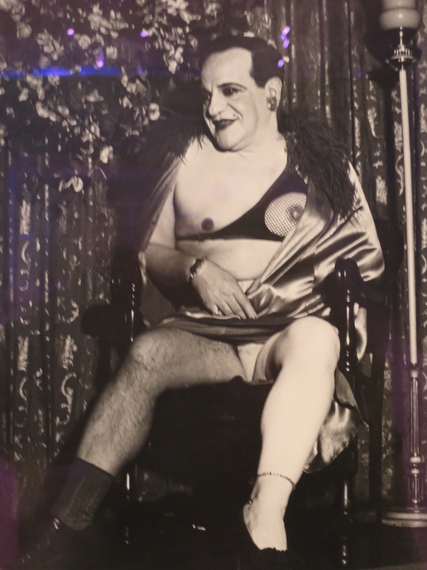 My Late Mentor, Lisette Model's 1945 Photograph, "Albert-Alberta Huberts FLEA CIRCUS"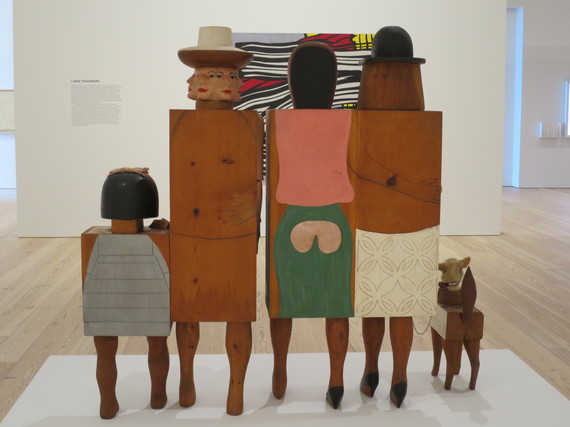 Marisol's Memorable 1963-4 Sculpture, "Women and Dog"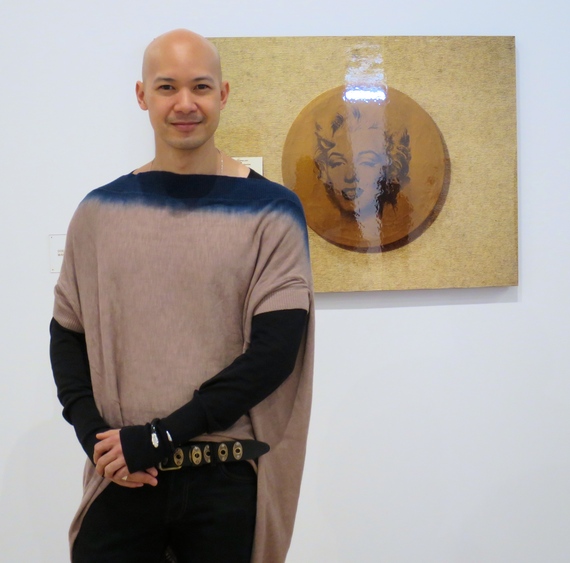 The Arts Promoter & Fashionista Kevin Alexander, Strikes A Pose, with "Marilyn"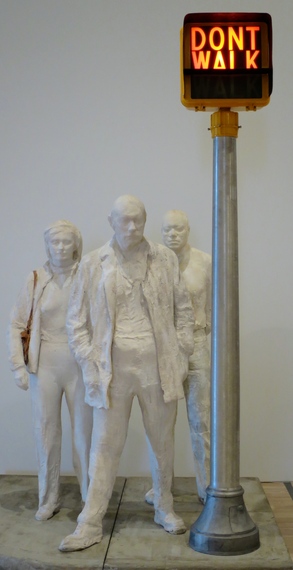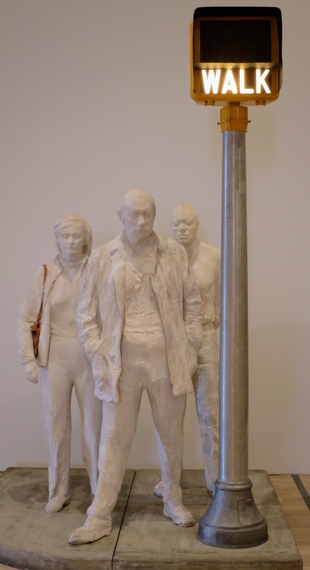 George Segal's 1976 "Walk, Don't Walk"
The Notable Artist Michele Oka Doner opened her latest Sculpture Collection "Feasting On Bark" at Marlborough, uptown at 40 W57th Street,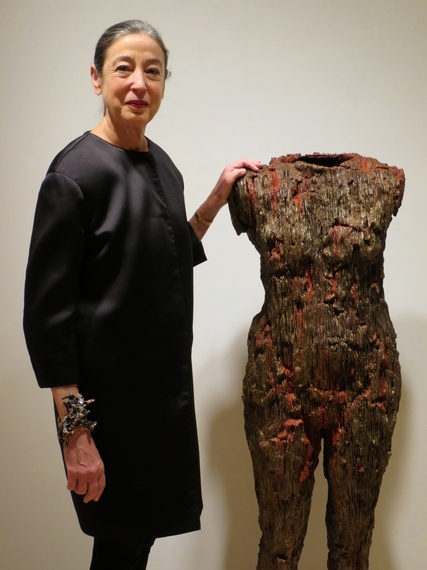 The Artist, Michele Oka Doner with her latest work
We had first met in Palm Beach during the 1970s. Since then her Nature-based works have garnered critical acclaim and are to be found in important worldwide Collections and Museums.

Doner's Contemplative Art
Doner's latest works are sensitively fashioned from "organic materials' - dried leaves, roots, bark, soil - and transformed into highly-abstracted human forms, and minimalist installations - literally bringing our species back to its "roots".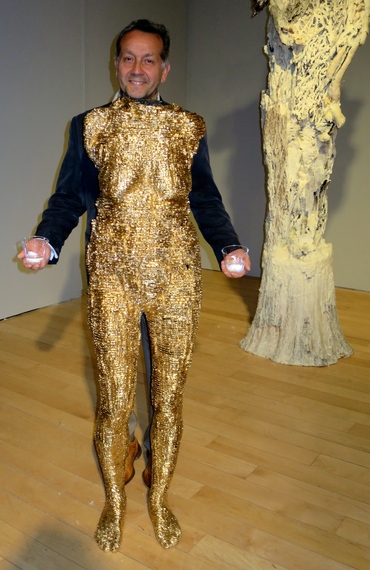 Peruvian Importer, and Arts Appreciator, Jorge Meneses, Plays with Doner's Art
I am a Believer in the Healing Power of Beauty...
This Spring has brought forth an Inspiring array of gorgeous Flowers.
In NYC we are blessed with a bounty of Parks - maintained in trust for the viewing public and frequently operating as public/private organizations.
These include "Pocket Parks" that provide islands of tranquility midst the busyness of the urban..
These Parks are maintained through our support so,
Perhaps take a moment to bask in the beauty,..
and possibly consider you might just enjoy volunteering...
www.jeffersonmarketgarden.org www.abingdonsquare.org
Pictured Here Fleurs from Abington Square Park and Jefferson Market Garden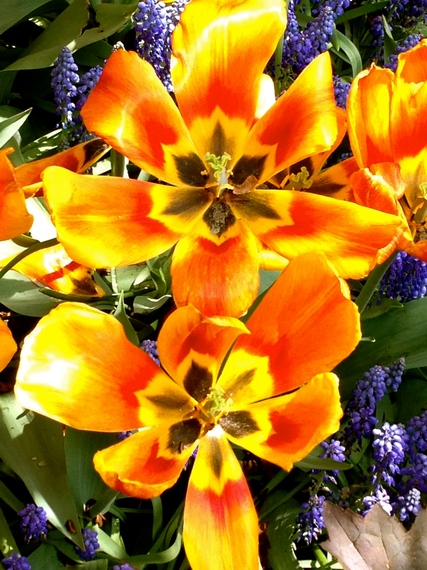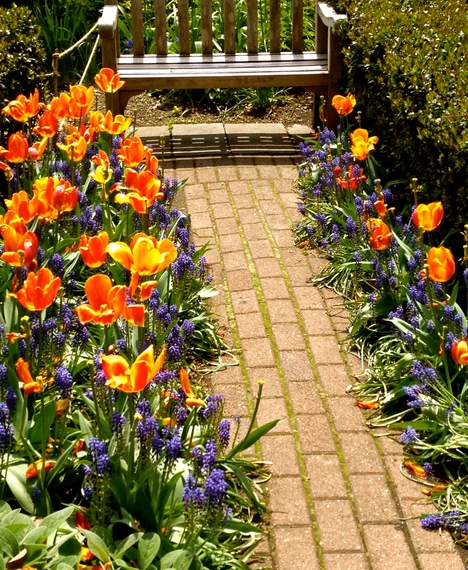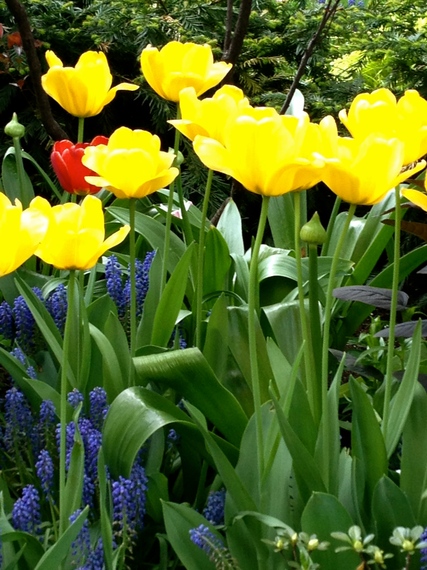 All Photographs (c) Jill Lynne 2015
For Purchase, Contact jilllynne1@mac.com
www.jilllynne.com