Text & Photographs © Jill Lynne July 30 2011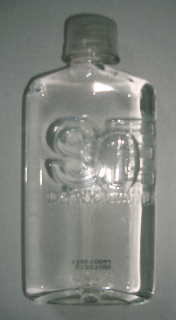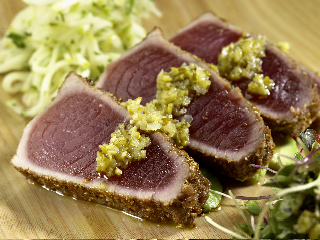 In this all-too-hot Summer-time, "When the livin' is far from all that easy..." (To paraphrase PORGY & BESS") with "climate change" 100-plus-degree days making breathing labored, and the earth scorched torrid red with the most intense drought ever in Somalia: The media broadcasting the ravages of human starvation -- emaciated, wide-eyed innocent children, imploring... (& yet naysayers among us stubbornly deny "Global Warming').

While here in our great US of A, the Republican Party (hijacked by extremist elements) & a few absurd Democrats, bickering like petty spoiled adolescents, refuse to reach an economic agreement, threatening to bring down the nation -- possibly the world -- with promised pain to its most needy population...
Then blonde, blue-eyed terrorists causing irrevocable damage in peaceful Norway -- so much for the limitations of racial profiling...

For a long while I've pondered whether I'm watching a repeat of the decline of Rome...?
The end of the species...?
Perhaps...
We -- as humans -- most certainly have not done well caring for Mother Earth and its inhabitants...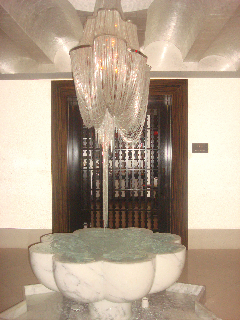 What's a girl to do???
This girl who aspires to do her part for world betterment:
That girl needs to take some time and have some FUN!!!
So...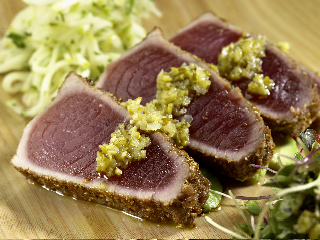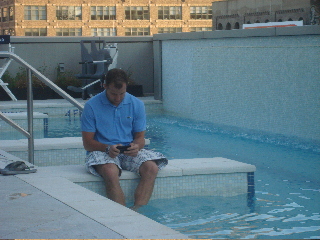 I am equipped with my fav water -- which I freeze before I enter the steamy streets -- SEI Water. Its flask-like shape makes it a slim item to casually slip into a bag, or pocket. Available at Dean & Deluca or www.seiwater.com
I venture to Bar d'Eau (as in Water Bar) -- a very urban escape. Located on the seventh floor (7th Heaven...) of the new Trump Soho Hotel at Varick & Spring Street. Seated poolside, in their outdoor cocktail lounge listening to energetic music, we sample their delicious morsels and sip their fruity special drinks. The fresh lobster salad, (orange supreme, avocado & root veggies) and the unique seaweed salad (sesame & Wakame) is perfect for hot evening nibbles, accompanied by their Bramble Gin Cocktail, sweetened with Berry Jam. Juxtaposed against a backdrop of brick walls and long skyscraper views, but undisturbed by city din, one can play bocce ball, swim, or just while the hours away.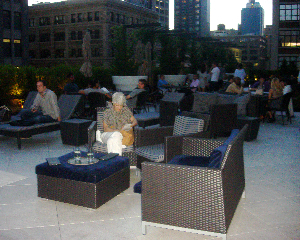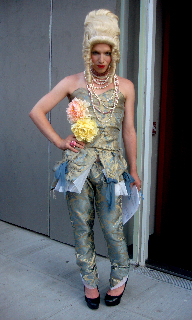 While doing the "Chelsea Crawl" a self-guided tour of Chelsea's celebrated galleries, culminating in a party at the interesting Chelsea Art Museum, we are invited to the Investors fete at the shiny new Hotel Americano -- "Liberte, Sensualite, Rose!" It is Bastille Day & "Doorman" Marcus is costumed in celebratory drag. Centrally located in the heart of NYC's newer Art District at 518 West 27th Street, the rooftop boast an outdoor grill, bar, tower of light, food & spirits, the postage-stamp size swimming pool, a view that spans the sun set thru the Empire State Building, and two levels of entertainment fun for the fashionable, artsy, chic guests.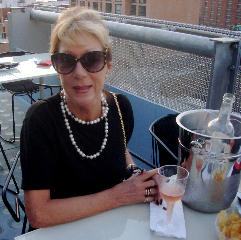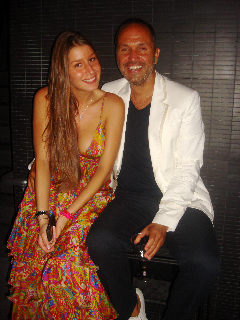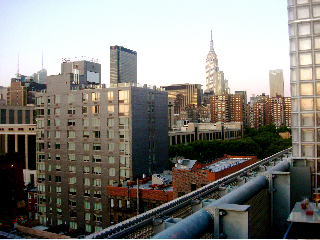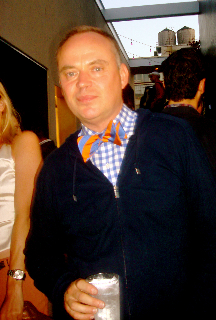 It was my Birthday and we chose the Broadway production of "Priscilla" (at The Palace Theater) as part I of the evening's entertainment. A devotee of the Academy-Award winning Australian comedy-drama," The Adventures of Priscilla, Queen Of The Desert" (1994), I am happy to report that this staged version is a "blast"!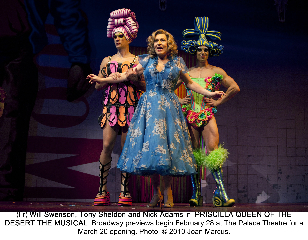 Celebrating Drag Queens & Divas but mostly the human spirit, the narrative -- told in fab choreographed pop songs that make you want to just sing-along while breaking-out of your seat to dance -- is of a journey to authenticity and self-acceptance -- both geographically and metaphorically.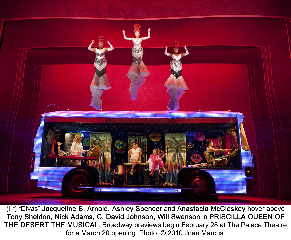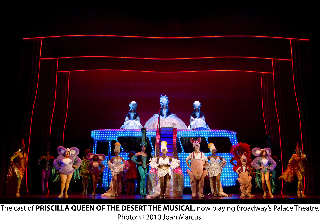 Produced by Bette Midler, James L.Nederlander and additional notables, Priscilla received a Tony-Award Nomination for Best Actor in a Musical (Tony Sheldon) & won the Tony for Best Costume Design (Tim Chappel & Lizzy Gardiner) as well as star-studded accolades worldwide. Both the fantastic, glitzy, beyond-original costuming and sets, and the fantastic over-the-top, Vegas-spoof-like dance numbers, are brilliant and hilarious.
Priscilla is so "HOT", it is COOL!
Now for Pilobolus...
What is there to say about "Genius"!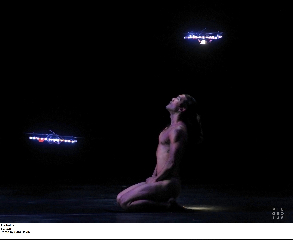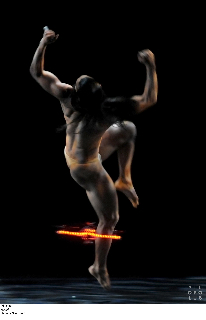 I first saw Pilobolus in the '70s at City Center. The troupe performed a never-seen-before, awesome dance on water, and yours truly was hooked. Every summer I look forward to their return performance at Chelsea's Joyce Theater -- the country's premiere venue for dance (175 Eight Avenue at 19th street). Since 1982, The Joyce Theater non-profit Foundation has served the dance community, building new dance audiences by offering tickets for as little as $10.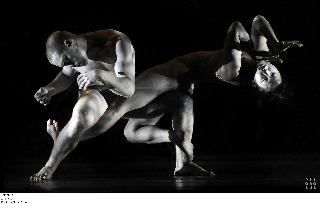 Pilobolus is celebrating a quarter of a century of important, visionary innovation in dance.
The term "Pilbolus" refers to a fungus "that Jonathan Wolken (with Moses Pendleton, the original cofounder of the company) studied with his Dad, recalls Alison Chase." In 1971, Pendleton and Wolken met in Chase's Dartmouth Dance Class, and later founded the company.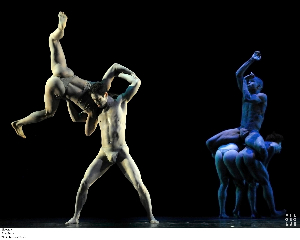 Comprised of two women and four easy-on-the-eyes men, this season, unique collaborations with renowned New Yorker Cartoonist Art Spiegelman,"Hapless Hooligan is "Still Moving" (2010)", Grammy-Award-winner Rocker Musician Dan Zanes, and MIT, have led to a theatrically dynamic season.
The signature style of Pilobolus focuses on creating sculptural-forms-in-acrobatic-dance-motion utilizing multiple entangled bodies enhanced with lighting. The athleticism yet grace of the visuals tugs at deeper subliminal, primordial roots.

One of my favorite new creations is SERAPH (2010) in which the dancers gracefully interface with beautiful robotic UFO-like, MIT -developed "ariel" creatures".
A treat!
To conclude, Roseanne Barr stopped by Chelsea Market, the home of the best seafood venue in NYC -- The Lobster Place, offering the most delicious Lobster Bisque & New England Clam Chowder -- to promote her new Lifetime series "Roseanne's Nuts".
The series, certainly "liter-than-lite fare".
And a trimmer, Roseanne: Certainly Liter!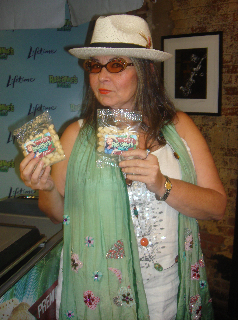 All Photographs (c) Jill Lynne, July 2011 (except when indicated)
All Rights, except for Huffington Post, Reserved
Jill Lynne's Photos may be purchased,
Contact: JillLynne1@MAC.com www.JillLynne.com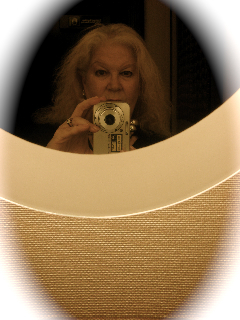 1. Flask-shaped SEI Water Bottle
2. Trump Soho's Bar d' Eau's . Jelly & Gin Bramble
3. Bar d'Eau's D-Licious Seared Tuna
4. The Trump Bar d'Eau Fountain
5. Pensive Swimmer
6. As the Sun Sets, English Lawyer & Tour Guide, Diana Heller reads midst Partyers
7. Marcus in Bastille Day Drag Guarding The Door to The new Hotel Americano Fete
8. Austrian-born Elke Breyer n-joying the Festive Rose
9. One of Americano's Owners & Friend, Celebrate
10. Americano's Second Level Rooftop Postage-Stamp-Sized-Pool Attracts Party-Goers
11. View of The Chelsea Art Area & Empire State From Americano's Rooftop
12. "Famous" Attendee - Guess Who? (Clue: Music-Maker...)
13. Tony-Nominee Tony Sheridon, Will Swenson & Nick Adams in "Priscilla Queen Of The Desert The Musical" (c) Joan Marcus 2010 (also applies to Photographs # 14.15, & 16.)
14. Priscilla DIVAs Jacqueline B. Arnold, Ashley Spencer & Anastacia McCleskey Hover Above Tony Sheldon, Nick Adams C. David Swenson & Will Swenson Aboard The Magic Bus
15. The Cast of Priscilla (Finale)
16. Will Swenson & hilarious "Cupcake" Number
17.& 18. Pilobolus "Seraph" with MIT-developed dancing robot (Photos 17 - 20, (c) Sara Davis)
19. & 20. Pilobolus "Korokoro"
21. Roseanne (Barr) Tossing Nuts @ The Chelsea Market to Promote her new Lifetime Show "Roseannes Nuts"
22. Self-Portrait: Jill Lynne in Trump Soho Mirror