The American Indian College Fund with Idina Menzel, The VOSS Foundation "Women Helping Women" Luncheon at the Downtown Dream, New York Foundling and The Literary Salon, "If Nuns Rued The World" by Jo Piazza, "The Daughters of Kabul" by Jenny Nordberg, The Jazz Foundation of America Gala Concert at The Apollo Honoring Herbie Hancock, with Quincy Jones, Chaka Khan...,"A Memory of Violets" by Hazel Gaynor, HBO's BANKSY and Latin American Art at Mad...
November is Native American Indian Month. As we rev up for the first of seasonal festive Holidays - Thanksgiving - we may gratefully recall how much of this traditional feast - maize, corn, pumpkin, cranberries...- was introduced to our forebears by the original native population.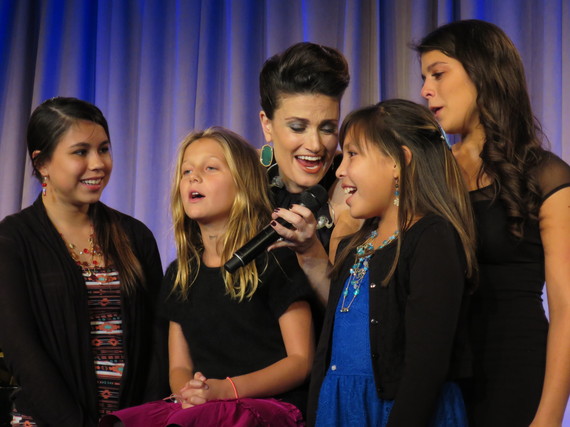 Idina Menzel, surrounded by adoring children singing, "Let It Go" (from the Grammy-award winning soundtrack of "Frozen") at The American Indian College Fund Benefit.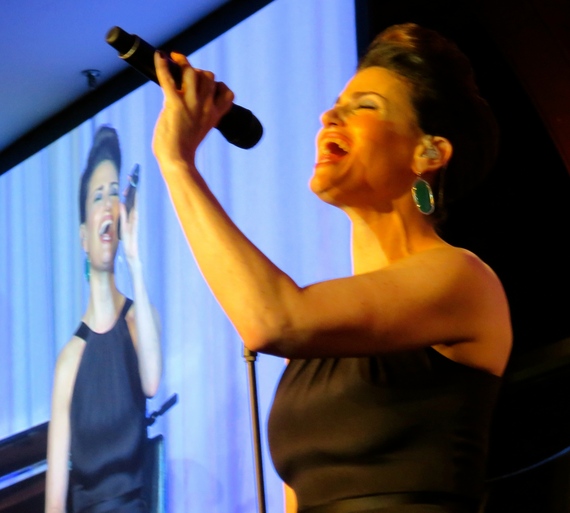 Apropos, I recently attended the 25th Anniversary Gala Benefit for the American Indian College Fund. This important not-for-profit supports the education of Native American youth through its operation of Tribal Colleges and the awarding of over 100,000 scholarships.
Since many reservations are located hundreds of miles from the nearest college, it is critical to establish these on the actual reservations.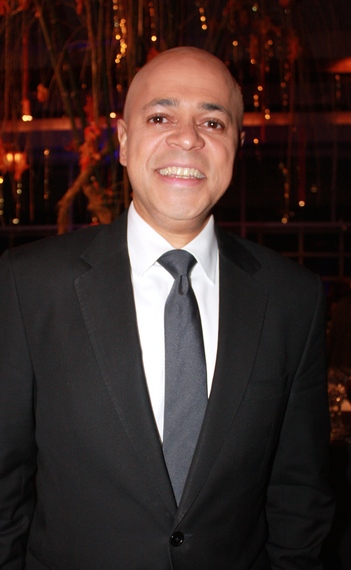 Master of Ceremonies, NBC's David Ushery
In addition to the beautiful exhibit of native handicrafts, the evene was emceed by Emmy-award-nominated, Co-Anchor of NBC News 4, David Ushery, , and highlighted by the extraordinary voice of Tony-award-winner, Idina Menzel.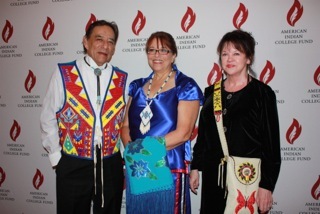 Emeritus Trustee American Indian College Fund, David Gipp, President & CEO, Cheryl Crazy Bull, with Trustee Lynn Radd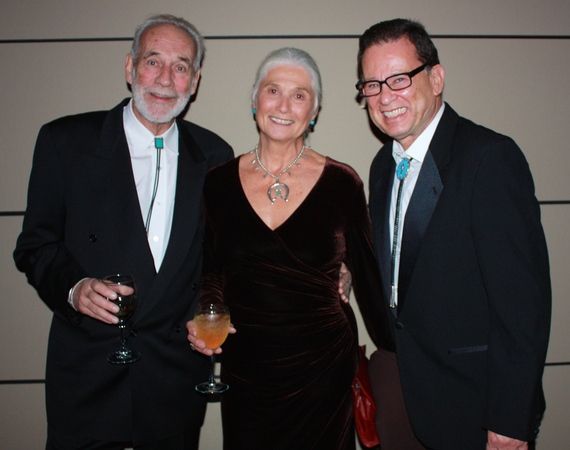 Producer Murray Bruce and Gail Bruce, Co-Founder American Indian College Fund with Dr. Robert Martin, President of AIA (the Institute of American Indian Arts, Santa Fe www.iaia.edu )
Indina gathered children 'round her to join in singing her "anthem" from the Platinum soundtrack, "Frozen:" "Let It Go". The audience joined in with resounding voices.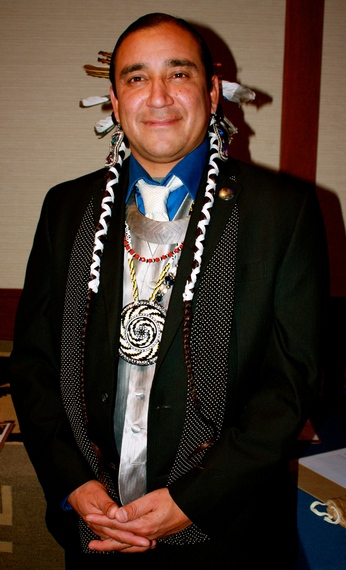 Intricately Handcrafted Native Costumes worn by Allen Demaray Jr. (whose wife Twyla Baker is President of Fort Berthold Community College) & Butch Thunderhawk, Tribal Arts Instructor at United Tribes Technical College
Interesting to note:
The Metropolitan Museum of Art opens its first full-scale major exhibition of Native American Art; on March 2nd; "The Plains Indians" Artists of Earth and Sky".
To learn more visit www.collegefund.org
One of my favorite charities is the VOSS Foundation and their "Women Helping Women" New York Annual Luncheon held at the trendy Dream Hotel, Chelsea.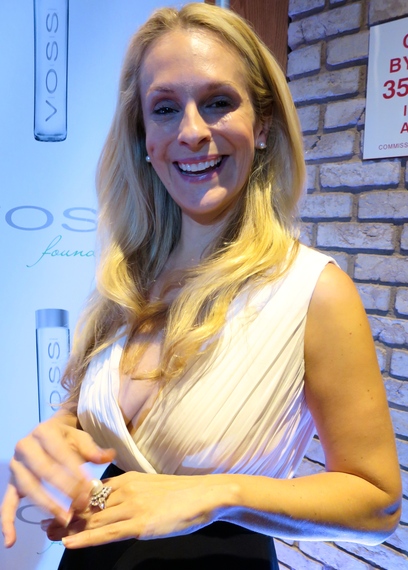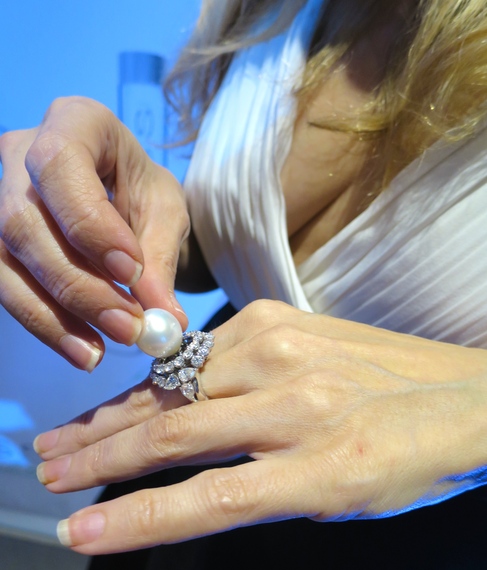 VOSS Supporter, Consuelo Vanderbilt models her Innovative Ring Design featuring Interchangeable Pearls.

James Agular, National Fashion Director for Modern Luxury
The VOSS Foundation is dedicated to providing access to clean water to communities in Sub-Saharan Africa and raising awareness of ongoing need to the region. Founded by the directors of VOSS of Norway ASA as an independent 501(c)(3) public charity in 2008, with offices in New York and Oslo, Voss Foundation has changed the lives of over 100,000 people in Kenya, Mali, Ethiopia, the Democratic Republic of the Congo, Liberia and Swaziland.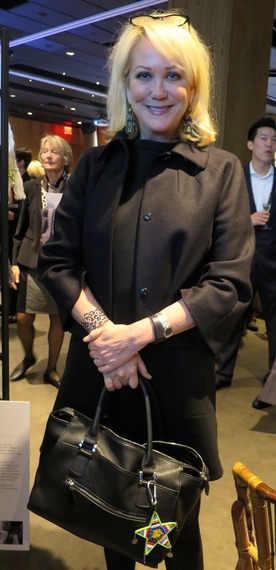 Attendee Nina Griscom
Mistress of Ceremonies, Writer and Producer, Susan Fales-Hill
Women Helping Women (WHW) is a Voss Foundation global, grassroots initiative that has already funded 19 clean water access points and 291 sanitation facilities in Kenya, the Democratic Republic of the Congo, Liberia and Swaziland.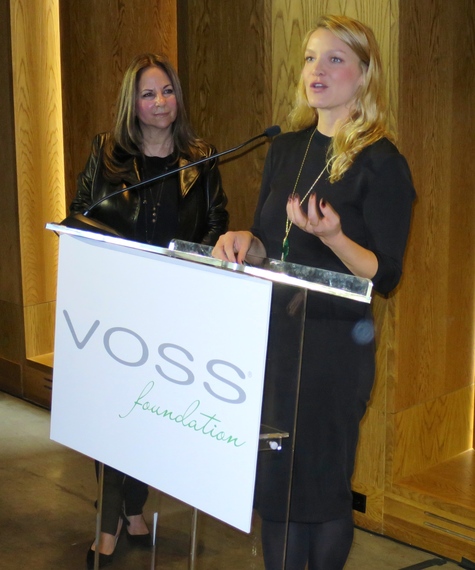 Jewelry Designer Karen Egren Presents a Specially Designed Diamond Pendant Necklaces to Honoree Kristy Caylor
For additional info visit www.thevossfoundation.org
When an evening out offers up a truly delightful surprise, it has us contemplating how infinite seem the nooks; crannies and wonders can be found in our magical NYC.
So when I was invited to a "Happier Hour Literary Salon", hosted by Aidan Donnelley Rowley, at her beautiful townhouse, celebrating two important authors - Jo Piazza, "If Nuns Ruled The World", and Jenny Nordberg, "The Underground Girls of Kabul" - and
Sponsored by The New York Foundling, one of the best of charities, I RSVP'd with an emphatic "Yes"!
Co-Host Adian Donnelley Rowley with Authors Jo Piazza and Jenny Nordberg, and Bethany Lampland, COO, The New York Foundling
A memorable evening ensued - with approx. 50 women and a few select men - paying rapt attention to the speakers, and each other - without an iPhone in sight.
This was a treat!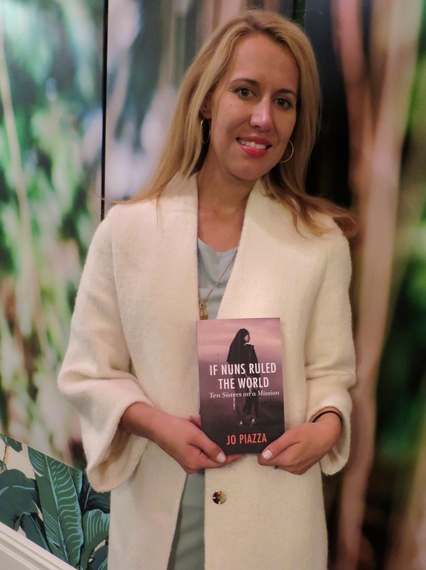 Author Jo Piazza with her inspiring book "If Nuns Ruled The World"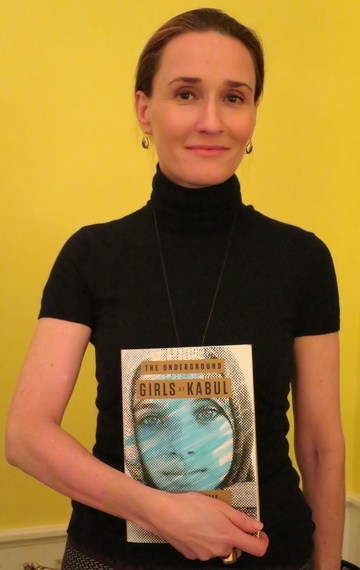 Author Jenny Nordberg with her fascinating book, "The Daughters of Kabul".
The New York Foundling was established in 1869 by four Sisters of Charity. It began with them placing a white cradle on the steps of a brownstone on East 12th Street, signaling to desperate parents with babies for which they could not care, that they would provide a suitable home.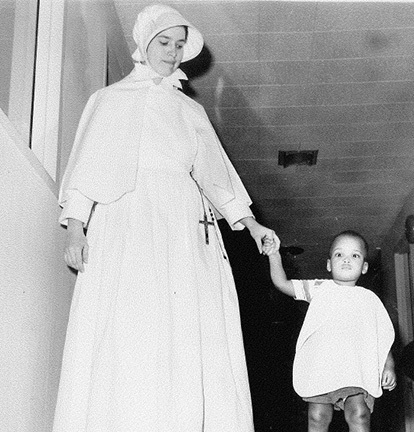 1873, The New York Foundling's First Adoption
From this humble beginning, New York Foundling has grown into a results-driven institution whose community support services have empowered hundreds of thousands of children and families. From Foster Care, Juvenile Justice Advocacy, the groundbreaking Charter school and the Crisis Nursery, it is one of NYC's oldest and most compassionate organizations.
Please visit www.nyfoundling.org
And while on the subject of charity, I recommend a beautiful new book "A Memory of Violets", the second novel by English-born Hazel Gaynor. This historically-based fiction is the poignant story of The Watercress and Flower Girls in a Dickens London. Living and working in the most squalid of conditions, frequently crippled or maimed, these children - from toddlers through teens - suffered untold horrors.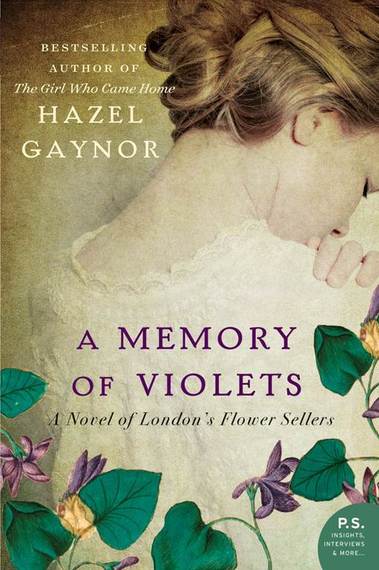 However this is also the story of compassion and how the work of one noble man and his family Albert Shaw (modeled after the real John Groom) rescued these unfortunates, establishing homes and work places for the girls to make silk flowers.
The legacy of his good works lives on today in the British organization, Livability.
An inspirational tale - so perfect for this season of empathy, giving and tithing.
The Jazz Foundation of America one of those important do-good organizations.
Through its programs hundreds of musicians - young and old - legends in their own time and/or now - are rescued from homelessness, poverty, illness, and hunger.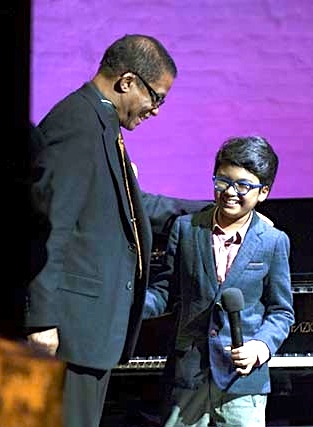 Honoree, Musician Herbie Hancock, with Admirer/Protégé Joey Alexander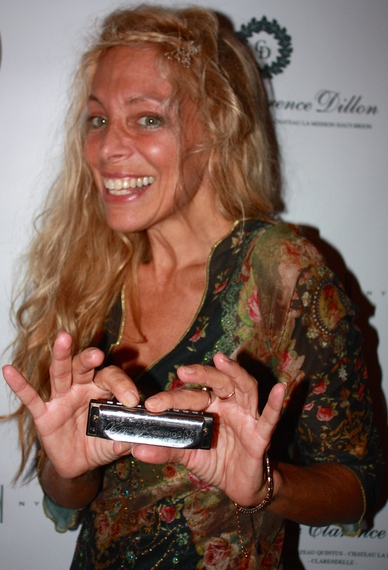 Vice Chairwoman Wendy Atlas Oxenhorn, with her trusty harmonica - with which she gave a brilliant surprise performance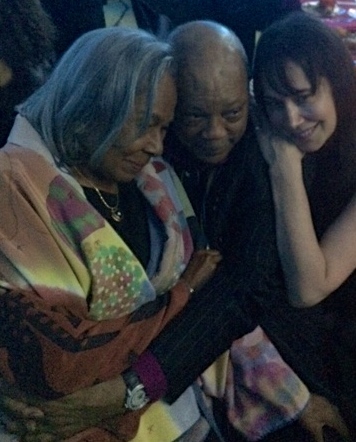 Rachel Robinson (the 92 year old window of Jackie Robinson) with Quincy Jones and Carol Friedman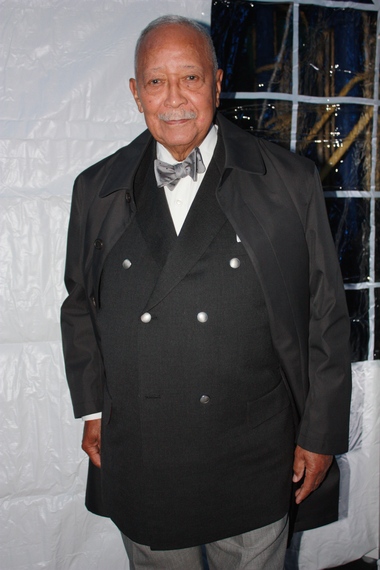 106th NYC Mayor, Mayor David N. Dinkens
"A Great Night In Harlem" the 23rd Gala Concert - honoring Herbie Hancock was held at the historic, Apollo. And Oh did the music reverberate joyously - from the Master himself, Herbie Hancock who was serenaded by a child protégé, the protégée Joey Alexander (who noted HH was his inspiration...) through 10-time Grammy-award winner Chaka Khan, Bruce Willis, Angelique Kidjo, Buster Williams, Eddie Henderson, The Heath Brothers, Billy Hart...
Quincy Jones introduced all with words of wisdom and humor.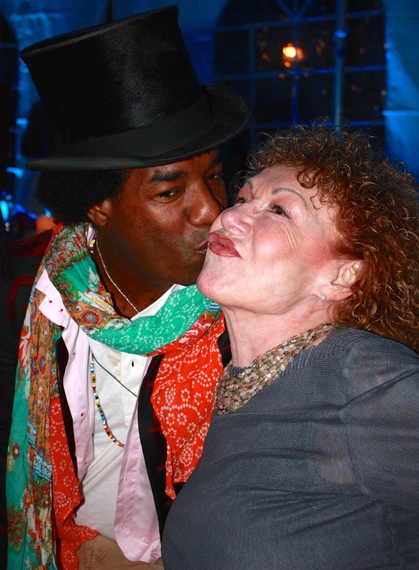 Blues Guitarist Ladell McLin with Swiss Philanthropist "Jazz Mama" Bianca Koller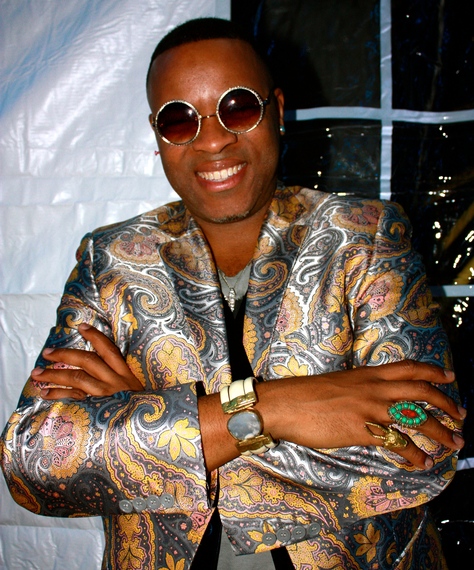 Musician Davell Crawford
14-time Grammy-award winner Herbie Hancock was presented with the Lifetime Achievement Award for his brilliant Jazz and R&B compositions and performances, but also for his iconic leadership in the industry.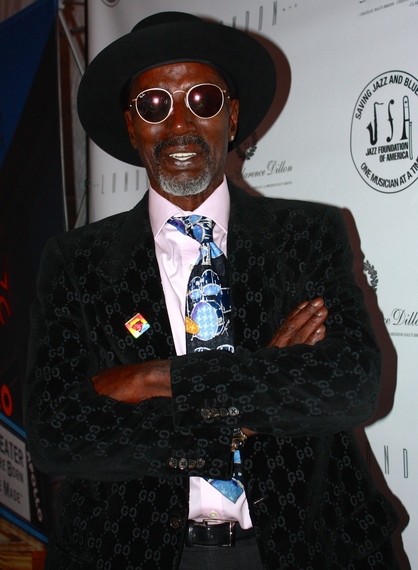 TS Monk (son of the celebrated Musician, Thelonious Monk)
We are looking forward to The Jazz Foundation's extra special Loft Party - coming soon in Spring 2015.
To learn more contact www.jazzfoundation.org
The amazing Chaka Khan with Angelique, Verdine White, Chaka and Ray Parker Jr.
And now for two quick artistic recommendations: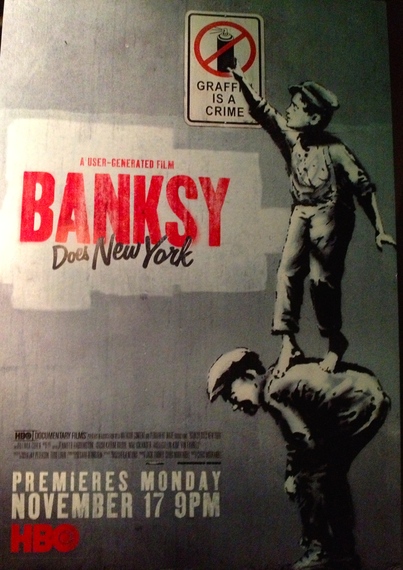 "BANKSY", Premiering at "Doc New York", the HBO special documentary about the elusive, amusing and sometimes genius Artist, Banksy.
Created under the brilliant aegis of the incomparable Director of Documentaries, Sheila Nevins...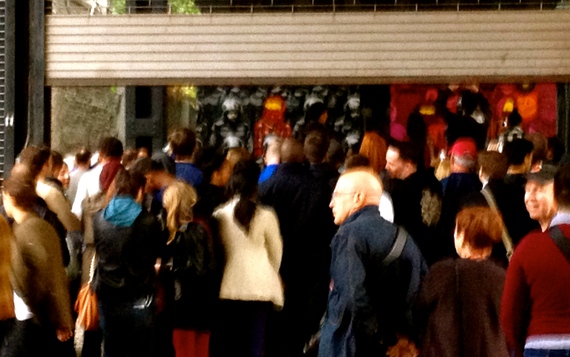 A Banksy Installation Caught in Chelsea
Available at HBO On Demand...
"New Territories: Laboratories for Design, Craft and Art In Latin America", Curated by Lowery Stokes Sims at MAD (The Museum of Art and Design).
Fascinating work...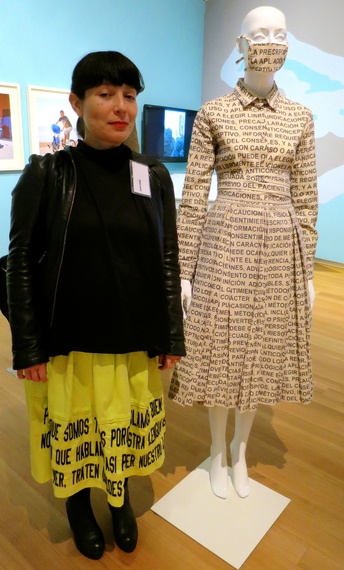 Mexican-born Artist Lucia Cuba with her socio-political motivated, mixed media
Ensemble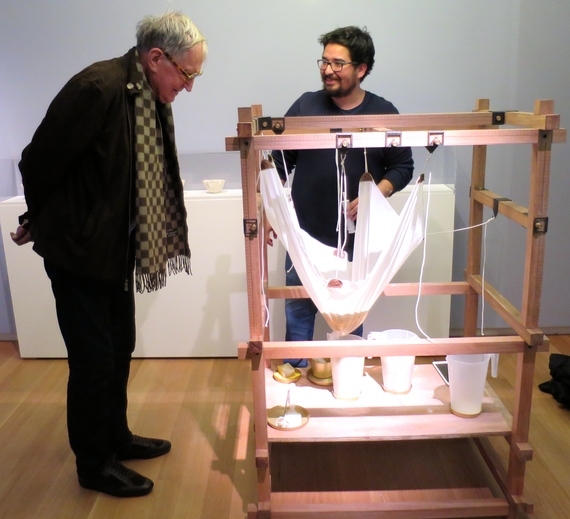 Designer Michael Brummel watches Chilean Artist Create Porcelain Object d'Art
We are all "gifted" and can well utilize these gifts to make a difference in world betterment...
As noted in Unity "Give graciously of your Time, Treasure and/or Talent".
With wishes for a most wonder-full, gratitude-infused Thanksgiving.
As in Lakota, "Wakan Tanka Kici Un', "May God Bless"...
(As quoted from St. Joseph's Indian School, www.stjo.org/dreams)
All Photographs © Jill Lynne 2014
Available from jilllynne1@mac.com www.jilllynne.com