Text & Photos © Jill Lynne, May 2014
The Charitable Hosts, Jean and Martin Shafiroff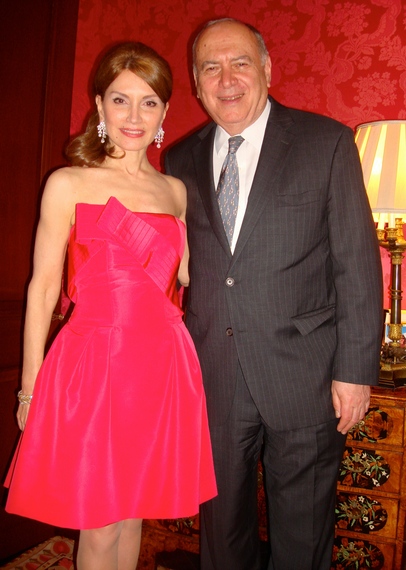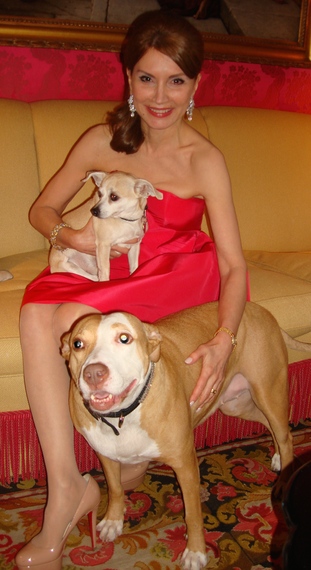 Jean Shafiroff with Honored Pit, Lady Belle Marie and "Sister" Mini-Rescue
Charitably yours attended the kick-off cocktail for the Southampton Animal Shelter Foundation "Pit Bulls as Pets" encouraging rescue and adoption of these sweet canines.
My beloved HRH Prince Shadow - the Havanese - actually born in Cuba - was a Rescue Gift.
It is so important to adopt these four-leggeds - "Man's best fiend" (& Woman's)...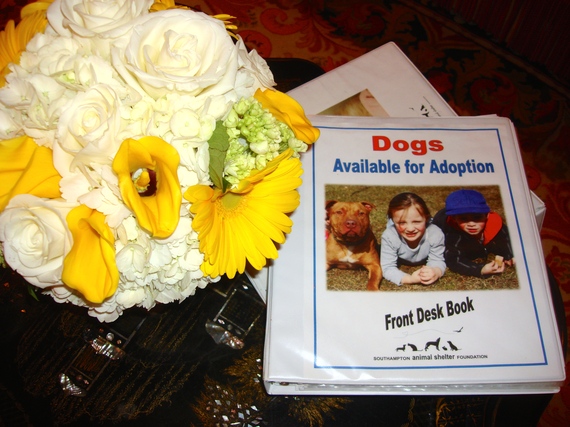 So many Canines, So few Rescues...
The event was graciously hosted by the very philanthropic Jean and Martin Shafiroff (and their gentle Pit, Belle Marie) at their beautifully appointed Park Avenue home. Cohosted by the ever-popular Patrick McMullan, the gathering attracted an assembly of caring NYC/Southampton-ers.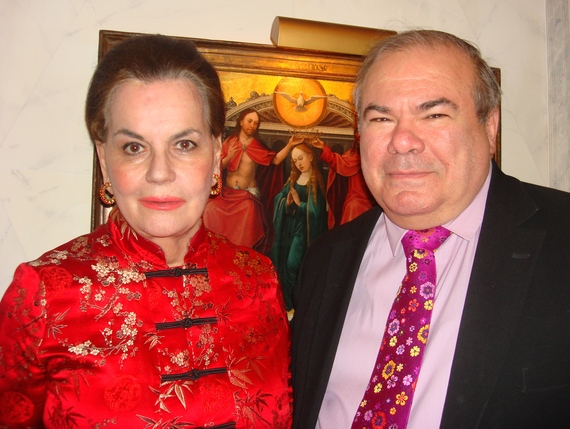 The Accomplished; Painter Hunt Slonem with Screenwriter Ann Rapp
The Benefit is scheduled for July 19th (coincidentally my Birthday).
For additional info and to purchase tickets, contact Southamptonanimalshelter.com.
Could it be genetic!
Admittedly more of a cinema buff -watching an average of three films weekly - I have recently become a convert, falling in love with Musical Theater.
With Musical Theater as one of my late Mother's passions, I grew up heating her vocalize those memorable songs from "My Fair Lady", "Oklahoma", "Three Penney Opera"...
As a young woman, Mum was asked to join the Metropolitan Opera, but my stern Grandfather intervened with a "No Daughter of mine shall perform on stage!"
In college, she would secretly purchase theater tickets, later assuaging her frustration with subscriptions to the Opera, Ballet and Theater. Gratefully I was included in these outings.
She amassed a historical collection of Playbills, which we are donating in her name - Sylvia Jean - to the New York Public Library (one of her fave charities).
"Les Miserables" tops my list of this season's favorites.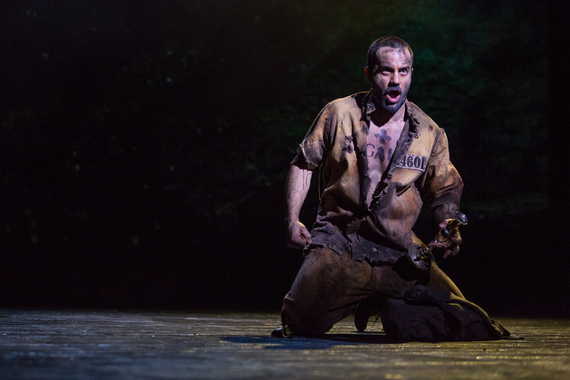 Ramin Karimloo as Valjean © Mathew Murphy
Having seen the original full-scale Broadway production, screened the film twice, and read the celebrated classic by Victor Hugo, I adored the score, but was quizzical...
This new streamlined production -is brilliant and uplifting. With extraordinary performances - especially from the magnificent lead - Ramin Karimbo - additional superb actors, and dramatic staging with magical lighting - this is a must-see.
This spiritually-infused tale of the impoverished Jean Valjean who steals a loaf of bead to feed his long-starving family, is unjustly punished, enduring life-long suffering, but heroically remains untainted in his goodness, is forever relevant. The historical novel examines the universal themes of law, grace and redemption.
"Les Miserables"(1862), considered to be one of the greatest novels of the 19th century, is the story of Revolution - a la French Revolution. Yet it is interesting that the French novelist/poet Victor Hugo (1802 - 1885), born in the aftermath of that Revolution, was initially a "Loyalist", a believer in Monarchy. One wonders what might have been his transformative epiphany...
Hugo is also well known for scribing "The Hunchback of Notre Dame".
Curiously, although Hugo requested burial in a pauper's coffin, over two million "fans" followed his official French memorial procession.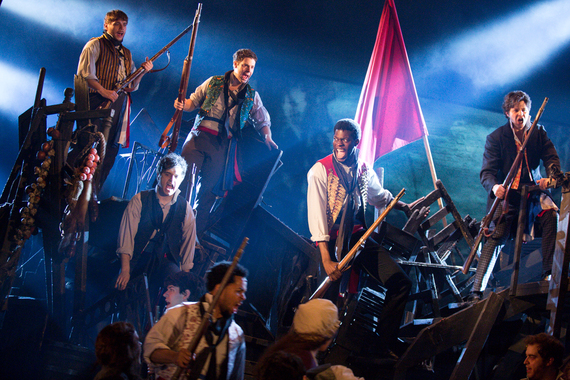 Manning the Barricades © Mathew Murphy
The present theatrical interpretation is so emotionally resonant, that the roused audience thunderously applauds for a ten minute standing ovation.
The most unique musical, "Love Lies Here", at the Public Theater, is my second pick - Fabulous!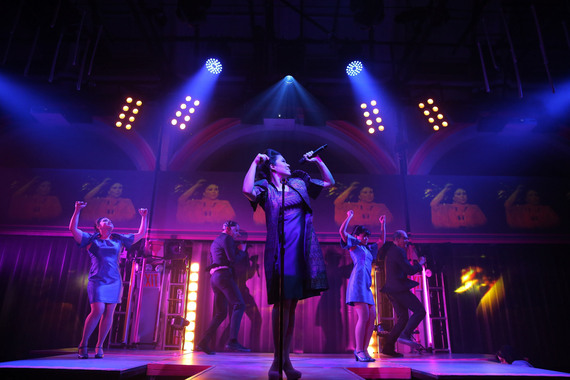 Filipino First Lady Imelda Marcos (Ruthie Ann Miles) © Joan Marcus

This immersive theatrical experience by Grammy, Oscar and Golden Globe award winner David Byrne - best known as the founder/musician of the new wave "Talking Heads", and Fatboy Slim - is a work sheer "genius" (And I do not use that word lightly!).
The Scottish-born David Byrne's illustrious career as a "creator" has included collaborations in dance (Twyla Thorpe...) and transformative art. In 2008 he turned the 99 year-old abandoned Battery Maritime Building into a playable musical instrument -which I personally experienced as the best of art-fun.
In "Here Lies Love", Byrne is responsible for both the concept and lyrics, partnering with Fatboy for the music.
Based on the controversial life of Filipina First Lady Imelda Marcos - her calculated rise to power from humble beginnings through her descent into shame and infamy - the play features strong and impassioned performances by Ruthie Ann Miles as Imelda and Jose Liana as Ferdinand Marcos.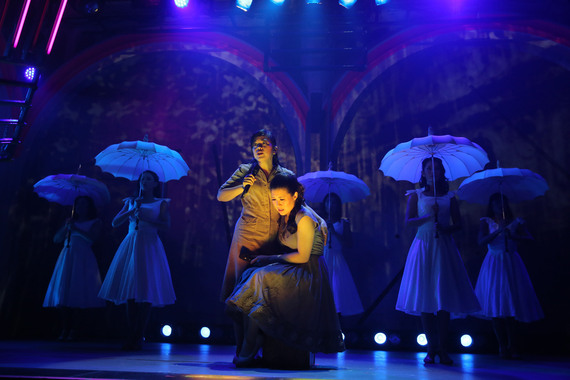 The impassioned Imelda © Joan Marcus
As in Les Miserables, this is the important story of revolution - of people power, and the potency of grass-roots organizing and action.
This is a moving play - not only emotionally, but also literally. Everything moves, the action on multiple stages, the actual stages and you - the audience. In fact one feels as though they are in a retro disco encouraged to dance to the adrenalin-boosting beat. Wearing comfy clothes and shoes is encouraged.
Entre-nous, during those wild days of Studio 54 with all-nite after-parties, I did find myself at Imelda's townhouse dancing madly with the likes of Andy Warhol and the Factory group.
Unfortunately, I never did see the infamous shoe closet...
One of the best kept NYC secret theater spaces, is the very professional Women's Project Theater at City Center. It is in this intimate theater, with audiences on three sides, I recently saw "The Most Deserving" - an interesting play, "deserving" of more attention.
So please note:
In its 36th year, the award-winning Women's Project Theater is the nation's oldest and largest company dedicated to producing and promoting plays written and directed by women.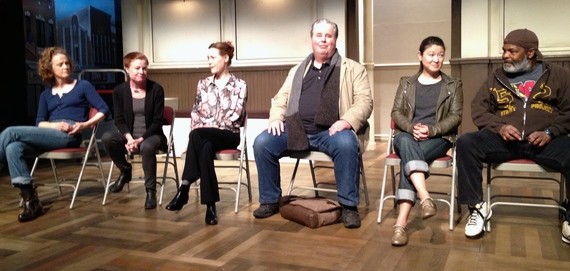 The cast of "The Most Deserving" during a private Q & A
Stay tuned to discover upcoming productions and events.
The Jazz Foundation of America's 23rd Annual Jazz Loft Party "Cirque du Jazz" in Partnership with the Montreux Jazz Festival - presented by Parmigiani - recently held its fabulous benefit bash. From 6pm through Midnight attendees were treated to sensational talent ranging from emerging artists through ole-timers.
This season's Honoree with the Lifetime Achievement Award, is the legendary record executive Bruce Lundvall - founder of Elektra Music, Blue Note Records, an important executive at Columbia/CBS - who signed, discovered and nurtured the likes of Willie Nelson, Dexter Gordon, Dianne Reeves, James Taylor, Wynton Marsalis and Norah Jones. A life-long proponent for the "Artist", the enveloping warm admiration for him filled the room.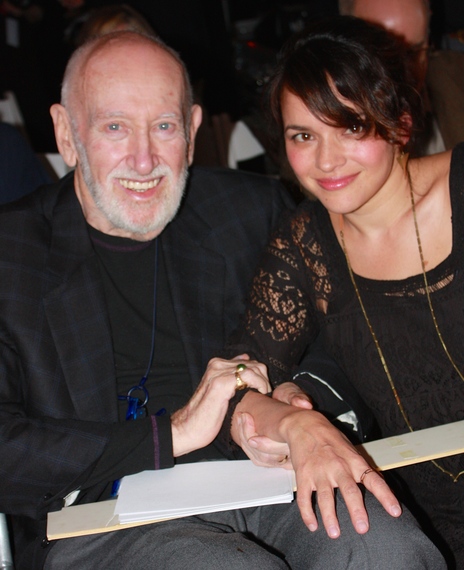 The Deserving Honoree, Bruce Lundvall with An Admirer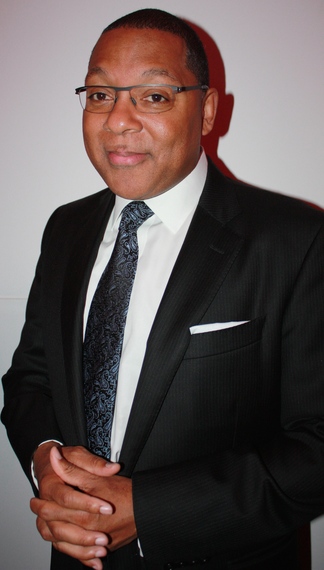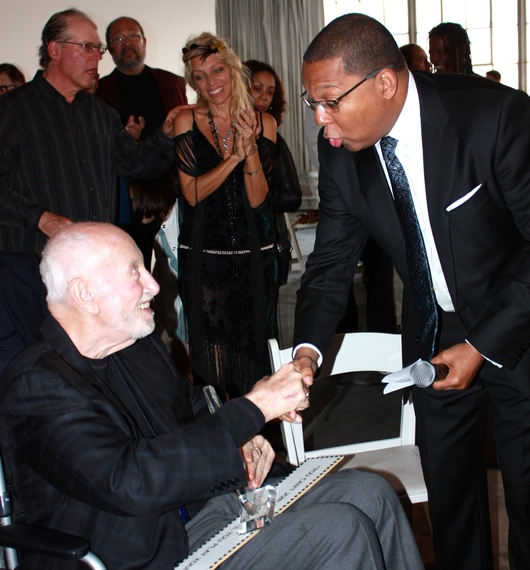 Musician and Industry Leader, Wynton Marsalis - who presented the Lifetime Achievement Award to Bruce
Grammy-Award-Winner, the Legendary Diane Reeves
For over 21 years the important work of The Jazz Foundation has assisted jazz and blues musicians in crisis, -providing aid to the impoverished and ill. To learn more and contribute, contact www.jazzfoundation.org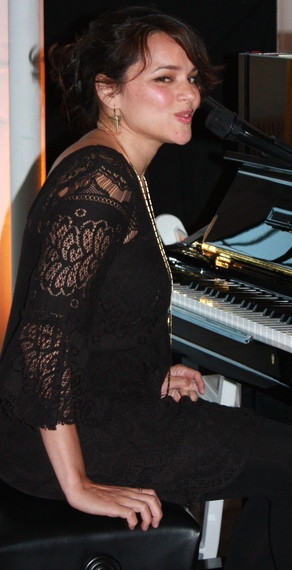 Norah Jones "Playing" Tribute to Honor Bruce Lundvall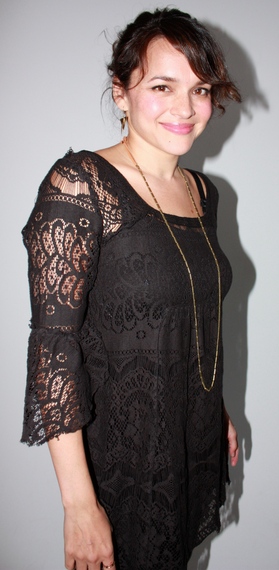 Singer/Songwriter/Actress Norah Jones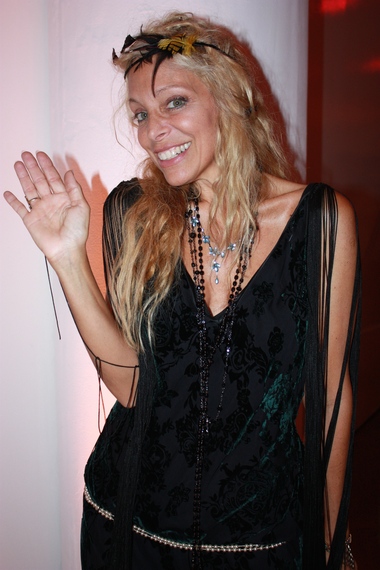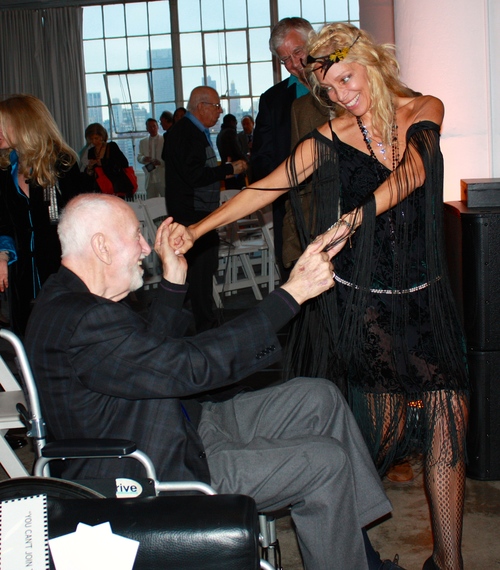 The Hard-working yet playful Vice Chairwoman, Wendy Oxenhorn
A treat was the concert of chanteuse and former First Lady of France, Carla Bruni. (-Sarkozy) It is a testimony to her charm and artistry that although "Je parle le francais comme une enfant", understanding only one quarter of the words, I was thoroughly enchanted, staying until the very end. Happily her patter was in English.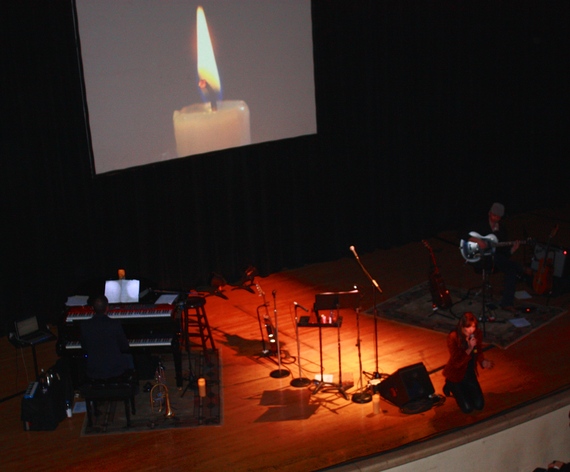 Chanteuse Carla Bruni performs with her Visual Art as Backdrop
The Concert celebrates the release of Bruni's fourth album. "Little French Songs", featuring eight original compositions. The daughter of Marisa Borini, an Italian concert pianist and Maurizio Remmert - a one-time classical guitarist - music was her heritage. Also an heiress, after dabbling in visual art and modeling, she began her musical career in 1997.
Town Hall was packed with cheering Franco-American fans.
When attending the theater, Jo Allen is my customary Restaurant haunt. Just luv their escargots!
However, realizing that Bobbi Van's Steakhouse is also conveniently located in the Theater District (135 West 50th Street) - and being fond of the eatery from Hampton hangouts - we broke with my tradition and were delightfully surprised.
Forget the butter...I am a bread and olive oil girl! And yes, if I were stranded on that dessert isle and had but one choice of food...
So when the Bobbi Van breadbasket arrived, filled with a vast selection of crusty warm breads and delicious flatbreads - especially the dark cranberry nut bread - all was off to a super start.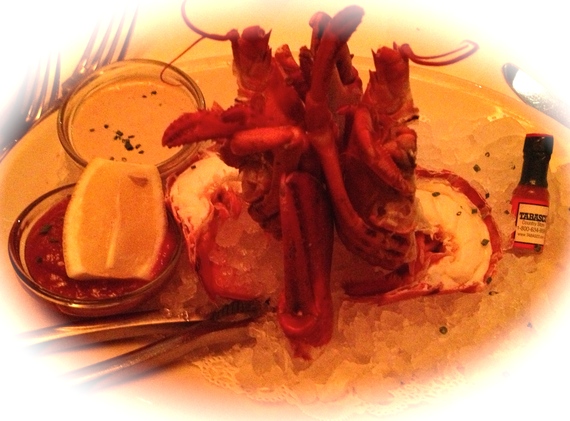 Bobbi Van's D-Lish Lobster Cocktail

Although I am a "mammal-atarian" eating no meat, I thoroughly enjoyed their succulent Lobster Cocktail served with hot sauce, the tasty Tuscan-Rubbed Atlantic Salmon and sinful Pecan Tart.
Under the watchful eye of the attentive Manager/Restaurateur Paul Modica, the service was energetic, gracious and considerate of our curtain call.
Although not interested in the popular book "50 Shades of Gray", I did see what-turned-out-to-be the hilarious theatrical production. Relatively "tame" in terms of graphic sex, it proved to be a multi-chuckle, event with a cast that is giggly-good.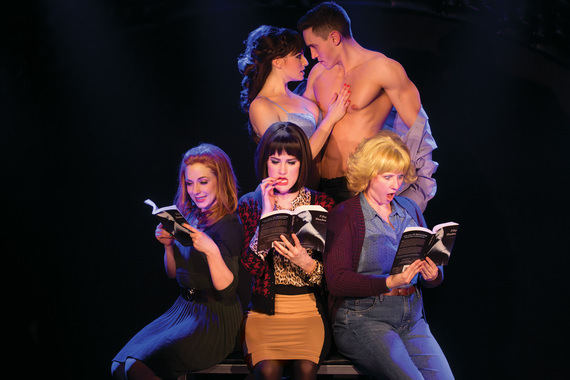 The dynamic cast of "50 Shades of Gray", Kaitlyn Frotton, Amber Petty, Ashley Ward and Chloe Williamson © Carol Rosegg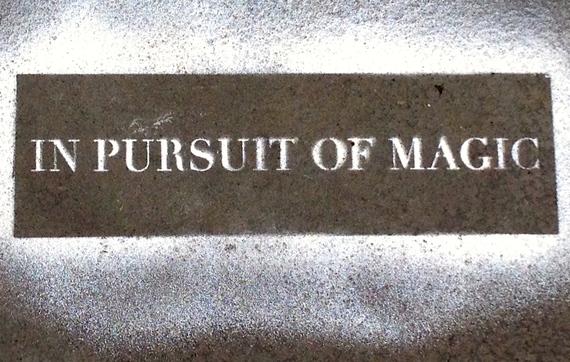 Always Seeking That Magic (spray-painted on Bank Street Sidewalk)
All Photographs © Jill Lynne 2014, available for Purchase from:
JillLynne1@mac.com
www.JillLynne.com