Warming Into June; Cultural & Charitable Catch-Up
Central Parks Mini-Regatta, MFIT's Couture Council, Designer Ralph Rucci, The Lighthouse Gild's POSH Sale, Gala & Interesting History, Audra McDonald, Billie Holiday & Lady Day at Emerson's Bar & Grill, MAD Museum's "Multiple Exposures: Jewelry & Photography", Furnishings by Ilana Goor at Urban Zen, Painter Paul Heyer, and Street Art...
Text & Photographs © Jill Lynne June, 2014
Warm weather brings out the child in us. Fond memories of carefree seemingly endless days - building castles in the sand, cool dips in sparkling lakes, splashing about in ocean waves, licking sweet dripping ice cream cones...
Reminiscent of childhood times - it was a delight to begin the warmer Spring/Summer season with a Mini Regatta at Central Park's Boat Pond. Located adjacent to the wondrous bronze sculpture of Lewis Carol's Alice In Wonderland (and friends - The White Rabbit, Mad Hatter...) created by Spanish-born American Artist Jose de Breeft, as a commission by George Delacorte "a gift to the children of NYC", and a tribute to his wife Margarita - who like my Mother - read Alice to her children.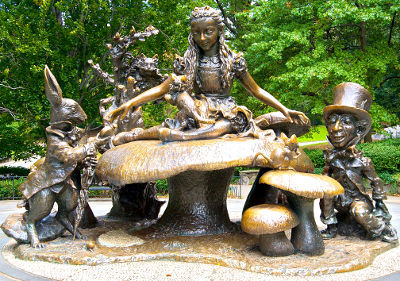 Central Park's playful Alice In Wonderland interactive sculpture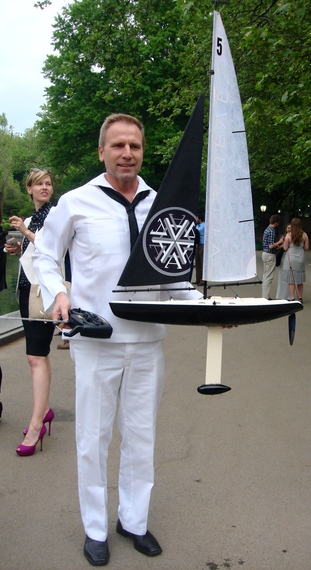 At the Mini Regatta, nautically-dressed adults played with the remote operated sailboats while sipping flutes of the new organic Prosecco Altaneve.
Model Morgan O'Connor, the 2014 Face of Ralph Lauren Polo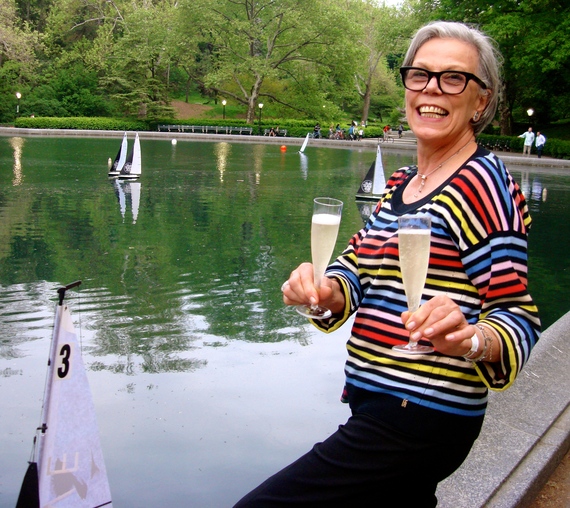 Double-Fluted Lady O with Her Mini-Sailboat
Gals with Parasols Dressed for the Fete
The Couture Council at NYC's Fashion Institute of Technology supports The Museum at FIT, one of the foremost museums of fashion worldwide. Through its membership fees and fundraising, the Council enables the Museum's important exhibitions - under the aegis of the ever-erudite Curator, Valerie Steele. In addition it assists in the acquisition of Fashion Object d'Arte for MFIT's permanent collection, organizes public programs, annual fashion symposiums, and develops special VIP Designer Events.
It was recently, at one of those very special events - hosted by the savvy Couture Council Member Michele Gerber Klein - that the brilliant Designer Ralph Rucci was honored. The highlight was a Visit to his Rucci's private, vast Chelsea Studios - where he personally guided guests through his fascinating collections, educating attendees about his individual fabrication and the unique techniques he has developed.
Indeed Ralph Rucci is a creative genius - an Artist, Fashion Designer and Inventor -par excellence!
The Adventure was celebrated with a fashionably delectable dinner at the beautiful Del Posto Restaurant in Chelsea.
For additional information visit www.fitnyc.edu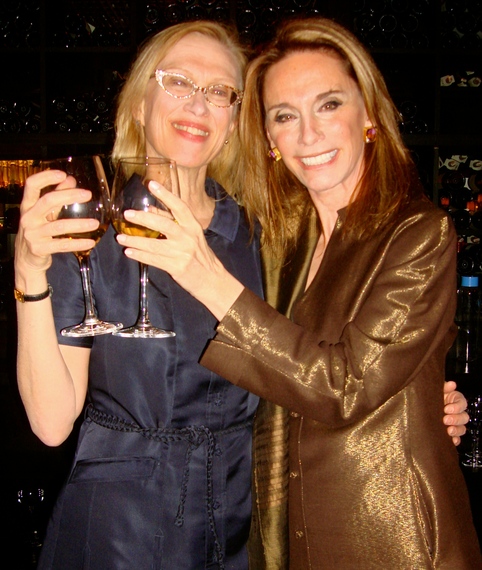 Clad in Vintage Rucci, MFIT Curator Valerie Steele and Couture Council Member and Hostess, Michel Gerber Klein - toast the Designer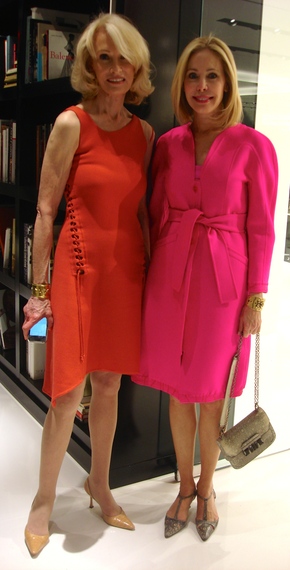 Couture Council Board Member Nancy Shaw and Renny Pittman

Board Chairwoman Yaz Hernandez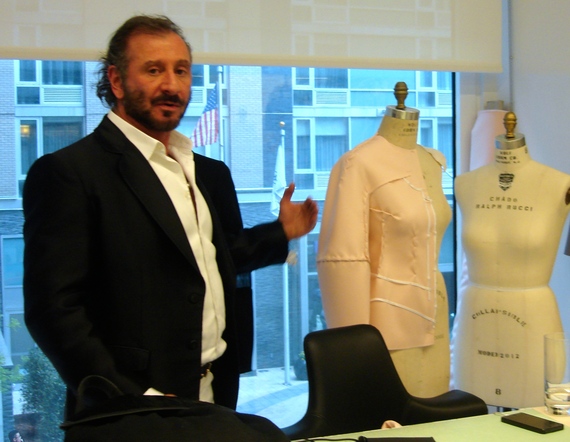 Designer Ralph Rucci explains his Unique Fabrication Techniques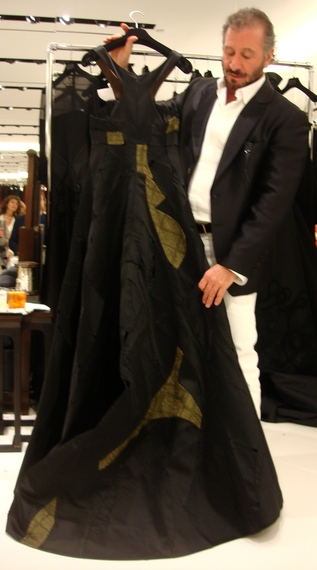 Rucci Showcases his Extraordinary Creations

Continuing with Fashion, let's focus on one of NYC's most beloved charities and Events - The Lighthouse Guild's POSH Sale and Gala.
The 40-year old POSH Fashion Sale Event features Design Collectables generously donated by such renowned Designers as Armani, Badgley Mischka, Bill Blass and Carolina Herrera - all at highly-discounted prices.
In fact, regularly enthusiasts circle the block awaiting their Posh "bargains"
For many years many NYC Ladies-of-Charity including Cynthia Maltese, Sandra Blank and Nell Yperifanos have labored long and hard to produce these events.
"Fashionable" Hats off to them!!!
Hamish Bowles, Amy Fine Collins Alex Hitz and Lorry Newhouse hosted the POSH Dinner Gala, held at the historical Metropolitan Club. Honored were Founder and CEO Jonathan Adler, Designer Thom Browne, and the very respected Sheila Nevins, President HBO Documentary Films.
Founded in 1905 by Winifred and Edith Holt, the Lighthouse quickly became a pioneer in the field of vision rehabilitation. Today it is a leading global resource in helping people overcome the challenges of vision loss.
A trip to Florence, Italy, for the two young Holt sisters provided the inspiration for their mission to serve those without sight. During a concert there, Winifred noticed a group of blind school children in the audience, enthralled by the music. Discovering that a free ticket program provided the children with access, Winifred was inspired to do the same in New York City. The Holt sisters established the Lighthouse Free Ticket Bureau in 1903.
With a borrowed $400 and only their dress allowances, Winifred and Edith Holt lit the Lighthouse lamp, founding "Lighthouse No. 1" to assist people without sight to help themselves. The visionary sisters broke down many barriers, opening their family brownstone at 44 East 78th Street to all in need.
This year the Lighthouse Guild International joined forces with the Jewish Guild Healthcare providing a broader range of services in a West Side as well as an East Side location.
To learn more go to www.lighthouse.org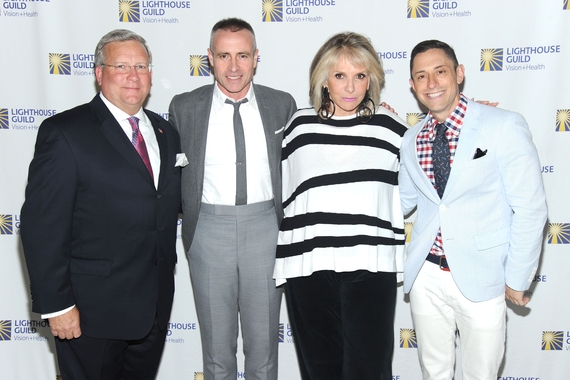 Executive Vice President and COO, The Lighthouse Guild, Mark G. Ackerman, with Honorees, Designer Thom Browne, President HBO Documentary Films Sheila Nevins, and Jonathan Adler - at the POSH Gala, Metropolitan Club
Happy Fashionista Peruses the Racks at the POSH Fashion Sale
Hip, hip, Hooray!
Audra McDonald has just won her record-breaking sixth Tony Award for the Lead Performance as the legendary Billie Holiday in "Lady Day at Emerson's Bar & Grill". This Tony - her first as a Lead Actress - also marks the first time a performer has won a Tony in all four categories.
Born in Berlin, raised in California, she plunged into acting to counteract her childhood diagnosis as "hyperactive". "Fortunately", she recalls, her Mother refused to medicate her, and instead applauded her move into acting.
Interestingly, I attended the play with Producer Robin Lane, who as a young star-struck fledgling theater-buff, had actually bussed down to Philadelphia to see one of Billie Holidays' last performances at the actual Emerson's.
Robin noted McDonald's authentic performance, felt as though she had time-traveled back...
Audra McDonald embodies Holiday, infused with her spirit -painfully dissipated yet brilliant in talent and voice. While the iconic music is engulfing, McDonald portrays her decline with distressing heart-wrenching accuracy. As with the real Holiday, when she was good, Audra McDonald is transporting.
If you too are haunted by the legend of the iconic Billie Holiday - musically and culturally- rush to see "Lady Day" at Circle In The Square Theater before August 10th!!!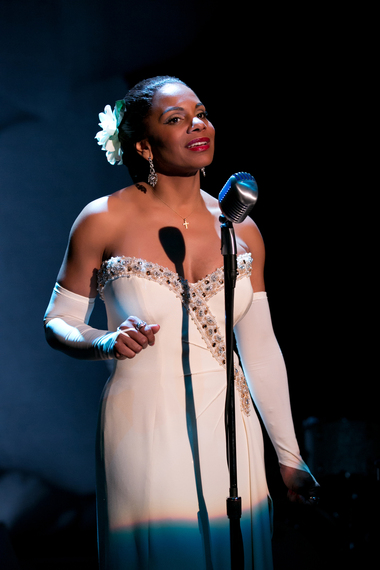 Audra McDonald as Billie Holiday in "Lady Day at Emerson's Bar & Grill"
© Eugenia Eliseeva
The MAD Museum (The Museum of Arts & Design) has quickly grown to be one of NYC's treasured art institutions. Under the aegis of the sophisticated "eye" of Barbara Tober, the museum - located at Columbus Circle, (fittingly on the site of the old Huntington-Hartford Art Museum) - mounts unusual exhibitions showcasing contemporary makers across creative fields, presenting artists, designers, and artisans who apply the highest level of ingenuity and skill to their work.
Since the Museum's founding in 1956 by philanthropist and visionary Aileen Osborn Webb, MAD has celebrated all facets of the creative processes by which materials are transformed - from traditional techniques to cutting-edge technologies.
The extensive beautifully curated collection of Jewelry is a favorite.
Archived in actual pullout drawers, one feels as though they are on a treasure hunt as they open them to discover their secrets of fascinating designs.
"Multiple Exposures: Jewelry and Photography" highlights 80 renowned artists from 20 countries, Curated by MAD's Curator of Jewelry, Ursula lise-Neuman the exhibition also explores the 150-year-old history of photo-based jewelry.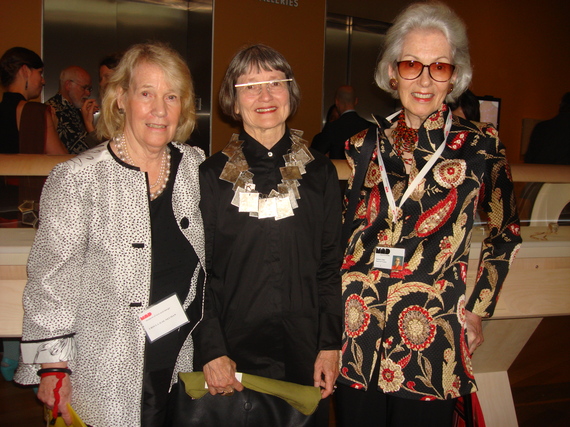 MAD's Curator of Jewelry Ursula Ilse-Neuman with Artist Kiff Slemmons (wearing her Photo-Neck-Piece) and Chairwoman Emerita Barbara Tober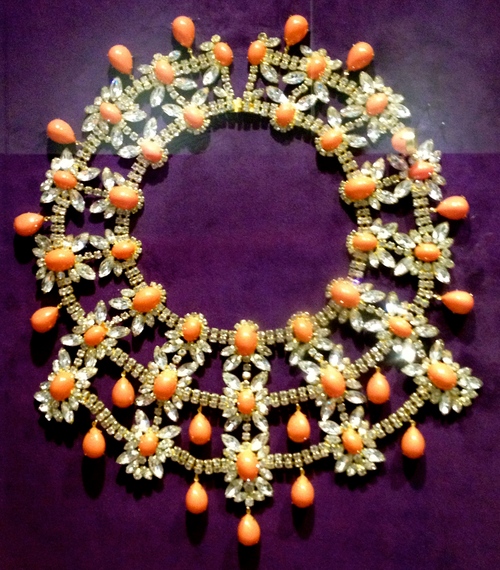 From MAD's extensive Jewelry Collection, 1962 Necklace by Designer Kenneth Jay Lane
Donna Karan recently hosted a celebratory cocktail soiree at her WV (West Village) Urban Zen Space, named after her late husband - the Stephen Weiss Gallery - and celebrating the opening of an exhibition by renowned Israeli Artist, Ilana Goor.

Goor, who has her own Tel Aviv-based museum, specializes in unique furniture designs - crafted in bronze and leather with decorative castings of found objects, birds and bits of nature. The furniture stands in stark contrast to mass-produced furniture, each revealing the artists special hand.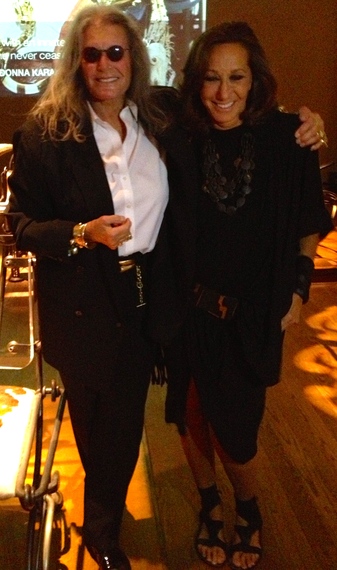 Designer Donna Karan with Artist Ilana Goor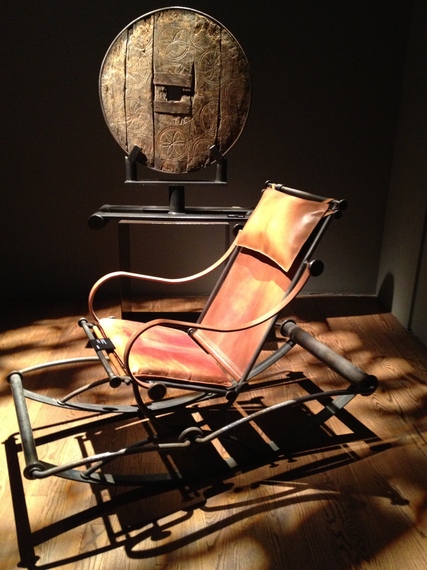 Unique Chair and Ornamental Wall Sculpture Exhibited at Urban Zen
Beneath the shadow of the Manhattan Bridge, on the very Lower East Side, (LES) - the perimeter of the ever-stretching-downtown art scene - I attended an exhibition of the young and talented Los Angeles-based painter, Paul Heyer. This, his first One-Man-Exhibition, located at Omo Valley, was minimalist in the small space - showcasing one gloriously colored, and luminous painting and one curious video. The small "pocket" gallery was crowded with youthful intelligence and enthusiasm. We look forward to more...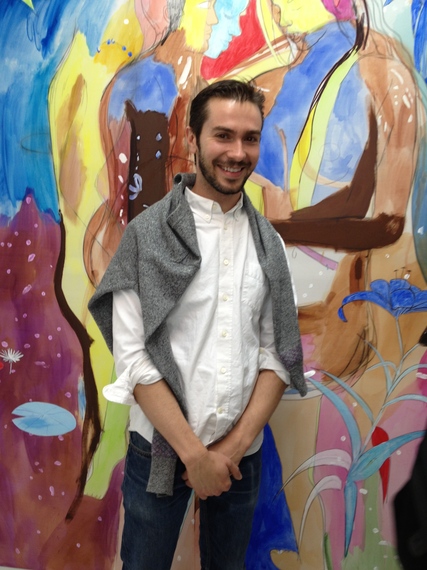 Artist Paul Heyer with his Luminous Painting at his First New York One Man Exhibition
One of the very many things I luv about NYC is the democracy of art - existing not only in private spaces, but accessible to all, on the very streets. Post Brunch in the MPD (meat Packing District) at the always amusing Standard Grill, we discovered this whimsical paining.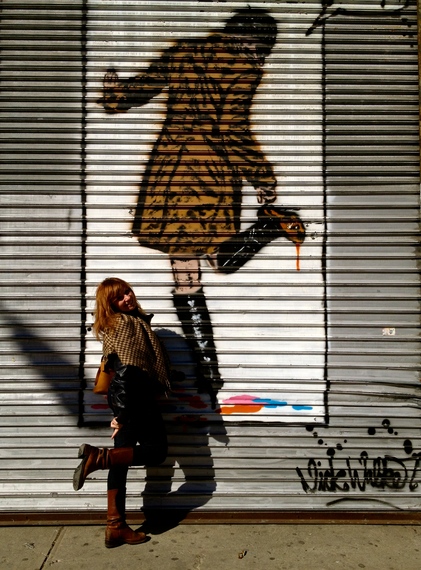 CoriAnne Posing Humorously with Street Art in the MPD
All Photographs © Jill Lynne 2014, available for Purchase Please
Contact: JillLynne1@mac.com
www.JillLynne.com