"Pride" the Film, "Art And Craft" the Documentary, "Love's Labors" a new Exhibition by Pat Lasch, the New York Women's Foundation Le Cirque Luncheon, "Somewhere In France" a new novel, Southampton - The new Parrish Art Museum, The Southampton Center, Sunset on the Beach...
Clear cerulean blue skies present a hi-def crisp world energizing us all.
There is a visceral excitement as the autumn season begins - promising new cultural, social and charitable happenings. The beat of our New York City begins again...
CBS Films, PRIDE, is my kind of film, charming and quirky as only those Brits can do, unpretentious but with a huge heart and major meaning. ...
Starring Bill Nighy and a cast of wonderful characters, CBS films has recreated the true and unlikely story of a London-based group of gay and lesbian activists, who in 1984 come to the rescue of striking Welsh miners.
The character development and depiction of these eccentric Brits is so well executed that we identify, finding ourselves captivated and caring.
Truly inspiring, PRIDE demonstrates that when we stand together in diversity, for human rights, all benefit.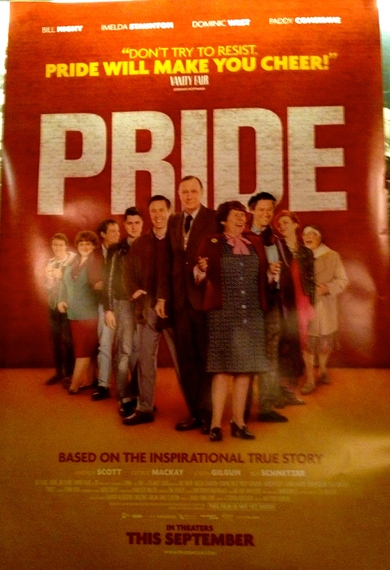 London-based Gay and Lesbians unite with Welsh Miners in Support of Human Rights in 1984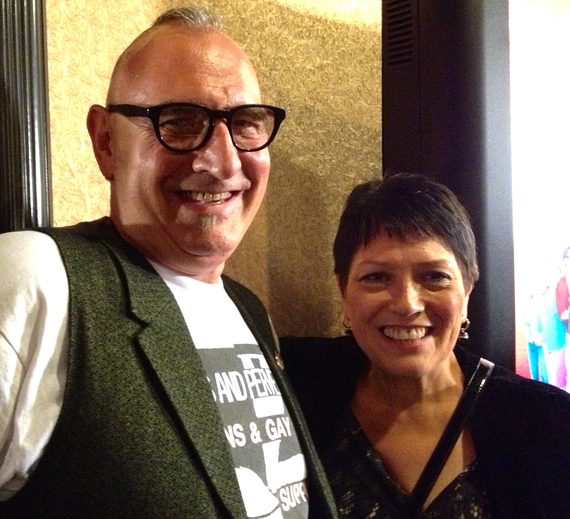 Two of the Actual Activist-Participants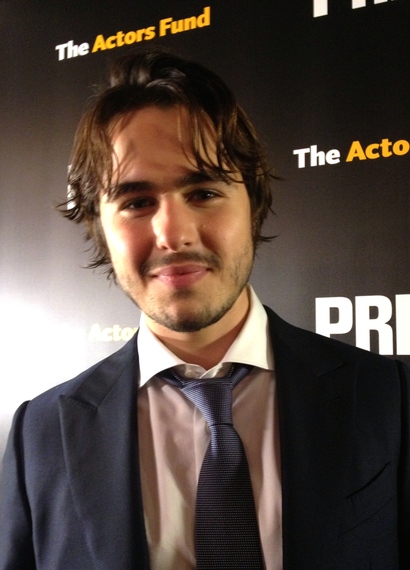 Born-Leader Mark Ashton played by Ben Schnetzer at the Actors Fund Premiere at The Ziegfeld
"Art and Craft" is the fascinating documentary film by Jennifer Grausman, Sam Cullman and Mark Becker, which focuses on the curious story of Mark Landis, one of the most prolific and successful art forgers in American history.
Mark, who suffers from mental illness, is also a brilliant copyist, an astute philosopher, and a candid humorist, became addicted to the guise of gifting major art museums across the country with gifts of supposedly master works of art.
In January 2011, when Graussman - who had worked as a fundraiser for MOMA (The Museum of Modern Art) and been raised in the art world - first encountered the New York Times editorial about Mark Landis, she was intrigued.
Contacting Mathew Lettinger, the ex-museum registrar who became obsessed with Becker and committed to arresting his 30-year "prank", she determined to make this film.
"Art and Craft" is not only amusing but displays a compassion and empathy for its unique central character.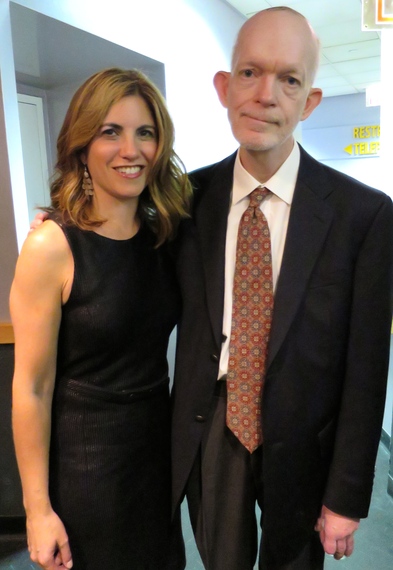 Filmmaker Jennifer Graussman with brilliant Forger Mark Landis at the Lincoln Center Premiere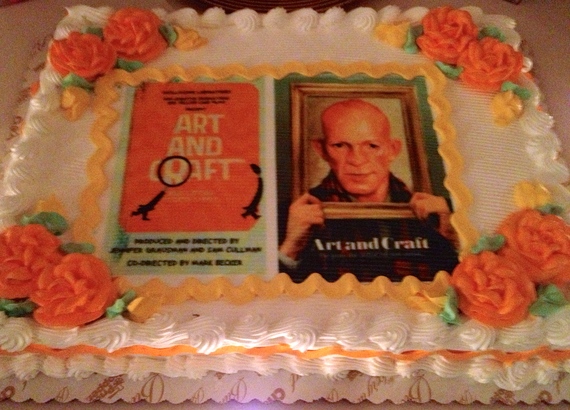 Celebratory Cake at the Reception
Artist Pat Lasch -who I first encountered in the late '70s, during the heyday of the Women's Art Movement - has opened a beautiful new solo exhibition 'Loves Labors, 1974 - 2014" at NYC's Meredith Ward Fine Art (44 E 74 Street).
An innovator, Lasch's seminal feminist sculptural object d'art featured symbolic wedding cakes.
She has now developed a unique technique where specially treated paint transforms to textiles and is employed to create miniature, intricately detailed, lacy christening dresses.

The alchemy is extraordinary - Luminous and beautiful ...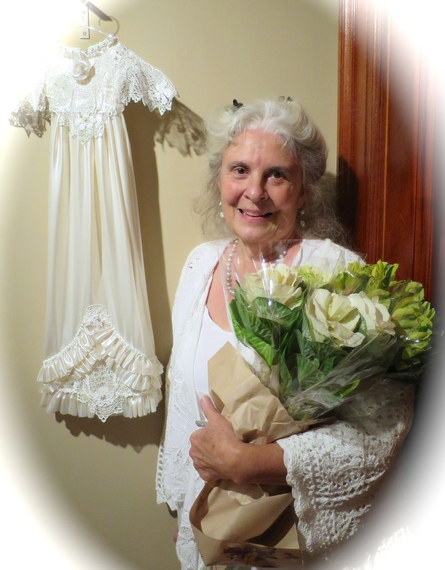 Artist Pat Lasch with one of her paint-fabricated Christening Dresses at the Opening of her Solo Exhibition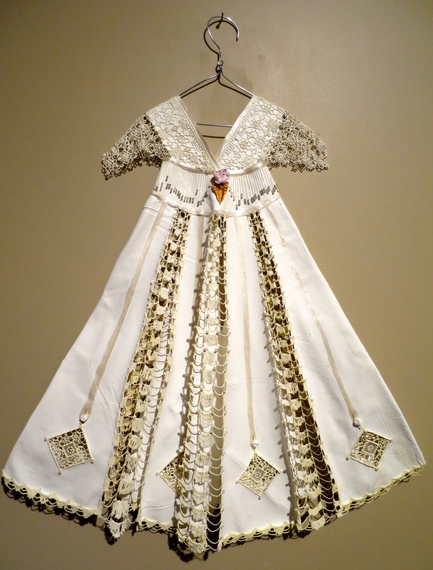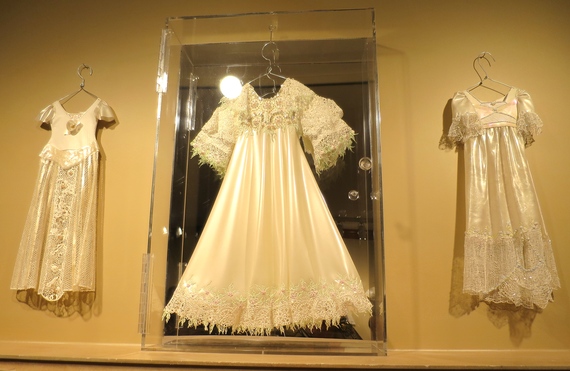 Beautiful Sculptural Christening Dresses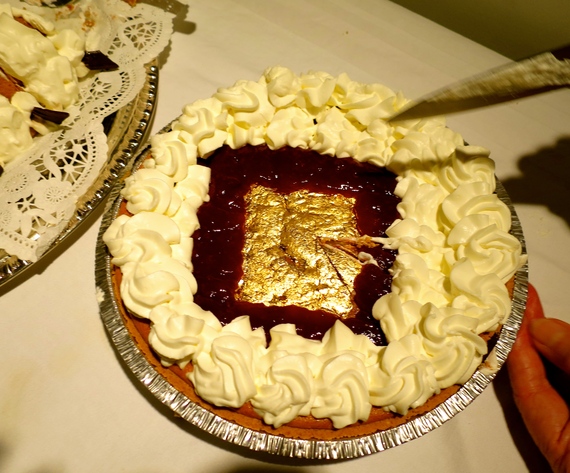 A Delicious Cheese Cake decorated with Edible Gold Leaf created by Lasch, who learned the Decorative Techniques from her Father, a Baker, that inspire her Methodology in both her Baked Goods and Art.
The Annual New York Women's Foundation Luncheon at Le Cirque opened the autumn charitable social season.
The New York Women's Foundation is a cross-cultural alliance of women, serving as a voice for women and a force for change. The Foundation identifies innovative organizations that are effecting change for women in the communities they serve.
NYWF strategically funds organizations and programs that move women, girls and families toward long-term economic security, justice, anti-violence, safety, health, sexual rights and reproductive justice for women and girls in New York City.
The Luncheon was hostessed by Philanthropist Jean Shafiroff and attended by such important women as former First Lady of NYC, Diana Taylor, Dina Habib Powell Head of Goldman Sachs Bank USA's Urban Investment Group & Global Head of the Office of Corporate Engagement, Anne E Delaney, Francine LeFrak, Laurie Tisch, and Ann Rapp.
Ms. Taylor and Ms. Powell spoke about what is needed for women to be fully integrated in the economy and to become economically secure. "Now, women can do anything they want..."
After much serious dialogue the event concluded on a sweet note, with Le Cirque's signature delectable mini desserts.
Watch for the New York Women's Benefit, 'A Night at The Plaza
On October 9th.
Contact NYWF@cmevents.net for Tickets,
www.nywf.org.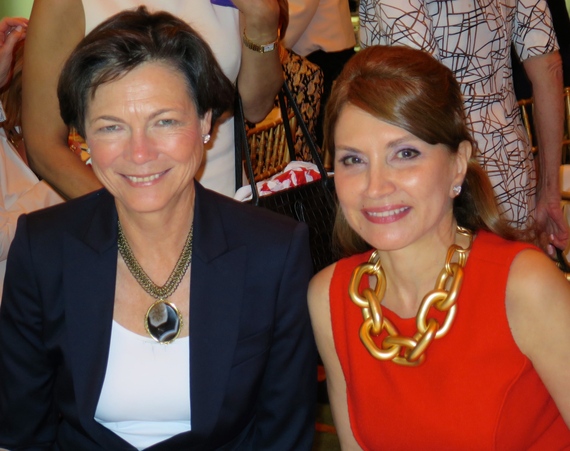 Former First Lady of NYC, Diana L. Taylor with Philanthropist Jean Shafiroff at the Annual Le Cirque Luncheon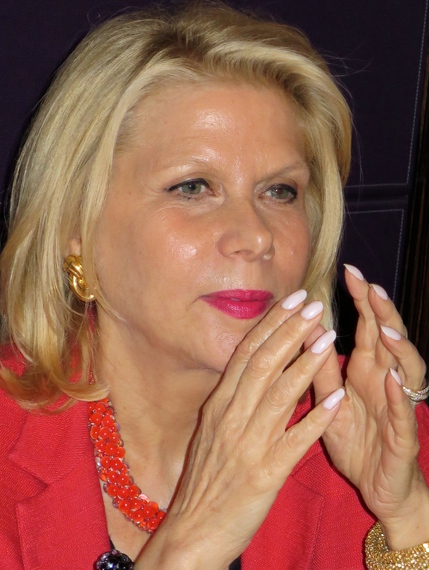 Francine LeFrak, Philanthropist, Producer and, Founder of Same Sky (empowering women in need through Jewelry Design)
"Somewhere In France, A Novel of The Great War", is the historically-based first debut tome by Toronto-based Jennifer Robson. This is the fascinating story of class struggle and of a young woman, Lady Elizabeth Neville-Ashford, courageously defying the constrictions of her insulated class to break out defining her role as a British WAAC (Women's Army Auxiliary Corps).
Also a romance, "Somewhere..." is set against the backdrop of WWI, We witness the gritty bloody reality of close combat and its devastating suffering.
It is curious to note that although tales of WW I have been relatively obscured by stories of WW II and the holocaust, this new novel represents a seemingly revised interest in the first of "modern" wars.
A fascinating read for this boomer...
I prefer real books to reading on a tablet or computer.
I love the excitement of a well-designed book cover, the feel of good quality paper, the turning of a page...
In particular, I enjoy the beautifully crafted soft cover editions of William Morrow, an imprint of Harper Collins. Though these are paperbacks - light and portable - they are the perfect feel-good size and as carefully designed as the traditional hard covered.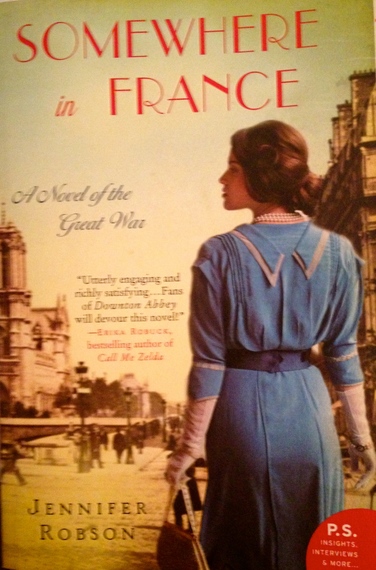 And finally, a fond farewell to Southampton and Summer...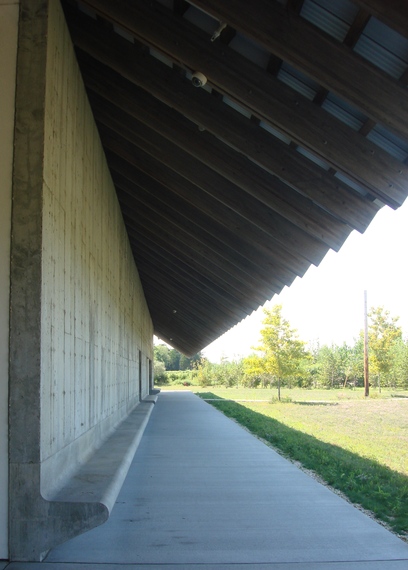 The post-moderne New Parrish Art Museum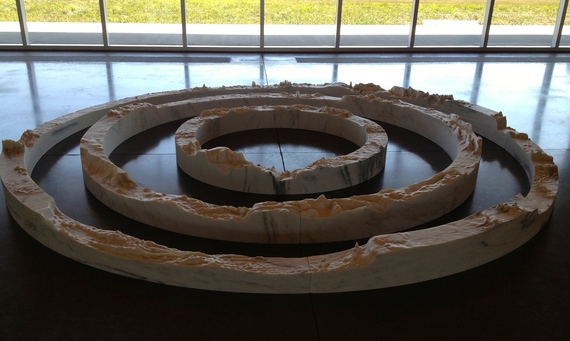 At the Parrish; Platform by Celebrated Installation Artist Maya Lin (Creator of The Vietnam Memorial, Washington D.C.)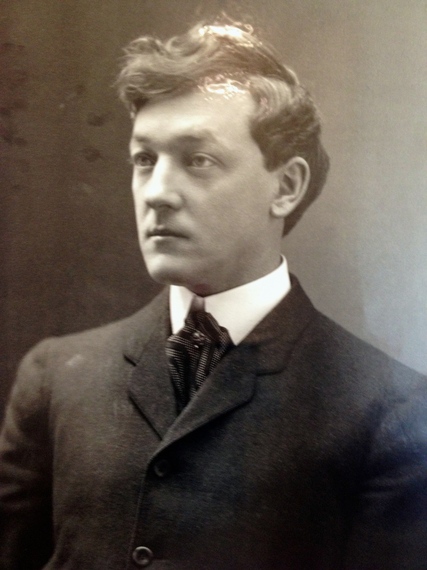 William Glackens (1870 - 1938) who created an exceptional oeuvre of oils, watercolors, drawings, pastels and prints os featured at the Parrish. Born in Philadelphia, but residing in NYC, Walt Whitman described Glacken's art as centered on the "hurrying human tides".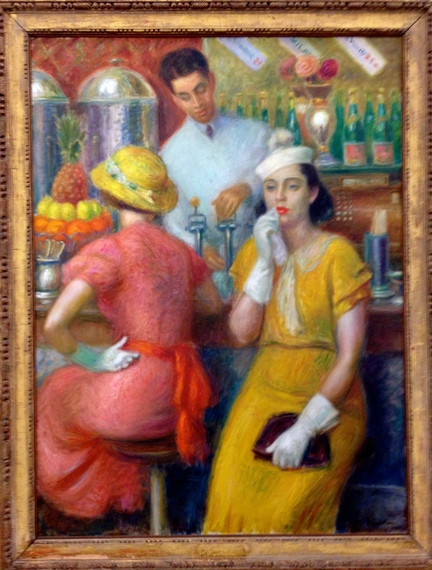 The Soda Fountain, 1932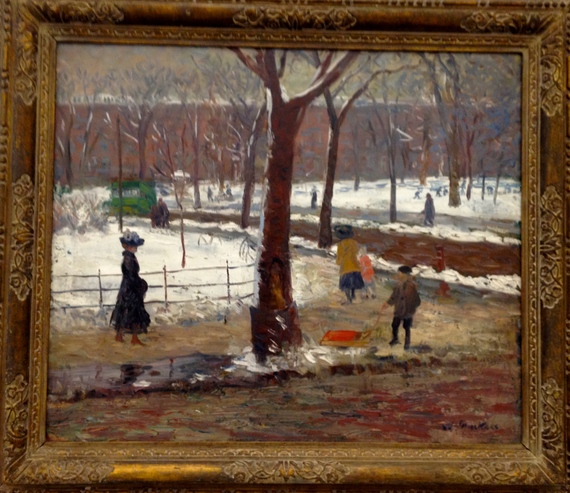 Washington Square Park in Snow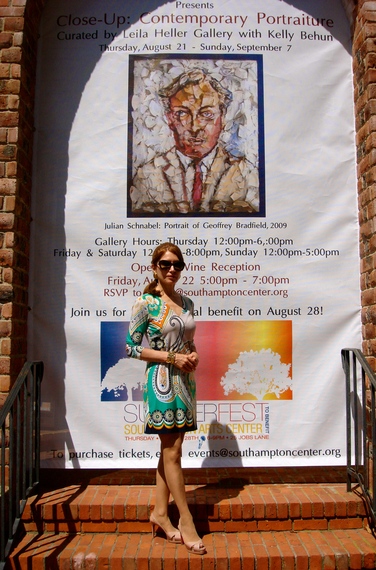 Jean Shafiroff in front of The Southampton Center Featuring a Contemporary Portrait Exhibition, with a Portrait of International Interior and Architectural Designer Geoffrey Bradfield by Artist/Filmmaker Julian Schnabel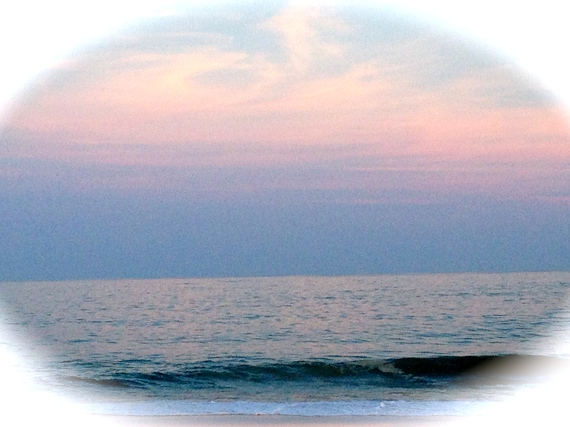 A Glorious Sunset at Southampton Beach
Text & Photographs © Jill Lynne 2014
All Photographs Available for Purchase
Contact: JillLynne1@mac.com
JillLynne.com