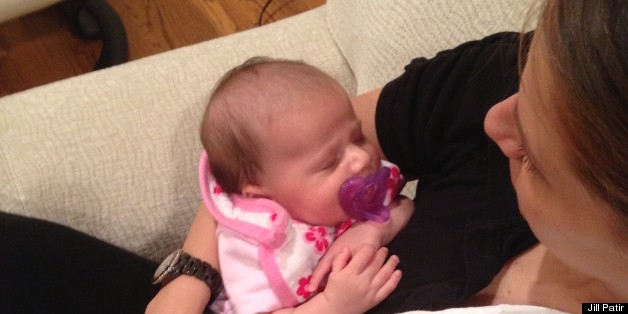 After a sorrow-filled afternoon of watching the tragic events unfold in Oklahoma, I went about with my nightly routine of feeding my baby and putting her to bed. It was later than usual, as the day's events had pushed everything back, so we decided to forgo her bath and skip to the bottle. I sat in her silent room, holding her in my arms as I've done almost every night for the last seven and a half months. Most nights, these actions occur with me on autopilot. I rock back and forth in the glider as she eagerly sips her formula, often making a to-do list in my head for the following day, or dreading the sink full of dishes that awaits me as soon as she is asleep.
But last night, as she finished her bottle, the thoughts in my mind swirled around those families who were still searching for their loved ones, the parents who had dropped their children off at school that day never imagining it could be the last time they see their smiling faces, and the grief-stricken residents of Moore who were finding themselves unexpectedly homeless, without any belongings, and completely alone.
And as a result, I pushed "pause" on the next few minutes.
Instead of putting her immediately in her crib when she was finished, I did exactly what countless reporters had said to do. I held my loved one a little longer, and a lot tighter. I hugged her in the dark, rubbing her back until she fell asleep on my shoulder. Her arms hung around my neck, her warm breath on my cheek. And in that darkness, with the person who matters the most to me in this world peacefully sleeping and taking long breaths in and out in my arms, I wept. I wept for the pain the people in Oklahoma felt. I wept happy tears, thankful to have my family close by, and I wept because I knew these quiet moments in the dark, with my baby asleep on me, were numbered. I wept for the guilt I felt, having been frustrated every time before this that my daughter needed to sleep on me. In those first three months, when she refused to sleep anywhere but on my husband or me, I let my frustrations overcome the sheer bliss I should have been feeling. I didn't stop and take in every moment as I had been advised to do, and now, the opportunity to do so rarely arises. And I wept for those who would never have this opportunity again.
Last night my daughter and I had a moment, and it took a terrible tragedy to get me there. Why? I haven't made it a secret that these beginning months are tough and that I'm looking forward to being able to interact with my daughter more when she's a little older, but in doing so, I've forgotten to stop and take it all in. I've forgotten that once she grows up, she can't grow younger. I've forgotten that even though, God willing, I'll have another baby, I'll never have this baby again.
So today, I am vowing to look at each day with fresh eyes and a new appreciation for the moments I have with my baby. I am blessed beyond belief, and don't want to take another minute for granted.