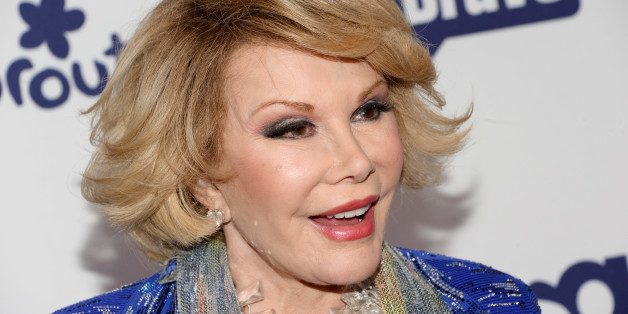 As I reflect on the life and career of Joan Rivers, I think about the women in the entertainment business who were the firsts and broke new ground. We'll learn about just a few of these pioneering women in this column. Match the following women with their accomplishments (answers at the end):
____ 1. The first female head of a studio in Hollywood, this redhead also was the first visibly pregnant woman to appear on television.
____ 2. A comedian who pioneered a caustic approach to comedy, joking about herself and situations in her life as well as everyone else.
____ 3. The first queen of salsa music and the first Hispanic woman to receive the Congressional Gold Medal.
____ 4. The first movie star to form and own a film company and the first actor, male or female, to become a millionaire.
____ 5. An operatically trained soprano and the first African-American to sing at Carnegie Hall.
A. Sissieretta Jones
B. Mary Pickford
C. Celia Cruz
D. Lucille Ball
E. Joan Rivers
The first African American to sing in Carnegie Hall (in 1892), soprano Sissieretta Jones began singing in her church choir when she was six years old. Her New York debut occurred in 1888, when she performed in Steinway Hall. Her nickname, Black Patti, was a reference to a well-known Italian opera soprano at the time, Adelina Patti. Operatically-trained Jones sang at the White House for four presidents; the first, President Benjamin Harrison in 1892. By 1895, she was the highest paid and most well-known African-American performer of the time. Her musical troupe, the Black Patti Troubadours Minstrel Company, toured from 1896-1916.
Like Jones, Mary Pickford began her stage career at a very young age. Born in 1892, by 1907, she was acting on Broadway. Pickford switched from the live stage to movies in 1909 when movies were called "flickers" and were just 8-12 minutes long. In some years, she made 30-40 flickers. Called "America's Sweetheart," Pickford co-founded United Artists and was instrumental in the founding of the Academy of Motion Picture Arts and Sciences as well as the Oscars. In 1929, she received an Oscar for her role in "Coquette." Pickford was the first movie star to form and own a film company and the first actor, male or female, to become a millionaire. In 1976, she received an honorary Oscar in recognition of her unique contributions to the film industry and the development of film as an artistic medium.
Acknowledged as the undisputed queen of salsa performer of all time, Celia Cruz was born in Cuba and defected to the U.S. in 1959. She gained wide renown during the 1960s when she toured with the Tito Puente Orchestra. Over her forty-year singing career, Cruz recorded 75 albums, including 23 that went gold. She won Grammys, has a star on the Hollywood Walk of Fame, and received the American National Medal of the Arts from the National Endowment of the Arts. Posthumously, Cruz was awarded the Congressional Gold Medal, the nation's highest civilian honor; she is the first Hispanic woman to receive it.
The first female head of a studio in Hollywood, Lucille Ball made her film debut at age 22. She appeared in more than 75 films before launching the television comedy show I Love Lucy, based on the lives of Ball and her husband, Desi Arnaz. Launched in 1951, I Love Lucy was the first show to use three cameras, a set, and a live audience. During the show (and for the first time on television), Ball appeared on the show visibly pregnant, which was worked into the storyline. A redhead, Ball received thirteen Emmy nominations and four Emmy awards for her work. Among her many awards were the Kennedy Center Honor and the Presidential Medal of Freedom. Ball, who has been inducted into the National Women's Hall of Fame, also ensured that the Star Trek show (one of my personal favorites) was made and kept on the air.
Caustic comedian Joan Rivers became known to the public during the 1960s and 1970s, after her appearance on The Tonight Show with Johnny Carson. She emulated a style that previously had been the purview of male comedians and became the role model for acerbic female comedians including Roseanne Barr. Her famous line, "Can we talk?" led to guest hosting of The Tonight Show and, later, her own shows. In 1990, she won a Daytime Emmy for The Joan Rivers Show. Nothing and no one was sacred, including herself. Over her 50-year career, Rivers appeared in a myriad of television shows, had a documentary filmed on her life, appeared in numerous films, wrote books, and raised millions of dollars for charitable causes.
(answers: 1-D, 2-E, 3-C, 4-B, 5-A)
Learn about more she-roes and celebrate amazing women. These pioneering entertainers are among the more than 850 women profiled in the book Her Story: A Timeline of the Women Who Changed America. We enjoy their art and have benefited from their breakthrough efforts.