Kona, Hawaii can return to its normal Island ways, as the 2009 Ford Ironman World Championships has closed the books for another year. Craig Alexander takes his second successive win and joins an elite group of three -- Dave Scott, Mark Allen and Tim DeBoom -- in an 8:20 finish.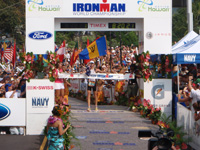 Chrissie Wellington continues her incredible dominance with a record breaking time of 8:54 breaking Paula Newby-Fraser's 17-year-old record of 8:55. Wellington becomes only the third woman to claim three individual crowns in successive years.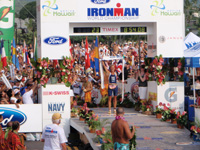 The event saw an estimated 1,770 athletes officially start the race in an attempt to conquer the 2.4-mile swim, 112-mile bike and 26.2-mile run on the Big Island of Hawaii. Weather conditions for the 31st Anniversary of Ironman were hot, with temperatures reaching well above 90 degrees Fahrenheit during the bike and run portions. Competitors represented more than 48 countries and all 50 states and ranged in age from 20 to 80 years old.
And true to tradition, this years champions and the majority of the finished athlete's and crowd came back to the finish area to cheer the last finisher's before the midnight cutoff. Truly a unique spectacle to behold.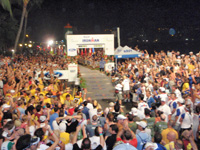 The Emmy Award-winning Ford Ironman World Championship broadcast will air on Dec. 19, 2009, from 4:30 - 6 p.m. EST. Check local listings and ironman.com for additional details.