Imagine you're 18 years old and living in a shelter with your mom. You started working at Goodwill® last week, and just got your first paycheck. A paycheck that is going to help both you and your mom start down a new path.
While on your way to work, you stop by a coffee shop to get some breakfast and your boss calls. It's not even 8 a.m. yet! She says you've been selected to speak on a panel at the White House. Oh, and surprise -- you're on in four hours!
Seem a bit surreal? This actually played out this week in the life of Baltimore's Arnae Hairston, a young woman who is one of my new found heroes. Arnae just completed Goodwill Industries of the Chesapeake's Youth Retail Merchandising Program*, which is certified by the National Retail Federation.
Through this training, Arnae developed excellent customer service skills and learned how to work with diverse populations, including people with disabilities. Her sudden opportunity to put her skills on display at the White House took place yesterday at the Summer Jobs+ initiative launch. It was her first public speaking opportunity, and boy, did she shine -- in substance, style and genuineness. It was pretty cool to see her light up a room full of business, community and government leaders, including cabinet members from the Departments of Labor, Education and Agriculture.
As Arnae was responding to a question, President Obama joined the conference, and Arnae and the other young panelists just beamed. It was quite a magnificent sight. As the president addressed both the young panelists and the audience, you could tell that this was an opportunity they will always remember.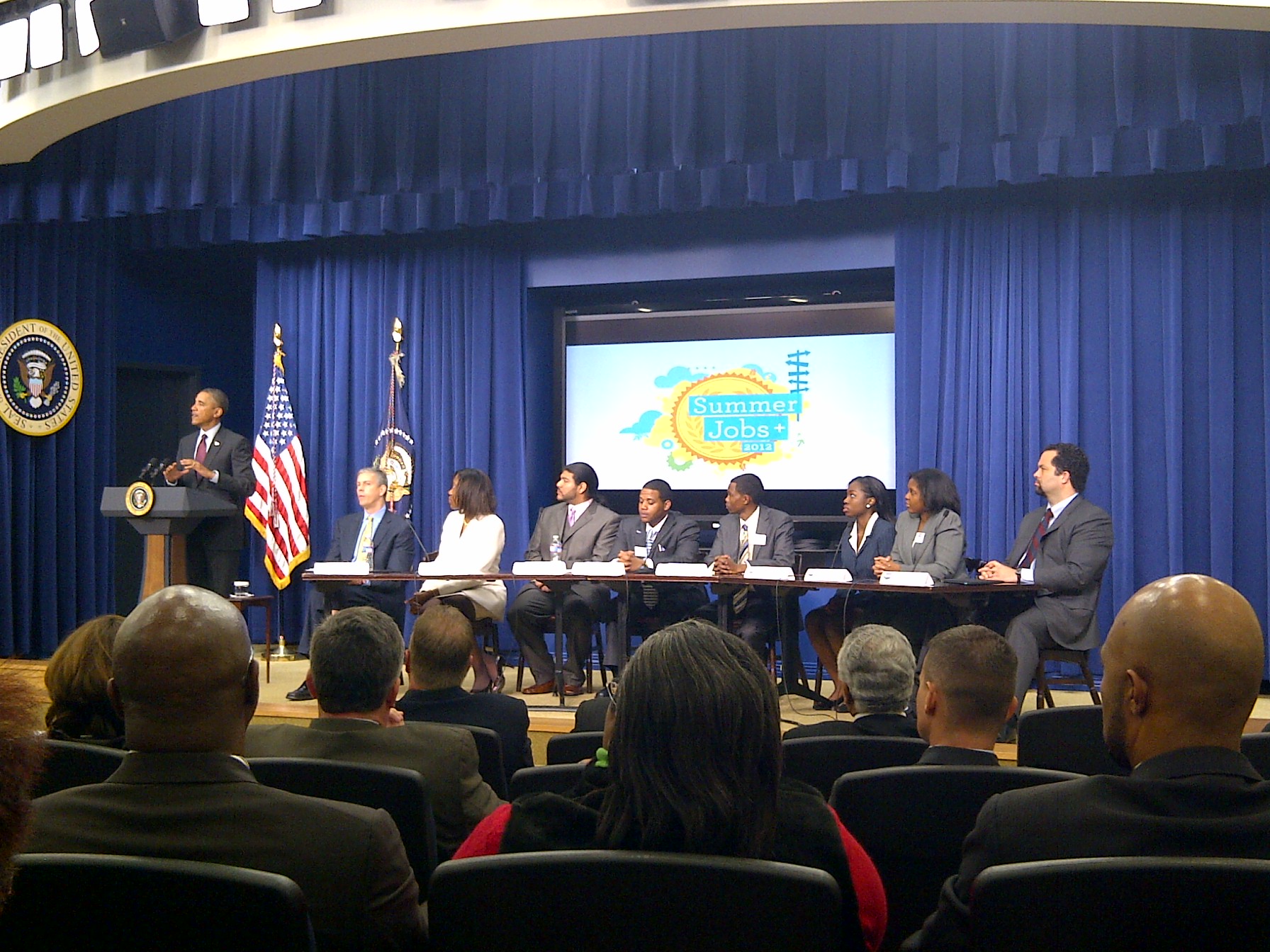 With the >Summer Jobs+ initiative, the White House is challenging all employers to create opportunities for our young people, with a goal of reaching 250,000 opportunities by this summer for youth ages 16 to 24. The focus is to bridge the gap for youth who are disconnected from either education or employment, and to ensure that they have opportunities to be contributors both today and in the future. The initiative also encourages us to think of and refer to this group as "opportunity youth" rather than "disconnected youth."
In support of Summer Jobs+, Goodwills across the country have committed to create 1,200 summer jobs for opportunity youth, and to provide more than 7,000 youth with life skills services and 'learn and earn' opportunities. Goodwill's pledge to Summer Jobs+ reflects our commitment to tap the skills of America's youth, to help them complete their educations, get jobs and transition into productive careers.
Congratulations, once more, Arnae! Keep working hard, and good luck as you pursue your educational goals and advance way beyond your transitional employment position at Goodwill.
And for the hundreds of thousands of young people in our country, I ask all employers -- small and large businesses, nonprofits and governments -- to open your minds to provide learning and earning opportunities that help them develop the life and work skills that are necessary to compete in the 21st century -- and to ensure that you and our communities have the workforces we need for today and tomorrow.
###
*Goodwill Industries of the Chesapeake's Youth Retail Merchandising Program, now in its second year, is funded by a U.S. Department of Labor grant through the City of Baltimore's Mayor's Office of Employment Development. It is a partnership with Anne Arundel Community College (AACC) and a local arts organization, Art with a Heart, which provides leadership development using art. AACC provides the program's instructor, which makes the program eligible for national certification in customer service.