Wednesday night's MLB game between Cleveland and the White Sox might have been the 2,364th game of the regular season.
But from my vantage point, it was the game I'll remember most. And it had nothing to do with the Indian's 7-2 win over the White Sox.
It had everything to do with the ceremonial first pitch.
Over the last few weeks, I've been traveling around to a number of cities helping the MLB -- and Dove Men+Care -- shine the spotlight on dads. They call it "Big League Dads" and its cornerstone is a weekly video featuring big league players talking about being a dad.
And game after game, I'm reminded of who the real big league dads are.
For the Cleveland game, the Indians provided one dad the opportunity to throw the ceremonial opening pitch with his child. And that dad turned out to be father of two, Jeff Bogle. Jeff's night on the mound was to be shared with his 9-year-old daughter, Julie.
Until.
A third ticket became available -- and Jeff knew that ticket needed to be shared with his own dad, Don -- the guy who put thousands of miles on the family car years ago to make baseball memories for his own family.
Plans were set. But there was one glitch.
Only two of the three could be accommodated during the opening ceremony -- a pitcher and a catcher. So, Jeff was left with a choice.
And that's what brings me to the best part of the 2013 season -- which took place in game number 2,364. The best part was Jeff's decision. His instinctual reaction. A reaction that, for me, summarizes everything good about fatherhood. And why I'm proud to be a dad, myself.
Jeff's decision? He says he didn't think twice about it.
"If there's only room for two," Jeff said to the Indian's officials, "Then it'll have to be my daughter. And my dad."
Well played, pops.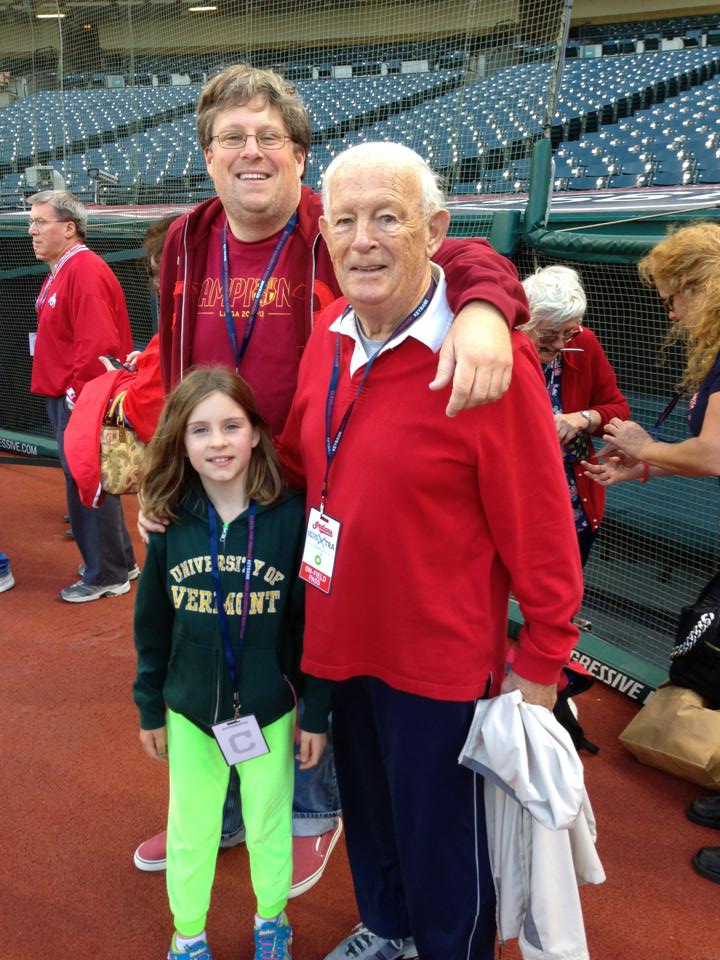 (Photo from the author's library)
Learn more about Jim at: BobbleheadDad.com
Read more from Jim at: Bobblehead Dad Blog
Hear more from Jim on: Bobblehead Dad Radio
Jim's also on Pinterest
Learn more about Jim for Speaking Engagements
Join Jim's Facebook Community