For three weeks back in 2012, a team of photographers had their cameras trained on an Alaskan bear den. All with the hope that -- when the mother and her just-born cubs who were inside finally emerged -- that this would then make compelling footage for Disneynature's next documentary, Bears.
And sure enough, when Mama Bear & her brand-new babies finally stepped out of that den, the cinematographers did get some killer shots. The only problem was that Bears was supposed to be this movie about Alaskan Brown Bears. Whereas the trio of critters that eventually came out of that den were American Black Bears.
"That's the problem with making nature documentaries," laughed Alastair Fothergill, the co-director of Bears during a recent phone interview. "You've got all of these great-looking locations. Not to mention a really photogenic cast. But because your cast never actually reads the script that you prepare for your production, you just have to keep shooting until you get enough of the sort of footage you can actually build a movie out of."'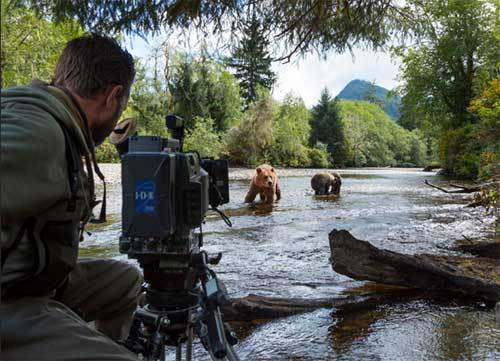 And in the case of Bears, Disneynature's team of cinematographers had to shoot over 400 hours of film over the course of 2 & 1/2 years in Katmai National Park & Lake Clark National Park before they then had enough dramatically compelling footage to pare down to one 77 minute-long nature documentary.
"And believe it or not, we actually do write a script for each Disneynature project we produce. Though -- in this case -- those 60 & 70 page documents are really more of a detailed breakdown of a particular animal's anticipated natural behavior in a specific environment over a set period of time," Fothergill explained. "We then hand these scripts off to our cameramen & women with the hope that they can then catch these animals performing some of these behaviors out in the wild."
And in the case of the trio of Alaskan Brown Bears who star in Bears ... Well, all of the scientists & guides that Alastair consulted with before putting this specific Disneynature project in motion made the production team very aware of these bears' usual pattern of behavior.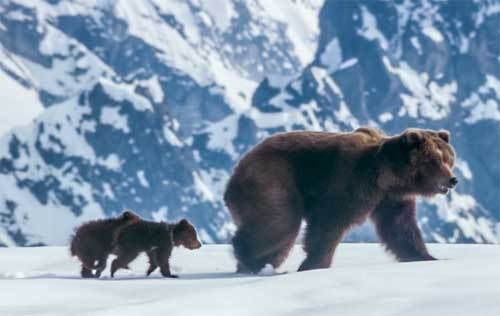 "The Alaskan Brown Bear typically has a litter of cubs high up in the mountains in a secluded den. After the cubs are born and are big enough to travel, the family then comes down off the mountain and -- after traveling through the grasslands -- arrives at the shore. Where the bears then wait for the salmon run to begin," Fothergill stated. "Once the salmon return from the sea and head for the spawning grounds, the bears then follow the fish upriver and eat & eat for six weeks before they return to their dens to ride out the next winter."
And given that the real drama for this proposed Disneynature production comes from the fact that -- if Mama Bear isn't able to catch & then eat enough salmon to build up a large enough layer of fat (which will then allow her cubs to nurse & be nourished during the long Alaskan winter) -- her family will then die ... Well, that's the hard truth that Alastair and his team decided to build Bears around.
"And given that these things seem to run in cycles, that -- if the salmon run is really strong one year, it'll be weaker the next ...Well, that's why we then decided to shoot this documentary over two years," Fothergill said. "That way, we'd then be guaranteed to get all of the footage that we needed to properly tell this tale."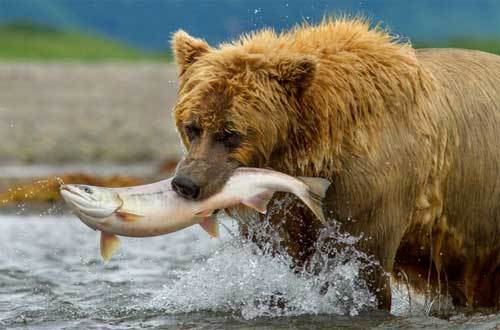 And given that the annual salmon run is such a big part of the Alaskan Brown Bear story ... Well, that then meant actually getting photographers in the water with the animals to get candid, up-close shots of these sometimes 1000-pound animals as they swam & fed.
"Mind you, in order to not disturb the bears as they were catching & then eating all of these salmon, we put divers in the water who then used rebreathers. And the nice thing about rebreathers is that there are no tell-tale bubbles. Which means that our divers could then get right up-close to these Alaskan Brown Bears with their cameras without these animals realizing that there were men in the water nearby. Wait 'til you see the shots in this Disneynature movie where those huge bears swim directly over our cameramen," Alastair enthused.
And after each season of shooting, Fothergill & his team would then pre-edit the footage that they had and show this work-in-progress to a most unusual group on consultants: The Story Trust at Pixar & Walt Disney Animation Studios.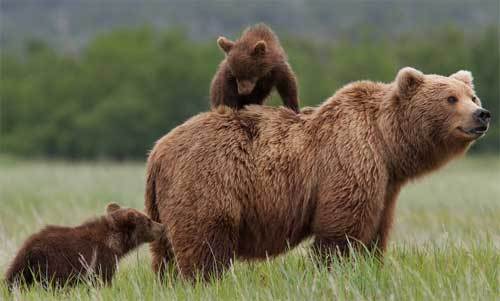 "This group is made of people like the director of Wreck-It Ralph and the writer of WALL-E. They'd take a look at this pre-edited footage and then offer suggestions about how we could strengthen our film," Alastair said. "How we could make this material that much more palatable for young kids & their parents. Which are basically the target audience for the Disneynature movies."
Which isn't to say that Fothergill & his team of cameramen & women could then actually follow up on every suggestion that the Pixar & Walt Disney Animation Studios Story Trust threw their way.
"Don't get me wrong. They're all lovely people. And the Story Trust is very good at telling us stuffy wildlife guys how to make our films seem that much more engaging," Alastair stated. "But every so often, they'll throw a story suggestion our way and I just have to respond by saying 'Yeah, if we were animating this film, we could maybe do that. But that doesn't actually happen in nature. And in the end, these films have to be scientifically accurate. We want the narrative to be true to nature.' "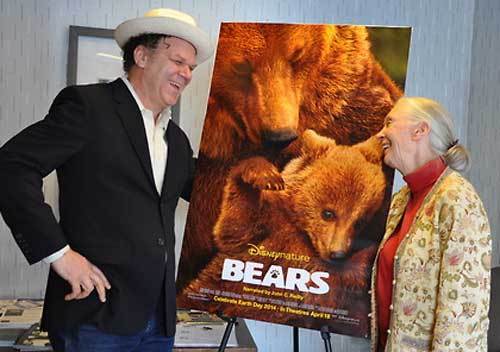 That said, Fothergill readily admits that he has accepted a number of the Story Trust's ideas. Take -- for example -- Rich Moore's suggestion about who should narrate Bears.
"It was Rich who suggested that we should get John C. Reilly to come be the narrator of this Disneynature production," Alastair smiled. "Rich & John had worked together on Wreck-It Ralph. And as soon as we heard John's voice ... Well, it was a no-brainer for us. Mr. Reilly sounds like he was a bear in a previous life. And he had a lovely time recording the narration with him. John gave us a lot more time than he probably should have done. He really got into it."
But when you're making a nature documentary, that's what you always have to do. Make the most of opportunities when they are presented to you. Take -- for example -- the wolves in Bears. Who -- over the course of this film -- emerge as one of the key threats to Sky and her cubs, Amber & Scout.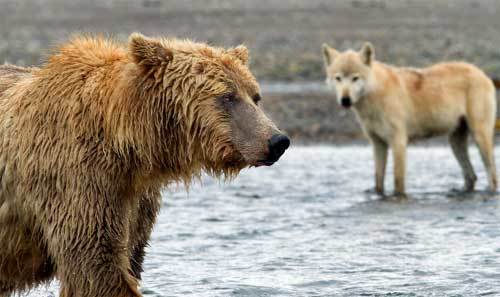 "You know, when we're making these Disneynature films, we've got to keep kids & their parents entertained for 75, 80 minutes. So we always try to make sure that these movies have a variety of locations, a variety of color, plus extra characters like these wolves," Fothergill explained. "I mean, we're always looking for baddies because every movie needs a baddie. But in all the research that we'd done prior to the shooting of Bears, we'd never come across anything that would suggest that the local wolf population would go after the Alaskan Brown Bears the way that they did in this movie. The guides that we worked with while we were filming in Katmai National Park had seen wolves one or two times. But they told us that the amount of interaction that we got film between the wolves & the bears was completely unique. That no one had ever photographed this sort of behavior between these two species before."
"And that -- in the end -- makes me very happy. To not only have put together a nature film with a narrative that's scientifically accurate but to have also captured this sort of interaction between two species ... Well, that just makes all of those months of shooting on location -- not to mention all of those hours in the editing bay, reviewing footage -- worthwhile," Alastair concluded
And with Bears about to debut on Blu-ray & DVD (this new Walt Disney Studios Home Entertainment release will hit store shelves next Tuesday), Fothergill & Co. have now turned their attention to their next Disneynature production, Monkey Kingdom. Which will be released to theaters on April 22, 2015.