So how exactly do theme park attractions get created?
Well, if you're talking about the rides and shows found at the Disney Parks, those are mostly the work of Walt's fabled Imagineers. Or if you're talking about The Wizarding World of Harry Potter (which -- even as you read this -- is expanding beyond Islands of Adventure's borders over into Universal Studios Florida), that impressive project was shepherded by the small-but-mighty team at Universal Creative.
But what about all of the other impressive rides, shows and attractions that people are experiencing at non-Disney and Universal theme parks around the world? Those are the work of a group of dedicated themed entertainment professionals who -- once a year -- gather in Orlando, FL to make deals and trade secrets at the International Association of Amusement Parks and Attractions' annual trade show, the Attractions Expo.
For a week every November, the parking lot of the Orange County Convention Center is transformed into this mammoth amusement park that the general public can't get access to. Tourists zooming along the Bee Line Expressway gape at all of the huge steel rides that have seemingly been erected overnight. They also wonder aloud: "What's the deal with all of the guys in those three-piece suits who are grimly riding each of these attractions?"
"Those would be our prospective clients," explained Zane Jensch, an award-winning writer and creative director who has worked for design firms around the world. "They're the owners and the operators of amusement parks from all around the globe who come to the Attractions Expo each year with the hope they'll find some new ride or show that will help turn their park into a must-see attraction. Or maybe as they wander the aisles of the Orange County Convention Center, these owners and operators will then find a way to turn a pre-existing structure at their parks into something truly special."
This was the challenge that Lotte World (which is one of South Korea's most popular theme parks) handed to the Hettema Group, one of the established leaders in themed entertainment, back in 2011 at that year's edition of the Attractions Expo. This park had a kitchen and two birthday rooms -- a relatively tiny space -- that Lotte World wanted to then turn into a full-blown attraction.
"And it wasn't just an unusually small space that we were dealing with here. It was also an aggressive schedule and production budget," Zane continued. "But Lotte World came to us with an additional challenge -- this new ride had to be interactive and incorporate animated media. But since industry legend Phil Hettema and the team pride themselves on being solution-based designers, we just hit the ground running."
Over the course of an afternoon at this IAAPA conference, Jensch and the creative team at Hettema quickly came up with several different story scenarios that could possibly work for Lotte World's unusual show space.
"Over the next few months, those concepts were fleshed out. The beginnings of the technical design and ride system were developed, each scenario with unique approaches to gameplay and guest experience. We quickly settled on a trackless ride system that would give us the most dynamic and surprising movement with the smallest footprint," Jensch said. "But we were already on critical path and it was time to choose one of the concepts."
"The Lotte World execs responded mostly strongly to a concept set in a storybook Medieval kingdom. You see, in the same way we have wildfire season and hurricane season, the kingdom of Seldombern has a Dragon Season. Dragons have overrun the castle. All the inhabitants have left the kingdom. It is up to the kingdom's jester -- and the guests -- to drive the dragons out of the castle and save the day," Zane explained. "On approach, the guests think that the Dragons are ferocious monsters. But upon entering the castle, riders discover that the Dragons are simply party animals. They're just really bad houseguests. They've eaten all of the food, guzzled up all of the ale and their drunken partying has set the castle ablaze. It's 'Animal House' ... with dragons."
Which sounds like a pretty tall order. Especially since -- right after Lotte World officially greenlit production of Dragons Go Go Wild -- they then announced that they wanted this attraction to be open to the public by July of 2013. But Zane is an old pro when it comes to these sorts of not-enough-time / not-nearly-enough-money projects. Which is the Hettema Group immediately reached out to a team of the industry's most accomplished vendors, including Garner Holt Productions and Lexington Design and Fabrication.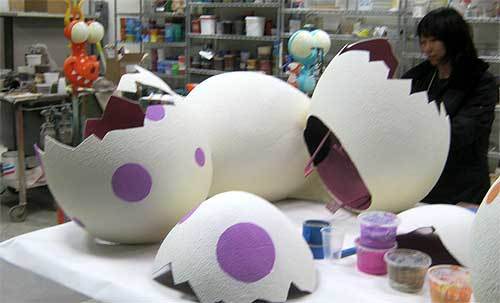 "These companies are the absolute kings when it comes to delivering top quality products on a tight schedule and an even tighter budget. Garner Holt is the top animatronic firm in the business today. Many of the figures that you see today in the Disney Parks or Knott's Berry Farm come straight from Garner's San Bernadino studio," Jensch continued. "And Lexington Design and Farbrication ... There is honestly nobody better when it comes to taking highly stylized designs and transforming them into dimensional."
But -- in the end -- that was one of the elements that made Dragons Go Go Wild such a challenging project for the folks at the Hettema Group. They had to find a way to take this tiny, cramped birthday pavilion and then transform it into a space where an entertaining theme park attraction with 11 super scenes could be built. Which is why the Hettema team turned to designer extraordinaire Scott Sinclair.
"From the moment we started work on this attraction, we knew that the incredibly tight show space meant that we were going to have to create an incredibly stylized world," Jensch explained. "Ultimately, the style we arrived at was inspired by mid-century children's book art. It was the challenge of the spatial constraints that let us to this wildly engaged style."
Mind you, in order for every piece of this attraction to look like it was part of the same universe, it meant that all of the visuals had to line up. Which meant that the dozens of animatronic dragons that Garner was building also had to have that mid-century storybook look. Likewise the hundreds of distinct CG dragons who made up most of the gaming portion of this attraction.
And once Dragons Go Go Wild's sets were all fabricated and those animatronic dragons were all built, it was then time to load all of these items onto that proverbial slow boat to China. So everything would then arrive in South Korea just in time for its on-site installation at Lotte World.
"And we did all of this -- from design to fabrication to programming and installation -- in less than a year. What's more, the Hettema Group actually delivered this entire attraction to Lotte World for something in the range of one third of what it cost the Imagineers to build the Ursula animatronic figure for Disney's 'The Little Mermaid: Ariel's Undersea Adventure' dark ride," Jensch claimed.
So what was the best part working on a project like this? To hear Zane talk, it was getting the chance to see all of the Lotte World employees -- who are a pretty jaded bunch when it comes to theme park attractions -- happily sacrificing their lunch hours and break times so that they could then repeatedly ride Dragons Go Go Wild during this attraction's employees-only preview period.
"And then when this ride officially opened to the public back in July, guests were instantly clamoring for merch of the little dragons," Jensch smiled.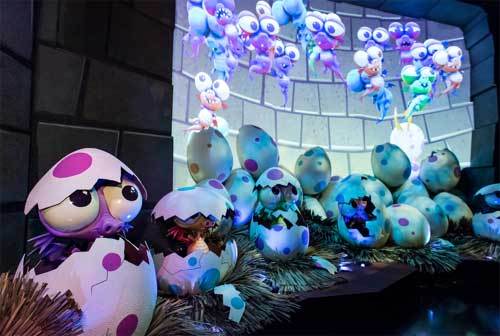 And now -- what with Dragons Go Go Wild in the rear mirror now that the Lotte World challenge has been met -- what's next for Zane Jensch and the Hettema Group? Well, this week, they're all back at the Orange County Convention attending Attractions Expo 2013 and meeting with the next round of would-be clients. Wondering what corner of the world they'll be headed to next as the industry tries to help meet the ever-increasing global demand for that most American of entertainments: theme park attractions.