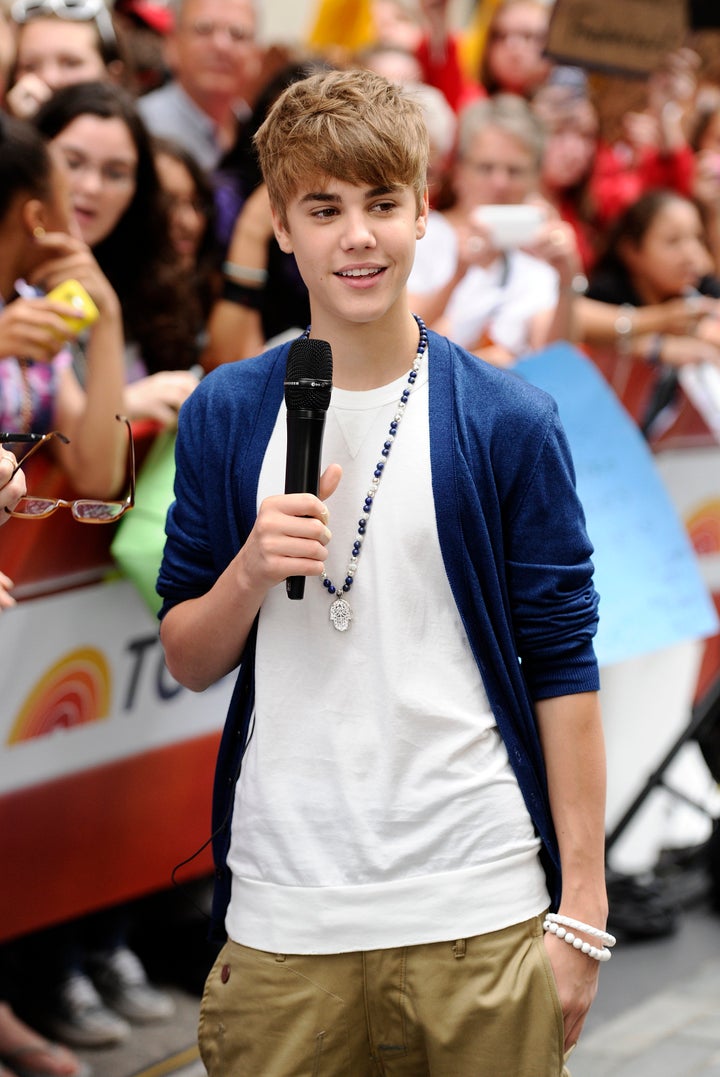 You know Dasher and Dancer and Prancer and Vixen, right? Not to mention Frosty and the Grinch.
But what about Arthur Christmas? Are you familiar yet with Santa's second-born? More importantly, the hilarious yet heart-warming, 'round-the-world holiday adventure that Arthur has with Grandsanta (i.e. Santa Claus' 136 year-old father)?
That's the challenge that the folks at Sony Pictures Animation have been facing. Getting the word out about "Arthur Christmas," this new 3D CG movie that's really quite a departure for Aardman.
"This story isn't restricted to the English countryside," said Bob Osher, the president of Sony Pictures Digital Productions, the senior animation executive at the studio and a frequent visitor to Aardman's Bristol base. "The story of 'Arthur Christmas' is huge. You not only get to see Santa's secret workshop under the North Pole and the million elves that work there, you also get to circle the globe on Christmas Eve. And given that this new Aardman movie shows moviegoers a world that they've never seen before, we wanted to do something on a global scale to help raise awareness of our film."
And that's just what Sony did. They set up special screenings of "Arthur Christmas" in London, New York and L.A. on October 3rd and then invited a select group of bloggers and entertainment journalists to come see the first 35 minutes of this new Aardman movie.
"It wasn't very Christmasy when we showed 'Arthur' here at Sony Pictures Animation," Osher laughed. "As I recall, it was 70 degrees in Culver City that day. But we did what we could to make this place look festive. We brought in some carolers and set up a sled. We even laid down some fake snow."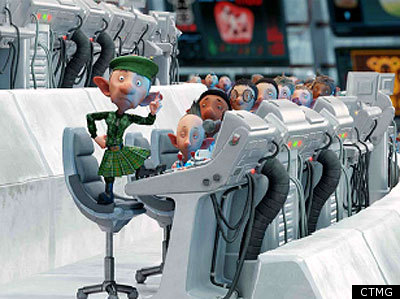 Robbie Coltrane voices the Old Doom-Laden Scottish Elf
And even though it was still four weeks away from Halloween at that point, those who got a early look at this holiday release were obviously charmed. After this screening, Silas Lesnick of Comingsoon.net tweeted:

"Sony showed off the first 30 minutes of ARTHUR CHRISTMAS and it's absolutely wonderful. It's definitely set to impress."
Steve Weintraub of Collider.com also seemed to approve of this Aardman production. Steve tweeted that he ...
"Was really impressed with the footage. Tons of jokes for adults. Laughed a lot."
Greg Ellwood of Hitfix.com evidently did a lot of ho-ho-ho-ing while he was watching the first third of "Arthur Christmas." Given that Greg walked out of this screening and then immediately tweeted that this new Sony Pictures Animation release was ...
"Hilarious and very smart stuff"
Mind you, this reaction didn't really surprise Osher. Ever since Sarah Smith, the director of "Arthur Christmas," initially pitched Sony executives on this film's story, they all knew that this new holiday movie was going to be something special.
"Sarah had such a strong vision for this material. She wanted 'Arthur Christmas' to really be ambitious when it came to the size and scale of its story but -- at the same time -- still be identifiably Aardman," Osher explained. "And Sarah did this by putting Arthur's family, this dysfunctional but very identifiable group of characters right at the heart of her movie."
And to really up the ante here, to make "Arthur Christmas" the must-see family film of the holiday season, Aardman Animations has a secret weapon. They've loaded up Santa's support staff with celebrities. Which is why -- if you listen closely -- you'll notice that Joan Cusack of "Toy Story 3" is voicing a Mission Control Elf, while Robbie Coltrane (Hagrid from the "Harry Potter" movies) can be heard as the Old Doom-Laden Scottish Elf. Meanwhile Michael Palin of "Monty Python" fame will be voicing the elf Ernie Clicke while Dominic West ("300," "The Wire") will be barking orders as the Field Sargent Elf.
And that's in addition to having Hugh Laurie as the voice of Steve, Santa's eldest son and Arthur's older brother and Imelda Staunton as Mrs. Claus. Not to mention Bill Nighy voicing Grandsanta, Jim Broadbrent as Arthur's Dad, Santa Claus, and James McAvoy as this film's title character. A first-class cast to voice the Claus clan.
"With a cast like that voicing this story, 'Arthur Christmas' has turned into something really special. A holiday film that's so much more than just a Christmas story," Osher concluded. "So be sure and bring along your family when you go to see this new Aardman movie. Because 'Arthur Christmas' is a very smart, very funny, very relatable film that genuinely has something to say about the holidays."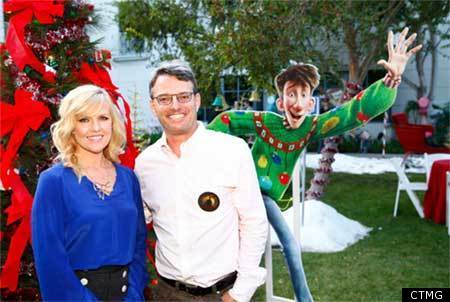 Ashley Jensen and Bob Osher, the President of Sony Pictures Digital Productions at the Los Angeles preview screening of "Arthur Christmas." Photo by Trae Patton.
And speaking of the holidays: Given that Sony Pictures Animation's big summer hit, "The Smurfs," is coming out on Blu-ray and DVD December 2 (featuring the all new 22-minute short film "The Smurfs: A Christmas Carol" which combines CGI and traditional hand drawn animation)... Well, it wasn't like Sony Pictures Animation was going to have a blue Christmas in 2011. But given the strong reaction that this Aardman production got earlier this month at its sneak previews in NYC, London and LA (not to mention the fact that Sony just signed Justin Bieber to record "Santa Claus is Coming to Town" and shoot a music video for "Arthur Christmas"), it's beginning to look like it'll be a very happy holiday season this year in Culver City.
Jim Hill is an award-winning entertainment writer who lives in New Boston, N.H. Over the past 30 years, he has interviewed hundreds of veterans of the animation and themed entertainment industry and written extensively about The Walt Disney Company.
Jim is currently working on a behind-the-scenes history of the development and construction of Disneyland. For his more immediate musings on movies, TV shows, books and theme parks, please check out his blog, jimhillmedia.com.