To hear Don Hall tell this story, it was just weeks after The Walt Disney Company revealed that it would be acquiring Marvel Entertainment for $4.24 billion back in August of 2009 when he first came up with the idea of using a relatively obscure Marvel comic book series as the inspiration for a full-length animated feature.
"I grew up loving Marvel comics. So imagine my excitement when those two crazy kids -- Marvel & Disney -- got together," The co-director of Big Hero 6 recalled during a recent interview. "As Disney began looking for ways to make the most of this billion dollar acquisition, it became clear very early on that Marvel wanted Disney Animation to take something of theirs and then make it our own."
"About this same time, I was looking at what my next project at Disney Animation might be. And as a lifelong fan of comic books and a lifelong fan of Disney Animation, I started imagining what a mash-up of those two things might look like," Don continued. "How we'd combine those epic action scenes that the Marvel comic books do so well with the humor & heart that Disney Animation is known for."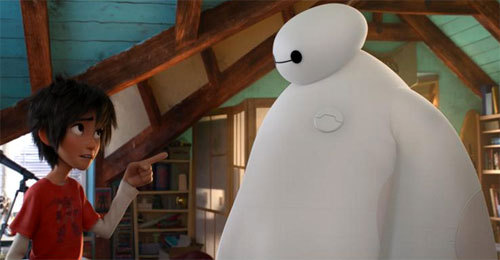 At first, Hall didn't know who Walt Disney Animation Studios' first superheroes should be. But then one day as he was going through the Marvel data base, Don came across this comic series that he had never heard of before, Big Hero 6. And in much the same way that Frozen is only loosely based on Hans Christian Andersen's "The Snow Queen," what Don found in this obscure comic book series was a set of characters that were ripe for reinvention.
"And Marvel, they really encouraged this idea. Jeph Loeb and Joe Quesada were there every step of the way offering support and guidance. They wanted us to take 'Big Hero 6' and really do our own thing with it. To not feel bound to anything that had been in the comic books," Hall stated.
So with Jeph & Joe's blessing, Don and his co-director Chris Williams dreamed up an all-new version of Big Hero 6. One that -- while all it really had in common with its original source material was this film's title and many of the character names -- was still very much in the Marvel tradition. In that this story's central character is a young man with great potential who -- as a direct result of a personal tragedy -- is then inspired to become much more than he was before.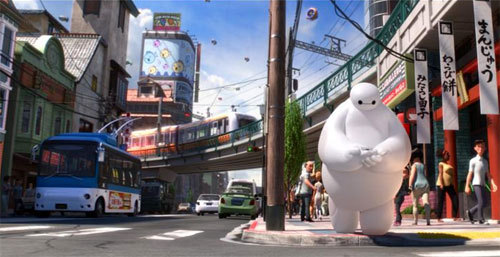 Big Hero 6 tells the story of Hiro Hamada, a 14 year-old genius who specializes in robotics. Hiro, his older brother Tadashi and their aunt Cass live together in a city that is also something of a mash-up.
"John Lasseter has always encouraged us to create new worlds if we can. And we could have set 'Big Hero 6' in San Francisco. We could have also set this film in Tokyo. But the idea of kind of making up our own world was very enticing. And given that mashing things together -- the Disney thing & the Marvel thing, for example -- had become one of the core ideas of this project ... Well, we wondered what might happen if we took Eastern culture and then mashed it together with Western culture, creating this near-future city that embraced both cultures, San Fransokyo," Hall said. "And it was this continual mixing of disparate elements that really helped us to find the personality of this movie."
Setting this animated feature in a hi-tech city that blends Eastern & Western culture is an intriguing idea, don't you think? But you know what else is intriguing about Big Hero 6? Nobody in this superhero movie actually has any super powers. None of these characters can fly on their own. No one in Big Hero 6 has been transformed because they were bombarded with gamma rays or something like that.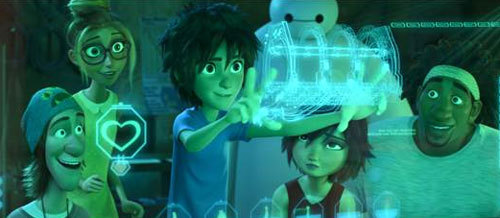 "The characters in this movie are all just normal people that are really smart and have access to super hi-tech. I thought that that was important. I wanted to ground Big Hero 6 in a certain reality and then put limitations on these characters," Don enthused. "But the thing about limitations is -- especially when you work in animation -- is that they can actually be kind of liberating. I mean, when you see Go Go in scenes where she's racing around on her magnetic wheels, it's pretty awesome. Probably something that couldn't have been pulled off in live action that we here at Disney Animation could do a whole lot better."
"For people who are coming to Big Hero 6 for that superhero fix, we definitely deliver," Chris Williams added. "But what's really great about animation versus live action is that we get down to those simple truths. Which is why the emotional scenes in this movie play that much sweeter and the action scenes are that much more awesome."
"The superhero part of Big Hero 6 ? That appeals to my eight year-old self. That piece of me that first fell in love with Marvel comic books," Hall continued. "But the core emotional relationship in this movie -- the one between Hiro and Baymax, the incredible robot that helps this young man recover from a devastating loss and once again become whole -- that appeals to both my eight year-old self AND my 45 year-old self."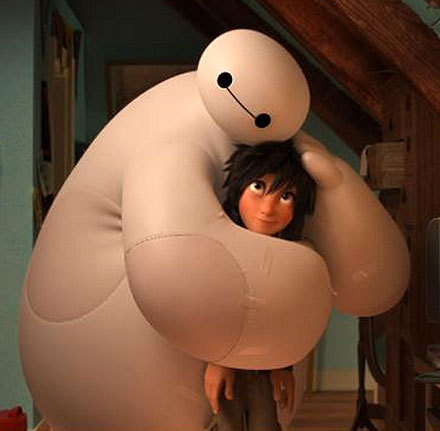 "Early on, we knew that this whole movie would hang on Hiro & Baymax. That we had to build a believable emotional connection between this boy and his robot. That their relationship was the key to successfully bringing Marvel action together with Disney humor & heart. That this movie's action scenes would actually fits within that emotional structure," Williams said. "And luckily, we figured out a way to make that happen."
And how exactly did Don & Chris pull that off? Well, to get that answer, you're going to have to head to NYC. Where on Thursday, October 9th -- on the very first day of this year's New York Comic-Con -- Walt Disney Pictures will be presenting a Big Hero 6 panel on Main Stage 1-D. One where Hall & Williams (along with producer Roy Conli and a few special guests) will make a very big splash in the Big Apple as they share stories about how Disney's very first Marvel-inspired animated feature actually came to be.