Tonight, all eyes are on the Dolby Theatre and the 88th Academy Awards.
But tomorrow morning -- after that 500 foot-long red carpet (which gets rolled out along Hollywood Boulevard every year so that the stars then have something grand to stand upon) has been packed away -- where can one then go to experience some of the glitz & glamour of today's Tinseltown?
Well, some people might stroll up the block to the TCL Chinese Theatre. This cinematic temple originally opened back in May of 1927 and is famous for its Forecourt of the Stars. Which is where you'll find the hand & footprints some of your favorite stars immortalized in cement.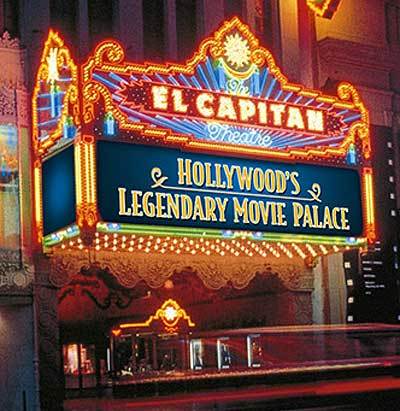 But me personally, I prefer the El Capitan Theatre, the movie palace that actually predates the Chinese Theatre which is located right across the street from the Dolby Theatre & the Hollywood and Highland Center.
Mind you, when the El Cap first opened its doors back in May of 1926, it wasn't a movie theatre. But --- rather -- "Hollywood's First Home of Spoken Drama." During the 15 years that this 1,550 seat venue operated as a legitimate theatre, over 120 live plays were presented here. And among the cinematic greats who trod its boards were Clark Gable, Mary Pickford, Buster Keaton and Will Rogers.
It wasn't 'til May of 1941 that the El Capitan Theatre finally became a motion picture theatre. But given that the very first film to be screened here was Citizen Kane (More to the point, given that Orson Welles was forced to rent this stage venue for the West Coast premiere of his magnum opus because theater owners wouldn't screen Kane out of fear of reprisals from William Randolph Hearst), some serious Hollywood history has been made inside of this six story-tall building.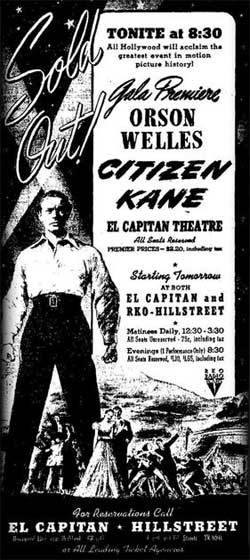 Right through the 1950s, Hollywood Boulevard remained the place to go if you wanted to see a first fun film and then enjoy a fine meal. Which is why the El Capitan and Grauman's Chinese (not to mention their sister theatre, Grauman's Egyptian) continued to do great business. As did all of the elegant eateries in the immediate vicinity. Fabled restaurants like the Musso & Frank Grill, the Pig 'N Whistle and the Brown Derby.
But with the rise of the suburbs and the decentralization of Los Angeles (Not to mention the construction of several modern-era multiplexes out in Burbank & Westwood), Hollywood Boulevard's movie palaces gradually fell from favor as the 1960s gave way to the 1970s.
As for the El Capitan, it changed hands a number of times over this same period. And -- for a time -- it seemed destined to go the route of the Warner Hollywood Theatre. That Tinseltown institution (which opened its door in April of 1928 and was one of the very first venues in the United States that was equipped to show talking pictures) stopped screening movies in the early 1990s and eventually became home to the Ecclesia Hollywood Church.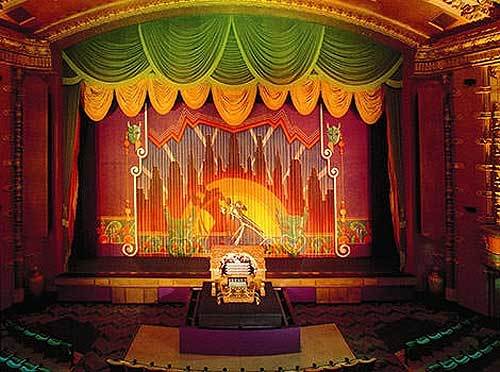 But then Disney took a shine to the El Cap. They saw a lot of potential in this faded beauty. Which is why -- in 1989 -- the Mouse partnered with Pacific Theatres to do a floor-to-ceiling restoration of this Hollywood Boulevard institution. Pouring $14 million in the project, Disney's reconstruction team even went so far as take paint scrapings from the theaters walls and look at them under microscopes so that they could then match the El Capitan's original paint scheme.
It took over two years for this museum-quality restoration to finally be completed. But when the El Capitan finally re-opened in June of 1991 (Here's a fun bit of trivia: The very first film to be shown in this newly renovated movie palace was Disney's The Rocketeer. Which -- given that this Joe Johnston action-adventure was set in & around Hollywood of the 1940s -- was very appropriate), movie buffs were dazzled. Not just by all of the attention that had been paid to the building's Spanish Colonial exterior and its East Indian interior, but also by the fact that the El Capitan Theatre was now home to a 1920s-era "Mighty Wurlitzer" organ. Which rose from below the stage before each screening and then played Disney songs.
And for nearly 25 years now, the El Capitan has been dazzling Hollywood visitors and film fans alike. Mind you, it's sometimes something of a challenge to be an iconic movie palace which recalls a bygone era and -- at the same time -- be the sort of first-run theater that (thanks to its cutting edge projection & sound equipment) people prefer to see new releases at. But James Wood, the industry vet who's in charge of operations & stage productions at this Tinseltown institution, says that his team is more than up to that task.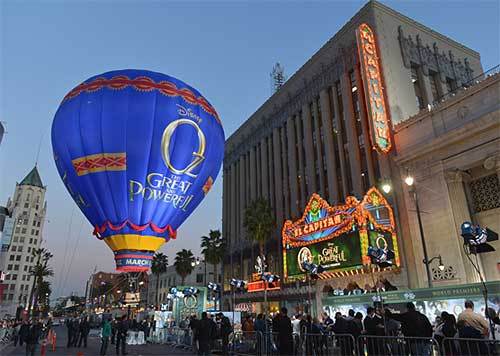 "One thing's for sure here at the El Capitan: The people who work here love a challenge. Whether it's the world premieres that we regularly hold here for Walt Disney Pictures or the various seasonal events that we also hold at this theatre, we pride ourselves on being able to deliver a top quality experience to each & every movie goer," Wood enthused.
And some of those seasonal events really have to be seen to be believed. Take -- for example -- what happened at the El Capitan earlier this month. Which was when James and his team transformed the lower lounge area at this theater into a romantic Italian eatery.
"This is actually something that we've been doing for about four years now," James explained. "We screen Lady and the Tramp over the Valentine's Day Weekend. But before each of these screenings, we offer our patrons the chance to have a candlelit dinner. One that's catered by Miceli's so that these cinema fans -- if they chose -- can then recreate that special moment from this Disney animated classic and share spaghetti with their loved one."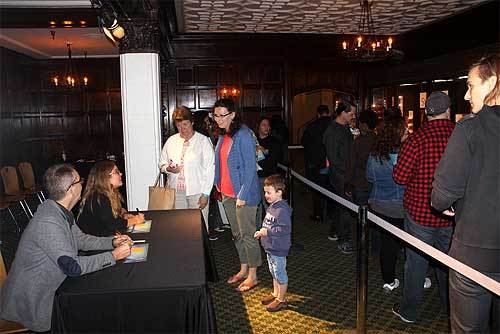 And speaking of animated classics, out ahead of the March 4th release of Zootopia, the El Capitan recently held a week-long retrospective of Walt Disney Animation Studios' most recent releases.
"And what was really great about this program was that -- not only were animation fans getting the chance to see some of their favorite Disney films like Frozen & Tangled & Wreck-It Ralph back up on the big screen -- but we also had the voice talent & the directors of those movies come by the theater and introduce each of these films. We even had meet-n-greet opportunities prior to these screenings where the first 75 people in line then got the chance to interact with the talent," Wood stated.
And it's not just today's film fans that James and his team tries to cater to. For all those Hollywood history buffs out there, the El Capitan offers a docent-led, behind-the-scene tour where guests can then visit backstage areas like the Sherman Brothers Star Dressing Room. And for the next generation of movie-goers, this cinematic temple also offers its Tiny Tot Tuesday program. Where -- for the very first showing on every Tuesday -- the El Cap's lights are dimmed and its sound levels are reduced. Which makes for a far less frightening first-time-at-the-movies for skittish youngsters.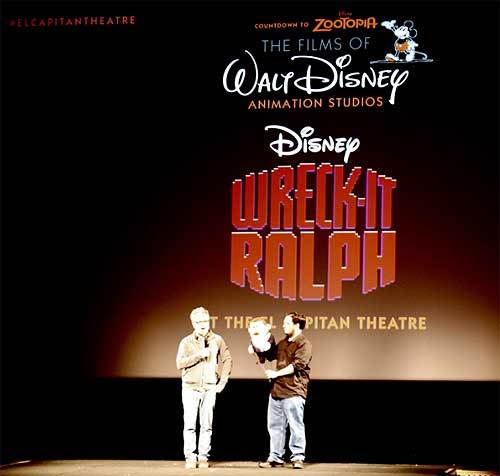 "We're also going to be celebrating the El Capitan's 90th anniversary sometime later this year. We've already got some fun special things in the works for that. But since we're still in the process of finalizing our plans for that right now ... Well, I don't want to say too much just yet," James smiled.
So if you were impressed by the 88th Academy Awards tonight, then -- the next time you're in Southern California -- why not visit the Hollywood movie palace that actually predates the Oscar ceremony by two years? Which -- thanks to the El Cap's lovingly restored interior & exterior as well as its Dolby Laser Vision projection system & Dolby Atmos sound system -- mixes the very best of Tinseltown's past, present and future.