When the reviews for Disney Aladdin: Broadway's New Musical Comedy finally came in last night, with the New York Times praising this production for its "...relentless razzle-dazzle and its anything-for-a-laugh spirit," there was no one on this planet that was more pleased and relieved than Chad Beguelin.
After all, it was Beguelin who -- 5 years ago -- was among the first artists Disney Theatrical Productions reached out to when it was looking to turn Aladdin into a full-length stage production. More to the point, it was Chad's conversation with Alan Menken about how Disney's 1992 Academy Award-winning animated feature might possibly be adapted for the stage that suddenly turned this show into something more.
"Back then, there was absolutely no talk of taking Aladdin to Broadway. Disney Theatrical had asked me to work up a possible libretto for a stage version of this film only because all of these high school and college theater departments kept writing in, asking if there was an official script available for Aladdin yet," Beguelin explained during a recent phone interview. "So the original goal here was to just put together a straightforward stage adaptation of Disney's Aladdin. Something that faithfully followed the storyline of the original 1992 film which could then be licensed out to all of these high schools and colleges. Maybe even a regional production or two."
But when Chad showed his first draft to Alan so that Aladdin's Oscar-winner composer script could then sign off this project, Menken saw something more. A diamond in the rough, if you will.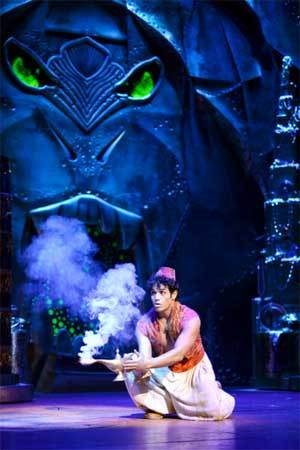 "Alan must have liked what he saw in that script. Because the next thing I know, he's talking about how we could maybe fold some of the songs that he and Howard Ashman had originally written for the animated version of Aladdin into this proposed stage show," Beguelin continued. "That's when Alan hands me this file folder which is just full of Howard's original story notes for Aladdin. And then what was supposed to have been this simple, straightforward stage adaptation of the animated Aladdin suddenly became this whole other thing."
And why was that exactly? Well, Howard's original 40-page treatment for Aladdin had had a far different take on this tale from 1001 Arabian Nights. Ashman originally envisioned this animated feature as kind of a riff on Bob Hope and Bing Cosby's old Road pictures, which is why? Because Howard wanted this film to have far more of a 1940s feel. His original inspirations for the Genie were Fats Waller and Cab Calloway.
Ashman also wanted this animated feature to be a real departure for Walt Disney Animation Studios, to be the wildest, craziest, funniest film that they had ever produced, which is why he originally saddled Aladdin with three comic sidekicks -- Babkak, Omar and Kassim -- not to mention a constantly kvetching mother.
And back in late 1988-early 1989, WDAS did actually put this version of Aladdin into production. Only to then shut production after a few months because they were just trying to cram too many songs, characters and gags into a single 90 minute-long animated feature. So Jeffery Katzenberg -- the then-head of Walt Disney Studios -- pulled Ashman and Menken off of Aladdin and then put them to work on the then-equally troubled Beauty and the Beast which -- at that time -- wasn't even a musical but more of a dark romantic animated fantasy.
But what no one knew at the time was that Howard was HIV positive, which meant that -- by spending his remaining time on turning Disney's Beast into a musical -- Ashman then wouldn't get a chance to revisit Aladdin. Find a way to make his Road picture-inspired take on this material work.
But now with Disney Theatrical considering a stage adaptation of this animated feature, here, finally, was a chance to revisit Howard's original vision for Aladdin. So Alan handed off that folder to Chad and asked him to consider folding this material into the show.
"So I took that folder back to Disney Theatrical. And it was full of all of these great comic songs that were cut out of the animated film. This wealth of material that could then be used to turn the stage version of Aladdin into a tribute to Howard Ashman's genuis," Beguelin explained. "But in order to fold all of this stuff into the show -- Aladdin's three sidekicks, all the restored songs -- that first meant making some pretty significant alterations to the story. And given that people were going to be walking into this musical with certain expectations in their head because they already had the film version of Aladdin ... That meant that the stage version of Aladdin was going to be this delicate balancing act. Where we found ways to preserve the parts of this movie that audiences loved, while -- at the same time -- carving out space for all these great new characters and songs."
Thus began the period Chad now somewhat jokingly calls the 1001 Rewrites. As Beguelin began trying to find just the right balance between old and new. It took a pilot production of the show in 2012 at the 5th Avenue Theatre in Seattle -- not to mention a non-Disney produced regional production of Aladdin at the Muny in St. Louis last summer -- to really get a handle on what needed to stay and go. But even as a radically revamped version of Aladdin began its out-of-town try-out in Toronto in December, Chad and this show's creative team were still making changes to its libretto, were still moving around the placement of those Ashmen/Menken songs that had been cut out of the movie.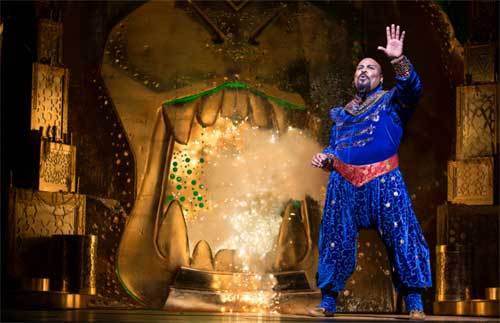 "That's why it was so great that we had Casey Nicholaw as the director and choreographer of the stage version of Aladdin. Because Casey's completely ruthless when it comes to his own work," Chad said. "Take for example the number we used to open the show with, Babkak, Omar, Aladdin, Kassim. Casey's original idea was to have Aladdin and his three sidekicks open the show performing circus-style tricks while they stood in front of the curtain singing these really funny Howard Ashman lyrics. But when that didn't wow the audience, Casey said 'Okay. We're going to move the Babkak number to later in the show, restage it with the entire cast so it then has lots more energy. In the meantime, let's restage the opening so that we now have the Genie start off the show by singing Arabian Nights.' So that's what we did. We moved some songs around as well as wrote a new number for Jasmine. And by the time previews began in New York City, the Genie was now opening the show by leading Arabian Nights, our new scene-setting opening number for Aladdin."
Truth be told, Beguelin wrote four new songs with Menken for the stage version of Aladdin, These Palace Walls, A Million Miles Away, Diamond in the Rough and Somebody's Got Your Back. All with an eye toward making sure that these tunes matched the style and the tone set not only by the six songs that Alan wrote for the film with Howard but also by One Jump Ahead and A Whole New World. Which Menken actually wrote with Tim Rice for Aladdin after Ashman passed away in March of 1991.
And in the end, that five years of hard work paid off this past Thursday night. With critics like Charles Isherwood at the New York Times praising Aladdin for its " ... extravagant musical numbers" which " ... pay energetic tribute to everything from the Cotton Club and Las Vegas to vintage Hollywood and current Bollywood."
And all of this happened because -- when Alan Menken looked at Chad Beguelin's script for a stage version of Disney's Aladdin -- he saw a diamond in the rough.