For decades now, Mickey Mouse has been the corporate symbol of The Walt Disney Company. Nice, safe and bland.
But there are those at the Mouse House who remember when Disney's corporate symbol used to be really funny. To be specific, Eric Coleman -- the senior vice president of Original Series at Disney Television Animation -- and Mike Moon -- who's a creative vice president for that same arm of The Walt Disney Company.
And as Eric and Mike looked at those old Mickey Mouse shorts which the Studio used to crank out in the late 1920s / early 1930s, back when this animated character still had some juice and some edge to him, they wondered: Would it be possible to create a new series of Mickey Mouse shorts set in today's world that could still have the same sort of energy and fun that these shorts did back in the 1930s?
To see if this might even be possible, Coleman & Moon turned to Annie Award winner Paul Rudish, who had only recently arrived at the Mouse House after spending years at Cartoon Network, where he had worked side-by-side with Gennedy Tartakovsky & Craig McCracken writing, designing characters for and/or art directing episodes of such acclaimed animated series as Dexter's Laboratory, The Powerpuff Girls and Samurai Jack. Not to mention Rudish's Emmy Award-winning work on the Star Wars: Clone Wars mini-series back in 2003.
"What was kind of ironic about Eric and Mike reaching out to me at that time was -- just before we had this Mickey Mouse meeting -- I had actually been looking at a lot of Disney's old black-and-white shorts from the 1930s. I mean, they had such great energy. Their design was strong," said Paul during a recent interview. "And since I was working in the development department at Disney Television Animation at that time, I was wondering: Could I maybe trick these guys into letting me make a Mickey Mouse cartoon. And then I thought: Nah. They'd never let me do that."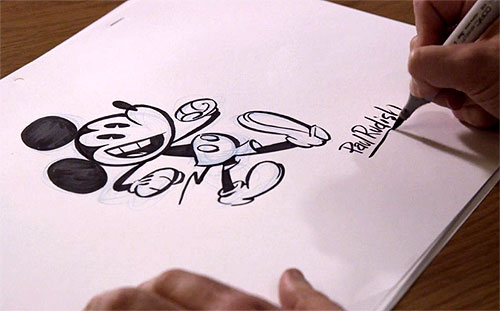 But clearly word had gotten around Disney's Glendale campus that Rudish was an old school Mickey Mouse fan. For the next thing Paul knew, he was being called into a meeting with Eric and Mike. Where Coleman then got the ball rolling by saying "I hear you like Mickey."
"And the next thing I know, Eric is telling me that Corporate has asked Disney Television Animation to take a stab at making some new Mickey Mouse shorts and that he and Mike were wondering what my take on this material might be," Rudish continued. "So I went away for a while and worked on some storyboards for two Mickey Mouse cartoons where I took my inspiration from those animated shorts that the Studio used to make back in the late 1920s / early 1930s. Back when Mickey was still fun and funny but also had some grit to him."
Mind you, Paul did have some pretty daring ideas. One conceit was that each short in this new series would be set in a different part of the world so that Mickey could be seen zooming through Paris aboard a motor scooter in one short and then be battling crowds on a bullet train in Tokyo in another. More to the point, that all of the new animated shorts would feel contemporary and modern.
"And when I say contemporary and modern, I don't mean that Mickey is going to start wearing his baseball cap sideways or that we're going to give this character an iPhone," Paul laughed. "I mean that these shorts will feel contemporary and modern because they're going to come out of the hands of contemporary and modern artists. Plus we were going to use contemporary film storytelling techniques. Which -- given these shorts' 3 and 1/2 minute-long running times -- is going to make them seem faster paced."
But at the same time, Rudish was looking to make these new Mickey Mouse shorts sound a lot like the ones that Disney made back in the 1920s and 1930s by making a crucial casting change when it came to this character.
"The Walt Disney Company is all about character consistency. Making sure that Mickey, Donald & Goofy always sound the same whether they're appearing in the theme parks or in a new animated featurette. That's why the Company has a Character Voice Department," Paul explained. "Well, given what we were trying to achieve with these new Mickey Mouse shorts, the problem here was that we wanted Mickey to sound just like he did when Walt was still doing this character's voice. And Walt's voice -- because he smoked and drank bourbon -- had a very distinct twang to it."
But Coleman and Moon got what Rudish was trying to do here. So with their support, Paul was allowed to bring different actors to audition to be the voice of Mickey Mouse for this specific series of animated shorts. Which is why Rudish eventually crossed paths with Chris Diamantopoulos right after this actor / comedian had just finished shooting "The Three Stooges" for the Farrelly Brothers.
"And as soon as I heard Chris' audition tape, I noticed right away that his voice had that 1930s twang to it just like Walt's did," Paul recalled. "And when I pointed this out to our sound engineer, he said, 'Well, you know who this guy is. He just played Moe in the Three Stooges movie.' So Chris was the obvious choice to be the new voice of Mickey. I mean, he's completely schooled in that 1930s style of performing. And that's the version of Mickey we were trying to resurrect here. The one from 1934 or thereabouts. Back when this character was still funny."
So now that Rudish had found the right look for these shorts (not to mention the perfect voice for Mickey), he then pushed ahead with production of 19 new shorts, the first of which was supposed to bow on the Disney Channel back in June of 2013.
"I won't lie to you. I was a little nervous about how these Mickey Mouse shorts might be received," Rudish said. "I mean, me personally, I thought that they looked great and were really funny. But Disney fans and animation buffs can be very particular, very critical when it comes to Disney's classic characters. And I'd hate to be accused of being the guy who was trying to fix something that wasn't broken in the first place."
But from the moment that "Croissant de Triomphe" popped up on the Web as a "special preview" for this new series of shorts back in June, Paul's reimagined / revitalized Mickey has been enthusiastically embraced by both animation fans & the pros alike. This series even managed to take home three Emmys earlier this year.
So what exactly is it about these new Mickey Mouse shorts that makes them so special? Take a peek at this clip from the short which will be premiering on the Disney Channel tonight at 8:55 p.m. ET / PT, " 'O Sole Minnie." This particular cartoon is set in Venice, Italy. Where Mickey is working as a gondolier and -- after spying Minnie working in a canal-side cafe -- ardently tries to woo her. Only to then be upstaged by everything from a pot-banging bear to an opera-singing whale.
"We've got ten of these in the can and another nine in various stages of production. I'm just so grateful that Eric & Mike initially came to me with this project. We've really had a lot of fun putting a contemporary spin on these old-school Mickey Mouse shorts. And I'm hoping that we get to do a lot more of them in the future," Paul concluded.
Jim Hill is an award-winning entertainment writer who lives in New Boston, NH. Over the past 30 years, he has interviewed hundreds of veterans of the animation & themed entertainment industry and written extensively about The Walt Disney Company.
Jim is currently working on a behind-the-scene history of the development & construction of Disneyland. For his more immediate musings on movies, TV shows, books and theme parks, please check out his blog, jimhillmedia.com.