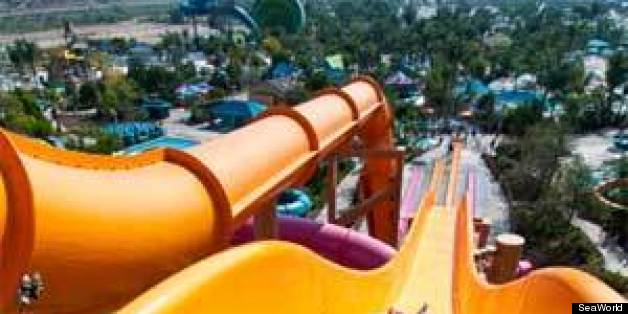 It's Texas Hold 'Em time among Southern California's top tier tourist attractions.
Disneyland Park kicked off the latest round of theme park poker earlier this year when it opened Fantasy Faire (a mini-land which celebrates the Disney princesses) as well as by premiering its new "Mickey and the Magical Map" stage show. Then Knott's Berry Farm upped the ante by expanding its Boardwalk area with three new rides in addition to unveiling its newly enhanced Timber Mountain Log Ride.
Of course, Universal Studios Hollywood didn't want to be left out of this summer's high stakes game for Southern Californian tourism dollars. Which is why this movie-based theme park announced that it would be putting eight of the original prop cars that were used in the making of Universal Pictures' super-popular Fast and the Furious film series out on display. Which is when the LEGOLAND California Resort responded by saying, "I'll see your 8 muscle cars and then raise them with one of the largest LEGO model ever built. Which is a full-sized Star Wars X-wing Starfighter. Oh, and did you notice our brand-new LEGOLAND Hotel?"
That's when SeaWorld Parks and Entertainment (which knows a little something about Texas Hold 'Em, given that this company owns and operates a theme park in San Antonio) went all in with Aquatica San Diego, that 32-acre water park which officially opened to the public this past Saturday in Chula Vista, CA.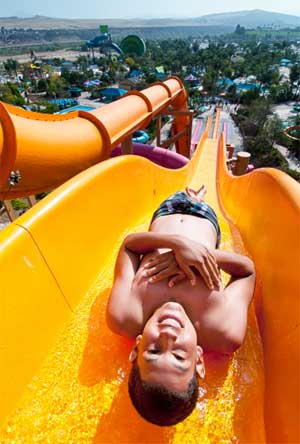 Mind you, Aquatica San Diego isn't exactly a new water park. SeaWorld purchased this property from Cedar Fair Parks back in November of last year for $15 million. But given the multimillion dollar makeover that this 16 year-old water park has received over the past 7 months (with all traces of Knott's Soak City's previous surfing-community-of-the-1950s theming then being erased to make way for a new South Seas-inspired design motif), Aquatica San Diego now might as well as be considered a brand-new Southern California tourism destination.
Of course, what helped speed this transformation along is that Aquatica San Diego isn't the first water park SeaWorld Parks and Entertainment has ever built. The original Aquatica opened at SeaWorld Orlando back in March of 2008. And that 59-acre, stand-alone water park proved to be such a hit with Central Florida tourists that SeaWorld management then decided to expand the brand. Which is why -- just last year -- they took the water park that was operating inside of their Texas theme park and then rebranded that as Aquatica San Antonio.
"And the Texas version of Aquatica quickly grew to be so popular with our Guests that we just knew that we had to bring this same concept to San Diego," explained David Cromwell, Vice President of Aquatica San Diego. "Which is why we then began looking for opportunities in the Southern California area. Someplace that we could -- using SeaWorld's unique mix of highly detailed theming, top quality attractions, live entertainment, great culinary offerings as well as our exotic animal displays -- then change into something truly special."
Speaking of animals: SeaWorld's unique collection of creatures plays an important part in helping to rebrand this Chula Vista water park as an official SeaWorld property. In fact, those animals may be the first very change that tourists notice as they arrive at Aquatica San Diego.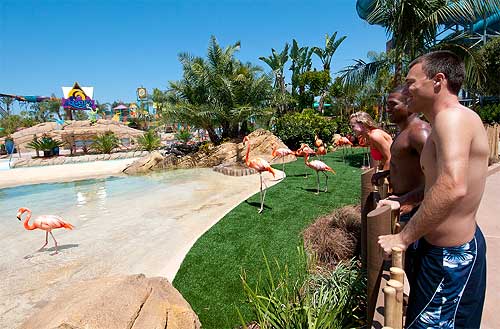 "Our new Caribbean flamingos habitat is right out front. You'll also be able to see that as you float along in our lazy river known as Loggerhead Lane," Cromwell continued. "And as you approach the wave pool, you'll be able to see our freshwater turtles habitat. These live animal displays give Aquatica San Diego the sort of educational component that you just won't find at any of Southern California's other water parks."
But once visitors make it past that flamingo habitat, that's when all of the other really big changes which have recently been made to this Chula Vista water park will then immediately become apparent. From the thousands of newly planted trees & shrubs to that 43,000 square feet of white sand SeaWorld had trucked in to those private cabanas with their mini fridges, no expense was spared when it came to this company's efforts to make Aquatica San Diego look like a lush, tropical paradise.
"Over the past few months, we have had hundreds on contractors here on site working off a very thoughtful plan that our design team initially put together," David stated. "Every department at SeaWorld -- from landscaping to human resources to finance -- touched this project. But in the end, I think that we wound up with the new high quality, Southern Californian tourism destination that we were all hoping for."
That said, there is a certain amount of risk involved with this particular round of Southern California theme park Texas Hold 'em. You see, Aquatica San Diego isn't located right next door to SeaWorld San Diego. But -- rather -- 20 miles down the road in Chula Vista, CA. But even so, Cromwell seems confident that this newly revamped water park will be able to overcome that geographic challenge. That SeaWorld will have no trouble convincing San Diego locals as well as Southern Californian tourist to come buy joint ticket product for their two area properties.
"Look, SeaWorld started in San Diego nearly 50 years ago. And our brand is so well known and so well regarded these days, I honestly don't think that we're going to have a problem convincing people to go sample that quality, family-oriented property which SeaWorld is running just down the road, a few miles away from our San Diego theme park," David enthused. "If anything, I think that a visit to Aquatica San Diego will wind up being the perfect compliment to a visit to SeaWorld San Diego. You can go from watching creatures in water to being in the water yourself. Which sounds like a really fun way to spend some time on your next Southern California vacation."
So will SeaWorld Parks and Entertainment's big bet on Aquatica San Diego area ultimately pay off? We'll have to wait 'til Labor Day for this particular round of theme park Texas Hold 'em wraps up. That's when the summer attendance figures will come in. And we'll then know for sure which of Southern California's top tier tourism attractions really did come out on top this time around.
Jim Hill is an award-winning entertainment writer who lives in New Boston, NH. Over the past 30 years, he has interviewed hundreds of veterans of the animation and themed entertainment industry and written extensively about The Walt Disney Company.
Jim is currently working on a behind-the-scene history of the development and construction of Disneyland. For his more immediate musings on movies, TV shows, books and theme parks, please check out his blog, jimhillmedia.com.