When it comes to the Walt Disney Parks & Resorts, it's kind of a tradition that good enough isn't really good enough.
Case in point: Pirates of the Caribbean. When Walt Disney first envisioned bringing buccaneers into his first theme park in the late 1950s, he was thinking more of a walk-through attraction. A place where Disneyland Guests would first descend from street level in New Orleans Square and then stroll past this elaborately-themed dungeon which was to be filled with wax tableaux of history's most notorious pirates. Scenes that -- thanks to theatrical lighting & stereo sound effects -- would appear to come to life each time a new group of tourists walked by.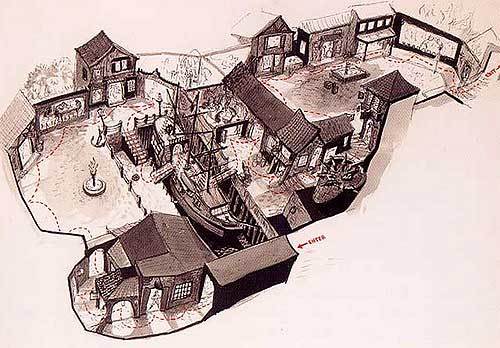 And Walt was fully committed to this early version of Pirates. He even went so far as authorize the start of construction on this attraction. Which is why -- for much of the early 1960s -- there was this huge cellar hole sitting empty next to Adventureland. Early Disneyana fans used to climb up into the Swiss Family Treehouse and then peer down at the enormous pieces of steel which straddled this construction site. Wondering when work would continue on this Pirates-themed show (which -- at that time -- was known as Rogues Gallery).
"And why didn't Disney go forward with that version of Pirates of the Caribbean?," you ask. Because while his Imagineers were working on rides, shows & attractions for the 1964 - 1965 New York World's Fair, Walt came up with a better idea. He saw how much people enjoyed floating through it's a small world and then looking out at all of those singing Audio-Animatronic children which were positioned along this ride's trough. Which is why Disney decided to ditch the walk-thru version of Rogues Gallery and instead send Disneyland visitors off on a boat ride that would first slide down a waterfall and then take Guests floating past some singing swashbucklers.
And the same exact thing happened with Disneyland's Haunted Mansion. Walt had originally wanted small groups of tourists to take part in a walking tour of this decrepit southern home. Where -- as they were led from room to room by their all-too-human host -- these people would then encounter special effects-filled scenes that the Wizards of WED had worked up which celebrated the supernatural.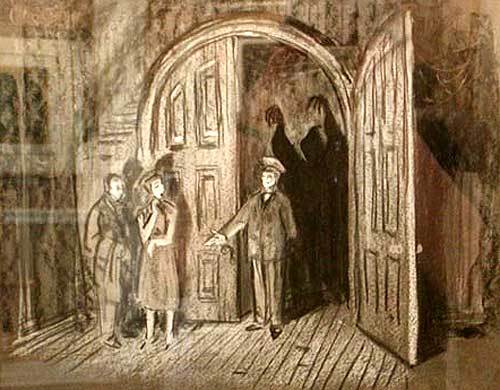 "And why didn't Walt go ahead with that walk-thru version of the Haunted Mansion?," you query. Because with the development of the Omnimover ride system for Disneyland's Adventure Thru Inner Space attraction, the Imagineers now had a far more efficient way to move Guests through a detailed show environment. So even though the exterior of the Haunted Mansion was already built & standing in place along the Rivers of America by 1963, Disney's Imagineers still junked their plans for a walk-thru version of that theme park attraction and opted instead to go with the Doom Buggy-driven ride that we all know today.
So why did I bring up those two classic theme park attractions? Because when Tom Staggs -- the Chairman of Walt Disney Parks & Resorts -- was looking at the work-in-progress version of the Seven Dwarfs Mine Train (that new family coaster which officially opened to the general public at WDW's Magic Kingdom earlier today) a few years back... Well, Tom liked what he saw. But he also wondered: Could the Imagineers do a little better with the Audio-Animatronic Dwarfs that were supposed to be dig-dig-digging in this mine the whole day through?
I mean, WDI's talented team of sculptors had done a brilliant job of translating Doc, Happy et al. into full-sized three dimensional figures. Likewise the Imagineers who were in charge of programming these AA figures had come up with some stylized life-like movements that Staggs was sure would look charming in the Seven Dwarfs Mine Train's main show scene. Which showed the Dwarfs at the very end of their work day just before they began singing "Heigh-ho, heigh-ho, it's home from work we go... " and then exited that diamond mine.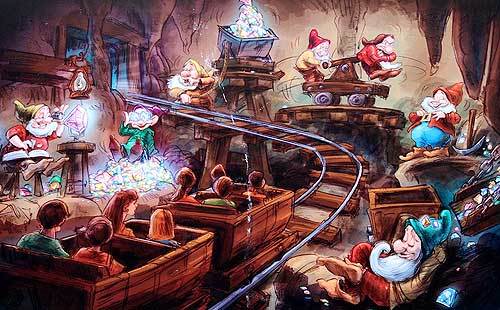 But if Tom had a quibble about this already-under-construction piece of Walt Disney World's New Fantasyland, it was with the faces of the Seven Dwarfs. Which -- due to the hard plastic shell that encases the inner workings of all AA figures (not to mention the soft vinyl skin which is then placed over that hard plastic shell) -- couldn't quite match all of those squash-and-stretch-filled facial expressions that Disney artists had dreamed up when they were originally animating Snow White and the Seven Dwarfs back in the mid-1930s.
So Staggs wondered: Was there a way to make the Audio-Animatronic versions of the Seven Dwarfs actually look more like these character did back in that 1937 Walt Disney Pictures release? And as it turned out, there was.
Ever since the late 1990s, WDI has been experimenting with miniature projection systems which could then be placed inside of the faces of Audio-Animatronic figures that are used in the Disney theme parks. The Imagineers had previously used this technology with some success in Buzz Lightyear's Space Ranger Spin and The Haunted Mansion. But recent advances in the miniaturization of projection systems as well as LED lighting had now made this projected-from-within-face idea worth revisiting.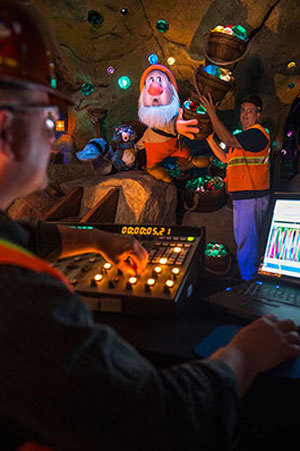 And as soon as the Imagineers showed Staggs some prototypes that they'd been working on, Tom immediately said "That's it. That's what we should be doing with the Dwarfs in Mine Train's big show scene." So even though New Fantasyland's centerpiece attraction had already been under construction for a year or more at this point, the Imagineers immediately shifted gears and began dreaming up ways to install Dwarf AA figures with projected-from-within-faces in this new family coaster.
And because they wanted the Dwarfs to look just as they did in Disney's first full-length animated feature... Well, that's why the Imagineers reached out to Dave Bossert. Who's a Producer, Creative Director and Head of Special Projects at Walt Disney Animation Studios.
Now Dave is one of the Mouse House's master magicians. If you watched Disney Night last month on ABC's Dancing with the Stars and then marveled at how Drew Carey danced with the Genie from Aladdin... Well, it's Bossert's Special Projects team that did that. Likewise when Tom Hanks interacted with an animated Tinker Bell in Saving Mr. Banks, it was Bossert's talented group of animators & special effects artists who conjured up pixie dust that looked perfect for that particular period in Walt Disney Company history.''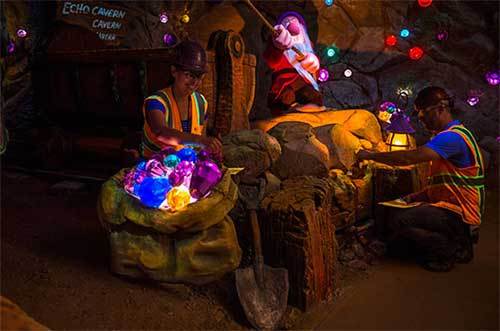 So when it came to designing projected-from-within-faces for the Dwarf AA figures that would then be featured in the big show scene for New Fantasyland's family coaster, Dave and his team watched that 1937 film over & over. Looking for the specific ways that each of the Seven Dwarfs moved their eyes, eyebrows and mouths.
"A lot of this stuff was counter-intuitive. Take -- for example -- Sleepy. One of the ways that Disney's animators back in the 1930s indicated that this dwarf was actually asleep was by periodically having Sleepy open one eye," Bossert explained during a recent phone interview. "Which is why we made sure that the face on the Sleepy Audio-Animatronic figure periodically opens one eye. Just so this character looks & acts just as Sleepy did in the original film."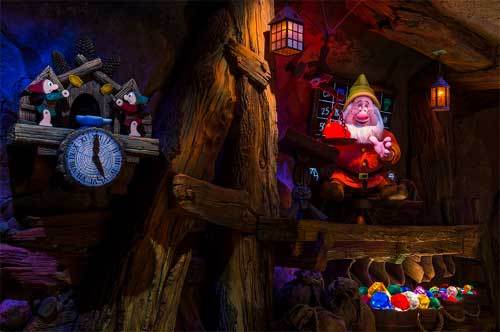 "Nearly every piece of animation that you see in Seven Dwarfs Mine Train -- including the Dwarfs who dance on the ceiling on the spinning barrel room in this attraction's queue -- is all new. However, the silhouette animation of the Dwarfs at the final hill was a lift from the film and was our tip of the hat to the original property," Bossert stated. "I'm just lucky enough to work with a team that's so talented, they can then replicate the precise look & performance of characters that were first animated nearly 80 years ago."
Which is why -- as WDW Guests have been getting off the Seven Dwarfs Mine Train during this New Fantasyland attraction's soft opening phase -- what have they been talking about? Not this family coaster's extremely smooth ride or how its oar cars full of passengers swing out to the side as they zoom along its 2000 foot-long track. No, what's got Central Florida tourists marveling is how great the Dwarfs look in Mine Train's big show scene. Which is why these AA figures are now considered to be the gold standard when it comes to replicating Disney characters in a dark ride environment.
And that only happened because -- when it comes to Walt Disney Parks & Resorts -- good enough just ain't good enough.