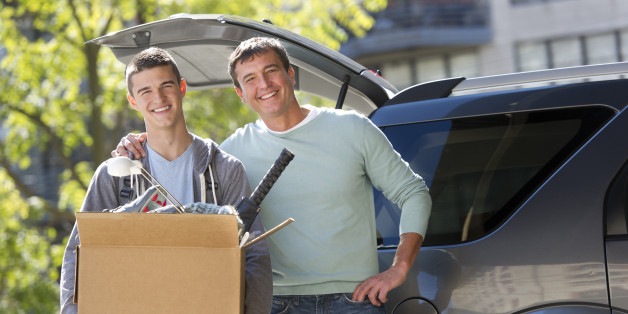 "Let It Go" is not just a blockbuster ballad from a recent Disney smash, it's also my theme for this year's back-to-school period.
I just recently dropped off my son for his sophomore year in college. This year there is no comfort or security of a dorm environment; he's off-campus at a college town apartment.
Let me tell you, it is every bit the college town apartment... three guys, three bedrooms, one kitchen (if you can call it that) and one bathroom... plus a loft which doubles as a living room.
One glance and memories of my college apartments at Cornell came rushing back. "How did we live like this?" is all that ran through my head.
Now my daughter, who is entering her senior year, had it a bit easier this year because she's moving back into the same apartment as last year.
So she was on her own moving back this time around, as I had to focus on my son and his move into his new apartment.
Now the normal Jim Joseph "Dad" here would have attacked my son's apartment with full force. Clorox wipes and Windex in hand, I would have cleaned every drawer, scrubbed the shower, sprayed down all the windows and vacuumed every inch of that apartment.
I didn't go there this time around. I let it go.
I let my son assemble the new desk and chair we bought at Walmart. I left before his other roommates even moved in... so unlike me. I had not even figured out the meal plan for the semester because he told me he could handle it. "But what's he going to have for dinner?" was my worry as I let it all go.
I know he can handle it all, but can I?
The normal Jim Joseph "Dad" here would have also figured out a way to move in my son and also be there for my daughter in the same week. I would have found a way to make the drive back and forth between their respective colleges so that I could be there for both kids.
I haven't seen how they've rearranged her apartment from last year, and I haven't seen how she's decorated her bedroom since coming back from last semester abroad in Australia. That's very hard for me to acknowledge, that I haven't seen any of that.
I'm a control freak and I normally would have controlled every single aspect of their two moves... it's what I've done in other years; it's what I've done for 21 years.
But I have been told that I need to learn to let go, so I'm trying to let go.
My son didn't want his apartment sanitized, so guess what... I just organized the t-shirts and shorts into the drawers, hung the shirts where they belonged and put the food into the kitchen cabinets. I held myself back.
My daughter was perfectly capable of driving herself to her already assembled apartment, especially since she had just been there a few weeks ago for an internship. She met her friends just in time to celebrate her 21st birthday on campus. I let her move herself in this year so that she could move herself into her twenties.
I let it go.
I guess it's a function of embracing the next phase of my life. My kids don't physically need me as much anymore. I don't have to be "Dad" as much as I used to. I can start to focus on what I need to do for my next chapter, as they start to write their next chapter.
I'm letting it go. I'm growing up... just like they are.