Close to 200 VIPs from New York City's finance, fashion and business communities packed the Trump Plaza Penthouse Midtown recently to celebrate the launch of Indian jewelry and accessories designer Amrita Singh's brand-new home collection.
Sponsored by Wells Fargo and hosted by South Asian Young Women Entrepreneurs (SAY WE), "The Amrita Singh Penthouse" event showcased the designer's hand-crafted, life-size and miniature mosaic Buddha and Ganesh statues, along with special pieces of jewelry and accessories from Singh's illustrious, decade-long career.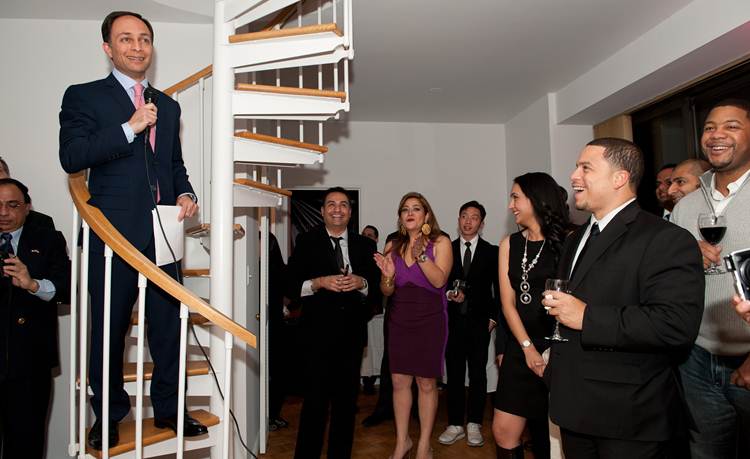 Rahul Baig of Wells Fargo addresses the crowd. Photo: Nan Melville.
"As a woman and a jewelry designer, I understand what it means to adorn a woman's body with my pieces," Singh told me. "Now, I'm working with a larger canvas -- a woman's home -- and there is no better way to engage a woman's soul than to help her adorn her home." Amrita's inspiration for her home collection came to her during a recent trip to Bali.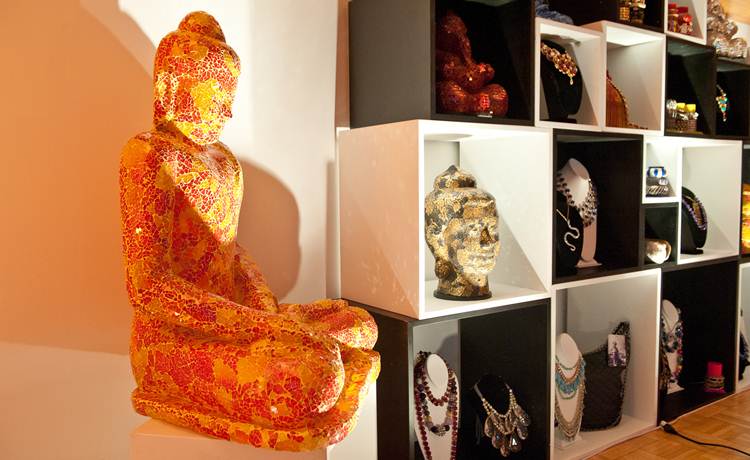 Sections from the Amrita Singh Home Collection. Photo: Nan Melville.
"More than 90 percent of the homes in Bali have their own, private temples," she said. "I wanted to bring some of that Eastern spirituality back to the West with my Buddhas and Ganeshas." Having been to Bali many times, I can confirm her impressions. As my partner John Lee and I collect Buddhist statuary, we had to have one of Amrita's for our collection!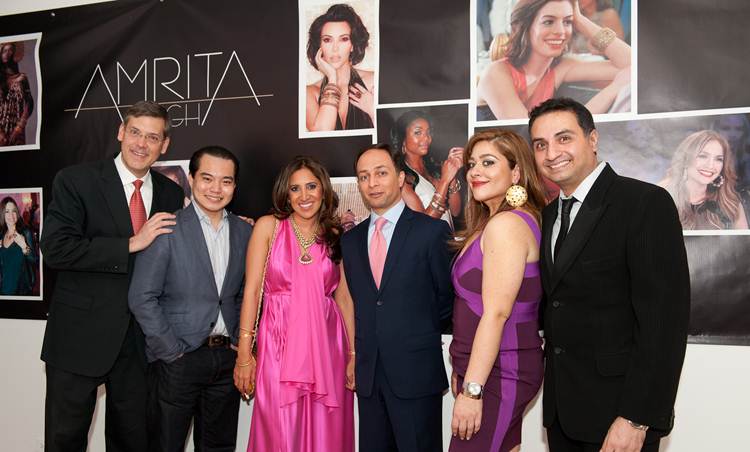 The author with his partner, Amrita Singh, along with representatives of
Wells Fargo, SAY WE, and JINGO Media. Photo: Nan Melville.
SAY WE hosted the pre-Fashion Week event as a way to honor my dear friend Amrita Singh. "The nonprofit trade association provides a much-needed platform for young women entrepreneurs to network, share their successes and learn from each other," said Reema Rasool, Executive Director and Founder of SAY WE.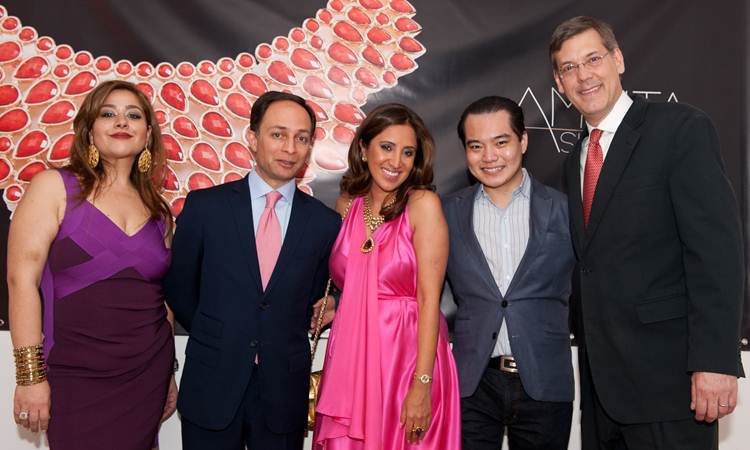 Photo: Nan Melville.
"Amrita Singh is a smart entrepreneur who created a jewelry business, branched out into making accessories, and is now launching a home line. She is a great role model for other women who want to start their own businesses, and we are proud to welcome her on our Board of Directors," Reema continued.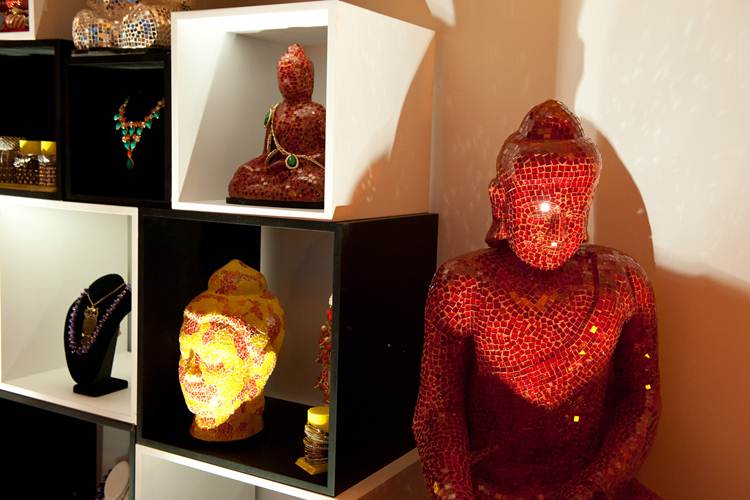 Amrita's new collection focuses on bring the spiritual into the home. Photo: Nan Melville.
Rasool welcomed New York's crᅢᄄme de la crᅢᄄme to the event, thanked Rahul Baig, Managing Director of Wells Fargo's U.S. Corporate Banking, who then introduced Amrita Singh and her new home collection. I was particularly impressed with Wells Fargo's interest in and attention to small business.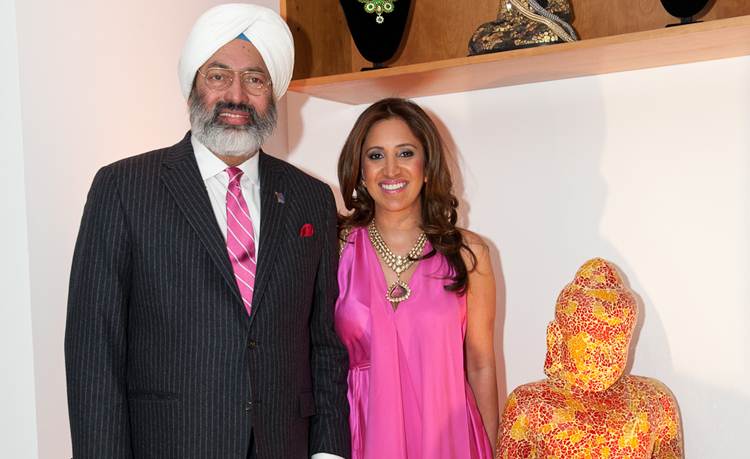 Amrita Singh with Tony Bedi, President of UB Group, U.S.A. Photo: Nan Melville.
The beautiful two-story penthouse was staged with pieces from the home line, and guests spent the evening drinking, dancing and celebrating Singh's most recent success -- a way into a woman's home and, ultimately, her heart.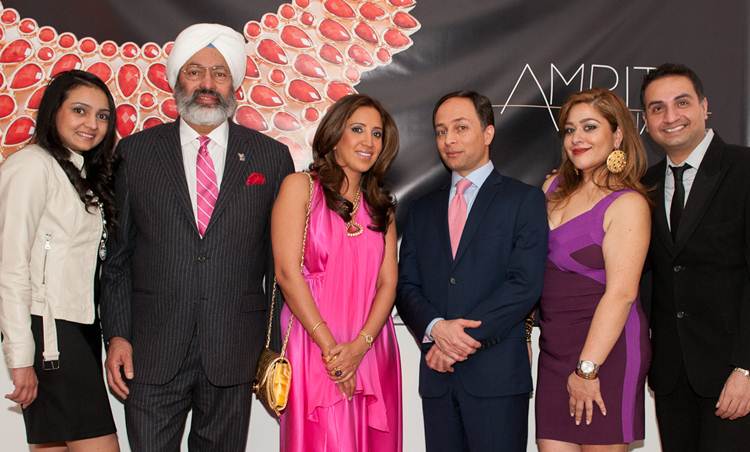 From L to R: Alpa Yagnik, Tony Bedi, Amrita Singh in a Robert Rodriguez dress, Rahul Baig,
Reema Rasool, and Jitin Hingorani, Principal/CEO of JINGO Media. Photo: Nan Melville.
SAY WE is a New York-based organization aimed to cultivate and foster strong relationships among South Asian women in New York who have entrepreneurial interests. South Asian women are making great strides in the world of business, fashion, media and the arts. SAY WE recognizes these achievements to inspire and ensure future generations of ambitious and savvy South Asian women.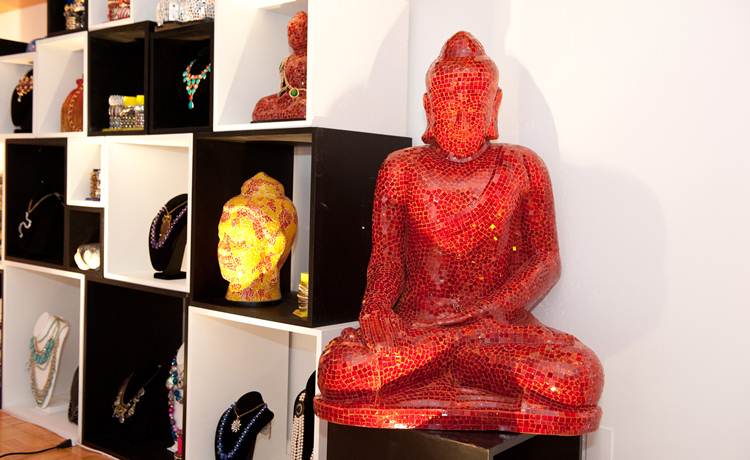 The seated Buddha and Buddha heads are prominently featured. Photo: Nan Melville.
SAY WE is important because it creates a positive and collegial forum in which South Asian women, regardless of political and religious affiliations, can network, support each other and applaud one another's major accomplishments. SAY WE also aspires to raise awareness and funds for causes and organizations that work toward the advancement of women in South Asia, as well as South Asian women here.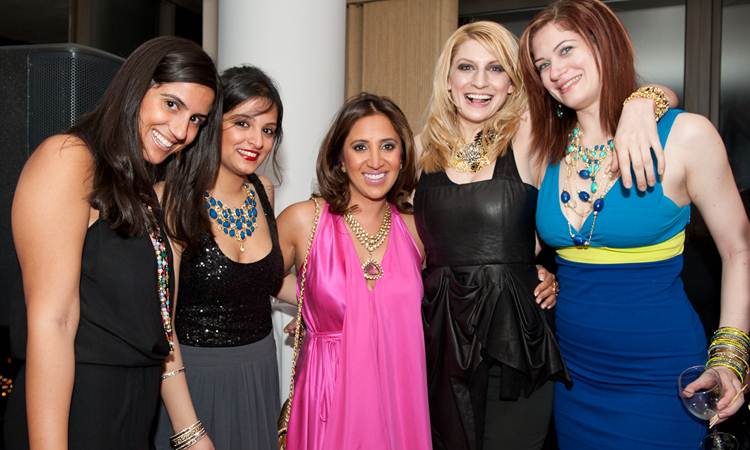 Amrita Singh with her staff. Photo: Nan Melville.
Though jewelry making began as an "accidental love," it grew into a unique and compelling "passion," according to Amrita. Her design interests are global, reflecting the city that she inhabits and works in: urban, culturally diverse and infused with artistic inspiration. Her Designer Jewelry fuses Old World aesthetics with New World fashion, resulting in breathtakingly unique, wearable works of art.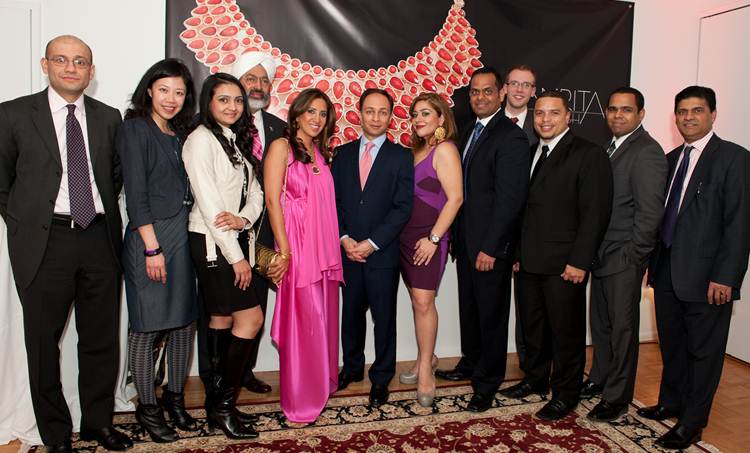 Amrita Singh with the supportive Wells Fargo Team. Photo: Nan Melville.
Studying the intricacies of Indian art through travel and extensive independent work, Amrita draws upon the designs of India and the Mughal dynasty to create artisanal Indian jewelry and accessories. The success of her Bangle, Bollywood and other designer jewelry has proved that her blend of influences and craft are distinctive and timeless. Amrita is devoted to the development of both her fashion lines: her contemporary jewelry which includes innovative collections such as Bangle Bangle and her fine jewelry collection.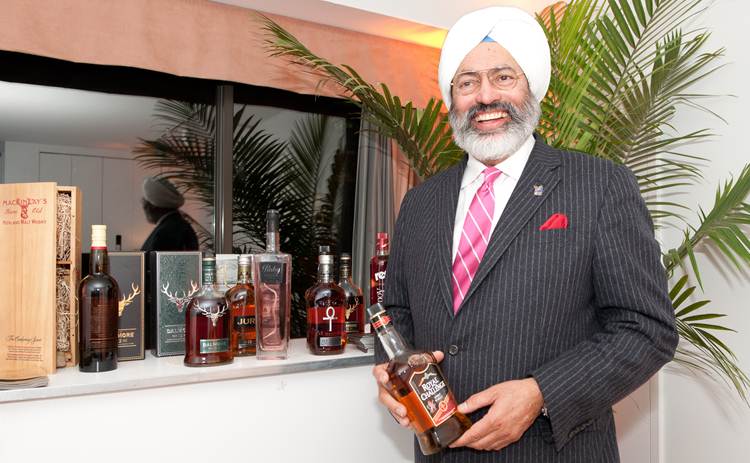 Tony Bedi, President of U.B. Group, U.S.A., launches Indian whisky Royal Challenge
at the event. Photo: Nan Melville.
Trained by the best in the field, Amrita Singh graduated from Fashion Institute of Technology and also completed the prestigious two-year executive training program at Bergdorf Goodman in New York City. She has worked with world-renowned designers such as Oscar de la Renta and Christian Lacroix in the pursuit of fashion.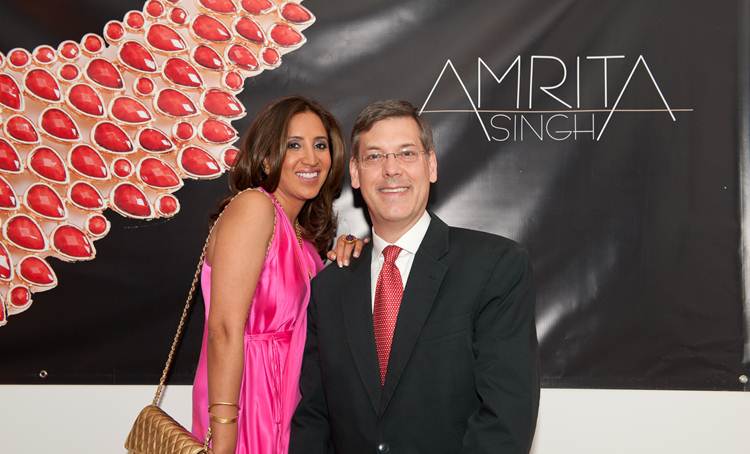 Amrita Singh and author at penthouse party step and repeat. Photo: Nan Melville.
Recognized by her fellow designers for her achievements, Amrita was nominated by FGI (Fashion Group International) for the Rising Star Award in the Fine Jewelry Category in 2006, 2007 and 2008. Through her collaboration with innovators in fashion and her devotion to the beauty of fine classical design, Amrita continues to design intriguing and complex jewelry for the modern woman.