Co-authored by Ryan D. Turnewitsch
1972: walking up the hill to Marietta Junior High School in Ohio, I never imagined I would one day be working in developing nations around the world -- or cooperating with Marietta College to develop the leadership needed to do so.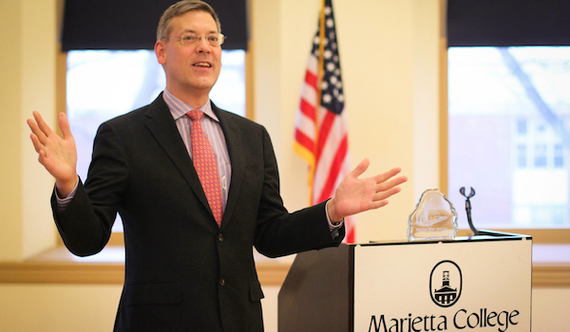 The author receiving Marietta College's prestigious McDonough Award for Excellence in Leadership. (Photo: Ryan D. Turnewitsch/Marietta College)
Last week I visited the campus for the first time in over three decades to teach classes on leadership and receive the prestigious "Mister Mac" Award along with Brian Moynihan, my Marietta High School classmate who now serves as CEO at Bank of America. (We remember each other well from Student Council.) Recipients of this award include Ted Turner, Robert Rubin, Steve Forbes, and Ted Kennedy Jr.
The award is given by one of the college's premier programs, the McDonough Center for Leadership and Business, which houses the nationally acclaimed McDonough Leadership Program. This program was the first to be offered at a liberal arts college and today remains among the top five such academic institutions. The award ceremony was particularly poignant as it was attended by so many town-and-gown people from my past who knew me and my child-psychologist mother, Frances D. Alleman-Luce, when we lived there in the 1970s.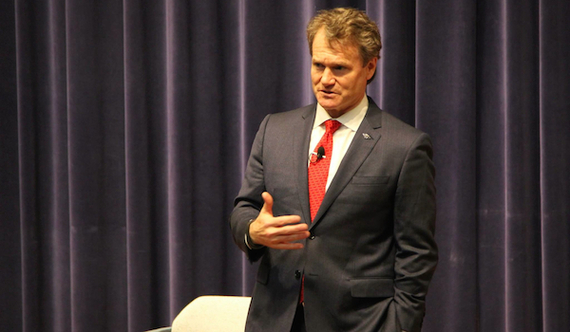 My high school classmate Brian Moynihan, now CEO of Bank of America, also received the award. (Photo: Ryan D. Turnewitsch/Marietta College)
Marietta College's leadership program offers five academic tracks, including an international leadership studies major, a leadership studies minor, a leadership studies certificate, a teacher leadership certificate, and an engineering leadership certificate. Admission to the McDonough program is competitive, and admitted students are known as McDonough Scholars on the Marietta College campus.
While the Center's primary responsibility is leadership development through its unique and comprehensive leadership studies curriculum, the Center also supports activity in four key areas: civic engagement, international leadership, business leadership, and research.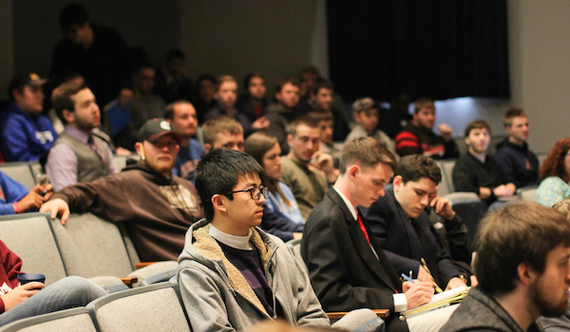 Brian Moynihan and I both had the opportunity to speak to the college's students, staff and faculty. (Photo: Ryan D. Turnewitsch/Marietta College)
During this visit, I met with students and administrators in an effort to create a partnership between our foundation and the McDonough program. Dr. Gama Perruci is Dean of the McDonough program as well as McCoy Professor of Leadership Studies at Marietta College. Aside from his research and administrative duties, Perruci also serves as a consultant to colleges and corporations. A native of Brazil, he currently serves as a consultant to The New York Times, focusing on the newspaper's educational programming for leadership students, and has agreed to serve as a global adviser to our foundation. In addition, he is a visiting lecturer for the Management and Leadership Development Program and Global Leadership Program at Dartmouth College's Rockefeller Center for Public Policy.
Gama and I proved to be a dangerous combination, and as we brainstormed, our ideas for institutional collaboration grew rapidly. These ideas were augmented by over eight meetings with campus officials ranging from Interim Provost Mark Miller to the president and his wife, Joseph and Diane Bruno. Joe has a must-read column on The Huffington Post.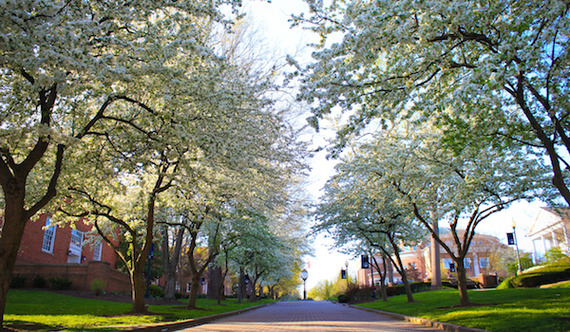 The beautiful campus of Marietta College looks as good if not better than I remembered from the 1970s. (Photo: Marietta College)
To be ratified by our prospective Boards, we envisioned the creation of a Luce Leadership Fellowship Program of Marietta College (MC) students serving as a "parallel" group of the executive committee; the inclusion of an MC student each year as a Luce Leader; identification of an MC student to be a Luce Scholar; co-publication of our foundation's online platform, The Stewardship Report; McDonough Scholars to provide technical support to the foundation; cooperation with the McDonough Leadership Conference; assisting MC in the identification of summer social entrepreneurship opportunities in New York City; collaboration with the college's Social Justice Leadership Institute; a stop in Marietta for the foundation's summer National Orphan Tour benefiting Orphans International Worldwide (OIWW); developing a leadership summer reading list, known as The Luce-McDonough Leadership Summer Reading List, to be used by The New York Times on its website; MC continued training of our foundation's board of directors; and my own agreement to participate in the McDonough Mentorship Program. Whew! (See the official link here.)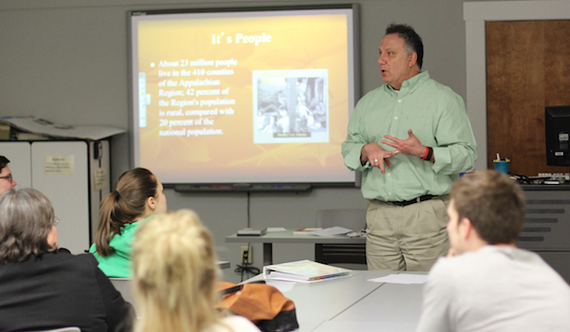 Dr. Bill Bauer teaching. (Photo: Ryan D. Turnewitsch/Marietta College)
Such expansive brainstorming was made easier by our location. Marietta College, one of the Midwest's most respected liberal arts colleges, is nestled in historic Marietta, Ohio, where I grew up. It was the first city of the Northwest Territory, and there is a plaque to this effect attached to Federal Hall, across from the New York Stock Exchange, that I found reassuring when I first arrived on Wall Street. Growing up there, in a city that still numbers only 14,000 (the same as my home on Roosevelt Island in New York City), was an incredibly valuable experience for me, forever rooting me in hometown America.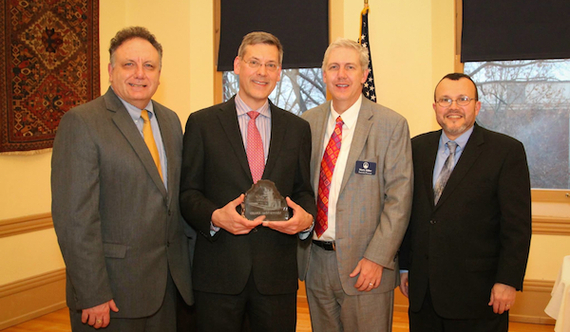 Dr. Bill Bauer, the author, Dr. Mark Miller, and Dr. Gama Perruci. (Photo: Ryan D. Turnewitsch/Marietta College)
Founded in 1835, Marietta College is one of the nation's 37 "Revolutionary Colleges," as its origins reach back to 1797 with the opening of Muskingum Academy. The college is known for its rigorous liberal arts foundation, its petroleum-engineering program, its McDonough Leadership Program, its award-winning Education Program, and its partnership with the University of International Relations in Beijing, China.
The McDonough Center's Office of Civic Engagement organizes service projects and volunteering opportunities for all Marietta College students with dozens of local non-profit community partners and sponsors service-learning trips to numerous countries around the world. I spoke with over 100 students who are engaged in this program and was astonished at the breadth of experiences they are receiving.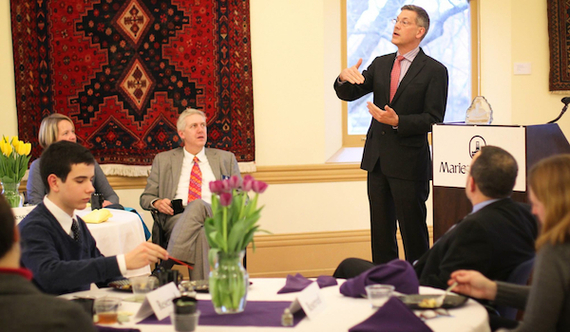 The author speaking at Marietta College's McDonough Leadership Awards Dinner. (Photo: Ryan D. Turnewitsch/Marietta College)
The Center's emphasis on international leadership is seen in its promotion of study abroad offerings to its students through an array of international partnerships. The Center supports business leadership development through many and is a hub of student- and faculty-led research through such events as the annual McDonough Leadership Conference or the numerous annual conferences at which McDonough students routinely present.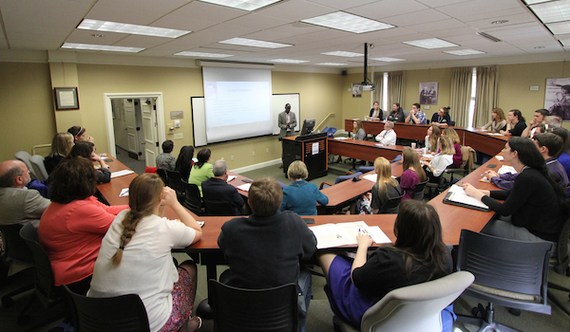 2015 McDonough Leadership Conference at Marietta College. (Photo: Ryan D. Turnewitsch/Marietta College)
The McDonough Award for Excellence in Leadership that Brian Moynihan and I received is known as the "Mister Mac" Award, given in honor of the late Bernard P. McDonough, a self-made industrialist and entrepreneur who created a global business through his Marmac Corporation. Named for the "Mister Mac" towboat, the flagship towboat of the Marmac Corporation Fleet, the award is said to be given to inspirational leaders who, like the Mister Mac, "lead the pack" in their respective fields.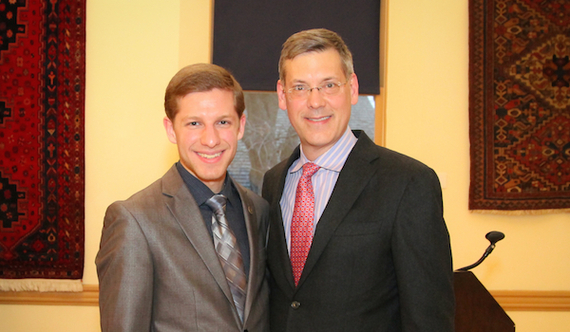 I was so impressed with former McDonough Student Body President Ryan Turnewitsch (above) that I asked him to co-write this piece with me. (Photo: Ryan D. Turnewitsch/Marietta College)
As I continue to build a foundation based on family legacy, I realize that when I am in Marietta, I truly walk in my mother's shadow. It was so nice to be home and be with so many kind and intelligent people who knew her. I am both excited and delighted to have partnered with Marietta College to develop young global leadership for healing the world. Mom would be proud.

The J. Luce Foundation published the Stewardship Report. It was with great delight that I "discovered" this etched in stone on the façade of Marietta College's Library.
Ryan Turnewitsch is a Marietta College senior majoring in biochemistry with a pre-medical emphasis and minoring in leadership studies. Ryan has served as the McDonough student body president and the president of the national leadership honorary Omicron Delta Kappa. Ryan represented the college and its McDonough Center at the U.S. Naval Academy Leadership Conference in addition to the 2014 U.S.-China Student Summit in Beijing.
The James Jay Dudley Luce Foundation (www.lucefoundation.org) supporting young global leadership is affiliated with Orphans International Worldwide (OIWW), raising global citizens. If supporting youth is important to you, subscribe to J. Luce Foundation updates here.
Links:
Marietta College
McDonough Leadership Program
J. Luce Foundation
See posts by Jim Luce on:
Education
Ohio
Social responsibility
Young global leadership