Bob Zuckerman does not want to wait for the economic stimulus package to drip down to Brooklyn's quickly emptying storefronts. He wants to lead the developed world in making New York City home to "retail condos."
Like Los Angeles and Washington, D.C., Bob believes New York City is ready for a property tax incentive for brownstone and other building owners to sell their storefront space as retail condominiums.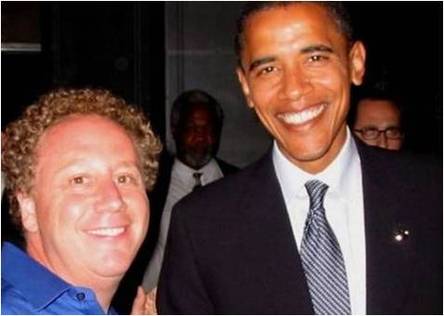 Bob Zuckerman with President Barack Obama.
"I'm running because I want to help the mom and pop stores on Brooklyn's Fifth Avenue, not the big corporations on Manhattan's Fifth Avenue," Bob told me.
Bob will work with the City to create a fund to make loans to small businesses and not-for-profits so they can invest in their communities and bring our city's Main Streets back to life.
Bob would also like to have the City invest more funding in non-profit lending institutions, making small loans to businesses. He would then like to see an economic development corporation recruit more non-profit organizations to Brooklyn.
Bob comes from small business. His grandfather ran a storm window business in the 1940's. And Bob started a small businesses himself - he founded eShow, the first public consumer exposition showcasing technology and the Internet, in 1999.
In New York City, there are as many ideas as the 8.1 million who live here. But ideas that are interesting and can work are as rare as a cheap rental in downtown Manhattan. But Bob cranks these quality ideas out, nonplussed. Creating a loan fund for small businesses and non-profits was the first of Bob's ideas that impressed me.
The second was the proposed "Zuck Mobile." After Bob is elected, he will buy a used book mobile and take his office to the streets of his district one day a week - Bob Idea #2: "Council on Your Corner!"
He also promises to hold a town hall meeting in each neighborhood in the district at least once a year. In short, Bob wants to bring the City Council to the people of his district.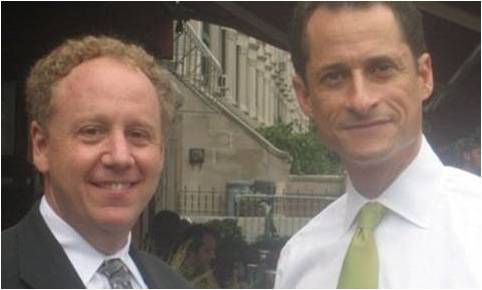 With Congressman Anthony Weiner - who has also endorsed Bob.
I have heard about the notorious Gowanus Canal ever since I arrived in this city in 1983. In fact, my first real apartment was in Brooklyn. Bob is currently on-leave as the Executive Director of the Gowanus Canal Community Development Corporation (GCCDC) and Gowanus Canal Conservancy (GCC).
With Bob at the helm, these two agencies have implemented programs to encourage smart development along the Gowanus Canal corridor, helping area residents to access affordable housing, cleaning the Canal through environmentally sound strategies, and creating new parks along the waterfront.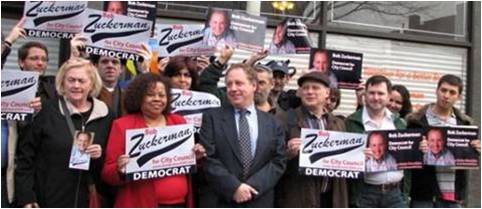 Bob Zuckerman has momentum in Brooklyn's 39th District run for NYC Council.
Once elected, Bob Zuckerman will hold a town hall meeting for his constituents in all six neighborhoods of his district once a year. These are the places I know: Park Slope, Cobble Hill, Carroll Gardens, and the places I have yet to explore: Windsor Terrace, Kensington, and parts of Borough Park.
"Progressive Brownstone Brooklyn" has more in common with the West Village and Upper West Side than Bensonhurst or Flatbush. "Baby strollers," Bob said.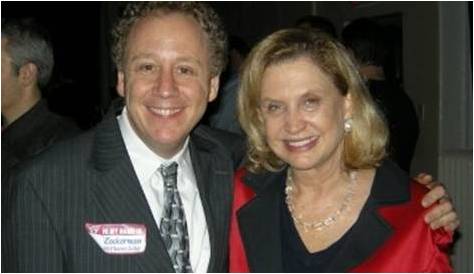 Bob and my favorite Congresswoman, Carolyn Maloney.
Neighborhoods change. Since 1985, every City Council representative from this district was Italian-American. Now, three of the five candidates for this district primary are Jewish. Kensington has a growing population of Bangladeshi-Americans. "This election is about commercial revitalization. Bringing jobs back to Brooklyn. Education. Government accountability." Bob explained to me.
I asked him what he thought about the Atlantic Yards. "I am against it!" he said.
The project, building a Battery Park City-like development between Fort Greene and Park Slope to be built over the Long Island Railroad yards will acquire the building lots through the use of eminent domain.
"This process should be used for public benefit, not to benefit the private sector. Although I am totally for responsible development, this project is too big, too dense," Bob told me.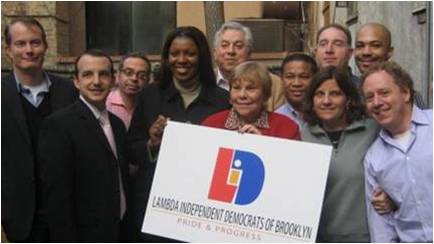 Bob has been endorsed by the Lambda Independent Democrats of Brooklyn.
In addition to Congressman Anthony Weiner, an array of amazing New Yorkers back Bob, including State Senator Tom Duane, Assembly Members Danny O'Donnell, Jonathan Bing, Deborah Glick, Richard Gottfried, Micah Kellner, and Matt Titone, District Leader Alan Fleishman, Former State Senator Marty Connor, City Council Member Alan Gerson, David Nimmons, Tom Smith, and my old friend Dirk McCall.
Numerous other organizations have endorsed Bob, too, including the Stonewall Democratic Club of New York City, the New York League of Humane Voters, the Gay and Lesbian Victory Fund, the Jim Owles Liberal Democratic Club, and the Lambda Independent Democrats of Brooklyn have also endorsed Bob. In addition, he has received a 100% pro-choice rating from Planned Parenthood of New York.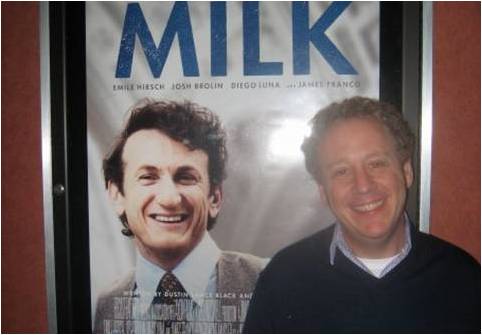 Small businessman. New Yorker. Jewish. Gay. The Harvey Milk of Brooklyn!
For those who haven't seen the movie Milk (you should!), it's about a gay man who inspires San Francisco's LGBT community in the 1970's by becoming the first openly gay person elected to public office by getting a seat on San Francisco's Board of Supervisors. Similarly, if Bob wins the City Council seat, he will become the first openly gay legislator ever elected from Brooklyn. Not one member of Congress, state senator, assembly person, or City Council member from Brooklyn has ever been LGBT. Bob will change that.
More than 100 volunteers are helping Bob's campaign. They are connected through his campaign website, and Facebook. Bob's videos may be seen on YouTube. Follow him on Twitter.
Bob earned his J.D. degree at American University and received a Bachelor of Business Administration degree from Emory University. He lives in Park Slope with his partner of 11 years, Grant Neumann.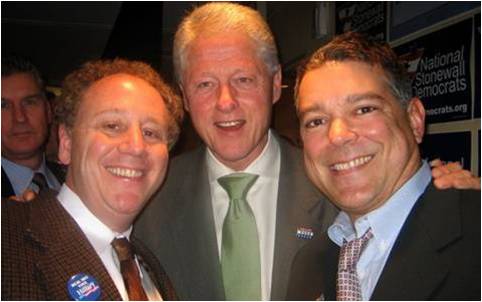 Bob with partner Grant Neumann and former president Bill Clinton.
For these reasons and many more, I endorse Bob Zuckerman to be the 39th District Democratic candidate for the New York City Council. Primary Day is September 15. To support the campaign, e-mail Bob directly.